TRADITIONAL MOUNTAINEERING ™
www.TraditionalMountaineering.org ™ and also www.AlpineMountaineering.org ™

™
FREE BASIC TO ADVANCED ALPINE MOUNTAIN CLIMBING INSTRUCTION™
Home | Information | Photos | Calendar | News | Seminars | Experiences | Questions | Updates | Books | Conditions | Links | Search

Read more:
What is the best climbing harness for traditional alpine mountaineering?
The best traditional alpine mountaineering climbing harness differs from the trad rock climbing or bolted route sport climbing harness in several ways.
The alpine harness is usually carried in the backpack to the "advanced base camp" or bivy, often miles into the wilderness and often carried in the summit pack until needed for the technical snow, rock or ice sections of the climb to the top. Light weight and small bulk for stowing in the pack are needed. Simplicity and foolproof safety features are required.
The alpine harness is sometimes carried just a little too long by the confident mountaineer who must then put it on in somewhat dicey conditions a bit ahead or behind companions.
The sport climbing harness can be as cushy and complex as desired, as it is often only carried or worn for the short walk from the rig to the wall. The sport harness is usually put on in a convenient social situation with others present for the experienced companions check of each other for mistakes. (No kidding, I once observed a well equipped but nervous SAR newbie trying to don a chest harness, confusing it with her sit harness.) Sport harnesses can be very fancy and expensive.
Experience tells us to do a "hands on" check of the swami buckle system and fit. Dig under your companions Gore-Tex, pull on the harness to see if it is tight enough and visually and manually check to see that the harness swami belt is woven back at least 3 inches through the steel buckle (see the BD instructions)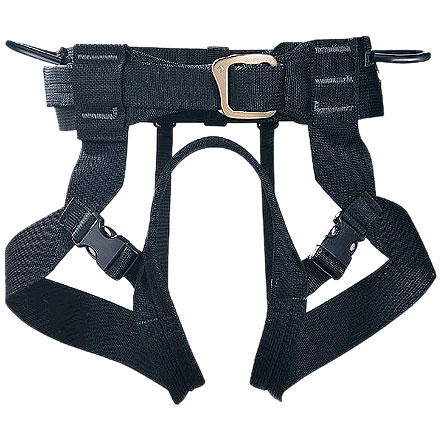 The latest Black Diamond Alpine Bod™ Seat Harness

I recommend the Black Diamond Alpine Bod™ Seat Harness, It retails for about $35 and weighs about 12.2 oz. See more photos. You may have to ask for this harness by exact name and manufacturer because the more expensive sport climbing harnesses will be featured by the store and sales people. Black Diamond (BD) also made a padded model, the "Bod Harness" which sells for more and is heavier and bulkier than the Alpine Bod.

There is a huge improvement in the latest model Black Diamond Alpine Bod Harness. (This feature was pointed out by one of the participants at our Winter Mountaineering Class at the ECO. I rushed right out a purchased the new model harness.)

The very important feature: you first fasten the swami belt correctly and tie in and then hook up the leg loops! No more balancing on one foot to put your crampons through the leg loops, or sitting on the hard snow, only to slide silently away on your butt! Experience tells us too, that this simple and light new harness is great for "zonked out" Adventure Racers. See our photos of the X-Adventure Raid Race in Bend, Oregon, where almost every racer needed our race volunteers' help in putting on their harness!

<> Be sure to size the Alpine Bod Harness for your bod and the season. The Alpine Bod comes in sizes xs, s, m, l and xl. The belt must tighten above your hip bones so that you can not squirt out of the harness if you are stopped hard, up-side down. Read the BD instructions!)

The Alpine Bod Harness does not have a belay loop so you will have to have room next to the buckle for your big locker and your medium locker which capture both the swami belt and the sit part of the harness. (Read the BD instructions!)

The buckle on your harness can come undone if you do not weave the belt back through the buckle. Highly skilled climbers notoriously have died when they failed to weave the belt back through the buckle. Black Diamond harnesses have special buckles with tabs to enable you to spread the buckle apart as you weave the belt back through. Be sure at least three inches of belt extends beyond the buckle after reweaving. (Read the BD instructions!)

The leg loops must be reasonably snug as they are designed to distribute the force of a fall to your pelvis and to keep the (swami) belt from riding up and compromising your breathing. Sitting in even the most padded harness for long is not an option - your circulation is compromised; you are more prone to become hypothermia. (Read the BD instructions!)

I received an email question from Australia asking how long a person could hang in a harness without suffering physical problems. I recalled for him an accident on Mt. Hood when a rope of climbers began to fall on The Cleaver. They were held by the female guide by a single heroic ice axe arrest. Many hands rescued the rope of climbers, but one man had died from hypothermia while hanging with circulation impaired for a long time in his harness. A Spelunker friend emailed me information about hanging for hours on rappel in a harness in caving and included a list of Cave Harness models sold by Petzl. (If the reader is interested in this subject, send me an email and I will get you in touch.)

I do not think the lack of padding is a problem for this harness in general winter mountaineering due to the normal padding by winter clothing. If summer "rock climbing" ascents are done, a more padded BD harness might be better. Most general mountaineering does not involve the possibility of hanging for a long time, in the harness.

The Alpine Bod now uses quick release plastic fasteners instead of buckles on the small straps that hold the leg loops in the right place under your butt. This enables you to put on the harness while standing in skis or drop your drawers for a rest. The quick release plastic buckles do not appear to compromise the feasibility of using a light locking biner through the wide leg loop for connecting a Franz Bachmann friction knot to the tail of the rappel rope to control the runaway speed of a rappel even with wet, skinny single ropes. (Quality Control at Black Diamond emphasizes attaching the locking carabiner to the 2 inch wide strap that goes under your butt and not on the one inch strap with the plastic buckle.) Note: always extend your rappel device on a 24" runner girth hitched on your harness to the locking carabiner.

The Alpine Bod Harness now comes with gear loops. If you have an older model, you can add some by threading accessory cord through the loops provided. (Read the original BD instructions.)

I use a very light weight "stuff sack" to hold my Alpine Bod Harness, racked with the gear I will need for a particular summit. Size the bag large enough so that your tech gear is not a hard lump in your summit pack, but rather a shapeless mass that will conform to the other stuff you are carrying. A harness and minimum gear can weigh bulky pounds; consider going Light and Fast - Fit and Experienced, with just the rope and some simple traditional mountaineering techniques.
Copyright© 2000-2010 by Robert Speik. All Rights Reserved.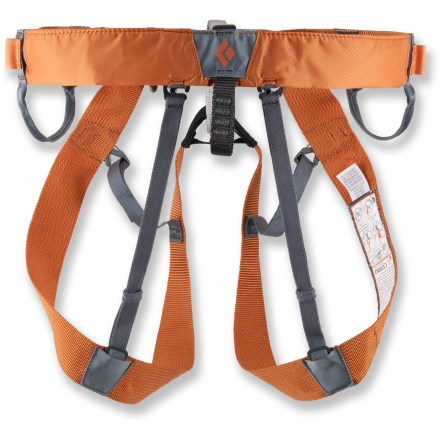 The very very latest Black Diamond Alpine Seat Harness: The Couloir
"Packable to the size of a soup can that easily stows away in a jacket pocket, the superlight Couloir harness is designed to be the essential skiing and mountaineering harness. Quick-release leg loops allow fast and easy changes while wearing skis or crampons, and low-profile webbing construction allows it to wear comfortably under packs or over clothing. Two webbing gear loops, four Ice Clipper slots and a belay and haul loop complete the package.

•Fast drying nylon-webbing construction with traditional buckle
•Quick-release leg loops for easy on/off, even while wearing skis or crampons
•2 webbing gear loops and 4 Ice Clipper slots
•Low-profile and flat enough to be worn comfortably under a pack or clothing
•Packs down into a stuff sack small enough to fit into jacket pocket
•15 kN-rated belay and haul loops"
Style Number: BD651039_cfg
What more can I add? This packable harness weighs just 8 ounces and it has a more traditional belay loop. I ordered one today! I will let you know what I think of it, soon. Webmeister Speik
Warning!
The brief notes above are only meant to point you in the right direction. Read the manufacturers instructions. Do your own research and learn to use your gear with an experienced person, practicing techniques on belay at the local crag with friends before lugging it up the hill to attempt a technical peak. --Webmeister.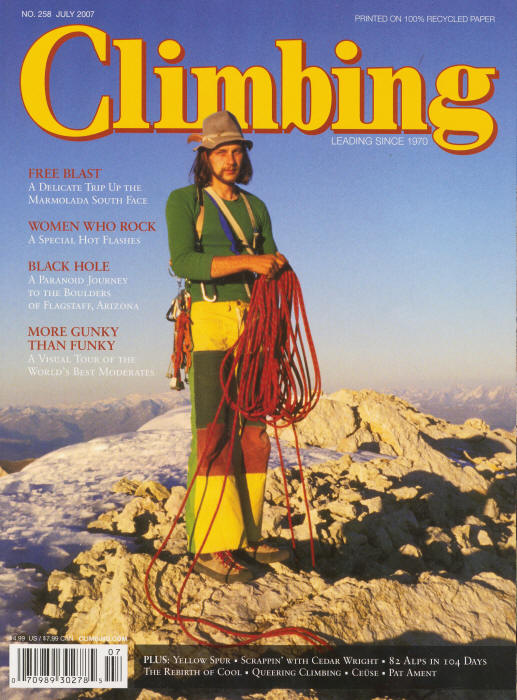 The climbing harness was introduced to America by the Chouinard Catalog of 1972!
Hans Mariacher in 1978 after his FA of Hatschi Bratschi (5.9, 750m) did not have a harness.

See my personal copy of 1972 Chouinard Catalog!



WARNING - *DISCLAIMER!*
Mountain climbing has inherent dangers that can in part, be mitigated
Read more . . .

TECHNICAL MOUNTAINEERING
What is the best traditional alpine mountaineering summit pack?
What is the best belay | rappel | autoblock device for traditional alpine mountaineering?
What gear do you normally rack on your traditional alpine mountaineering harness? Photos?


What is the best traditional alpine mountaineering seat harness? Photos?
Can I use a Sharpie Pen for Marking the Middle of the Climbing Rope?
What are the highest peaks in Oregon? Alphabetically?

CARBORATION AND HYDRATION
Is running the Western States 100 part of "traditional mountaineering"?
What's wrong with GORP? Answers to the quiz!
Why do I need to count carbohydrate calories?
What should I know about having a big freeze-dried dinner?
What about carbo-ration and fluid replacement during traditional alpine climbing? 4 pages in pdf


What should I eat before a day of alpine climbing?

REAL SURVIVAL STRATEGIES
FREE Clinic on Real Survival Strategies and Staying Found with Map, Compass and GPS together
What do you carry in your winter day and summit pack?
Why are "Snow Caves" dangerous?
Why are "Space Blankets" dangerous?
Why are "Emergency Kits" dangerous?
How can you avoid Hypothermia?
Missing climbers on Mount Hood, one dies of exposure, two believed killed in fall
Missing California family found, dad dies from exposure and hypothermia
Missing man survives two weeks trapped in snow-covered car
Missing snowmobile riders found, Roger Rouse dies from hypothermia
Olympic Champion Rulon Gardner lost on snowmobile!
Lost Olympic hockey player looses feet to cold injury
Expert skier lost five days near resort in North Cascades without map, compass, gps or cell phone
Mount Hood - The Episcopal School Tragedy
Mount Hood - experienced climbers rescued from snow cave
How can you learn the skills of snow camping? Prospectus

ALPINE CLIMBING ON SNOW AND ICE
Winter mountaineering hazards - streams and lakes
Is long distance backpacking part of "traditional mountaineering"?
How long is the traditional alpine mountaineering ice axe?
What about climbing Mt. Hood?
What is a good personal description of the south side route on Mount Hood?
What should I know about travel over hard snow and ice?
How can I learn to self belay and ice axe arrest? 6 pdf pages


What should I know about snow caves?
What should I know about climbing Aconcagua?

AVALANCHE AVOIDANCE
Young Bend man dies in back county avalanche
What is an avalanche cord?
Avalanche training courses - understanding avalanche risk
How is avalanche risk described and rated by the professionals? pdf table
How can I avoid dying in an avalanche?
Known avalanche slopes near Bend, OR?
What is a PLB?
Can I avoid avalanche risk with good gear and seminars? pdf file

SNOWSHOES AND CRAMPONS
Why do you like GAB crampons for traditional mountaineering?
What should I know about the new snowshoe trails
What are technical snowshoes?
Which crampons are the best?
What about Boots and Shoes?


YOUR ESSENTIAL SUMMIT PACK
What are the new Ten Essential Systems?
What does experience tell us about Light and Fast climbing?
What is the best traditional alpine mountaineering summit pack?
What is Light and Fast alpine climbing?
What do you carry in your day pack? Photos?


What do you carry in your winter day pack? Photos?


Why are "Emergency Kits" dangerous?
What should I know about "space blankets"?
Where can I get a personal and a group first aid kit? Photos?

YOUR LITE AND FAST BACKPACK
Which light backpack do you use for winter and summer? Analysis pdf


What would you carry in your backpack to climb Shasta or Adams?


What is the best traditional alpine mountaineering summit pack?
Photos of lite gear packed for a multi day approach to spring and summer summits
Backpack lite gear list for spring and summer alpine mountaineering 4 pdf pages

ESSENTIAL PERSONAL GEAR
What does Steve House wear for light and fast climbing?
What clothing do you wear for Light and Fast winter mountaineering?
What do you carry in your winter day pack? Photos?


Which digital camera do you use in the mountains?
What about Boots and Shoes?


TRADITIONAL KNOWLEDGE
How did you become interested in traditional mountaineering techniques?
Who is Conrad Messner?
What is traditional slacklining or highlining?
What are some of the comments you have received?
Who was Peter Starr?
Who are the Mazamas?
What is an avalanche cord?
Who were the notorious Vulgarians?
How was top rope climbing practiced in the 1970s?
What is a Whillans sit harness?
What is a dulfersitz rappel?
How do I self-belay a rappel?

BACKCOUNTRY NAVIGATION
Lithium batteries recommended for GPS backcountry use
Staying found in the backcountry with map, compass and GPS
Topographic maps of the backcountry work with your compass and GPS
What is the best GPS for mountaineering and backcountry travel?


What is the best Compass for mountaineering and backcountry travel?


How accurate is the inexpensive hand-held GPS today?
What are some good Central Oregon Geocaches?
What is the Public Land Survey Grid? pdf
What is the UTM Grid? six pdf pages


How do you use your map, compass and GPS together, in a nut shell?


How can I learn to use my map, compass and GPS?
Do you have map, compass and GPS seminar notes? six pdf pages

About Alpine Mountaineering:


The Sport of Alpine Mountaineering


Climbing Together


Following the Leader


The Mountaineers' Rope


Basic Responsibilities

Cuatro Responsabiliades Basicas de Quienes Salen al Campo


The Ten Essential Systems

Los Diez Sistemas Esenciales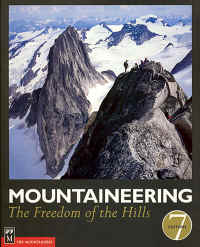 Read about harnesses in this book!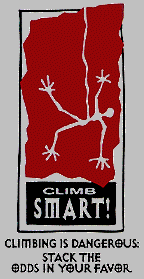 Climbing is Dangerous: Stack the Odds in Your Favor -
Check your knots and harness buckle -
Inspect your gear and replace as necessary -
Know your partners and their habits -
Check your belay - are you sure you're on? -
Read all warnings - they can save your life -
Fixed gear is unreliable - back it up when possible -
Keep an eye on the weather -
Rock breaks - check your holds -
Always double check your rappel system -
Remember, safety is your responsibility!