TRADITIONAL MOUNTAINEERING ™
www.TraditionalMountaineering.org ™ and also www.AlpineMountaineering.org ™

™
FREE BASIC TO ADVANCED ALPINE MOUNTAIN CLIMBING INSTRUCTION™
Home | Information | Photos | Calendar | News | Seminars | Experiences | Questions | Updates | Books | Conditions | Links | Search

Read more:

Photos of this gear racked on my harness!
What gear do you rack on your traditional alpine mountaineering harness?
This is a list of technical climbing gear that is always racked on my Black Diamond (BD) Alpine Bod Harness™ (xl 12.2oz, $29.00). I will remove or add gear depending on the beta for a specific peak. The basic snow climbing and rock climbing technical gear is essentially the same except for the addition of snow and ice anchors. For clarity, I will omit the anchors from this list of gear from which I choose before a climb. Read about the Alpine Bod harness.
Start with two large locking biners, one to use with your belay-rappel-autoblock device, the other which can be downsized a bit, for personal belays.
The main personal biner should have a very wide throat and smooth lock system to clip over the (swami) belt and seat loop of the harness. I have the Petzl William Screwgate (90gm, say 2.9oz, $17,00). I do not like an automatic closing feature, it can freeze up in the mountains and fail to lock. Having a "safety open indicator color line" on the glove friendly big barrel screw closure is helpful. The part of the biner that comes in contact with the rope must be smooth and fat and fit the type of belay/rappel device you use. These attributes will work for a quick Munter hitch belay as well. Note: 1 oz = 31.103 gm.
The secondary personal biner needs similar attributes so that it can substitute for a dropped main biner. I like the Petzl Attaché Screwgate (76gm, say 2.44 oz, $15.00). It is a nifty smaller addition of the William. I have mine clipped to my personal self belay daisy chain and one prussic self belay loop.
Clip a belay/rappel/autoblock device to your main biner. (You may prefer to store it on a biner at your side until needed.) See my suggestion of the new B52 - its bomber! (60gm, say 1.9 oz, $24.00).
Girth hitch a short spectra daisy chain to your harness and clip the end to your secondary biner. Try to find a 3 footer, say about 90cm. (The BD 16mm spectra 115cm daisy is $19.50). Clip your personal secondary around your side and clip the extra slack in so it is neat and out of the way until you want to anchor off. Note: 1 foot = 30.48 cm; 1 in = 2.54 cm. A meter is "about a yard"!
Clip on three tied and jammed prussic loops of 6mm cord, about 18 inches in stretched diameter, one on your second harness biner and two on an extra locker. One prussic loop on the extra locker should have a 36 inch 18mm sewn nylon sling girth hitched on with the sewn part down to make a step to climb the rappel rope or out of a crevasse (or to aid a step, or to have extra freedom on a fixed line, etc). (2,630 pounds, 11.7 kN, 6mm Perlon costs about $.30 per foot.) (The new B52 will work also work as a waist rope grab for climbing the belay or rappel rope.)
Clip on at least two or several light weight locking biners. Try the BD Enduro Screwgate (56gm,$7.50).
Clip on at least two or three very light weight wire gate biners. Try the BD Neutrino (36gm, $7.95).
Clip on an assortment of at least two each color coded 12, 24, 36 and 48 inch sewn 11/16 nylon runners. Jim Ablao, a senior guide with First Ascent, an AMGA accredited guide service, suggests having two or three extra 24 inch sewn runners to replace the traditional 6mm cord prussic loops using the Klemheist or Bachmann friction knots. These "shoulder runners" have multiple uses, but be sure you have some left for prussic purposes. Jim wraps the runners around themselves in a nifty way to keep them out of the way. Watch for a photo illustrated factoid on this technique as soon as my new Nikon CoolPix 4300 digital climber's camera arrives. (The sewn nylon runners are priced from $2.00 to $5.00). Here are the photos!
Consider a Yates Screamer to protect a sketchy alpine anchor. (9 inch, $10.75, 1.5 oz)
Consider a Cordelette, 20 feet or so of 7mm climbing cord for SARENE anchors. (3,210 pounds, 14.2 kN, 20 feet, $7.80, 6.5 oz) Consider a 5mm Maxim Tech Cord cordelette that will hold 5,000 pounds according to the manufacturer! (5,000 pounds, unknown kN, 20 feet, $19.95 from Shoreline Mountain Products, 5 oz)
Consider 20 feet of one inch tubular nylon for tying off rough natural anchors or snow bollards. (4,000 pounds, 17.7 kN, 20 feet, $6.00, 9 oz)
Don't forget a BD nut tool! You may leave it in the car, but you will always have a beer opener. ($6.75)
--On Belay! Bob Speik
Copyright© 2000-2007 by Robert Speik. All Rights Reserved.








mouse over for the name of each carabiner!



WARNING - *DISCLAIMER!*
Mountain climbing has inherent dangers that can in part, be mitigated
Read more . . .

TECHNICAL MOUNTAINEERING
What is the best traditional alpine mountaineering summit pack?
What is the best belay | rappel | autoblock device for traditional alpine mountaineering?
What gear do you normally rack on your traditional alpine mountaineering harness? Photos?


What is the best traditional alpine mountaineering seat harness? Photos?
Can I use a Sharpie Pen for Marking the Middle of the Climbing Rope?
What are the highest peaks in Oregon? Alphabetically?

CARBORATION AND HYDRATION
Is running the Western States 100 part of "traditional mountaineering"?
What's wrong with GORP? Answers to the quiz!
Why do I need to count carbohydrate calories?
What should I know about having a big freeze-dried dinner?
What about carbo-ration and fluid replacement during traditional alpine climbing? 4 pages in pdf


What should I eat before a day of alpine climbing?

REAL SURVIVAL STRATEGIES
FREE Clinic on Real Survival Strategies and Staying Found with Map, Compass and GPS together
What do you carry in your winter day and summit pack?
Why are "Snow Caves" dangerous?
Why are "Space Blankets" dangerous?
Why are "Emergency Kits" dangerous?
How can you avoid Hypothermia?
Missing climbers on Mount Hood, one dies of exposure, two believed killed in fall
Missing California family found, dad dies from exposure and hypothermia
Missing man survives two weeks trapped in snow-covered car
Missing snowmobile riders found, Roger Rouse dies from hypothermia
Olympic Champion Rulon Gardner lost on snowmobile!
Lost Olympic hockey player looses feet to cold injury
Expert skier lost five days near resort in North Cascades without map, compass, gps or cell phone
Mount Hood - The Episcopal School Tragedy
Mount Hood - experienced climbers rescued from snow cave
How can you learn the skills of snow camping? Prospectus

ALPINE CLIMBING ON SNOW AND ICE
Winter mountaineering hazards - streams and lakes
Is long distance backpacking part of "traditional mountaineering"?
How long is the traditional alpine mountaineering ice axe?
What about climbing Mt. Hood?
What is a good personal description of the south side route on Mount Hood?
What should I know about travel over hard snow and ice?
How can I learn to self belay and ice axe arrest? 6 pdf pages


What should I know about snow caves?
What should I know about climbing Aconcagua?

AVALANCHE AVOIDANCE
Young Bend man dies in back county avalanche
What is an avalanche cord?
Avalanche training courses - understanding avalanche risk
How is avalanche risk described and rated by the professionals? pdf table
How can I avoid dying in an avalanche?
Known avalanche slopes near Bend, OR?
What is a PLB?
Can I avoid avalanche risk with good gear and seminars? pdf file

SNOWSHOES AND CRAMPONS
Why do you like GAB crampons for traditional mountaineering?
What should I know about the new snowshoe trails
What are technical snowshoes?
Which crampons are the best?
What about Boots and Shoes?


YOUR ESSENTIAL SUMMIT PACK
What are the new Ten Essential Systems?
What does experience tell us about Light and Fast climbing?
What is the best traditional alpine mountaineering summit pack?
What is Light and Fast alpine climbing?
What do you carry in your day pack? Photos?


What do you carry in your winter day pack? Photos?


Why are "Emergency Kits" dangerous?
What should I know about "space blankets"?
Where can I get a personal and a group first aid kit? Photos?

YOUR LITE AND FAST BACKPACK
Which light backpack do you use for winter and summer? Analysis pdf


What would you carry in your backpack to climb Shasta or Adams?


What is the best traditional alpine mountaineering summit pack?
Photos of lite gear packed for a multi day approach to spring and summer summits
Backpack lite gear list for spring and summer alpine mountaineering 4 pdf pages

ESSENTIAL PERSONAL GEAR
What does Steve House wear for light and fast climbing?
What clothing do you wear for Light and Fast winter mountaineering?
What do you carry in your winter day pack? Photos?


Which digital camera do you use in the mountains?
What about Boots and Shoes?


TRADITIONAL KNOWLEDGE
How did you become interested in traditional mountaineering techniques?
Who is Conrad Messner?
What is traditional slacklining or highlining?
What are some of the comments you have received?
Who was Peter Starr?
Who are the Mazamas?
What is an avalanche cord?
Who were the notorious Vulgarians?
How was top rope climbing practiced in the 1970s?
What is a Whillans sit harness?
What is a dulfersitz rappel?
How do I self-belay a rappel?

BACKCOUNTRY NAVIGATION
How accurate is the inexpensive hand-held GPS today?
Can you get me a $30 rebate on your favorite GPS: Garmin's Legend? pdf form
What are some good Central Oregon Geocaches?
What is the Public Land Survey Grid? pdf
What is the UTM Grid? six pdf pages
Which GPS do you like?


Which Compass do you like?


How do you use your map, compass and GPS together, in a nut shell?
How can I learn to use my map, compass and GPS?
Do you have map, compass and GPS seminar notes? six pdf pages

ABOUT ALPINE MOUNTAINEERING


The Sport of Alpine Mountaineering


Climbing Together


Following the Leader


The Mountaineers' Rope


Basic Responsibilities


The Ten Essentials


Our Mission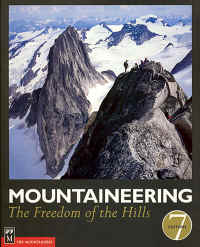 Read about harnesses in this book!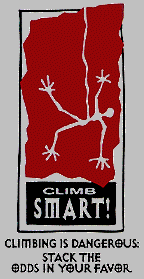 Climbing is Dangerous: Stack the Odds in Your Favor -
Check your knots and harness buckle -
Inspect your gear and replace as necessary -
Know your partners and their habits -
Check your belay - are you sure you're on? -
Read all warnings - they can save your life -
Fixed gear is unreliable - back it up when possible -
Keep an eye on the weather -
Rock breaks - check your holds -
Always double check your rappel system -
Remember, safety is your responsibility!