TRADITIONAL MOUNTAINEERING ™
www.TraditionalMountaineering.org ™ and also www.AlpineMountaineering.org ™

™
FREE BASIC TO ADVANCED ALPINE MOUNTAIN CLIMBING INSTRUCTION™
Home | Information | Photos | Calendar | News | Seminars | Experiences | Questions | Updates | Books | Conditions | Links | Search

Read more:
What is the best compass for mountaineering and backcountry hiking?
The best modern base plate compass is the Suunto model M-3D
The Suunto M-3D Leader Compass simply meets my detailed traditional requirements! Here is why:
1. A reasonably long, transparent plastic base-plate for pointing the compass at objects in the field and for joining points on the map and it has a prominent index mark indicating the direction of travel. (The three little rubber feet help you use the edge of the compass to find and draw your bearing on the paper map.)
2. A big rotating compass needle housing marked in two degree increments. The housing has a transparent base which is marked with true north-south meridian lines which, together with the long compass edge, form a protractor for use on the map. (With one exception, the base plate compass is a protractor when it lies on the map - the needle is disregarded. The one exception is when the housing is dialed in to true north and the compass is placed on the edge of the map to orient the map in the outdoors, to north and south using the magnetic needle.
3. An adjustable "north indicator arrow" (the red shed), which is set independent of the true north-south indicator lines. Your compass can be adjusted for the magnetic declination in your area!
You make your adjustment by turning a "micrometer" screw on the bezel, accurately setting you current declination to one degree using a separate scale marked on the reverse side of the bezel. This virtually eliminates dangerous math in the field. (The 30 year old Silva Ranger was, for many years, the only compass to have this special feature.)
4. The compass needle is designed for specific locations of the globe (M3D is designed for North America) and liquid dampened to slow oscillations and allow fast accurate readings.
(Compasses designed for other areas of the globe may suffer drag from "needle dip".)
5. The big rotating compass housing dial is marked in 2 degree increments, from 0 to 360 degrees, clockwise (an azimuth compass).
(Beware the engineer's "quadrant" compass marked in 90 degree increments which requires lots of dangerous math in the field)
6. The base plate edges are marked with mile (and meter) scales based on the USGS 1:24,000 quad map scale.
7. It has a base plate graphic marked with a scale for the 1:24,000 UTM/UPS (military) 1,000 meter grid system squares.
8. It has a magnifying spot for your bad eye.
9. The base plate is ergonomically rounded at the back end that is held in the hand (to discourage attempts to hold the compass backwards) and an adequate hole provided for a waist length lanyard to go around the neck (beware of choking!) The lanyard should also hold your loud plastic whistle, near your mouth. Lose the shorty red cord!
10. The Suunto M-3D Leader Compass compass is simple, well designed and made and light weight.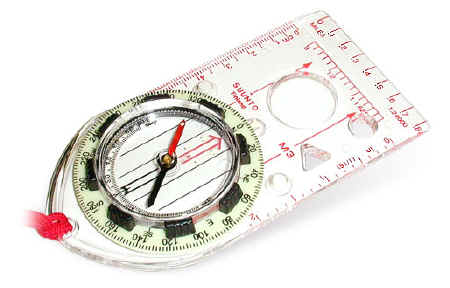 Note: The heavy Silva Ranger compass, with bezel enclosed by a plastic cover and glass sighting mirror, is not the clear choice today. Backcountry users should not depend on a sighting compass, which is virtually unusable in the dark and in high winds, rain or driving snow. Learn to take accurate compass bearings from your waist. This enables you to look straight down on the needle to the "shed". This eliminates parallax. The M3D has a reasonable cost: The Suunto M-3D compass costs $25.00. The Silva Ranger compass costs $70.00!
Note: The Silva Ranger compass adds only a heavy sighting mirror (which can not be used in dark and storm) The Ranger costs a lot more, but hey, it is "Top of the Line". But if you decide not to buy a Silva Ranger and buy the Suunto M3D compass instead, please donate half of your savings to TraditionalMountaineering.
Use our Pay Pal Donate Button! We'll even arrange for you to have a free class! --Webmeister Speik
Copyright© 2004 - 2011 by Robert Speik. All Rights Reserved.
What compasses are required by The Mountaineers for their Navigation Classes?
The Mountaineers was formed in 1906 to explore the wild areas and peaks surrounding the still-young city of Seattle. The club grew in leaps and bounds, eventually reaching a high point of 15,000 members in the 1990's. Today, the club is home to around 10,500 active members. Although the club has a small full-time staff, volunteers are responsible for running most of the programs. Volunteer leaders do everything from leading trips to teaching classes to promoting their programs.
The Mountaineers, the Mazamas, The Angeles Chapter of the Sierra Club and other outdoor clubs in the world offer classes to their members at a nominal cost because they are taught by qualified Volunteers.
Webmeister's Note: I was the Chairman of the Angeles Chapter Basic Mountaineering Training Committees for three years in the early 1980's. We trained about 1,000 Members each year in Basic and in Advanced Mountaineering covering Hiking, Rock Climbing, Navigation, Steep Snow Climbing, Light Weight Backpacking and the like. There is a lot to learn! "He who knows naught, knows not that he knows naught. Hiking the hills and summating peaks have Risks that are hidden to the uninformed, Risks that can, in part, be mitigated by the information and instruction (provided by major outdoor clubs and this Website)."

The Mountaineers offers a class in Navigation with map and Compass to Members, for about $35.00. The Class is Required for participation in certain Club Classes and Climbs. Participants must come to the first Class equipped with the proper compass.
Quoted below are, in part, the Navigation Class Requirements of The Mountaineers (and of TraditionalMountaineering):
Compass Requirements:
All compasses have a magnetized needle that points north, and have a way to indicate direction of travel. Mountaineering requires a compass with additional qualities. Compasses that hang from parka zippers or hook on watchbands are not suitable for this course or as part of your ten essentials. Good compasses are easily found, but many compasses on the market are not suitable for use in this course.

Caution - when buying a compass:
Every year, some students buy unsuitable compasses, usually the result of not following the guidelines below. Often, a sales person (who may or may not know the requirements of a good compass) was asked for advice. To complicate things further, our local outdoor stores sometimes run out of stock of the recommended compasses. Sales people will try to recommend alternatives (mostly unsuitable). They aren't malicious, but in fact are trying to be helpful. In reality, a good mountaineering compass has no substitute. Retailers will carry a variety of compasses, some suitable, some not.

Required Features:
1. Adjustable declination: A moveable orienting arrow, which provides a built-in declination adjustment. If there is one feature that simplifies map and compass work, this is it. Compasses with adjustable declination can often be identified by the presence of an adjustment screw on the back of the housing (on the underside of the compass, look at the bezel - the screw is usually brass or copper colored).
• All students MUST have a compass with adjustable declination. Be aware that compass descriptions in stores may not always be accurate. Be very sure to understand the requirements, not merely to read summary sheets. If you aren't sure, ask a salesperson to show you how to adjust the declination on a specific compass.
• If you already have a compass without adjustable declination, you may not use it in this course. Recent experience indicates that such compasses detract from the learning experience.

2. A transparent rectangular base plate with a direction of travel arrow (or a sighting mirror).
• Transparency allows map features to be seen underneath the compass.
• The rectangular shape provides straight edges and square angles for plotting and triangulating on the map.

3. A bezel (the rotating housing) marked clockwise from 0 to 360 degrees in increments of two degrees or less. (Some compasses are numbered backwards, in a counterclockwise direction. These are not suitable for use in this course.) In general, bezels should be large to allow use while wearing gloves - the larger size also improves accuracy. Black bezels with sloping sides are preferred.
4. Meridian lines: Marks on the bottom of the interior of the circular compass housing, marked with parallel 'meridian lines', which rotate with the bezel when it is turned. The meridian lines run parallel to the north-south axis of the bezel, however turned. Meridian lines are necessary for plotting and triangulating on the map.
5. A ruler and/or gradient scale engraved on one of the straight edges, used for measuring distances.
6. A 3 to 4-inch base plate. A longer straight edge makes map work easier.

Additional recommendations:
• A sighting mirror in the cover: This reduces errors introduced when moving the compass from eye-level after sighting to waist-level for reading the dial.
• A liquid-filled housing to reduce erratic needle movement (only needed on some compasses). In some cases, steadying the compass needle can be difficult.
• An inclinometer: a gravity driven arrow that allows you to measure slope angle.
• Note: Stay away from "quadrant-type" compasses marked from 0 to 90 degrees, 0 to 90, 0 to 90, 0 to 90, because they are difficult to use.

Recommended compasses:
Compasses must have the first 6 features listed, including a declination adjustment mechanism. Don't buy a new compass without this declination adjustment feature. The
declination adjustment can usually be identified by the presence of a small adjustment screw on the back of the bezel (on the underside of the compass).

The following list includes compasses that are equipped with appropriate features. This list is not all-inclusive, but is representative of good quality, fully equipped compasses suitable for this course and for other mountaineering activities. Prices for a good compass start at $20 without a mirror, more with a mirror.

Compasses SUITABLE for the course include:
SUUNTO model M2D Locator (around $20 - a best value for a compass without a mirror)
SUUNTO M3D (Note: This is my absolute favorite! Webmeister Speik)
SUUNTO MC-2G Navigator
SILVA 515 CL (in the past, this compass has been problematic, but the newer version has addressed previous problems)
Photographs of acceptable compasses - we suggest you look at this link before buying a compass.

Unacceptable compasses:
Compasses are unsuitable for mountaineering if they are too small for accurate bearings, do not have meridian lines, are numbered in 5 degree increments, have
non-transparent housings, do not have degrees from 0 to 360, or cannot be used for measuring and plotting bearings on a map.

Features which make a compass undesirable or unsuitable:
Lack of a straight edge for plotting lines on a map
Lack of declination adjustment
Lack of meridian lines inside the bezel
Small size -- less than 3.5" x 2.2"
Small bezel - less than 2" in diameter

UNSUITABLE compasses for this course:
BRUNTON 26 DNL-CL
BRUNTON model 8020 GPS
SUUNTO KB20/360
SUUNTO MB-6 Matchbox
BRUNTON model 9020 G
Copyright © 2000-2001 The Mountaineers - all rights reserved
http://www.mountaineers.org/seattle/navigation/



WARNING - *DISCLAIMER!*
Mountain climbing has inherent dangers that can, only in part, be mitigated
Read more . . .
How do mobile phones assist mountaineering and backcountry rescues?
Clinic on Real Survival Strategies and Staying Found with Map, Compass and GPS together
What do you carry in your winter day and summit pack?
Why is the GSM digital cell phone best for backcountry and mountaineering?
Why are "Snow Caves" dangerous?
Why are "Space Blankets" dangerous?
Why are "Emergency Kits" dangerous?
How can you avoid Hypothermia?
Missing climbers on Mount Hood, one dies of exposure, two believed killed in fall
Missing California family found, dad dies from exposure and hypothermia
Missing man survives two weeks trapped in snow-covered car
Missing snowmobile riders found, Roger Rouse dies from hypothermia
Olympic Champion Rulon Gardner lost on snowmobile!
Lost Olympic hockey player looses feet to cold injury
Expert skier lost five days near resort in North Cascades without map, compass, gps or cell phone
Mount Hood - The Episcopal School Tragedy
Mount Hood - experienced climbers rescued from snow cave
How can you learn the skills of snow camping? Prospectus

Backcountry Navigation
Topographic maps of the backcountry work with your compass and GPS
Why is the GSM digital cell phone best for backcountry travel and mountaineering?
What is the best GPS for mountaineering and backcountry travel?


What is the best Compass for mountaineering and backcountry travel?


How accurate is the inexpensive hand-held GPS today?
What are some good Central Oregon Geocaches?
What is the Public Land Survey Grid? pdf
What is the UTM Grid? six pdf pages


How do you use your map, compass and GPS together, in a nut shell?


How can I learn to use my map, compass and GPS?
Do you have map, compass and GPS seminar notes? six pdf pages

Map, Compass and GPS
Map, compass and GPS navigation training Noodle in The Badlands
BLM guidelines for Geocaching on public lands
Geocaching on Federal Forest Lands
OpEd - Geocaching should not be banned in the Badlands
Winter hiking in The Badlands WSA just east of Bend
Searching for the perfect gift
Geocaching: What's the cache?
Geocaching into the Canyon of the Deschutes
Can you catch the geocache?
Z21 covers Geocaching
Tour The Badlands with ONDA
The art of not getting lost
Geocaching: the thrill of the hunt!
GPS in the news
A GPS and other outdoor gadgets make prized gifts
Wanna play? Maps show you the way
Cooking the "navigation noodle"

Lost and Found
Three climbers missing on Mt. Hood, all perish
Missing California family found, dad dies from exposure and hypothermia
Missing man survives two weeks trapped in snow-covered car
Missing snowmobile riders found, Roger Rouse dies from hypothermia
Longacre Expeditions teen group rescued from the snowdrifts above Todd Lake
Lost climber hikes 6.5 miles from South Sister Trail to Elk Lake
Hiking couple lost three nights in San Jacinto Wilderness find abandoned gear
Expert skier lost five days in North Cascades without Essentials, map and compass
Climber disappears on the steep snow slopes of Mount McLaughlin
Hiker lost five days in freezing weather on Mount Hood
Professor and son elude search and rescue volunteers
Found person becomes lost and eludes rescuers for five days
Teens, lost on South Sister, use cell phone with Search and Rescue
Lost man walks 27 miles to the highway from Elk Lake Oregon
Snowboarder Found After Week in Wilderness
Searchers rescue hiker at Smith Rock, find lost climbers on North Sister
Girl Found In Lane County After Lost On Hiking Trip
Search and rescue finds young girls lost from family group
Portland athlete lost on Mt. Hood
Rescues after the recent snows
Novice couple lost in the woods
Broken Top remains confirmed as missing climber
Ollalie Trail - OSU Trip - Lost, No Map, Inadequate Clothing

Your Essential Light Day Pack
What are the new Ten Essential Systems?
What does experience tell us about Light and Fast climbing?
What is the best traditional alpine mountaineering summit pack?
What is Light and Fast alpine climbing?
What do you carry in your day pack? Photos?


What do you carry in your winter day pack? Photos?


What should I know about "space blankets"?
Where can I get a personal and a group first aid kit? Photos?

Carboration and Hydration
Is running the Western States 100 part of "traditional mountaineering"?
What's wrong with GORP? Answers to the quiz!
Why do I need to count carbohydrate calories?
What should I know about having a big freeze-dried dinner?
What about carbo-ration and fluid replacement during traditional alpine climbing? 4 pages in pdf


What should I eat before a day of alpine climbing?

About Alpine Mountaineering:


The Sport of Alpine Mountaineering


Climbing Together


Following the Leader


The Mountaineers' Rope


Basic Responsibilities

Cuatro Responsabiliades Basicas de Quienes Salen al Campo


The Ten Essentials

Los Diez Sistemas Esenciales

Our Leader's Guidelines:


Our Volunteer Leader Guidelines


Sign-in Agreements, Waivers and Prospectus This pdf form will need to be signed by you at the trail head


Sample Prospectus Make sure every leader tells you what the group is going to do; print a copy for your "responsible person"


Participant Information Form This pdf form can be printed and mailed or handed to the Leader if requested or required


Emergency and Incident Report Form Copy and print this form. Carry two copies with your Essentials


Participant and Group First Aid Kit Print this form. Make up your own first aid essentials (kits)


About our World Wide Website:


Information


Mission