TRADITIONAL MOUNTAINEERING™
www.TraditionalMountaineering.org™

™
FREE BASIC TO ADVANCED MOUNTAIN CLIMBING INSTRUCTION™
Home | Information | Photos | Calendar | News | Seminars | Experiences | Questions | Updates | Books | Conditions | Links
What should I know about a big freeze-dried dinner?
Good question! After a light and fast sierra peaks pack-in approach of ten miles gaining 5,000 feet over the last six hours you are ready to replace some serious calories before tomorrow's summit attempt.
"The post climb meal is of great importance. You must eat lots of carbohydrates and some protein within the first hour or so to replace the glycogen burned in your big muscles or it may take more than twenty-four hours to top up your tanks. Eat first, then set up base camp." - TraditionalMountaineering
Tired Alpine Mountaineer-
"I've got to get busy and get this down my gullet. I felt like I was startin' to BONK before we decided to stop here."
"How about that 'Nutritious, High Performance, 13 ounce (almost a pound!) meal of Freeze Dried Lasagna with meat and sauce including tender meat chunks, noodles and cheese in an Italian style sauce' that I packed up here? Get the stove going! Yummy!"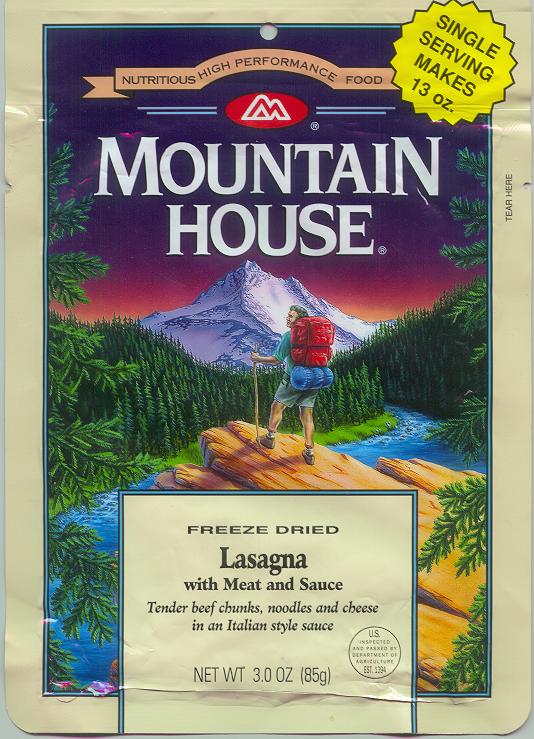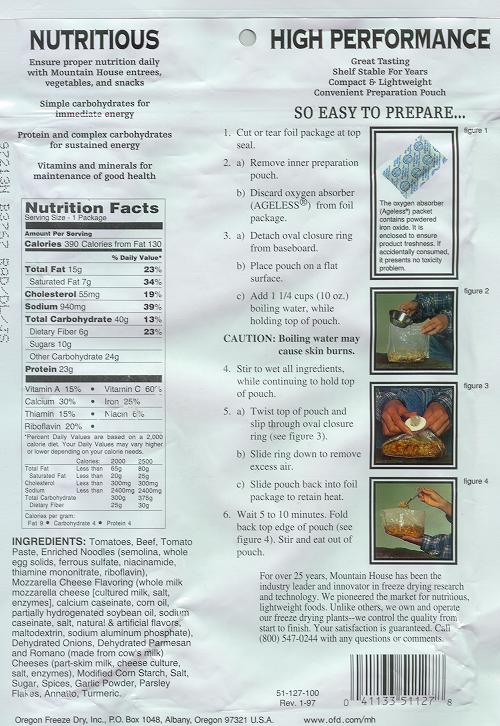 Fearless Leader Bob says, "Let's look at some of the fine print on the back of your big (13oz) freeze dried dinner."
"NUTRITIOUS! Ensure proper nutrition daily with Mountain House entrees, vegetables and snacks. Simple Carbohydrates for immediate energy, Protein and complex carbohydrates for sustained energy, Vitamins and minerals for maintenance of good health."
"Now let's look at the "Nutrition Facts" label required for the last few years by the Federal Government. Hmmm. Serving size: 1 package." (Hope you did not think 13oz might be big enough to split with your light and fast climbing partner?)
"Nutrition Facts: Calories: 390. Calories from fat: 130". Ooops!
"WAIT - MOUNTAIN HOUSE LASAGNA DINNER PROVIDES ONLY 260 NON-FAT CALORIES!?! ONE CLIFBAR PROVIDES 205 NON-FAT CALORIES, FOR GOODNESS SAKE! WHAT'S UP?"
"BUT, FAT IS GOOD ISN'T IT, AND I GET 130 EXTRA FAT CALORIES FROM THIS DINNER AND ONLY 35 FAT CALORIES FROM THE CLIFBAR. BUT - I HAVE 35,000 FAT CALORIES STORED ON MY BUTT. WHY DO I NEED MORE?"
Tired alpine mountaineer says, "What are you cooking, partner Bob? Looks really good. Can I have a taste?"
--On Belay! Bob Speik
Copyright© 1999 by Robert Speik. All Rights Reserved
The Rest of the Story
This was one of the original pages for this website, created in about 1999 when we received Microsoft FrontPage web editing soft wear with a new Windows computer. Everyone had "dial-up" service and it was fun to create your own "magazine" format for your on line friends and family. We have updated this page a bit, but kept the original flavor.
--Robert Speik
GORP: take the test!
Carbo-ration and Hydration in traditional mountaineering
Read Mark Twight and James Martin's Extreme Alpinism, 1999, The Mountaineers Press, Chapter 6 covers nutrition for mountaineering in twelve pages including suggestions for meals before, during and after a day of concentrated alpine climbing.
Read Scott Tinley's Winning Guide to Sports Endurance, 1994, Rodale Press.
In my book, the new ClifBars are the answer to the need for nutrition during the climb. Click here