TRADITIONAL MOUNTAINEERING ™
www.TraditionalMountaineering.org ™ and also www.AlpineMountaineering.org ™

™
FREE BASIC TO ADVANCED ALPINE MOUNTAIN CLIMBING INSTRUCTION™
Home | Information | Photos | Calendar | News | Seminars | Experiences | Questions | Updates | Books | Conditions | Links | Search

Read more:
Assemble your own essential first aid supplies
Click on an image to see the full version. Broadband people can click here to see the full sized page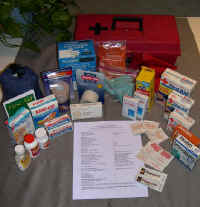 Join together as a climbing club
Purchase boxes of the items on the Traditional Mountaineering suggested first aid kit list from a discount drug store. Have a couple of designated folks divide up the items as shown on the list. Put the items identified with the + on the list in several small Ziplocs, one for each individual and the heavier group items in a single Zip for the Group kit. Get a (medic) blue stuff sack from A16; I keep my personal first aid stuff in a Zip in the bag with my Essentials.
You can build a first aid kit for your rig, using larger compresses, more tape, more triangular bandages, medic scissors, etc. Put it in a Plano box and leave it in your rig with the water, food, blankets, shovel, tow line, chains and battery cables.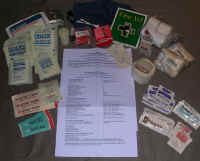 These are the items that go in the Group first aid kit
Don't forget to include the Emergency/Incident Report Form and the fist aid kit list folded with "Wilderness First Aid and Extended Care" by Buck Tilton of NOLS for instructions you have forgotten or never did learn. Take a Wilderness First Aid class from a nationally recognized company such as Wilderness Medicine Institute of NOLS.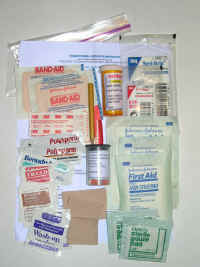 These suggested personal first aid supplies are always carried in the Essentials bag
They include your personal over the counter drugs and Vicodin pain killer that you can buy with a prescription from your personal doctor.
See the list and instructions in our suggested First Aid List.
Copyright© 2003 to 2007 by Robert Speik. All Rights Reserved.



WARNING - *DISCLAIMER!*
Mountain climbing has inherent dangers that can, only in part, be mitigated
Read more . . .
What is the best winter day pack?
What is the best day pack

MT. ADAMS
Mt. Adams, a fine traditional alpine mountaineering summit
Mt. Adams by the Mazama Glacier Route

ABOUT ALPINE MOUNTAINEERING:


The Sport of Alpine Mountaineering


Climbing Together


Following the Leader


The Mountaineers' Rope


Basic Responsibilities


The Ten Essentials


Our Mission


FAQ RELATED, WINTER
South sister spring overnight snow climb, gear and skills
An emergency snow cave in the fall 2003
NOAA Windchill Chart pdf
Photos of the melted snow pack near Mt Bachelor
Snowmachines used as a tool in traditional mountaineering
Contents of a winter summit pack
Crampons for traditional mountaineering
A map of some known avalanche slopes near Bend
Avalanche descriptors
Panty liners are not just for chicks! ;-)
Lute Jerstad conducting a traditional crevasse rescue class in 1973
ODFW clinic - Becoming an Outdoors Woman


ALPINE CLIMBING ON SNOW AND ICE
How long is the traditional alpine mountaineering ice axe?
What about climbing Mt. Hood?
What is a good personal description of the south side route on Mount Hood?
What should I know about travel over hard snow and ice?
How can I learn to self belay and ice axe arrest? 6 pdf pages


What should I know about snow caves?
What should I know about climbing Aconcagua?

TECHNICAL MOUNTAINEERING
What is the best traditional alpine mountaineering summit pack?
What is the best belay | rappel | autoblock device for traditional alpine mountaineering?
What gear do you normally rack on your traditional alpine mountaineering harness? Photos?


What is the best traditional alpine mountaineering seat harness? Photos?
Can I use a Sharpie Pen for Marking the Middle of the Climbing Rope?
What are the highest peaks in Oregon? Alphabetically?



CARBORATION AND HYDRATION
What's wrong with GORP? Answers to the quiz!
Why do I need to count carbohydrate calories?
What should I know about having a big freeze-dried dinner?
What about carbo-ration and fluid replacement during traditional alpine climbing? 4 pages in pdf


What should I eat before a long day of alpine climbing?