TRADITIONAL MOUNTAINEERING ™
www.TraditionalMountaineering.org ™ and also www.AlpineMountaineering.org ™

™
FREE BASIC TO ADVANCED ALPINE MOUNTAIN CLIMBING INSTRUCTION ™
Home | Information | Photos | Calendar | News | Seminars | Experiences | Questions | Updates | Books | Conditions | Links | Search

Is long distance backpacking part of "traditional mountaineering"?
Yes, indeed! Long distance backpacking can involve all of the six classes of mountaineering: walking on the trail, walking off the trail, scrambling using hands and feet, dangerous scrambling, rock climbing and hanging from ropes as in rappelling. It all depends on what happens. All five of the lost backpackers in the Backpacker Magazine article that I was quoted in recently, got involved in the first five of the six classes. But they were lost!
A friend of ours is a very experienced (PCT and CDT) long distance backpacker. I received permission to reproduce the following "Cindy story" from "Gottago".
(Cindy Ross' s Journey on the Crest published by The Mountaineers, is a classic and humorous journal of the Pacific Crest Trail. Have you backpacked 2,600 miles in one summer?)
--Robert Speik
OH MY GOD! Not five minutes down the trail we hit our first icy snow drift covered trail.
OH MY GOD!
Not five minutes down the trail we hit our first icy snow drift covered trail. Because we left so early [8am is early for snow covered trail hiking] the snow was slick and hard. I had Kahtoola running shoe crampons, Cupcake had six point crampons, A.P. had elastic band insteps and Spur had instep crampons.

A.P. and Spur had insufficient protection against slipping and decided to take a cross country route lower down the canyon through a burned out forest that helped make travel and seeing what lay ahead easier.

Cupcake and I continued on the snowy Highline Trail. We had 2 miles to get to the Granite Chalet area we were supposed to have camped the previous night.

The H.T. basically contoured most of the two miles. It took us 5 hours to travel those two miles! I took over kicking steps because my crampons had more points and had better purchase. I kicked steps over steep, more dangerous than I should have been on, snow drift covered trail. At first I was thrilled to be helping out in breaking the way for Cupcake who, along with Spur and A.P., has done so much work making footholds. But after a mile of kicking steps with my crampons, I wondered how I was going to have the strength and courage to continue on. My leg muscles were running low on glycogen, my hands from death griping the ice ax in my uphill hand and my trekking pole in my downhill hand, were sore and nearly skinless. I have never been so scared in my life. I kept looking ahead. At every bend in the trail I prayed to see dirt on the trail up ahead.

To make matters worse, high winds started up where mid kick step I'd crouch low hoping the wind wouldn't catch my wide pack and knock me off balance. I just said to myself, "Buck up Linda, there is no way out of this."

Cupcake and I took mini breaks when we'd hit a patch of exposed rocks. We were both tired and needing to eat for more strength. Cupcake said that he had trouble slipping a lot on his six points. My favorite pieces of gear are now my ice ax and crampons.

We got to the end of the snow drift trail to find a trail junction sign where Spur and A.P. had left a note where they were waiting for us up ahead. They had arrived about an hour and 15 minutes earlier. And initially I had thought the lower cross country route would take them a long time.

It was nice to see that they had waited for us. We had a great lunch break talking about each of the routes we had taken. I can't believe we had been the first of the season to make tracks. Actually, that's not totally true. We had been following very large bear tracks. Cupcake taught me about following animal tracks to help in locating the trail.
That made sense to me that an animal would instinctively know or remember the best way to travel the area.

The scenery has been magnificent. Mountain ranges, snow covered, running north and south form the western views from the Sierra-looking ranges we hike. Waterfalls are every where. The flowers are beginning to bloom. I find myself looking out at all the magnificence more than I should for safety sake. This area is a place I want to come back to. WHEN THE SNOW IS GONE. Really, I am thrilled that I was fortunate to experience the trail this trail so early in the season.

Hiking up the 720 feet to Swiftcurrant Pass was easy compared to this morning's hiking. Hiking the 3.5 hours down to Many Glacier was as spectacular as the Goat Rock Wilderness in Washington. I don't do describing scenery justice, so I won't. But because it is such a beautiful area, maybe one could find better descriptions and different
perspectives on the day, from my hiking partners' journals on trailjournals.com (searching for Spur or Apple Pie). Cupcake's journal entries may be found on his own website

I am soooooo amazed with what I can do. This hike has been such a stretch for me. I am grateful to my hiking buddies for affording me this opportunity.

Speaking of grateful, my husband, Ray has been unbelievable. Thanks Babe for mailing out all the different requests I've made for gear and clothing. I appreciate your love and support. I miss you.

I miss everyone!

"Gottago"
"If you are in the right place, right things will find you."
Read the original story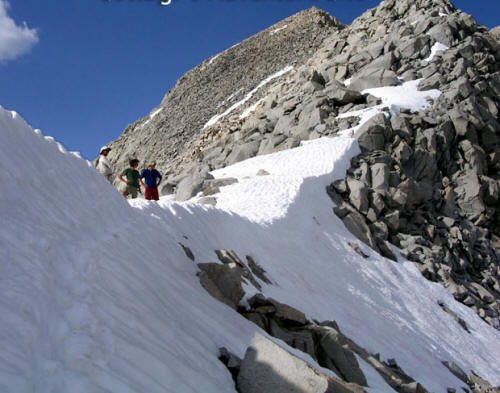 Read more . . .

About Alpine Mountaineering:


The Sport of Alpine Mountaineering


Climbing Together


Following the Leader


The Mountaineers' Rope


Basic Responsibilities


The Ten Essentials


Our Mission

ALPINE CLIMBING ON SNOW AND ICE
Is long distance backpacking part of "traditional mountaineering"?
Notable mountain climbing accidents Analyzed


How long is the traditional alpine mountaineering ice axe? Updated!
What about climbing Mt. Hood?
What is a good personal description of the south side route on Mount Hood?
What should I know about travel over hard snow and ice?
How can I learn to self belay and ice axe arrest? 6 pdf pages


What should I know about snow caves?
What should I know about climbing Aconcagua?

TECHNICAL MOUNTAINEERING
What is the best traditional alpine mountaineering summit pack?
What is the best belay | rappel | autoblock device for traditional alpine mountaineering?
What gear do you normally rack on your traditional alpine mountaineering harness? Photos?


What is the best traditional alpine mountaineering seat harness? Photos?
Can I use a Sharpie Pen for Marking the Middle of the Climbing Rope?
What are the highest peaks in Oregon? Alphabetically?



CARBORATION AND HYDRATION
What's wrong with GORP? Answers to the quiz!
Why do I need to count carbohydrate calories?
What should I know about having a big freeze-dried dinner?
What about carbo-ration and fluid replacement during traditional alpine climbing? 4 pages in pdf


What should I eat before a long day of alpine climbing?