TRADITIONAL MOUNTAINEERING ™
www.TraditionalMountaineering.org ™ and also www.AlpineMountaineering.org ™

™
FREE BASIC TO ADVANCED ALPINE MOUNTAIN CLIMBING INSTRUCTION™
Home | Information | Photos | Calendar | News | Seminars | Experiences | Questions | Updates | Books | Conditions | Links | Search


Search this site!
Read more:
Jump to our Analysis:
Jump to Media Reports:
Death on Mt. Hood - What happened to the three North Face climbers?
There has been much speculation about the difficulty of this summit attempt and the wisdom of climbing the Mt. Hood North Face Routes in December. The climbers did not carry the available Mt. Hood "Mountain Locator Units". Were they reckless? Please read the following views of experienced Oregon climbers:
WHAT ABOUT CLIMBING THE MT. HOOD NORTH FACE IN DECEMBER? A CLIMBER'S VIEW
CASCADECLIMBERS.COM
ryland_moore
Posts: 1389
Loc: Portland, Oregon
December 16, 2006

O.K. since there are a lot of "newbies" looking in with some posting who do not know the terminology and are being disrespectful, without, I hope, intending to be, here are a few things for those who have not read every single post from this forum.

The climbers supposedly headed up the NF. The NF above the Elliot glacier is a technical climb that requires frozen conditions. Mt. Hood is a volcano with a lot of choss (read loose unconsolidated rock). You must climb when this route is frozen which is pretty much the late fall through the early spring. Any other time is too dangerous to climb this route, generally.

The climbers seem to have experience in other arenas and they were not hikers. Please do not refer to them as hikers - they are climbers or mountaineers (in this instance).

The weather last week, when they set off seemed like prime conditions to do this route.

Climbing in "alpine style" also known as "light and fast" does not mean that they are not prepared. It is a climbing term used to distinguish that from an expedition style climb where you ferry loads up the mountain for a long time with a lot of gear. Think Denali or the Himalayas generally. This means that they were not carrying a ton of gear that would slow them down and less to carry. This does not mean that they were not prepared for the elements. I have witnessed guys who forgo toothbrush, place holes in their spoons and buy only the lightest gear to save a mere ounces on climbs and they do this without leaving behind some form of the "10 essentials" (Google this list if you don't know them)

To climb the North face requires rope, pro (protection) including ice screws, pickets (long aluminum bars hammered into snow as anchors), and even rock pro (placing gear in cracks that will hopefully stop a fall).

They also carried crampons (12 point metal spikes strapped to boots to climb ice) and ice tools (ice axes that are shorter and more angled picks to bight into the ice and help them climb).

Nikko stated on a post a few weeks ago when trying to obtain beta (climber's term for information about a route) that he would be carrying a bivy sack and half bag (bivy sack is a nylon, waterproof shell that can be used in emergencies to provide shelter from the elements (think mini tent without poles that weighs very little or a shell for your sleeping bag) It also adds about 10-15 degrees of warmth. So if you have a half bag (half sleeping bag or a down parka) combined with a bivy sack, you can be quite warm and stay dry plus decrease weight.

They were carrying fuel and stove for melting water and had food (quantity not known).

Snow caves are amazing shelters and in a storm if I had to choose between a snow cave or the strongest 4 season mountaineering tent, I would choose a snow cave. If built correctly, they are very strong and stable. It can be quite balmy inside with temps around 35-45 degrees F and will totally protect you from the wind and snow. You must maintain an opening (small) so that carbon monoxide can escape and get fresh air. Your main entrance opening needs to be below the area you reside inside to protect from the elements. Also remember that hot air rises. You can also live in a snow cave for along time.

The rescuers are the best around and are doing everything they can up there. It is easy to armchair quarterback things from behind your computer while sipping on your late by the fire, but most people would not last 5 minutes in the conditions these rescuers have been in for days, so please refrain from questioning their abilities.

The Cooper Spur (a ridge to the left of the North Face) is a popular ascent and descent route of Mt. Hood. It is a long ridge that is a really fun climb without too many technical difficulties. However, there have been several accidents on this route as many people descending it have fallen near the top where it is steep and do not stop until they hit the Elliot glacier 2,000' below. This is due to unstable snow slopes where people wearing crampons slip on wet/loose snow or their crampons ball up (climbing term where snow builds up between the teeth of the crampons and the points of the crampons no longer have contact with the snow surface - like walking in mud where after a few steps you have 4 inches of mud on the bottom of your shoes and you are slipping everywhere) This happens typically when wet snow collects under the crampons or the snow has warmed and when it is sunny this can happen. Unlikely with the type of snow we have here. The Cooper Spur is a good descent option if you had to. Yes, it is steep, but really not that bad once lower on the ridge. Avalanche is a concern on this route, however. There is another descent option if looking at the NF on the right side called the Sunshine Route - to the right of the Elliot headwall and North Face. This route is even less technical than the Cooper Spur (also debatable) and maybe more comparable to the South Side but with route-finding issues and glaciers and crevasses. However, it can be a difficult route to navigate on the upper portion. It does not have any glaciers on the upper section and is straight forward once lower if the route is in good condition.

Avalanches are dangerous. The conditions on the mountain now are that a lot of snow has fallen over the last week. It fell on top of another layer of snow that was exposed to sun for several days and that surface went through what is called a melt/refreeze cycle and made the surface very slippery. Now, with the new snow on top of that, it can slide off the slippery surface below creating what is called a slab avalanche. If the upper layer is heavy enough, it can slide naturally and is the type of conditions the rescuers are facing now. This is dangerous for the rescuers because they could be ascending a stable slope only to have a naturally triggered slid occur 1,000' above them and still kill or injure rescuers.

Last week's weather was perfect, so questioning why any climber would go out in this weather is mis-founded. If all had gone to plan, then the climbers would have been down and away from the mountain before the bad weather hit.

Mountain locator units are available, but in my 15 years of climbing, I have never met or climbed with anyone using one. In the climbing community, they are sometimes called "body locator units" because, to my knowledge, they have not been used successfully in a rescue of a climber on a mountain who was still alive. Maybe I need some more education in this matter.

Climbing is inherently dangerous, but so is driving in rush-hour traffic. The cost of rescue for climbers in minuscule compared with the cost of rescue for others like snow machine riders, hunters, hikers, and fisherman.

I am sure there are other questions from non-climbers out there. Many of them have been answered in previous posts, so if you are a non-climber or have not been following this entire forum, please read all posts and I bet your questions have already been answered. Keep hope alive. People can survive in snow caves for a looong time.

In summary, it does not appear from a climber's perspective, that these climbers did anything wrong per say in climbing when they did. It blew me away that they left as much information as they did about their intended route. I do not do this myself to the degree that they did and may reconsider on future climbs. They seem well within their abilities, chose a route in prime condition and right time of year, and it seems nothing more than dumb luck that one of the climbers may have been injured coupled by the impending storm that was coming in. And living in Portland, was not made a big deal about by the news or media until late Friday evening (when the climbers were on route and supposed to be descending.) Remember, they left their car on Wednesday, before any weather reports were out that a major wind storm dumping feet of snow would hit the following week.

Thanks again to Alasdair, Iain and the others (PMR, Crag Rats, etc.) for putting their lives on hold in hopes of bringing back those climbers to their loved ones so that their lives can continue.

Also, thanks for all of the regular climbers/posters who just read through that long newbie post. If y'all have anything else to add about basics that would help newbies better understand the terminology, please feel free to add anything I left out.
http://www.cascadeclimbers.com/forum/ubbthreads.php/ubb/showflat/Number/616247/page/1/fpart/19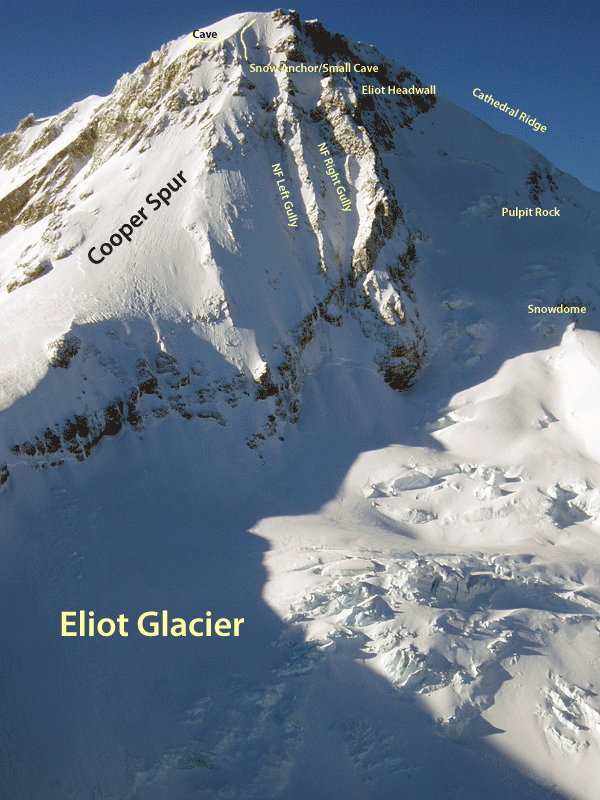 CascadeClimbers.com
Trip Report: Mount Hood - North Face Right Gully 11/20/2004
CASCADECLIMBERS.COM
shredmaximus
sprayprentice
Posts: 736
Loc: Portland, OR
Date of Climb: 11/20/2004

As the pitchers of beer emptied at the last PDX PC, the idea of a NF climb took hold. Crackman, MtnHigh and I decided to take advantage of the dry Fall weather and what
could be the last of the high pressure systems. The road to Cloud Cap is still passable with a 4x4.

The 2am start was a bit too aggressive. The approach was bomber, and we cruised it faster than we had anticipated. We didn't want to get to the bergschrund before daylight, so at 5am, with 30mph winds and blowing ice crystals chilling our bones, we crawled into a moat by the "Cookie Crumble". We waited for the sun to rise and hopefully for the winds to die down. For an hour and a half we huddled together, shivering away the cold. Are we having fun yet????

At first light we crawled out of our hole and made our way over to the elusive entrance of the NF gullys.

The climb was fantastic! The crux was probably getting over the shrund and then it was clear sailing from there. The ice steps were nicely covered and the gullys alternated
between kickable crusty sugar, and firm neve. The only bummer was the cold and wind. The wind was brutal and it came from every direction. Never underestimate how cold this climb can be if conditions are right.

12 hours after leaving the car we made the summit and basked in the warm sunshine of the south side. The plan was to descend Cooper Spur and go directly back to the
truck at Cloud Cap, but MtnHigh pussed out, wanting to descend the S side. So after an uneventful trip down, we stumbled into Timberline Lodge, beat and sore and with no ride to Cloud Cap. My better half agreed to pick us up, but she was not happy about it and had plans until later that evening. In an effort to preserve my love life, MtnHigh was able to coax his grandfather into giving us a ride. Thanks Clair! Crackman and I piled into the back of an old Taliban era Toyo pickup for the ride up the Cloudcap road. It was dam cold and very bouncy in the back of that thing, but it just felt good to be making our way home. We got back to PDX around 11pm Saturday night, 24hrs after leaving. All in all an awesome day on the hill!

I was very surprised at the lack of people on the North Side given the stellar conditions! Sounds like everyone was epic'ing on the South Side!
http://www.cascadeclimbers.com/forum/ubbthreads.php?ubb=showflat&Number=415868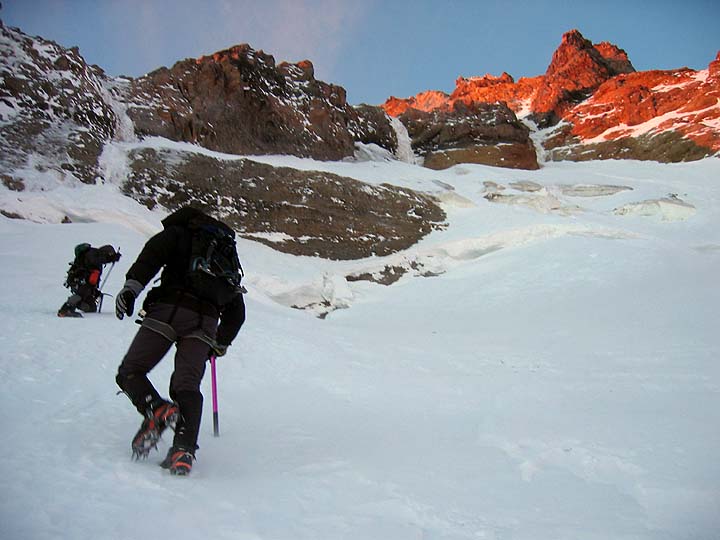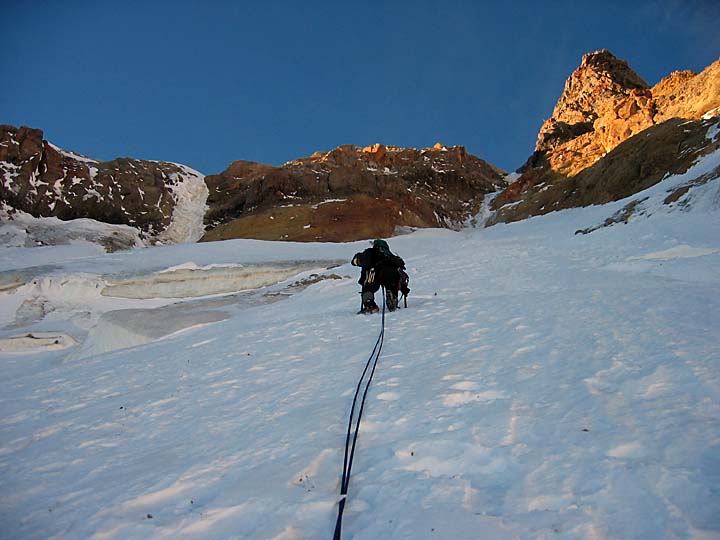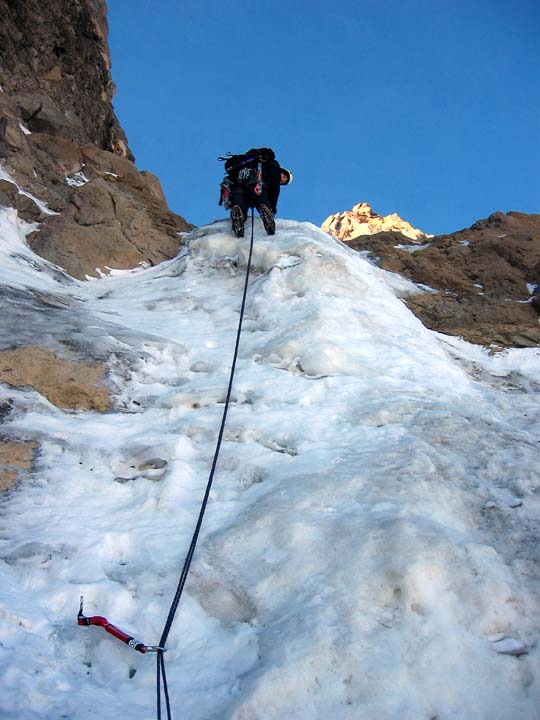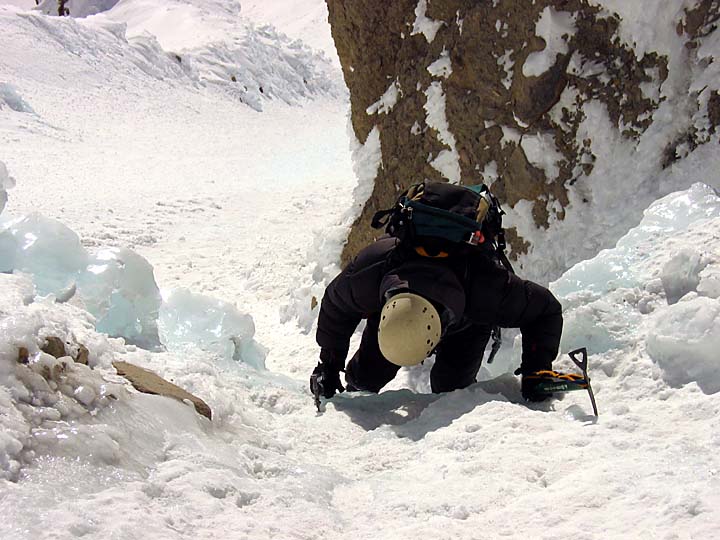 Copyright© 2004 by shredmaximus. All Rights Reserved
Note: I would guess that this is the adventure that Kelly James, Brian Hall and Jerry "Nikko" Cooke were expecting. It is sport at a high level. Risk is an essential element of Alpine Mountaineering. Jerry Cooke, as a frequent poster to CascadeClimbers.com, had undoubtedly studied this Trip Report.
--Webmeister Speik
What happened to the three North Face climbers on Mt. Hood?
What can mountaineers and others learn from this tragic event that has claimed three lives?
The primary purpose of these TraditionalMountaineering experience reports (and of the American Alpine Club's fifty eight Annual Reports of Accidents in North American Mountaineering) is to aid in the prevention of accidents.
We have not had an opportunity to interview the individuals involved in this event. Any preliminary observations we make below are based on facts culled from current news reports, blogs on popular mountaineering web sites and based on the written accounts of the experiences of other climbers who have been stranded at altitude in deep snow.
Some time has past since the body of Kelly James was lifted by military helicopter from the snows just below the summit of Mt. Hood and since the official search was called off for his companions, Brian Hall and Jerry "Nikko" Cooke. An official Sheriff's Report will be issued confirming what is officially known about the death of Kelly James. This official Report will provide facts beyond the careful comments of Sheriff Joe Wampler and the media reports by uninformed TV commentators speaking solemnly of climbers signals, snow caves, "ice picks, pins and straps" and more.
What do we know now, and what would we like to know, to better understand what happened to these careful climbers?
Let us frame our questions around the Four Basic Responsibilities of all Outdoorsmen offered by TraditionalMountaineering.org.
1. The Responsible Person
The climbers apparently had not left a Responsible Person with instructions to call Search and Rescue at 911 if they had not checked in by a certain time.
We know that they had informed the Forest Service about their climb. They had left notes at the Forest Service trail head and on their truck. They left a planned time frame for their climb. We know that they casually talked about their route with people they met at a warming hut during their exploration of the approach.
Kelly James was able to make a cell phone call from the snow cave on Mt. Hood to his home in Texas. This call led to the dramatic rescue effort that was reported for ten days, hour by hour in the media.
A cell phone connection should not have been relied upon as their only method to alert outside Rescue.
Lest one dismisses this imperative, I ask him or her to read my Report of a climbing accident on Mount Washington in 2001, published in the fifty fourth edition of Accidents in North American Mountaineering in 2001. The two climbers lay in agony for three days and two nights at the foot of their route high on the mountain after a 100 foot fall to a hard snow ramp, with broken femur and compound tib-fib fractures and more. They had not asked friends to call 911 if they did not meet at Smith Rock after their 24 hour "adventure" climb. They were discovered almost by chance. Read more about this accident on Mt. Washington. This accident was also analyzed in Outside Magazine.
This is the most important Responsibility affecting surety of rescue, of our Four Traditional Basic Responsibilities of all Outdoorsmen.
2. The Ten Essential Systems
The Ten Essential Systems, propounded by The Mountaineers of Seattle, Washington, and covered in their basic to advanced text Mountaineering, The Freedom of the Hills, now in it's seventh edition, discusses the clothing and gear each person should carry. This clothing and gear varies according to the season, the weather, the difficulty of the climb and the style of the climb.
It is reported that the three climbers were well equipped with the technical climbing gear and clothing Essentials for a Light and Fast hard ascent and a relatively easy descent from the summit down the South Side Route, and they reasonably expected to beat the known incoming storm.
They had researched the logistics of their Mount Hood adventure on the internet. Jerry Cook left the following post on the popular website www.cascadeclimbers.com: "Thanks for the info guys. My problem is that we haven't been able to get a decent map of where all these huts/cabins/trailheads are. I tried to buy an out of print guidebook but nobody had it in stock. It must have sounded a bit dumb asking about a cabin 500 yards from the parking lot".
"We'll shoot for it in a day, if conditions are slow then a short bivy somewhere along the way and over to the South side and down the next", he wrote.
At this time we do not know what essential clothing and gear they had to prevent the loss of body heat during the climb and a possible overnight bivy in the snow. We know that Kelly James died in two or three days, although sheltered from a storm in a "snow cave" just below the summit plateau.
Insulation System. It would be helpful to know the clothing details for Kelly and his companions: Specific designed clothing layers are an important basic essential to protect against the loss of body heat. Light and fast options for this climb might have been expected to protect a climber in a proper snow cave. Read about avoiding hypothermia.
Nutrition and hydration systems. It would be helpful to know the following hydration and carbohydrate calorie replacement questions: What stoves and how much fuel did the climbers carry? How much easily digested high carbohydrate food did they carry to avoid bonking after their hard climb? Climbers can not rehydrate from the minimal melt in a snow cave. The earliest stages of Hypothermia cause the body to purge water from the blood stream as the extremities are shut down. The individual must re-hydrate aggressively with liters of warm melted snow laced with metabolites to stop the slide toward profound hypothermia and death. Kelly James died in the snow cave of hypothermia and dehydration according to the medical examiner.
Emergency shelter system. The three climbers chose to bivy on a broad snow field in the lee of the summit, avoiding the brunt of high winds and later, the driving snow. Did they have one or two shovels to create a safe "snow cave" with an entrance located below the level of the sleeping bench? It would be helpful to know the actual design of their "snow cave"?
Did each climber have adequate insulation from the snow? Did each climber have at least the equal of a 3/4 length 9 oz. ensolite insulating pad? Kelly is reported to have been found "lying on his pack". This is a common plan but we are not sure it is practical. Many professional light and fast alpinists are pictured with an ensolite pad rolled and strapped to the side of their light and fast pack. At a belay, it is better to sit on the pad and anchor the pack in a position where one can rummage with the goods, cook snow, eat oatmeal and read a catalog. Did all three have at least a Nalgene bottle sized 9 oz. waterproof bivy sac?
Jerry Cook posted on cascadeclimbers.com: "I will definitely post pics and a TR with approach conditions. Also will be trying out a half sleeping bag/DAS parka bivy system, will let you all know exactly how much that sucks if I have to use it - yes I know, "if you bring bivy gear you will bivy".
Carrying the personal Ten Essential Systems is the most important Responsibility affecting a positive outcome after a stranding, of our Four Traditional Basic Responsibilities of all outdoorsmen.
3. Navigation system
They had spent time on www.cascadeclimbers.com, asking other climbers questions about the route and they had surely studied the descent-line down the easier summer South Side route. Reportedly, they reached the summit plateau of Mt. Hood but for some reason, did not descend the South Side as planned, - steeply down through the "Pearly Gates", around the Bergschrund and down the snow hog back followed by the long low angle slog back down the hill to Timberline Lodge, 5,000 feet below the summit.
The descent through the "Pearly Gates" from the summit in late fall during an emerging snow storm would have little resemblance to the down-climb described and pictured in the spring. The heavy snows of long winters build a ramp through the rock features called the Pearly Gates. Currently, there is a reported 15 foot drop off to the steep ice way sloping down to the bergschrund. It would have been well within their capabilities to rappel the initial drop and upper ice slope. We will never know why they made the decision to retreat from the summit and dig the snow cave, reportedly large enough for the three of them on the lee side of the summit plateau.
Traditionally, climbers are careful to note the exact point of their arrival at the summit. An small error at the summit can mean an error of miles at the bottom. It would be helpful to know if they had (three) small inexpensive GPS receivers, input with the UTM waypoints for the summit, the entrance to the "Pearly Gates", the likely edge of the bergschrund, the lower end of the hog back, the top tower of the ski lift and the Timberline Lodge parking lot. Did they have maps and compasses set for 17 degrees east declination? Were their maps marked with the bearing lines for the sometimes tricky descent to the Lodge?
It would be helpful to know if all three men input the UTM location of their rig, the shelter, the difficult bergschrund and more, in small GPS receivers carried in inside pockets. In a white-out one can very easily become lost on Mt. Hood.
This is the most important Responsibility affecting becoming lost, of our Four Traditional Basic Responsibilities of all outdoorsmen.
However, being lost is not the only reason for becoming stranded in the backcountry. A party can become stranded by weather, injury, illness, equipment failure in their party or another party.
4. Communications
Kelly James carried a cell phone and put it to use when it was clear they were in great danger. (However, Kelly James called his home in Texas. He did not call 911 for help.) Did each man have a cell phone to keep in touch on the mountain? Read more about PLBs. See above for the local MLU rental program on Mt. Hood.
This is the most important Responsibility affecting an efficient rescue outcome after a stranding, of our Four Traditional Basic Responsibilities of all outdoorsmen.
What happened at the summit and on the descent?
Why did the three climbers become stranded?
They had planned to descend the South Side to a vehicle they had left in the Timberline Lodge parking lot.
A problem with navigation is described above. They may not have been able to find the South Side Route through the Pearly Gates.
Another possibility is HACE or High Altitude Cerebral Edema. All three climbers came from near sea level to over 11,000 feet with very little time to acclimatize. Did Kelly James suffer an incapacitating problem? This possibility should be ruled out by the Medical Examiner. (He was actually not injured as originally reported by rescuers.)
Or, did one of the men "Bonk" while keeping up with more fit companions? A party can only push so long before a less fit companion breaks down.
Are there two actual weather-proof snow caves properly designed to maintain temperatures in the 40s with three climbers or just holes in the snow near rock outcroppings?
Were all three men the victims of the insidious mental and physical degradations of hypothermia?
Some speculate that Kelly James was left in the snow cave while his companions went for help. How was Kelly James dressed when he was found in the main snow cave? Was he lying on one or three insulating pads. Did he have one or two stoves, fuel fuel bottles and pots? What extra food was left with him when his companions left in the storm to summon help? They might have calculated it would only take a few hours to return to their vehicle and drive out to summon help. What happened on the descent from the first snow cave? Why is there a "second snow cave"? Were they overpowered by the force of the storm. Did they decide to wait a few hours before rappelling?
Did Brian Hall and Jerry Cooke leave their companion with their extra essentials, in the perceived safety of the original snow cave and go for help? We know that Kelly James at least, was unable to maintain his body heat in that snow cave perhaps for the essential reasons noted above. Perhaps Kelly James had become hypothermic. Brian Hall and Jerry Cooke recognized the medical emergency and went for help for their incapacitated companion. This is the scenario propounded by the Press.
Perhaps awaiting a lull in the wind, they sheltered again before rappelling. With unstable windblown snow, they fell at the first anchor, or at a second anchor below. Or did the two climbers rappel down, set a new anchor, pull the rope and rappel again? Did they fall while rappelling or did they succumb to hypothermia, lost on the relative safety of the Eliot Glacier? But this does not seem to be in accordance with the facts as we know them now.
We saw photographs of a rappel anchor, variously described by the uninformed media reporters as "a typical climber's signal message" or "pins and straps to hold the climbers to the snow as they dug a snow cave". Two technical ice axes were left at the first rappel. Did they belong to Kelly James or to Brian or Jerry? We wonder if both men fell to their deaths while setting this initial rappel.
Did new snow blown over the summit and deposited on a summer's hard pack of near ice, slough away under their feet on the steep slope of the Cooper Spur as they tried to set the ropes through the anchor before rappelling down. Did they fall fully equipped with their own gear leaving Kelly James without ropes and no way of escaping. Did he then return to the original snow cave where he was found?
We believe these questions will be answered in due course.
Our Summary:
Our personal view is that the three climbers simply summitted at 11,239' very tired and they quickly became very cold in the high wind after climbing light and fast. They decided to bivy overnight, sheltering below the summit on the easier snow slope of the upper Cooper Spur. The wind and weather threatened, coming from the west. The South Side Route may have seemed more exposed to the coming storm. They may have decide the fastest way off the mountain was to rappel down the North Face Left Gully to the Elliot Glacier and to walk out to their vehicle at a much lower altitude.
Did all three move together, to rappel down to the Glacier? Was Kelly James stranded without ropes by a snow slide and a tragic fall of his companions as they set up the first rappel?
I believe this is the most likely scenario: Two climbers fell with the rappel ropes, stranding the third. This was a tragic mountaineering accident.
--Robert Speik
National Geographic Adventure's Analysis of this mountaineering accident
Search on Mount Hood: After the Storm

In the wake of December's Mount Hood tragedy, Adventure pieces together the clues in the deaths of three climbers.
Text by Tim Neville
When the belly door of the helicopter opened, Josh Johnston could see the mountain below through swirling snow whipped in the rotor wash. The two-year veteran of the U.S. Air Force Reserve's 304th Combat Rescue Squadron clipped his harness onto a ring at the end of a hoisting cable, lowered his goggles, and dropped into the sky.

One of the worst storms in a decade had been raging for a week around 11,239-foot (3,426-meter) Mount Hood, Oregon's highest peak. Gusts had topped 130 miles an hour (209 kilometers an hour), and the wind chill sank to -40ºF (-40ºC). Up to five feet (two meters) of new snow had fallen in places, and somewhere near the summit, three missing climbers were enduring an unknown fate.

Once on the mountain, Johnston moved deliberately off the northeast face. All around him the slopes groaned with avalanche danger. Tracks led down from the summit but quickly disappeared in the wind-blasted hard pack. Following a hunch, Johnston continued on for another 300 feet (91 meters), tapping his ice ax at the edge of some exposed rocks. Suddenly the snow sounded hollow. "I thought, Holy shit, this is it," he says. Johnston punched his adze through the opening of a sealed snow cave. Inside lay the body of climber Kelly James, confirming the harsh reality that one of the largest and most public mountain rescues ever mounted in the United States would not have a happy ending.

For more than a week before Christmas 2006, the country was consumed by the saga of James, a 48-year-old landscape architect from Dallas, and his two climbing partners, Brian Hall, 38, a personal trainer also from Dallas, and Jerry "Nikko" Cooke, 36, a lawyer from New York City. The men, all fit and experienced mountaineers, had attempted to climb a 2,000-foot (610-meter) technical ice route on Mount Hood's north face, but a storm had pinned them near the summit. The results are now well known—three climbers, all dead—but what remained was a question: How did things go so terribly wrong?

The story began early on Friday, December 8, when the climbers rolled up their sleeping bags and set out from a backcountry cabin nestled at 6,000 feet (1,829 meter) among cedars and firs. Their plan, as described in a note they left on the dash of their rented SUV, was to reach the summit via the north face and then to descend the easier southern slopes to the Timberline Lodge in a single day. It was an ambitious itinerary, nearly a vertical mile up and a vertical mile down with probably 12 to 14 hours of climbing in total, but for Cooke, Hall, and James—veterans with combined experience in the Cascades, the Andes, and the Alps—it was hardly outlandish.

Starting that morning, the climbers edged along a cliff band toward the face, keeping the gnarled crevasses of the Eliot Glacier to their right. The sky dawned clear, another in a weeklong run of unusually mild days, but according to weather reports at the time—we can only assume Cooke, Hall, and James checked them—it wouldn't remain that way for long. Meteorologist Tyree Wilde of the National Weather Service in Portland says that conditions were predicted to deteriorate into rain and then snow that afternoon (and had been forecast to do so for a full week before the climb). That evening a series of storms was expected to barrel in from the Pacific. One, on December 14, would be so severe that it would leave a million people in Oregon and Washington without power.

Typically, it takes three to four hours to hike the 3,000-plus feet (914-plus kilometers) from the cabin to the north face and the start of the climbing route. In winter, mountaineers generally leave between two and four in the morning to reach the face by first light. But it appears that Cooke, Hall, and James were running late. Photographs recovered from a camera found on James's body have not been released to the public, but a number of rescuers have commented on them. Reportedly, one places the team on the lower Eliot Glacier in broad daylight, perhaps an hour and a half away from the face. On December 8 the sun rose at 7:38 a.m., meaning the shot had to have been taken between
8 a.m. and 9 a.m. Assuming that is true, the climbers could not have reached the beginning of their route earlier than 9:30 a.m., at least two hours behind schedule.

As the men roped up at the base of the face, at around 9,400 feet (2,865 meters), the sky was likely still perfect. That morning Wilde recorded sunny skies and a balmy 50ºF (10ºC) at 5,000 feet (1,524 meters). The route the climbers eyed, a lick of ice up the face's left couloir, would take about five roped pitches and five to six hours to complete. If the climbing went smoothly, they'd hit the summit by mid-afternoon and then work their way down to the Timberline. It was a tight window; they would never make it all the way to the lodge before sunset, at 4:27 p.m., and every additional moment would put them in the path of oncoming foul weather. It was at this point, rescuers believe, that the climbers made what would be a fatal decision: Rather than turn around, they cached most of their gear and proceeded up the mountain as light and fast as possible—one photo shows James carrying only a small daypack, and when Johnston found his remains, he had no sleeping bag, down jacket, or bivvy sack.

At first the climbing was probably enjoyable. They sunk axes into 50-degree snow slopes and front-pointed up steps of near-vertical ice. But, for reasons we'll never know, the progress was slow. Originally, rescuers believed James had been hurt, but an autopsy report shows no signs of injury. Maybe the pitches were tougher than expected, or maybe the route was in worse condition than the climbers had counted on after such a long spell of warm weather. Most likely, though, the team was stalled by the onset of the storm.

By mid-afternoon, Wilde says, the conditions on the mountain were deteriorating rapidly, with the temperatures sinking and winds mounting. Indeed, a telling photo reportedly shows the team still climbing in late afternoon, again later than expected, with heavy clouds rolling in. Brian Hukari, a rescue worker who inspected the route more than a week later, found an icy layer in the snowpack that suggests they may have been caught in a rainstorm.

Wearing rain-soaked clothing (which speeds the body's loss of heat 25-fold), the climbers would have rapidly grown hypothermic in the plummeting temperatures. Their pace would've dropped as they fumbled with numb fingers and shivered violently. They would have struggled to keep their balance and coordination as strength drained from their limbs. Worst of all, their thinking would have grown increasingly cluttered and irrational. By that evening it was snowing hard, with temperatures in the 20s and winds up to 40 miles an hour (64 kilometers an hour).

The terror of clinging to the side of a 50-degree ice slope in a whiteout and dwindling light is hard to imagine. Yet retreating down the steep icy face of the "left couloir," as the route is known, was more dangerous than going up. "There is no easy way out once you're in that chute," Hukari says. And so the three pushed higher into the thick of the storm, eventually reaching the summit.

With only light gear among them, the climbers did the best thing they could have done: They dropped down the east face, out of the wind, and dug a snow cave big enough for all three of them, deftly burrowing under rocks for additional protection. How long they stayed there is unclear, but at 3:45 p.m. on December 10, after nearly 40 hours hunkered down in the storm, James called his wife in Dallas. Karen James said her husband sounded confused, alternately saying that Hall had gone for help and that Cooke was on a plane. James probably froze to death not long after.

As to what happened to Cooke and Hall, the clues yield more questions than answers. Nearly a week after James called home, spotters in Blackhawk helicopters photographed what looked like a climbing anchor about 400 feet (122 meters) below the summit. Nearby, Hukari found a ledge big enough for two people, hacked out of the slope. On it, two new ice tools sat disturbingly abandoned, as did half a foam pad and an 8.5-mm climbing rope cut into four sections. Another set of tracks on the summit disappeared in an entirely different direction—into an icy chute that precipitously drops 2,500 feet (752 meters) to the Newton Clark Glacier below. "Spring," says Bernie Wells, a volunteer rescuer, "that's when they'll find them."

In the end, the nation, media, and families of the dead mourned the three climbers killed on Mount Hood. It was the worst possible outcome, and the nagging questions that no one had wanted to ask began to surface: Why did the three men decide to climb a demanding route with no easy exit, late in the day, with little gear, and a storm barreling toward them? Was it acceptable risk or a case of bad judgment? We'll never know for certain. Likely it was the simple eagerness born of standing at the base of a magnificent face on a cloudless morning that pushed Cooke, Hall, and James to rope up. From that moment on, they never had a chance.
http://www.nationalgeographic.com/adventure/mountaineering/rescue/mount-hood-2006-3.html
The Reason for this enquiry: A QUOTE FROM 1871
See yonder height! 'Tis far away -- unbidden comes the word "Impossible!"

"Not so," says the mountaineer. "The way is long, I know; its difficult -- it may be dangerous."

"It's possible, I'm sure; I'll seek the way, take counsel of my brother mountaineers,
and find out how they have reached similar heights and learned to avoid the dangers."

He starts (all slumbering down below); the path is slippery - and may be dangerous too.
Caution and perseverance gain the day
-- the height is reached! and those beneath cry, "Incredible! 'Tis superhuman!"

This is a passage we found on page 161 of "Scrambles Amongst the Alps" by Edward Wymper,
first published in 1871 and reprinted 1981 by Ten Speed Press, Berkley, CA.
A suggested minimum standard news advisory for all backcountry travelers
"We would like to take this opportunity to ask our visitors to the backcountry of Oregon to plan for the unexpected. Each person should dress for the forecast weather and take minimum extra clothing protection from a drop in temperature and possible rain or snow storm or an unexpected cold wet night out, insulation from the wet ground or snow, high carbohydrate food, two quarts of water or Gatorade and the ability to make more, a map and compass and optional inexpensive GPS and the skills to use them, and a charged cell phone and inexpensive walkie-talkie radios. Carry the traditional personal "Ten Essential Systems" in a day pack sized for the season and the forecast weather.
Visitors are reminded to tell a Responsible Person where they are going, where they plan to park, when they will be back and to make sure that person understands that they are relied upon to call 911 at a certain time if the backcountry traveler has not returned. If you become lost or stranded, mark your location and stay still or move around your marked location to stay warm. Do not try to find your way until you are exhausted, or worse yet - wet. Wait for rescuers.
THE MISSION of TraditionalMountaineering.org
"To provide information and instruction about world-wide basic to advanced alpine mountain climbing safety skills and gear, on and off trail hiking, scrambling and light and fast Leave No Trace backpacking techniques based on the foundation of an appreciation for the Stewardship of the Land, all illustrated through photographs and accounts of actual shared mountaineering adventures."
TraditionalMountaineering is founded on the premise that "He who knows naught, knows not that he knows naught", that exploring the hills and summitting peaks have dangers that are hidden to the un-informed and that these inherent risks can be in part, identified and mitigated by mentoring: information, training, wonderful gear, and knowledge gained through the experiences of others.
The value of TraditionalMountaineering to our Friends is the selectivity of the information we provide, and its relevance to introducing folks to informed hiking on the trail, exploring off the trail, mountain travel and Leave-no-Trace light-weight bivy and backpacking, technical travel over steep snow, rock and ice, technical glacier travel and a little technical rock climbing on the way to the summit. Whatever your capabilities and interests, there is a place for everyone in traditional alpine mountaineering.
Read more about The Mission.
Selected Media Reports during the Search and Recovery are copied below
Search for 3 missing Mt. Hood climbers awaits "window" after major storm
By Joseph B. Frazier
Associated Press
December 15, 2006

COOPER SPUR, Ore. — A rescue team searching for three climbers missing on Mount Hood was riding out a massive storm in a remote mountain lodge overnight, hoping for a weather break Friday that would let them reach a snow cave near the summit that is the last known location for at least one of the three men.

Volunteers have braved blistering winds and blinding snowstorms to no avail since the trio was reported missing on Sunday from what was to be a two-day climb of the rugged north face of the 11,239-foot peak.

Hood River County sheriff's Deputy Chris Guertin, who is coordinating the search, said that under optimum conditions a rescue team might be able to reach the snow cave within four to six hours from the Cloud Cap Inn at the 6,000-foot level.

A cellphone signal from Kelly James, 48, an experienced climber from Dallas, Texas, that faded by Tuesday was the last sign of the men.

On Friday morning, two wives and a sister of the climbers appeared on morning news shows.

"They're not quitters," said James' wife, Karen, as she locked hands in a single grip with climber Brian Hall's sister, Angela, and Michaela Cooke, wife of Jerry "Nikko" Cooke, of New York.

"The most important thing about them is their spirit that they all share, and that they, they know what to do, and they plan so meticulously so that they can carry out the adventures that they have done all over the world," Hall's sister said.

Hall, also of Dallas, and Cooke headed down the mountain Saturday to get help, Kelly James said in a four-minute cellphone call to his family on Sunday from the snow cave. Neither has been seen since.

Thursday brought winds of 80 mph and more snow, and forecasters said conditions likely would worsen, making the summit area inaccessible until perhaps the weekend.

An attempt to use small, unmanned planes carrying cameras that can detect body heat was stymied Thursday when lenses fogged up because of precipitation, but more were sent in by Sno-Cat 9 miles to the inn Thursday afternoon.

The flights reached about 6,500 feet, said John Blitch, leader of the Colorado non-profit group Aracar, which provided the planes. The planes will be kept outside to acclimatize them for a later attempt, he said.

Anticipating the fierce storm, authorities ordered journalists off the mountain to a lower ranger station.

Two search teams were out on the slopes Thursday. One team made it to a shelter on Cooper Spur at about the 7,500-foot level, according to sheriff's Sgt. Gerry Tiffany.

He said the weather outlook for the search on Friday was "very poor" with extreme avalanche danger. Winds of 100 to 140 mph were expected on the mountain, along with up to 18 inches of snow, followed by a sharp temperature drop, Tiffany said.

But he said the rescue operation expected fresh resources on Friday.

James' brother Frank, of Orlando, said that when Kelly James made the cellphone call from the snow cave, he did not actually say he was injured.

But Frank James said his brother and Hall had been climbing together for eight years and didn't climb without each other, and that Hall would not have left Kelly James without "a very, very, very good reason."

Guertin said rescue crews are committed to continuing the search at least through Saturday. "Time and weather are the issues now," he said.

Frank James said that after Saturday family members would urge that the search be continued if it could be done safely.

Authorities said a cellphone belonging to Kelly James was on briefly as recently as early Tuesday. But for more than two days the phone has not responded to engineers' signals, sent every five minutes.

But the "ping" recorded Tuesday suggested that James may have turned his cellphone off for a time to conserve battery power, a possibility that brought hope to family members.

Cell technicians say a "ping" located by triangulation from the Sunday call pinpointed the location to within about a quarter of a mile. But rescuers have not been able to get there.

Technicians — including two from the FBI — arrived with technology they said could define the location better if other signals from the phone could be detected.

Searchers denied access to the summit area by weather have been searching lower canyons in case Hall and Cooke made it down that far.

James' wife, Karen, said the families remained confident.

"These are three of the most phenomenal men you could ever meet. They're smart, they are strong, and they care so deeply for one another," she said Thursday.

She said there have been prayers, tears and laughter among family members gathered in nearby Hood River, along with plans for the news conference they plan when their loved ones walk out.

"My husband proposed to me on Mount Rainier, and we're planning our 50th wedding anniversary there, so I know he is coming off this mountain," she said.
Copyright 2006 The Associated Press. All rights reserved.
http://www.usatoday.com/weather/storms/2006-12-13-mt-hood-search_x.htmh_x.htm
Good snow caves best hope for Mt. Hood climbers
By Tim Fought
Associated Press
The Bulletin
December 15, 2006

PORTLAND, Ore. (AP) - If Kelly James and his climbing companions get off Mount Hood alive, it will almost certainly be a result of their success in digging womb-like snow caves, mountaineering experts said Thursday.

The climbers conceivably could make it, and it would help mightily if they took lightweight camp stoves and fuel with them when they set out more than a week ago for the summit of the 11,239-foot volcanic peak.

On Thursday, rescuers continued to wait on the middle elevations of the mountain for the weather to clear, and family members took hope from two-day-old signals from James' cell phone handset.

The fiercest storm of a turbulent week bore down on the region Thursday afternoon, prompting authorities to order journalists off the mountain.

Rescue teams remained hunkered down at a campground at about 6,000 feet, waiting for a break in the weather and a chance to advance to the summit. That opportunity was unlikely to present itself until the weekend, weather forecasters said.

But with the hikers missing since Sunday in worsening weather, the question of their survival tactics pressed more urgently.

"It doesn't take a lot to survive if you can create a good snow cave," said Dunham Gooding, president of the American Alpine Institute in Bellingham, Wash., which provides mountain guides and training services.

What makes a good shelter from mountain storms?

It should be small, with about enough room to go to the bathroom and turn, Gooding said. "It's going to be warmer the smaller it is," he said.

Its living area should be uphill of the entrance, so as to trap what warm air rises from the body, said Robert Speik of Bend, who said he has spent 35 years giving mountaineering instruction with the Sierra Club and has been involved in other training for climbers.

It needs a breathing tube, which could be either the entrance, Gooding said, or a separate opening to the outside. What's critical is that the climber be able to clear it readily, he said.

It should be a two-person job because there's risk of hypothermia in constructing a snow cave, Speik said.

"In digging the snow cave, you have to be careful to not get wet with sweat or snow," he said.

Beyond that, the experts said, the most important things are water and insulation.

Ingesting snow directly is dangerous because that lowers body temperature and increases the risk of hypothermia, Speik said.

Best is to melt snow with a stove, but search authorities say they have very little information about what kind of clothes or gear the climbers took on what was supposed to be a rapid, "light and fast ascent." Gooding said that phrase can mean different things to different climbers.

James, 48, and Brian Hall, 37, both of Dallas and Jerry "Nikko" Cooke, 36, of Brooklyn, N.Y., began their hike last week and were reported missing on Sunday after James called his family saying he was in a snow cave, that the party was in trouble and Hall and Cooke had descended for help.

Associated Press writer Typhanny Tucker contributed to this story.
Copyright 2006 by The Associated Press. All Rights Reserved.
Marc Lieberman| Producer | CBS Evening News

Body found in second Mount Hood snow cave
Unidentified person thought to be one of 3 missing climbers missing a week
By RICHARD CLEMENT
December 17, 2006

NBC's Peter Alexander reports on the latest in the search for a group of missing climbers on Oregon's Mount Hood.
Nightly News

"We remain hopeful," said Capt. Mike Braibish, spokesman for the Oregon National Guard. "We are going to still collect information and pursue the rescue of the two other climbers."

Teams of climbers and a helicopter will work Monday to remove the body from the 11,239-foot mountain, said Marc Smith, also a spokesman for the Hood River Sheriff's Office.

Near the first snow cave, helicopters had spotted rope that had been intentionally laid out in a Y-shape, which climbers often use to indicate their location. There was also an ice spike and footprints, said Sgt. Gerry Tiffany, spokesman for the Hood River County Sheriff's Office.

The footprints appeared to head up the mountain toward the summit, but were blown out by the wind at higher points, Tiffany said.

Searchers dug through the first cave, about 300 feet below the summit, to ensure no one was there and took the equipment, which will be examined for clues.

Weather conditions have been harsh since the three were reporting missing eight days ago, with heavy snow fall and wind gusts of up to 100 mph. The snow stopped Saturday, but wind up to 50 mph blew the fresh snow, hampering visibility. Skies were blue Sunday, the wind was still, and temperatures at the summit were reported near zero degrees.


There has been no communication from Kelly James, 48, of Dallas, 37-year-old Brian Hall of Dallas, or 36-year-old Jerry "Nikko" Cooke of New York City since Dec. 10, when James used his cell phone to call his family. He told them he was sheltering in a snow cave while his companions started back down the mountain, apparently to get help for him.

The last clue to their whereabouts was a brief signal returned from James' cell phone Tuesday.

© 2006 The Associated Press. All rights reserved.

http://www.msnbc.msn.com/id/16220398/

2 climbers may have fallen and died
By JOSEPH B. FRAZIER
December 18, 2006

HOOD RIVER, Ore. - Two climbers still missing on Mount Hood may have been swept to their deaths over a treacherous cliff by howling winds of more than 100 mph after they left their possibly injured companion behind in a snow cave to get help.

Sheriff Joe Wampler offered that scenario as rescuers went back up the mountain in helicopters Monday to retrieve the body of Kelly James from the snow cave and try again to find his two companions, who have been missing for a week.

But the sheriff spoke grimly about the chances the pair were still alive: "We failed them. We literally failed them. But we tried our best, I know that."

James' body was discovered over the weekend. Wampler said climbing equipment found on the mountain — including two slings and two aluminum anchors driven into the snow — led rescuers to believe that James' companions, Brian Hall and Jerry "Nikko" Cooke, had tried to secure themselves to the steep slope. That was the last sign of the two.

Because of that, authorities said, it appears more and more likely that they were victims of an accident.

If they did not find a place to take shelter, the sheriff warned, the climbers are long past the point of survival. But he added: "You can last a long time in a hole. We're going to keep looking for that hole."

The spot on the 11,239-foot mountain where the two men vanished is commonly known as "the gullies," with a 60-degree slope and a treacherous 2,500-foot drop-off.

Thirteen deaths over the past 40 years have been recorded in the same area.

Teams were expected to continue searching for two more days, but weather forecasts may require them to take a break about Wednesday.

James, a 48-year-old landscape architect from Dallas, made a cell phone call from the cave on Dec. 10, telling his family the party was in trouble.

Wampler said it appears the three climbers succeeded in reaching the summit from the difficult north side and started go down the easier south side. They apparently tried to pass through a rock-and-ice formation known as the Pearly Gates, but did not find it.

They built a snow cave, possibly because of bad weather, the sheriff said. He said all three probably spent the night of Dec. 8 there. The next day, he said, two of the men
probably left the cave to go in search of help for James, who may have been injured. Then, the weather deteriorated even more.

The two had to dig another snow cave on a steep slope for themselves, not far from the first one, and apparently used snow anchors to secure themselves to the mountain as bad weather raged around them, the sheriff said.

"At some point they were standing there clipped into something, probably because it was so windy there. I mean this is a really steep, dangerous place on the mountain," Wampler said.

Two ice axes, a glove, some rope and a piece of sleeping mat were found along with the slings and snow anchors.

If they cannot find the climbers, rescue teams may start digging through as much as 10 feet of new snow that has fallen on the mountain, the sheriff said. "These guys left a trail better than most. But looking for three people on a very big mountain is a needle in a haystack," he said.

The climbers may have suffered through weather similar to conditions on Mount Everest, the world's highest peak, said Jim Whittaker, who in 1963 became the first American to climb to the top of Everest.

"It can turn into an Everest when you get those high winds and snow," said Whittaker, speaking from his home in Port Townsend, Wash. "You get knocked over by the wind. Your goggles fog up. You can't even travel."

Most climbers attempt Mount Hood in May and June, when the weather is calmer. But Whittaker said he did not think it was reckless for the three men to climb Mount Hood during the winter.

"They were climbers that knew what they were doing. They were just pushing themselves to their farthest frontiers. That's when people are at their best," he said.

Frank James, brother of Kelly James, choked back tears when he said a ring found on his brother's body inside the snow cave had confirmed his identity

"This is a difficult day for all three families," James said. "I feel that I have two other brothers still on the mountain," he said.

http://news.yahoo.com/s/ap/20061218/ap_on_re_us/missing_climbers

New storm approaching, 2 climbers still missing
CNN
December 20, 2006

HOOD RIVER, Oregon (CNN) -- With hope fading and a new snowstorm approaching, rescuers focused Tuesday on a small area of Mount Hood, looking for new clues that might lead them to two stranded climbers.

The body of a third climber, Kelly James, was removed from the 11,239-foot mountain Monday night.

Hood River County Sheriff Joe Wampler said Tuesday that a camera was recovered along with James' body, and the pictures it contained were proving very valuable to investigators.

But the pictures also were cause for concern, he said. "After developing those pictures, looking what they had with them, I'm pretty concerned about how long somebody can last out there."

He said the climbers were "lightly equipped but well equipped." (Watch how the search is slowing )

The pictures, which started with "three happy guys" getting ready for their climb, also showed the climbers' progress, he said.

"The pictures are telling us they were at a certain place at a certain time, that they were on the gully route to the summit at a certain time of day -- we can tell all that by what the pictures look like." (Climbers' likely path)

The plan Tuesday called for fixed-wing aircraft to fly over the area looking for clues, or better yet, the missing climbers: Brian Hall, 37, of Dallas, Texas, and Jerry "Nikko" Cooke, 36, of Brooklyn, New York.

"We're still looking for those little clues so that we can make plans to move ground teams into certain areas if we need to, and also maintain the opportunity for Brian and Nikko to stick their head up out of that hole up there someplace and self-rescue themselves, and we want to be there to see that if that happens," Wampler said.

Early Tuesday, ground search teams were standing by, waiting for assignments based on what was spotted from the aircraft.

Wampler also was preparing to send an avalanche team, made up of experts at probing deep snow on the mountainside.

"There is a chance that these guys, instead of falling -- which is one scenario -- they've been covered up by snow, that they have crawled into a crag or a crack to get out of the wind, and stuff has come on top of them, and they're still there waiting for us to come get them," Wampler said.

Weather was a major concern, with a new storm expected to hit the area around midday Wednesday.

"It's going to put us on hold, literally, for a while," Wampler said. "So that's why we'll keep flying, we'll keep people up there. We're going to try to get this avalanche thing in place and done before that moisture gets here."

CNN meteorologist Chad Myers said the storm was expected to hit Mount Hood about 2 p.m. Wednesday (5 p.m. ET), bringing rain at lower elevations, icing between 5,000 and 6,000 feet, and snow above that.

The search area had been narrowed to an area between the snow cave where James' body was found and an area directly below. (Watch sheriff explain how rescuers have narrowed search )

James had called his family from the snow cave on December 10, explaining that his two climbing companions had left him to get help. The three had begun their trek two days earlier.

His body was found Sunday. James had suffered a dislocated shoulder, said Wampler.

Tracks found in the snow offered another clue. Wampler said mountain climbers normally walk in each other's tracks.

"There's basically 20 guys making one track to the top," he said. "Well, we've got some strange tracks that tell us that two people at least were walking side by side, which may indicate one guy was trying to help another."

The Hood River County Sheriff's Office estimates it spent roughly $5,000 a day for the first three days and about $6,500 a day after that, The Associated Press reported. But that's only part of what will be become the final price tag, the AP said. (Full story)

Asked whether his optimism is fading, Wampler said, "Realistically, hope and optimism is based on fact. How long can somebody survive out in this environment, based on their experience, what they're able to do, and take care of themselves?

"We are approaching that time when we've got to make some serious considerations whether we're spinning our wheels or not."

"The big search probably is over -- the look-everywhere-we-possibly-can," Wampler said. "Because I think we did that, I think we've done a pretty good job."

But, he said, "This office is not going to give up until somebody tells me the risk of doing this thing outweighs the results."
Copyright 2006 CNN. All rights reserved.

http://www.cnn.com/2006/US/12/19/missing.climbers/index.html

Autopsy shows Mt. Hood climber was uninjured
Search for missing men called off as storm moves in
By KTVZ.com news sources and AP
December 20, 2006

HOOD RIVER, Ore. -- Autopsy results Wednesday showed that Mount Hood climber Kelly James, whose body was recovered Monday, was not injured as previously thought.

James did not have a dislocated shoulder, as reported by authorities earlier this week. Furthermore, James' body showed no broken bones or injuries that would have prevented his mobility, according to the state medical examiner, Dr. Larry Lewman.

Lewman said James died of hypothermia, from exposure to the cold, and that dehydration may have been a contributing factor. Chemical tests are pending.

"Mr. James had been deceased several days prior to the discovery of his remains in the snow cave," the medical examiner added.

Rescue teams gave up any hope of finding two missing climbers alive on stormy Mount Hood and abandoned the frustrating, 9-day-old search Wednesday.

"We've done everything we can at this point," said Sheriff Joe Wampler, choking back tears after returning from one last, fruitless flyover of the 11,239-foot peak.

As weather permits, officials will now look for the bodies of Brian Hall and Jerry "Nikko" Cooke, he said.

Three climbers in all were reported missing in the snow on Mount Hood on Dec. 11. One of them, 48-year-old Dallas landscape architect Kelly James, was found dead in a snow cave on Sunday and removed the following day. Volunteers continued scouring the mountains for signs of James' climbing partners, Hall, a 37-year-old personal trainer from Dallas, and Cooke, a 36-year-old lawyer from New York City. But climbing gear found on the peak suggested the two may have been swept to their deaths over a precipice or buried in an avalanche.

Wampler said the men's families made the decision to end the search as yet another snowstorm barreled in.

"It was pretty much their conclusion. The chance of survival is pretty nil. I don't think I can justify putting any more people in the field with the hope of finding them alive," the sheriff said.

The men's families had no immediate comment.

The announcement ended a dramatic and heartbreaking search on the rocky, snow-covered flanks of Oregon's tallest mountain that began on Dec. 11.

During the height of the effort, scores of volunteers, deputies and National Guardsmen on foot and in helicopters and a plane had searched the mountain for the men, who had set out Dec. 8 for what was supposed to be a two-day climb to the peak and back down.

On Dec. 10, James called his family via cell phone to say that the party was in trouble and that his two companions had gone downhill for help. Authorities suspect James had suffered a dislocated shoulder, perhaps in a fall.

After James' body was discovered, search teams held out hope that Hall and Cooke had dug a cave in the snow and were awaiting rescue, as climbers are trained to do.

In one last attempt, Wampler piloted a Piper Cub over the mountain on Wednesday, looking into a report by snowshoers of a yellow tent in a snow field. He said it turned out to be a rock.

"Right now things are moving in from the west," he said of the snowstorm. "That window has shut on us."

Even before the sheriff spoke, the search had already been scaled back dramatically. All of the volunteers had packed up and returned to their regular lives, and helicopters used in the search had returned to their bases.

"I feel good abut what I did. I wanted to do what I could for the family," Wampler said. "You start something you want to finish it."

© 2006 The Associated Press. All rights reserved.

http://www.ktvz.com/story.cfm?storyID=17750

Searchers Scale Back Search for 2 Climbers on Mount Hood
By WILLIAM YARDLEY
December 20, 2006

HOOD RIVER, Ore., Dec. 19 — The search for two climbers missing on Mount Hood for more than a week was scaled back considerably on Tuesday, reflecting rescuers' increased focus on a relatively small area near the summit but also on the cold logic that any chance of survival is slim.

"We are approaching that time when we've got to make some serious considerations about whether we're spinning our wheels," Sheriff Joe Wampler of Hood River County

Foul weather was expected to arrive as soon as Wednesday, Sheriff Wampler said, probably putting the rescue effort "on hold."

A third climber, Kelly James of Dallas, was found dead in a snow cave near the 11,239-foot summit on Sunday, a week after he told his family in a cellphone call that he was taking shelter there. Mr. James had an arm injury, possibly dislocating his shoulder, the sheriff said on Tuesday. His two fellow climbers, Brian Hall of Dallas and Jerry Cooke of Brooklyn, had planned to descend the mountain to find help.

After several days in which rescuers scoured much of the perimeter of the mountain, following various potential clues, they now are focusing on an area on the north side of the mountain, just below the summit. There, rescuers found a hastily dug cave with two ice axes and other tools, critical climbing gear not likely to have been intentionally left behind.

The sheriff has said that the climbers may have fallen in a steep section known as the gullies, near Eliot Glacier, and that they could have encountered an avalanche. He said they also could have found shelter in a crag in the ice and snow, become buried and now be "waiting for us to come get them."

The climbers began their ascent on Dec. 8, planning to reach the top and then descend in a single day.

Photographs in a camera that was found with Mr. James's body showed that the climbers "were lightly equipped but well equipped," the sheriff said. Having seen the equipment in the photographs, which he did not describe in detail, he said, "I'm pretty concerned about how long somebody could last out there."

Helicopters flown by the Oregon National Guard returned to their regular bases on Tuesday, as did soldiers in the Air Force Reserve who removed Mr. James's body from the mountain on Monday. Small planes belonging to the sheriff's office continued to maintain "visual vigilance" of the mountain on Tuesday, and the sheriff said an avalanche team hoped to search the area of focus before the weather turned.

Angela Hall, a sister of Brian Hall, asked those who have followed rescue efforts to pray for her brother and Mr. Cooke, "now more than ever."
Copyright 2006 CNN. All rights reserved.

http://www.nytimes.com/2006/12/20/us/20climbers.html

Climbing 'light and fast' also proves deadly
Minimalists spark a debate after recent mountain deaths
By MIKE LEWIS
P-I REPORTER
Monday, January 15, 2007

As the story goes, the climbers would have died that August week on Mount Rainier two years ago.

Two members of the eight-climber group had been hurt, one with a broken leg. They sent a team back down the route to get help just as foul weather set in. Down slope, the descending climbers found help in the form of park ranger Mike Gauthier.

The rising storm made an immediate rescue impossible. The eight-member team had been traveling "light and fast" -- the mantra of the modern climber. With minimal fuel
and supplies, they had been prepared for a fast summit and return. A stay of several freezing nights at altitude wasn't in the plan.

"If they had not run into some other climbers with extra fuel, at least a couple of them would have died," Gauthier said recently. "They had to dig in, and they weren't prepared."

This is, experienced climbers say, the fine, often shifting line that defines light-and-fast climbing, or the pursuit of a summit with as little extra gear as possible.

The deaths of three climbers on Mount Hood in December renewed the ongoing discussion among serious climbers about where the minimalist line should be drawn -- although it remains unclear exactly how much extra, multi-day-stay gear the Hood trio had.

Two of the climbers' bodies have not been found. The third died of exposure, not injuries, while hunkered in a snow cave. Would more gear have saved him?

"It's hard to say, but at Denali, for example, you are prepared to stay a week in a cave if necessary. And people do that," said Jay Sherrerd, member of the Mount Hood Crag Rats, a climbing club that helped with the rescue attempt. Two Crag Rats found the body of climber Kelly James in the snow cave.

Although it's true that 11,237-foot Hood is no 20,320-foot Mount McKinley in Denali National Park, a winter summit on the Oregon volcano is difficult, particularly on its north face.

Sherrerd, who has climbed Hood a dozen times, cautioned that the Hood accident might not represent anything more than bad luck for three climbers who got caught in the worst storm anyone can remember. Winds near the summit topped 100 mph for several days in a row.

"But in mid-December, you have to plan for terrible weather, too. Their e-mails indicated they planned for a quick two-day summit. Sometimes, that's just not going to happen."

E-mails among the trio in the two months before the climb, rescuers said, indicate that they had an internal debate about what gear to take, including whether to pack bivy bags -- sleeping baglike emergency shelters -- for their winter summit attempt. Years ago, a bivy bag would have been considered as necessary as water.

"You see people going up Rainier", Gauthier said, "with all of the right things to achieve a perfect climb. But what if it isn't perfect? What if it turns into several days in a snow cave?"

This has been the subject of discussion on climbing message boards. Indeed, some of the early debate involved the fated climbers themselves. They were making queries about a winter climb on Hood and what gear to take and what to leave behind.

Put simply, "light and fast" means using the least to achieve the most, keeping a pack light enough for a quick summit and return, staying exposed to weather and altitude as little as possible. It can mean taking merely a single day's worth of food and fuel (critical in melting snow for water) and little extra clothing other than what is worn.

The light-and-fast philosophy is nothing new, and many expert climbers say it has saved more lives than it has cost. The Mountaineers outdoors club offers seminars on the subject. Climbing books extol its virtues.

It is now such a standard way to approach alpine climbing -- as opposed to once-popular, everything-but-the-kitchen-sink expedition style -- that the discussion has distilled to how light a climber can go.

But in the effort to shave weight, climbers sometimes allow little margin for error, said Christian Beckwith, a former editor of American Alpine Journal and an author of books on climbing.

"The light style is relatively accepted in Western climbing, simply because it is easier," Beckwith said. "You accept the risk in order to minimize the (weight) discomfort.

"But there might be sliding scale of how light you should go and how good you are."

That scale was at the heart of the debate that surfaced on the message board cascadeclimbers.com in the months and days preceding the Hood tragedy.

Before the accident that would claim his life, Jerry Cook -- using his message board avatar "Fuggedaboudit" -- found himself in a debate with some local climbers who asserted that by the nature of his queries about a planned Rainier climb, he likely didn't have a clear grasp of that scale. (Many of the postings have since been removed.)

One person, rather than sending answers, sent him photos of rescues instead.

Cook's response: "Finally, just wanted to say that when I ask for route conditions on this site, I really don't think you need to post photos of helicopter body recoveries instead of telling me whether or not the snow bridges on Carbon were still solid last mid May, which is what I was looking for when I asked for info, not 'people can get hurt or die doing this.'

"I think this site is a great resource for information but am really turned off by someone anonymously parenting me to 'climb the mountain on her terms not yours.' You don't know me, I don't know you. The difference is, I keep my mouth shut."

Jim Nelson, owner of Pro Mountain Sports in Seattle, listed Cook among his customers. Considered the primary local gear destination for the orthodox go-light crowd, Pro Mountain is known for its obsessive customers, called "gram geeks" -- alpinists who spare no detail in order to travel ever lighter, even if it means removing tags from
clothing.

Also an author of a couple of Cascade Mountains climbing guides, Nelson cautioned that going light hardly isn't unsafe. In fact, he said, it generally is much safer. The type and amount of gear a person takes depends on their experience and risk assessment.

"But people do get sucked into it," he said of minimalist climbing. "It can get you in trouble, if you can't weather a storm. In the right hands, though, it can get you out of trouble. You can (by moving quickly with little weight) reduce your exposure to altitude."

Gauthier, the Rainier ranger, said that to the inexperienced climber, particularly in the fickle Cascades, that line can be hard to determine.

When he is asked what gear to take to Rainier, Gauthier automatically assumes that the person doesn't have much local climbing savvy.

His heavy response:

"Bring all of it."
Copyright© 2007 by Seattle Post Intelligencer. All Rights Reserved.

http://seattlepi.nwsource.com/local/299762_ultralight15.html

MOUNTAIN LOCATOR UNITS ON MT. HOOD


CASCADECLIMBERS.COM
iain
Posts: 11501
Loc: PORTLAND, OREGON
December 16, 2006

This seems as good as any place for this. Hope some find it helpful:

Questions continue to be asked about the Mount Hood Locator Unit (MLU) after every search like this last one. Some of the media somehow still confuse them with PLBs and cell phones, and I have been asked to outline the program, so this is just to reiterate what the MLU does.

Availability-
REI, OMC, and the Mountain Shop all "rent" MLU transmitters to climbers. They are also available 24 hrs a day at the Mount Hood Inn at Government Camp. The rental shops test each transmitter in front of the climber renting it. Records are kept on battery life. A $5 rental fee covers the expense of this.

History-
The MLU program began back in 1986 in the wake of one of Mt Hood's largest tragedies, where a large group from the Oregon Episcopal School became trapped near White River Canyon, resulting in 9 deaths. It took three days to find the unmarked, buried snow cave, and by then it was too late for 7 of the kids and 2 adults.

The Mountain Signal Committee built and tested the technology, then went through the Oregon legislature to get enabling legislation to use the system. Currently the USFS and Clackamas County Sheriff control the system.

The MLU Transmitter-
MLUs are small VHF transmitters attached to a sash. When the "ripcord" is pulled and the MLU activated, it sends out a tone at 168.54 MHz. These transmitters are not monitored full-time. Once a rescue is initiated, PMR will do an initial sweep of the mountain for an MLU signal. There is a check box to say you are carrying one on the sign-in sheets at Timberline, but frequently PMR will do a scan just in case you forgot to check the box, or if you didn't register.

The MLU system is essentially a wildlife tracking system. During testing, MLU transmitters have been picked up 20 miles away. Transmitters deep in crevasses or under many feet of snow have been easily detected. However, line-of-sight rules apply. PMR can't find a signal on the opposite side of the mountain, behind a ridge, or deep in a canyon. The signal will also "bounce" off wet rock walls, making it confusing for the searcher at times.

Should you use one?
There is no doubt the MLU takes the "search" out of search and rescue. It has been used successfully in several winter operations on Mt. Hood. The technology, now 20 years old, still works well. It is not perfect, but it remains a powerful tool for PMR.

Carrying an MLU does not guarantee a rescue. Sometimes accessing your location is impossible due to weather, avalanche, rockfall, etc. However, it does allow all energy to be focused on accessing your location and getting you out of there, rather than trying to find you first, which as you have seen can take days.

Many climbers feel it is inappropriate to take technology along that replaces self-sufficiency. Many climbers do not bring cell phones with them for this reason. This is an understandable personal choice climbers make. Climbing is often viewed as an opportunity to escape society. This message is simply to let people know the MLU still does its job well, and if you wish to rent one, it is available as a tool for you to use, and will be used to find you if you get in trouble on Mt. Hood.

http://www.cascadeclimbers.com/forum/ubbthreads.php?ubb=showflat&Number=622470&page=0#Post622470

Rescuers share in substantial donation from the climbers families and friends

From OregonLive.com
February 18, 2008
"The agencies and volunteer groups involved in a massive search for three missing climbers on Mount Hood in December 2006 will share about $90,000, courtesy of a Texas fund that had been established to help the climber's families.

Rocky Henderson of Portland Mountain Rescue said about 30 representatives of the primary search groups -- including Sheriff Joe Wampler of the Hood River County Sheriff's Office and Sheriff Craig Roberts of the Clackamas County Sheriff's Office, along with members of the Crag Rats, PMR and the 304th Rescue Squadron -- were called to a meeting Friday at the Crag Rats clubhouse in Hood River.

"They asked to come to a presentation for a 'thank you' from the family, with the hint that perhaps some money would be involved," Henderson said. But, he said, "we were blown away when we heard how much."

Henderson said the money came from a private foundation in Dallas, Texas, home of 37-year-old Brian Hall and 48-year-old Kelly James."

http://blog.oregonlive.com/breakingnews/2008/02/foundation_donates_to_mountain.html

"Death on Mount Hood, a widow remembers"

Karen James, widow of Kelly James has published a book about the tragedy. "Holding Fast: the Untold Story of the Mount Hood Tragedy" is available at booksellers nationwide.

"Mount Hood remains an invitingly white icon on Portland's eastern horizon, seemingly made for postcards. But in 25 years, it has claimed at least 35 lives.

Karen James says she is past the worst of her grief and that she knows her family will be re-united in heaven. But she has not returned to Mount Hood.

'A lot of people see this big beautiful thing', she said, 'I can't help but just see a beast' '"
--Quoted from The Bulletin, By Joseph B. Frazier, The Associated Press, November 14, 2008.

Final Report (Revised) to the American Alpine Club

Webmeister's Note: Jeff Sheets of Portland Mountain Rescue, submitted an initial Report on this tragic mountaineering accident to the American Alpine Club and it was included in the 2007 edition of Accidents in North American Mountaineering along with a spectacular cover photograph of rescue climbers on the Cooper Spur Ridge. The editor of ANAM, Jed Williamson, suggested to Jeff Sheets that this revised Report be offered here in a timely way on this website. --Webmeister Speik

Compare this Report with the earlier Report in your copy of ANAM 2007, available everywhere. Because of the wide spread coverage of this mountaineering accident by an uninformed media world wide, it is important to explain what happened in the most informed way possible to the widest possible audience.

http://www.traditionalmountaineering.org/Report_MtHood_NorthFace_Winter.htm



WARNING - *DISCLAIMER!*
Mountain climbing has inherent dangers that can, only in part, be mitigated
Read more . . .

ACCIDENTS ON MOUNT HOOD
Mount Hood - Three climbers, their MLU and a dog rescued on Mt. Hood
Mount Hood - Veteran climber injured during ice axe arrest on Mt Hood
Mount Hood - Climber injured by falling ice, rescued by helicopter
Mount Hood - Three climbers die on the North West Face
Mount Hood - Solo climber falls from Cooper Spur
Final Report to the American Alpine Club on the loss of three climbers on Mount Hood in December 2006
Mount Hood - Climbing accident claims three lives -Final Report and our Analysis

Mount Hood - Notable mountain climbing accidents Analyzed

Mount Hood - Solo hiker drowns while crossing Mt. Hood's Sandy River
Mount Hood - Solo climber slides into the Bergschrund and is found the following day
Mount Hood - The Episcopal School Tragedy
Mount Hood - experienced climbers rescued from snow cave
Mount Hood - a personal description of the south side route
Mount Hood - fatal avalanche described by Climbing Ranger
Mount Hood - avalanche proves fatal for members of Mazamas climbing group
Mount Hood - snowboard rider dies on Cooper Spur
Mount Hood - fatal fall on snow, Cooper Spur Route
Mount Hood - fatal fall on snow from the summit
Mount Hood - climb shows the need for knowledge
Mount Hood - climb ends in tragedy
Mount Hood - rescue facilitated by use of a VHF radio

Lost and Found
Rescue charges in traditional alpine mountaineering
Governor establishes a Search and Rescue Task Force
Oregon Search and Rescue Statutes
Lost hiker in Oregon backcountry found with heat-sensing device in airplane
HB2509 mandates electronic locator beacons on Mt. Hood - climbers' views
Oregon HB 2509 as approved on March 28, 2007
Missing California family found, dad dies from exposure and hypothermia
Missing man survives two weeks trapped in snow-covered car
Missing snowmobile riders found, Roger Rouse dies from hypothermia
Longacre Expeditions teen group rescued from the snowdrifts above Todd Lake
Lost climber hikes 6.5 miles from South Sister Trail to Elk Lake
Hiking couple lost three nights in San Jacinto Wilderness find abandoned gear
Expert skier lost five days in North Cascades without Essentials, map and compass
Climber disappears on the steep snow slopes of Mount McLaughlin
Hiker lost five days in freezing weather on Mount Hood
Professor and son elude search and rescue volunteers
Found person becomes lost and eludes rescuers for five days
Teens, lost on South Sister, use cell phone with Search and Rescue
Lost man walks 27 miles to the highway from Elk Lake Oregon
Snowboarder Found After Week in Wilderness
Searchers rescue hiker at Smith Rock, find lost climbers on North Sister
Girl Found In Lane County After Lost On Hiking Trip
Search and rescue finds young girls lost from family group
Portland athlete lost on Mt. Hood
Rescues after the recent snows
Novice couple lost in the woods
Broken Top remains confirmed as missing climber
Ollalie Trail - OSU Trip - Lost, No Map, Inadequate Clothing

Real Survival Strategies
FREE Clinic on Real Survival Strategies and Staying Found with Map, Compass and GPS together
What do you carry in your winter day and summit pack?
Why are "Snow Caves" dangerous?
Why are "Space Blankets" dangerous?
Why are "Emergency Kits" dangerous?
How can you avoid Hypothermia?
Missing climbers on Mount Hood, one dies of exposure, two believed killed in fall
Missing California family found, dad dies from exposure and hypothermia
Missing man survives two weeks trapped in snow-covered car
Missing snowmobile riders found, Roger Rouse dies from hypothermia
Olympic Champion Rulon Gardner lost on snowmobile!
Lost Olympic hockey player looses feet to cold injury
Expert skier lost five days near resort in North Cascades without map, compass, gps or cell phone
Mount Hood - The Episcopal School Tragedy
Mount Hood - experienced climbers rescued from snow cave
How can you learn the skills of snow camping? Prospectus

Your Essential Light Day Pack
What are the new Ten Essential Systems?
What does experience tell us about Light and Fast climbing?
What is the best traditional alpine mountaineering summit pack?
What is Light and Fast alpine climbing?
What do you carry in your day pack? Photos?


What do you carry in your winter day pack? Photos?


What should I know about "space blankets"?
Where can I get a personal and a group first aid kit? Photos?

Carboration and Hydration
Is running the Western States 100 part of "traditional mountaineering"?
What's wrong with GORP? Answers to the quiz!
Why do I need to count carbohydrate calories?
What should I know about having a big freeze-dried dinner?
What about carbo-ration and fluid replacement during traditional alpine climbing? 4 pages in pdf


What should I eat before a day of alpine climbing?

About Alpine Mountaineering:


The Sport of Alpine Mountaineering


Climbing Together


Following the Leader


The Mountaineers' Rope


Basic Responsibilities

Cuatro Responsabiliades Basicas de Quienes Salen al Campo


The Ten Essentials

Los Diez Sistemas Esenciales

Our Leader's Guidelines:


Our Volunteer Leader Guidelines


Sign-in Agreements, Waivers and Prospectus This pdf form will need to be signed by you at the trail head


Sample Prospectus Make sure every leader tells you what the group is going to do; print a copy for your "responsible person"


Participant Information Form This pdf form can be printed and mailed or handed to the Leader if requested or required


Emergency and Incident Report Form Copy and print this form. Carry two copies with your Essentials


Participant and Group First Aid Kit Print this form. Make up your own first aid essentials (kits)


About our World Wide Website:


Information


Mission