TRADITIONAL MOUNTAINEERING ™
www.TraditionalMountaineering.org ™ and also www.AlpineMountaineering.org ™

™
FREE BASIC TO ADVANCED ALPINE MOUNTAIN CLIMBING INSTRUCTION™
Home | Information | Photos | Calendar | News | Seminars | Experiences | Questions | Updates | Books | Conditions | Links | Search

Read more:
What do you know about GPS accuracy?
GPS Selective Availability signal degradation was discontinued May 1, 2000!
PRESS RELEASE FROM THE WHITE HOUSE
Office of the Press Secretary
For Immediate Release May 1, 2000
STATEMENT REGARDING THE UNITED STATES' DECISION TO STOP DEGRADING GLOBAL POSITIONING SYSTEM ACCURACY
Today, I am pleased to announce that the United States will stop the intentional degradation of the Global Positioning System (GPS) signals available to the public beginning at midnight tonight. We call this degradation feature Selective Availability (SA). This will mean that civilian users of GPS will be able to pinpoint locations up to ten times more accurately than they do now. GPS is a dual-use, satellite-based system that provides accurate location and timing data to users worldwide. My March 1996 Presidential Decision Directive included in the goals for GPS to: "encourage acceptance and integration of GPS into peaceful civil, commercial and scientific applications worldwide; and to encourage private sector investment in and use of U.S. GPS technologies and services." To meet these goals, I committed the U.S. to discontinuing the use of SA by 2006 with an annual assessment of its continued use beginning this year.

The decision to discontinue SA is the latest measure in an on-going effort to make GPS more responsive to civil and commercial users worldwide. Last year, Vice President Gore announced our plans to modernize GPS by adding two new civilian signals to enhance the civil and commercial service. This initiative is on-track and the budget further advances modernization by incorporating some of the new features on up to 18 additional satellites that are already awaiting launch or are in production. We will continue to provide all of these capabilities to worldwide users free of charge.

My decision to discontinue SA was based upon a recommendation by the Secretary of Defense in coordination with the Departments of State, Transportation, Commerce, the Director of Central Intelligence, and other Executive Branch Departments and Agencies. They realized that worldwide transportation safety, scientific, and commercial interests could best be served by discontinuation of SA. Along with our commitment to enhance GPS for peaceful applications, my administration is committed to preserving fully the military utility of GPS. The decision to discontinue SA is coupled with our continuing efforts to upgrade the military utility of our systems that use GPS, and is supported by threat assessments which conclude that setting SA to zero at this time would have minimal impact on national security. Additionally, we have demonstrated the capability to selectively deny GPS signals on a regional basis when our national security is threatened. This regional approach to denying navigation services is consistent with the 1996 plan to discontinue the degradation of civil and commercial GPS service globally through the SA technique.

Originally developed by the Department of Defense as a military system, GPS has become a global utility. It benefits users around the world in many different applications, including air, road, marine, and rail navigation, telecommunications, emergency response, oil exploration, mining, and many more. Civilian users will realize a dramatic improvement in GPS accuracy with the discontinuation of SA. For example, emergency teams responding to a cry for help can now determine what side of the highway they must respond to, thereby saving precious minutes. This increase in accuracy will allow new GPS applications to emerge and continue to enhance the lives of people around the world.
/s/ President William J. Clinton

New Data from U.S. National Geodetic Survey
Comparison of Positions With and Without Selective Availability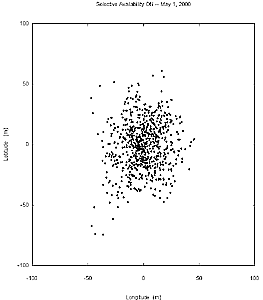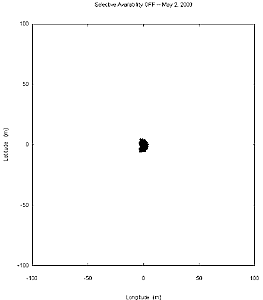 May 1, 2000 May 2, 2000
The images compare the accuracy of GPS with and without selective availability (SA). Each plot shows the positional scatter of 6.5 hours of data (0730 to 1400 UTC) taken at one of the Continuously Operating Reference Stations (CORS) operated by the U.S. Coast Guard at Hartsville, Tennessee. On May 2, 2000, SA was no longer present. The plots show that SA causes 95% of the points to fall within a radius of 44.2m. Without SA, 95% of the points fall within a radius of 4.1m.
DO YOU NEED RETURN ACCURACY TO ONE FOOT?
Webmeister's Note: For most all purposes about 12 feet is good enough to find your car or camp!
However, since the amazing accuracy of the $100 hand-held GPS receiver is limited to within 4.1 meters of a position anywhere on the globe, it is a good idea to use the coordinates to guide the user to an identifiable landmark (a large bolder or tree) and then provide a compass bearing and distance (FROM THE TALL ROCK, GO 15.5 FEET AT 93 DEGREES TRUE) to a specific object (a snowmobile under drifted snow, or a Geocache). It is also good to give two bearings FROM specific landmarks. The point will be where the two bearings cross. (Try to have the two lines cross at near 90 degrees). Adding a third bearing is OK but accuracy is impaired ;-). (This technique used in Geocaching.com is called an "offset" geocache).
--Webmeister Speik
White House Agrees to Remove Selective Availability
GPS World
September 19, 2007
In a statement late Tuesday, the White House said that President Bush has agreed with the U.S. Department of Defense recommendation to permanently do away with Selective Availability, the intentional degradation of the civil GPS signal.
Specifically, the statement said that the U.S. would no longer require that the ability to introduce timing errors in the GPS signal reserved for civilian use be built into future generations of GPS satellites; it specifically cited Block III spacecraft.

The White House acknowledged that this was following on the decision in 2000 to turn Selective Availability off. "Although the United States stopped the intentional degradation of GPS satellite signals in May 2000, this new action will result in the removal of SA capabilities, thereby eliminating a source of uncertainty in GPS performance that has been of concern to civil GPS users worldwide," the statement said.

In simple terms, GPS satellites currently issue two different sets of signals used for determining location: one for the U.S. military and its allies, dubbed the Precise Positioning Service, or PPS, and one for civilian use, dubbed Standard Positioning Service, or SPS. PPS actually comprises two signals and is encrypted, whereas SPS only uses one and is unencrypted; it was designed from the start to be less accurate than PPS. When GPS came about, the military — the GPS satellite fleet is maintained through the U.S. Air Force — didn't want its own technology being used against it in a conflict, so it intended to make the civilian signal less accurate.

Early on, however, SPS proved more accurate than was comfortable for the military, so it introduced Selective Availability (SA). SA degraded the accuracy of the civilian signal on a global basis by introducing intentional timing errors into the civilian signal.

Back in 2000, the U.S. government decided to turn off SA indefinitely, which is one of the factors in the growing adoption of GPS technology in consumer electronics today. This latest pronouncement from Washington D.C. effectively makes the policy change with regard to SA a permanent one.

The U.S. military says SA is no longer necessary, as it has a range of capabilities and technology to implement regional denial of service of civilian GPS signals when needed in the area of conflict — which is why it originally recommended doing away with SA back in 2000. Furthermore, since the advent of GPS, a range of technologies including supplemental satellite and ground-based navigation systems (such as DGPS, WAAS and EGNOS) have grown up to improve the accuracy of civilian GPS, essentially rendering SA moot.

Furthermore, the U.S. Air Force has acknowledged that a recent upgrade to the GPS ground control system will in the future provide a new "security architecture" for supporting troops in combat.
http://mg.gpsworld.com/gpsmg/article/articleDetail.jsp?id=458483





WARNING - *DISCLAIMER!*
Mountain climbing has inherent dangers that can, only in part, be mitigated
Read more . . .
What is the best compass?
Gps, Map and Compass Classes
Free TraditionalMountaineering field Seminars

BACKCOUNTRY NAVIGATION
How accurate is the inexpensive hand-held GPS today?
Can you get me a $30 rebate on your favorite GPS: Garmin's Legend? pdf form
What are some good Central Oregon Geocaches?
What is the Public Land Survey Grid? pdf
What is the UTM Grid? six pdf pages
Which GPS do you like?


Which Compass do you like?


How do you use your map, compass and GPS together, in a nut shell?
How can I learn to use my map, compass and GPS?
Do you have map, compass and GPS seminar notes? six pdf pages

Map, Compass and GPS
Searching for the perfect gift
Geocaching: What's the cache?
Geocaching into the Canyon of the Deschutes
Can you catch the geocache?
Z21 covers Geocaching
Tour The Badlands with ONDA
The art of not getting lost
Geocaching: the thrill of the hunt!
GPS in the news
A GPS and other outdoor gadgets make prized gifts
Wanna play? Maps show you the way
Cooking the "navigation noodle"
The Badlands
Geocaching in the Badlands
Geocaching Three Buttes
The Badlands, a brief history

Lost and found
What happened to the three climbers on Mt. Hood?
Two climbers become lost descending Mt. Hood
Missing California family found, dad dies from exposure and hypothermia
Missing man survives two weeks trapped in snow-covered car
Missing snowmobile riders found, Roger Rouse dies from hypothermia
Lost snowmobile riders found, one deceased from hypothermia
Longacre Expeditions teen group rescued from the snowdrifts above Todd Lake
Lost climber hikes 6.5 miles from South Sister Trail to Elk Lake
Hiking couple lost three nights in San Jacinto Wilderness find abandoned gear
Expert skier lost five days in North Cascades without Essentials, map and compass
Climber disappears on the steep snow slopes of Mount McLaughlin
Hiker lost five days in freezing weather on Mount Hood
Professor and son elude search and rescue volunteers
Found person becomes lost and eludes rescuers for five days
Teens, lost on South Sister, use cell phone with Search and Rescue
Lost man walks 27 miles to the highway from Elk Lake Oregon
Snowboarder Found After Week in Wilderness
Searchers rescue hiker at Smith Rock, find lost climbers on North Sister
Girl found in Lane County after becoming lost on hiking trip
Search and rescue finds young girls lost from family group
Portland athlete lost on Mt. Hood
Rescues after the recent snows
Novice couple lost in the woods
Search called off for missing climber Corwin Osborn
Broken Top remains confirmed as missing climber
Ollalie Trail - OSU Trip - Lost, No Map, Inadequate Clothing

The Sport of Alpine Mountaineering


Climbing Together


Following the Leader


The Mountaineers' Rope


Basic Responsibilities


The Ten Essentials


Mission




South Sister, Middle Sister, North Sister (the sinister sister) and Broken Top in the Three Sisters Wilderness near Bend, Oregon USA
Copyright © 1995-2007 by Robert Speik. All Rights Reserved.