TRADITIONAL MOUNTAINEERING ™
www.TraditionalMountaineering.org ™ and also www.AlpineMountaineering.org ™

™
FREE BASIC TO ADVANCED ALPINE MOUNTAIN CLIMBING INSTRUCTION™
Home | Information | Photos | Calendar | News | Seminars | Experiences | Questions | Updates | Books | Conditions | Links | Search

Read more:
Young Bend man dies in backcountry avalanche
Bend family's son killed in avalanche
The Bulletin
By Ernestine Bousquet
January 18, 2005

Twenty-two-year-old Pete Tripp learned to ski on the slopes of Mount Bachelor before his parents moved to Bend several years ago. He died Sunday in the backcountry of Idaho along with a fellow snowboarder and Gonzaga University student when an avalanche buried them near Mullan.

Pete, Brian Brett, 23, of Bellingham, Wash., and a third Gonzaga student, Sean Forbes, 22, had gone snowboarding south of Mullan. They were in a remote area near Lake Stevens, close to the Idaho-Montana border in the northern tip of Idaho, according to a Shoshone County Sheriff's Office news release.

After snowshoeing to the top of a ridge, the trio was snowboarding down when the avalanche was triggered Sunday afternoon, the Sheriff's Office said.

Forbes survived the torrent of snow and tried to find his friends before going to call for help.

Pete "just loved the mountains. It was his spiritual haven," said his father, Dr. Michael Tripp, a gastroenterologist at Bend Memorial Clinic. Michael Tripp spoke by telephone from Spokane Monday, where he and his wife, Freya, waited to recover their youngest son's body.

Pete Tripp packed more life into 22 years than many who live into their twilight years.

He had graduated magna cum laude at Gonzaga University last May with a double major in chemistry and philosophy.

By fall, he had started a master's degree program in philosophy at the Spokane college. A Eugene native, Pete carved his first tracks on the slopes of Mount Bachelor as a skier and snowboarder. He later raced for his high school's ski team.

During college, Pete added road biking to his long list of outdoor ventures. He loved any sport where he could challenge himself, Freya Tripp said.

Pete was always careful in the outdoors, his mom said. He wore his beacon and knew how to test potential avalanche terrain, she said. "I just don't know what happened," Freya Tripp said. "He wasn't a reckless kid."

Both Tripp and Brett were wearing beacons, which transmit signals to help locate people when they are smothered in snow. It's not clear if the beacons were on.

If they don't sustain fatal injuries in the fall, people caught in avalanches have more than a 90 percent chance of survival — if they are found within 15 minutes, according to research on Avalanche.org. That survival rate plummets to 30 percent after a half hour, the Web site said. The Web site serves as an online network for avalanche centers.

The Sheriff's Office received a call about 6:30 p.m. Sunday evening, but searchers were not able to locate the bodies until 3 a.m. Monday morning.

Because of dangerous conditions, search and rescue parties could not recover the bodies until about 2 p.m. Monday, the Sheriff's Office said. The U.S. Forest Service, Shoshone County Search and Rescue, Mullan Fire Department and Mullan residents helped the Sheriff's Office look for Tripp and Brett.

Through the fog of grief Monday, the Tripps remembered their son's gentleness and sincerity.

"It's amazing how many people seemed to relate to him in a warm way," Michael Tripp said. "He had a quiet way of eliciting connections."

Pete's fellow students chose him to carry the banner for his department during his graduation procession, an honor usually reserved for those who are not only well-liked, but well-intentioned, said Gonzaga spokesman Dale Goodwin.

The deaths of Tripp and Brett have touched a nerve at Gonzaga, a small, private university that has only 6,000 students, Goodwin said.

Many students trickling back to school from the three-day weekend attended a candlelight vigil for the two men last night. There were also plans for a possible joint memorial service for both students sometime next week, Goodwin said.

Freya Tripp said it was hard to capture her son's life with words.

"He loved the back county because it was so soothing and spiritual to him," she said. "We're going to miss him."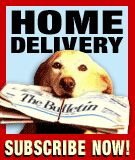 Avalanche avoidance is a practical approach to avalanche safety
Avalanche avoidance is a practical approach to avalanche safety and travel in the mountains in the winter and spring. Snow avalanches are complex, natural phenomena that are studied in detail worldwide.
Professional avalanche controllers may be able to assess and maintain the general safety of particular slopes in-bounds of their ski resort, but for backcountry travelers there is a different story.
Backcountry downhill skiers and snowboarders must accept the obvious avalanche dangers of steep snow slopes. Deaths of professional heli-ski guides and their clients are reported every year. Read more about this risk from the linked experience reports below.
Do snow-riders have a false sense of security based on their limited layman's knowledge from an avalanche class or two and the purchase of expensive gear and electronic equipment? This question is being asked more and more often. A wind slab avalanche may be many feet thick – will the typical snow-rider dig to the ground in a ten-foot snow pack? And even if he does will peer pressure and enthusiasm enter into the decision to give it a try? Is there a cadre of professional ski-resort ski-patrollers available to probe for the injured and entombed party, encased in air-tight "concrete", even just a couple of feet below the surface?
The backcountry traveler: hiker, climber, peak-bagger, snowshoer and nordic skier (and snow-machine driver) can practice simple, common sense Avalanche Avoidance Techniques:

>Is the current general avalanche danger rating Low, Moderate, High or Extreme? No mater what the avalanche hazard, there are avalanche-free areas in the mountains.
>General observations, following the current area avalanche hazard warnings and safe route selection are common sense ways to avoid major risk.

>The safest routes are on the ridge tops and slightly on the windward side, away from any cornices.
>If you cannot travel on the ridges, the next safest route is out in the valley, away from the obvious deposition zones at the bottom of slopes. Observe old slide paths, recent avalanche activity on slopes with a similar aspect, sounds and cracks, volcanic scree slopes with no features to hold the snow pack.
>If you must cross a potentially dangerous slope, stay high and near the top. If you must ascend or descend a dangerous slope, go straight up or down; do not traverse back and forth, cutting the snow pack. Take advantage of areas of dense timber, ridges and rocky outcrops as islands of safety.

>Keep in mind that most people die under small slides, including roof releases. Recently, two snowshoe travelers in Washington were found days buried in their tent under the snow under the search helicopter-landing zone at the foot of just a small slope.

Learn everything you can about avalanche activity and select the safest routes. Any reliance on expensive gear and gadgets may actually put you in more danger!
--Webmeister Speik
Note: I was interviewed over the phone by Jeff Mullins of KBND Radio, about avalanche risk. The following was included in a lengthy radio interview that aired at noon on January 18, 2005 and at other times during the day. --Robert Speik


Read more . . .


ALPINE CLIMBING ON SNOW AND ICE
Winter mountaineering hazards - streams and lakes
Is long distance backpacking part of "traditional mountaineering"?
How long is the traditional alpine mountaineering ice axe?
What about climbing Mt. Hood?
What is a good personal description of the south side route on Mount Hood?
What should I know about travel over hard snow and ice?
How can I learn to self belay and ice axe arrest? 6 pdf pages


What should I know about snow caves?
What should I know about climbing Aconcagua?

AVALANCHE AVOIDANCE
Young Bend man dies in back county avalanche
What is an avalanche cord?
Avalanche training courses - understanding avalanche risk
How is avalanche risk described and rated by the professionals? pdf table
How can I avoid dying in an avalanche?
Known avalanche slopes near Bend, OR?
What is a PLB?
Can I avoid avalanche risk with good gear and seminars? pdf file

AVALANCHES
US National Avalanche Accidents Database
Climbers swept by avalanche while descending North Sister's Thayer Glacier Snowfield
Three personal experiences with avalanches
Mount Hood avalanche proves fatal for members of climbing group
Climbers swept by avalanche while descending North Sister's Thayer Glacier Snowfield


Snowshoer dies in backcountry avalanche in Washington State
Young Bend man dies in remote backcountry avalanche
Recent deaths cause concern over avalanche beacons
Skilled member of The Mountaineers killed in avalanche
Basic Responsibilities of the cross country skier
Avalanche avoidance a practical approach to avalanche safety
Tumalo Mountain a wintertime treat
Fatal Mount Hood avalanche described by Climbing Ranger

SNOWSHOES AND CRAMPONS
Why do you like GAB crampons for traditional mountaineering?
What should I know about the new snowshoe trails
What are technical snowshoes?
Which crampons are the best?
What about Boots and Shoes?


YOUR ESSENTIAL SUMMIT PACK
What are the new Ten Essential Systems?
What does experience tell us about Light and Fast climbing?
What is the best traditional alpine mountaineering summit pack?
What is Light and Fast alpine climbing?
What do you carry in your day pack? Photos?


What do you carry in your winter day pack? Photos?


What should I know about "space blankets"?
Where can I get a personal and a group first aid kit? Photos?