TRADITIONAL MOUNTAINEERING ™
www.TraditionalMountaineering.org ™ and also www.AlpineMountaineering.org ™

™
FREE BASIC TO ADVANCED ALPINE MOUNTAIN CLIMBING INSTRUCTION™
Home | Information | Photos | Calendar | News | Seminars | Experiences | Questions | Updates | Books | Conditions | Links | Search

Read more:
Choose the best GPS for mountaineering, hiking and backcountry travel
A Review of 1. the Garmin eTrex H, 2. the Garmin eTrex Venture HC, and 3. the new Garmin eTrex 20
I recommend the Garmin eTrex H (now the eTrex-10) available in stores nation wide as the BEST VALUE for $99.00 (to $120.00.)
The BEST ALTERNATIVE is the Garmin eTrex Venture HC, $169.00, (recently on sale at Best Buy for $119.00!) See why below.

The Garmin eTrex H has a "High Sensitivity Receiver" based on a new Garmin antenna system. The eTrex H is the best value GPS among all current brands.
The Garmin H antenna is the same "High Sensitivity Receiver" offered by Garmin on high-end models such as their Oregon 550T costing up to $599.99.
"With its high-sensitivity, WAAS-enabled GPS receiver, eTrex H locates your position quickly and precisely and maintains its GPS location even in heavy cover and deep canyons.
The advantage is clear — whether you're in deep woods or just near tall buildings and trees, you can count on eTrex H to help you find your way when you need it the most."
Garmin offers its proprietary "High Sensitivity Receiver" on all it's current eTrex models such as the Venture HC, $169.99.
Earlier models without the Garmin High Sensitivity Receiver might well be relegated to your auto glove-box and maintained as a "back-up" Receiver.
Note that the eTrex H does not display a base map of the US and it cannot be loaded with detailed topo maps. The screen is black and white. The "Map" page shows a schematic of your track and waypoints. It really must be used closely with paper topo maps and a declination corrected base plate compass and some simple skills.
I use the Garmin eTrex Venture HC,
The eTrex H ($99.00) and the eTrex Venture HC ($169.00) both have the same Garmin High Sensitivity antenna and they are a big step foreword from the original iconic Garmin eTrex models.
However, note that the eTrex H does not come with a computer connection cable (extra cost +- $35.00). Yes, you can use the same Garmin "serial port" cable as you have used for your "old" Garmin eTrex GPS. However, if you have a newer laptop computer, or a newer desktop, you will need a "USB" cable (costing about $50.00). The "serial port" is out-dated and not included on newer computers.
I suggest you buy the eTrex Venture HC that comes with a USB cable and can hold Garmin's proprietary Topo maps. It costs about $169.00 and includes the USB cable!
The eTrex Venture HC has a true "Map" Page with a simple topo map of the US (or many other countries) and an important downloadable topo map capability. The Venture HC has 24 MB of memory, enough to be loaded with all of the 1:100,000 scale topo maps of the areas that I like to explore and climb in Central Oregon. Also, it just takes five minutes at my computer to change the more detailed 1:100.000 maps to different areas, say the Washington Cascades, using the proprietary Garmin $99.00 Map Source program.
"The eTrex Venture HC's basemap contains lakes, rivers, cities, interstates, national and state highways and coastlines. Venture HC also includes 24 MB of internal memory, so you can load waypoints and routes from the included MapSource® Trip & Waypoint Manager software and add map detail from Garmin's entire line of optional MapSource® mapping products. Its 256-color, sunlight-readable display makes it easy to distinguish map details — even in bright sunlight."
Note that most Garmin GPS handheld receivers use maps at a 1:100,000 scale, not detailed enough for many backcountry adventures. You need 1:24,000 scale paper maps. Read more here.
Recently, Garmin has offered 1:24,000 Map Source topo maps (say of Oregon and Washington), on CDs, downloadable to your computer, for about $130.00. These maps are advertised by Garmin as "comparable to" the USGS Quad topo maps but they seem to have less detail and appear to be the 1:100,000 scale maps with extra terrain lines added. Zooming in for the summit of say South Sister near Bend, results in the small GPS screen being overwhelmed with brown contour lines that do not seem to scale thinner. Yes, the new 1: 24,000 maps I need for the Three Sisters Wilderness will fit in the 24 MB memory of my Garmin eTrex Venture HC! The extra detail and contour lines take very little more space than the standard 1:100,000 scale maps.
I have decided to use the new 1:24,000 Garmin Map Source topo maps, but, or course, I continue to carry my USGS Quad maps or a page or two of 8.5 x 11 inch 1:24,000 paper maps that I can create and print at home.
I can study my trip in detail with the My Topo - Terrain Navigator Program (about $99.00), on my computer, place and name Waypoints and even create tracks, then print the maps and upload the waypoints to my Garmin GPS. You must use the Garmin Map Source program (about $99.00 to upload maps to your Garmin GPS. Yes, surprise, that is an extra $200.00 for all GPS models! Save the $200.00 by avoiding the electronic compass and altimeter on more fancy models. Don't pay extra for an included camera or low power radio!

The latest alternative is the brand new Garmin eTrex 20, $199.99 NOW IN STORES!
The new Garmin eTrex 20, $199.99, with SD card capability and 1:24,000 USGS Quad map capability
Yes, it is true! For years, I have been explaining that all GPS receivers display maps at only 1:100,000, which I noted, was often not detailed enough for modern detailed land navigation. There was not enough memory in the original Garmin or competing GPS lines to hold the 1:24,000 map data. The new Garmin 20 has a micro SD card in a slot in the waterproof battery compartment. I will receive a test unit soon!
Note that having 1,000 way points and 50 tracks is just not important. I advise folks to go into the backcountry with just the few waypoints they will use that weekend and keep the rest of the waypoints organized on their own computer program - Garmin's "Map Source", My TOPO's "Terrain Navigator" or National Geographic's "TOPO".
Note: you should not pay more for an included electronic compass, a barometric altimeter (that needs constant elevation adjustment to the geographic elevation displayed accurately on every unit), a camera, etc
The jury is in on the question of whether or not the long desired 1:24,000 on-board topo has too much data for the small GPS screen. The Garmin 20 has a larger, more advanced screen than the Venture HC, so it may be large enough. What am I doing? I am sticking with my Garmin eTrex Venture HC for now, loaded with 1:24,000 detail from my new 1:24,000 Garmin Map Source topo maps. (Of course, I always carry my declination corrected base plate compass and the paper 1:24,000 letter sized maps I print at home or my full sized USGS Quad maps, traditionally folded of course.)
"The eTrex 20 takes one of the most popular and reliable GPS handhelds and makes it better. Redesigned ergonomics, an easier-to-use interface, paperless geocaching and expanded mapping capabilities add up to serious improvements for an already legendary GPS handheld. eTrex 20 is versatile. It's tough. And it's built to handle whatever Mother Nature can dish out – and more". . . The new "eTrex 20 has an enhanced 2.2 in 65K color, sunlight readable display. Durable and waterproof, eTrex 20 is built to withstand the elements. It has an upgraded interface yet retains its legendary toughness to withstand the elements – be it dust, dirt, humidity or water, none of which are a match for this storied navigator." https://buy.garmin.com/shop/shop.do?cID=145&pID=87771
AND HOW ABOUT THIS!
Garmin eTrex and GLONASS: A powerful combination
"More than a decade ago, the Garmin eTrex was introduced and quickly became the benchmark by which other outdoor GPS navigators were measured. Its size, features and value made it a go-to unit for outdoor enthusiasts around the globe. Today, Garmin has chosen the eTrex line to debut a new state-of-the-art feature. The new eTrex 10, 20, and 30 are setting a new standard as consumer-grade receivers that can track both GPS and GLONASS satellites simultaneously. GLONASS is a system developed by the Russian Federation that will be fully operational by 2012.

When using GLONASS satellites and GPS, the time it takes for the receiver to "lock on" to a position is (on average) approximately 20 percent faster than using GPS alone. Furthermore, when using both GPS and GLONASS, the receiver has the ability to lock on to 24 more satellites than using GPS alone. This is particularly helpful for users who need reliable satellite navigation in challenging environments such as deep canyons or urban environments where a large portion of the sky is blocked by solid objects. The disadvantage to using both systems simultaneously is a reduction in battery life. Garmin is committed to providing its customers worldwide with the best available technology in its devices, and we intend to continue introducing new GLONASS-compatible receivers in the future. September 28, 2011."
- posted in Garmin News, On the Trail. Read More: http://garmin.blogs.com/my_weblog/2011/09/garmin-etrex-and-glonass-a-powerful-combination.html
What about the more expensive Garmin GPS Models?
Yes, you can pay more, but do you need more? Do you need a barometric altimeter? Do you need an electronic compass in the GPS? Can it take photos of your points of interest? Can you phone home from your GPS. Will it tell you if your anchor is dragging? Will it tell you that the wind and tide have set you off course? Will a touch screen GPS survive in my pack?
Altitude: Use the altitude reported from the satellites, accurate in every new GPS. Your GPS manual does not emphasize that you must adjust your barometric altimeter several times a day as the clouds pass overhead, but they do note you can adjust the GPS altimeter by using the altitude reported from the satellites by every GPS. What???
Electronic compass: Buy and carry a Suunto $25.00 declination adjustable base plate compass and learn to use it as a protractor with your Quad map. The GPS compass may be accurate only to 5 degrees. Not good enough for a knowledgeable backcountry traveler! One degree off in a mile is 92 feet and ten degrees off in a mile is 920 feet!
Cell phone, camera, recorder, FRS radio, auto routing to restaurants, WAAS in Central Oregon (WAAS DOES NOT SEEM TO IMPROVE ACCURACY HERE.), etc.?
Turn these unnecessary extra features off to save battery power! Or do not pay more for them!
Yes, I still use my Garmin Geko 201 if satellite reception is not a big problem. It fits in my shirt pocket or the to of my pack. About $99.00 for a refurbished model from REI.
The Geko 101 can not be connected to your computer. Not recommended. See how well the little Geko worked in my shorts pocket, inside a glider!
Copyright© 2002-2011 by Robert Speik. All Rights Reserved.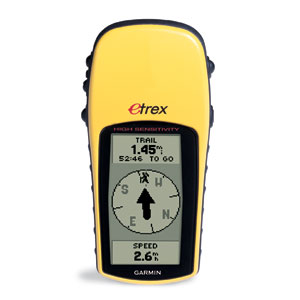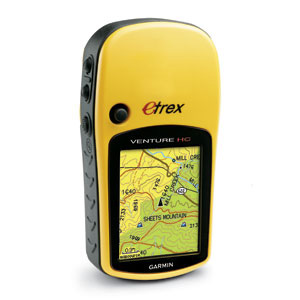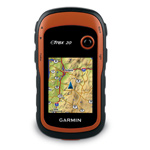 eTrex H eTrex Venture HC eTrex 20
This is how I use my GPS
I decide to do a hike or climb that sounds interesting. Let us use as an example, a hike to the top of Vista Butte from the Vista Butte Trail Head on Cascades Lakes Highway near Bend Oregon. I downloaded a map from the USFS website that shows this adventure as a winter ski or snow shoe trip. I open my Terrain Navigator program on my computer. I select Vista Butte from a "Find" list. I compare the trails shown on the Quad map with the USFS map. Using the mouse, I click several waypoints from the Trail Head to the top of Vista Butte. I name them VISTATH, VISTA1, VISTA2, VISTA3, VISTA4, VISTATOP and VISTA5 and download them to my GPS in a flash. Lastly, I print a letter sized (horizontal) map in color with UTM gridlines. I have been doing this for a while so it takes me about ten minutes.
I use the Geko to GO TO the Trail Head (a wide spot along Cascades Lakes Highway). I check the distance of my parked car to the VISTATH waypoint and find it is just a few feet from perfect. I consciously decide I do not need to mark my car. My companions do mark the car (AAA) or they will have to pay up $1.00 to the goof kitty. At the top viewpoint, I create a new Waypoint that I can download at home, rename and correct the VISTATOP location. We decide to go right down to the car which is now the GO TO. As we follow the terrain, the Pointer Page adjusts direction, always pointing to the car. That's all there is to it!
At the summit, the Geko GPS confirms the exact elevation. We check it on the Quad map I printed. (One of my companions had a barometric altimeter function in his more costly GPS, so we corrected the reading by adjusting the barometric altimeter elevation to the more accurate GPS geometric altitude. We noted his downloaded map in his GPS did not show any of the trails or named features. When we zoomed in for more detail, we lost all recognizable references to just a few lines on the tiny GPS screen. We decided the maps loaded in the GPS were best suited to use while driving. We did not need a compass on this adventure as the GPS pointer became active after just a few steps.
Read the following pages:
Use your topo map, base plate compass and current GPS together. Carry a USGS Quad map and Suunto M3 adjustable declination base plate compass.
Here's what to look for in buying a GPS:
FIELD FUNCTIONAL DESIGN:
Well-known manufacturer and warranty; Strong, water resistant or waterproof design; Reasonable weight and size for hand-held field use; Keypad designed for use in the outdoors, with gloves; Small and available battery size; Cable Port for connection to a personal computer.

NORTH SETTINGS:
True north or Magnetic north can be selected. Only True north is compatible with map use. Your base plate compass and your GPS should both be adjusted to give True north bearings.

COORDINATE GRIDS:
A coordinate grid overlays a map like streets overlay a town. (Go to the south east corner of Highway 20 and 27th Street.) The Selected Grid system for Land Navigation (LN) should be the Universal Transverse Mercator (UTM). This system provides an easy and accurate way to directly relate coordinates given by the GPS (which is its basic function), to the map. (Latitude/Longitude may be used by those familiar with the system as pilots or as navigators on ships at sea, but it is outmoded for LN and the skill and required tools of relating Lat/Lon position coordinates to the map need not be learned by the land navigator.) The wonderful world-wide game of Geocaching provides Lat/Lon coordinates but local experts convert these to UTM/UPS when it is necessary to mark those coordinates on their USGS Quad Maps. Using UTM coordinates from a GPS in the backcountry, one can pin-point ones location on a USGS map within a few yards. Amazing!

MAP DATUM:
The Selectable Map Datum must include World Geodetic System 1984 (WGS84) and North American Datum 1927 Continental (NAD27-CON US). The datum in your GPS must be the same datum as was used to develop the coordinates. For instance Geocaching.com uses WGS 84. If you are using a different datum you will never find the cache. Also, the GPS must be set to the same datum as the map - NAD 27 CONUS for use with USGS Quad Maps. Failure to have the correct datum can create errors of hundreds of feet. Happily, your GPS will convert for you from degrees, minutes and hundredths of minutes in WGS84 to UTM meters in NAD 27 CONUS. Also, Geocaching.com provides a computer conversion from Lat/Lon WGS84 to UTM/UPS NAD27CONUS

WAYPOINTS:
The Grid Coordinates of a location are recorded and saved as Waypoints. The GPS must store at least 200 Waypoints. Some store 500, but more is not better, because it is best to up-load and record your saved waypoints on your computer in a separate mapping program such as Garmin's Map Source Topo or Maptech's Terrain Navigator, to reduce the clutter and complexity while using your GPS in the field.

WAYPOINT MANIPULATION:
Access to the Waypoints must be simple: a keyboard menu selection to a list and a scroll function through the list to the selected Waypoint. The Garmin eTrex uses buttons, the SporTrak uses a mouse and eTrex Legend uses a "joy-stick". They all work very well with heavy gloves. Waypoints must be easily stored from the present position and from coordinates calculated from your map, posted on Geocaching.com, printed in a guide book or emailed to you by a friend. The unit must allow you to name the waypoint and change it's details so that you can identify it and input it for GO-TO navigation. The list must be available both alphanumerically and by proximity to your current position - Nearest Waypoints. You need to be able to select and delete groups of waypoints.
MARK WAYPOINT:
MARK, allows you to easily mark a location by creating a Waypoint by number or re-name it for recall. MARK also enables you to input a UTM location that you have obtained from your map, from Geocaching.com, from a guide book, etc.

GO-TO FUNCTION:
Navigation with the GPS begins when you GO-TO a Waypoint. The information given will include the Bearing and Distance in miles (and feet) from your position TO the Waypoint.

ROUTES:
A Route is a list of up to say 20 Waypoints that describe a varied line of travel that you wish to follow. This is an important function because it allows the GPS to guide you from one Waypoint to the next in order, by Bearing, Distance and Time in its varied scales. I don't use this feature very much.

TRACKS:
The Track feature very accurately records your course over the ground. The GPS has limited storage for track points and this feature can be turned off and on. The track will record over itself if it is full. However, individual tracks can be saved under a simple name in the GPS and uploaded to your computer mapping software, saved and printed on letter sized maps for future use in the field. The popular idea that you can follow the "breadcrumb track back" may be OK for boaters but is not very useful for backcountry navigators.
SCREENS:
GPS receivers have several screens to provide related information to the user. Some GPS units have so many screens with programmable information that they are virtually unusable. Here are the necessary screens and some that are nice to have:
SATELLITE SCREEN:
Shows a visual diagram of all the >satellites, which ones are connected to your receiver, the and the strength of each connection. The calculated accuracy at the moment may also be shown, say "9 feet".
NAVIGATION SCREEN:
Shows a "compass-like" diagram, and programmable information which should be confined to Distance and Bearing to the selected Waypoint. The most important feature of this basic screen is the directional arrow, sometimes confused with a compass arrow. The arrow (in a graphic that looks like a compass but is not) always points toward the active GO-TO The skilled GPS user can follow the directional arrow right back to the trail head. This is not like a compass where a different technique must be used. Since the GPS can die, the navigator must have the skill to use the modern adjustable base plate compass, with the map and the GPS. Or the GPS user may die!
MAP SCREEN:
Shows a visual track of the pointer (you) on a screen which may have your nearby Waypoints depicted. The Garmin Legend shows you on your selected topo map downloaded from their separate TOPO map program. I did not think this was a useful function due to the required 1 to 100,000 plus detail but I have changed my mind and I use the Legend, primarily. The Legend can be loaded with up to 8 MB of optional topo maps for say, the climbing areas of Oregon, Washington and Northern California. The Garmin MapSource Topo companion software in a three CD set, lists at nearly $120, so be aware that you may want to have this topo detail in the backcountry. The eTrex and SporTrak do not do the little maps.
MENU SCREEN:
Leads to MARK, WAYPOINTS, ROUTE, TRACK and SETUP choices
OWNER'S SCREEN:
The Legend allows you to input your name and address so an honest finder can contact you. That's nice.
COMPUTER SCREEN:
The Legend adds a Trip Computer screen with lots of fun information including Total Hours and Total Hours Moving, Sunset and about fifteen other bits of information. A nice Big Numbers feature lets you select the information you want including Bearing, Name of Final Destination, Current Location, Moving Time or Altitude. Despite the Big Number option, the Garmins have very small numbers in the Lat Lon or UTM coordinates. The SporTrack gives you a fighting chance to read the numbers in the field.
NAVIGATIONAL INFORMATION:
When the Route or GO-TO functions are active, navigation begins and the GPS will provide the following information on various pages:
BEARING:
A Bearing is simply the compass direction expressed in degrees, (360 clockwise from North,) from one position (you) to another (a selected Waypoint). This Bearing may be expressed in True North or Magnetic North format. Choose True North and combine it with a hand-held base-plate compass with built in declination that is adjustable to your location (17 degrees for Central Oregon). Read more . . . What is the best Compass?
COURSE:
Your actual Course over the ground. Don't confuse this with the Bearing to the waypoint location you want to GO-TO.
DISTANCE:
The Distance between two points on the GPS, is the straight line distance, expressed in miles (and feet) or kilometers as you choose. (Your GPS will measure your track, your actual course over the ground.)
SPEED:
Speed can be expressed as Speed Over the Ground (SOG) or as Velocity Made Good (VMG). SOG is the same as your car odometer; VMG is the rate at which you are approaching your objective. This feature is not very useful for the hiker but it is great for the pilot and boater.
STEERING:
Steering functions allow you to follow a Route by seeing on a screen that looks like a highway that you are to the right or left of the direct line to the point, and how far you are off the straight course line (Cross Track Error). We turned it off in the SporTrak. This feature is not very useful for the hiker but it is great for the pilot and boater.
PLOTTING (TRACK):
Plotting functions can show you on your little screen, the direct course line and your actual course line over the ground on your way to your next point. The scale of the screen can be changed and nearby Waypoints can be plotted. Because of the scales required, this function can not be relied upon to get you back to camp or your rig.
ESTIMATED TIMES:
Estimated time of arrival (ETA) and estimated Time in Route (ETE) can be shown. This feature is not very useful for the hiker
ELEVATION:
Accuracy of the elevation function of the GPS has improved greatly with 12 channel GPS receivers and the cancellation of the governments SA policy by then President Bill Clinton. Use your GPS to adjust (correct) your wrist altimeter/barometer several times a day. Do not waist your money on a GPS with an Altimeter (or a digital compass which is only accurate to 5 degrees and can not be used with a map)!
DATA FORMATS:
User defined metric, statute or nautical miles can be selected. Select statute miles.
OTHER INFORMATION:
This additional data is provided free of charge by the eTrex Legend. Current Destination, Current Distance, Current ETA, Current ETE, Final Destination, Final Distance, Final ETA, Final ETE, GPS Accuracy, Location Lat/Lon, Location Selected (UTM?), Maximum Speed, Moving Average Speed, Odometer, Off Course, Overall Average Speed, Pointer, Speed, Time of Day, Sunrise, To Course, Trip Odometer, Trip Time-Moving, Trip Time-Stopped, Trip Time Total, Turn, Velocity Made Good, Vertical Speed, Best Time to Hunt, etc.
The Garmin eTrex Vista, $350.00, adds only a compass (which can not be used with a map as a protractor) and an altimeter (which must be set several time a day from the Vista's GPS function.) The Vista costs a lot more, but hey, it is "Top of the Line". But if you decide not to buy a Vista and buy a Venture instead, please donate half of your savings to TraditionalMountaineering.
Use our Pay Pal Donate Button! We'll give you a free class!

Thanks for asking TraditionalMountaineering!
The Originals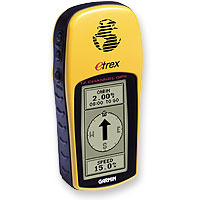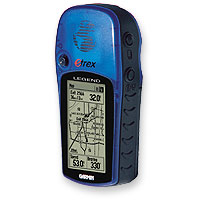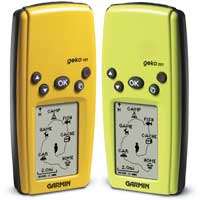 Copyright© 2002-2009 by Robert Speik. All Rights Reserved.



WARNING - *DISCLAIMER!*
Mountain climbing has inherent dangers that can, only in part, be mitigated
Read more . . .
How do digital mobile phones assist mountaineering and backcountry rescues?
Clinic on Real Survival Strategies and Staying Found with Map, Compass and GPS together
What do you carry in your winter day and summit pack?
Why is the GSM digital cell phone best for backcountry and mountaineering?
Why are "Snow Caves" dangerous?
Why are "Space Blankets" dangerous?
Why are "Emergency Kits" dangerous?
How can you prevent, recognize and treat Hypothermia?
Missing climbers on Mount Hood, one dies of exposure, two believed killed in fall
Missing California family found, dad dies from exposure and hypothermia
Missing man survives two weeks trapped in snow-covered car
Missing snowmobile riders found, Roger Rouse dies from hypothermia
Olympic Champion Rulon Gardner lost on snowmobile!
Lost Olympic hockey player looses feet to cold injury
Expert skier lost five days near resort in North Cascades without map, compass, gps or cell phone
Mount Hood - The Episcopal School Tragedy
Mount Hood - experienced climbers rescued from snow cave
How can you learn the skills of snow camping? Prospectus

Backcountry Navigation
Topographic maps of the backcountry work with your compass and GPS
Why is the GSM digital cell phone best for backcountry travel and mountaineering?
What is the best GPS for mountaineering and backcountry travel?


What is the best Compass for mountaineering and backcountry travel?


How accurate is the inexpensive hand-held GPS today?
What are some good Central Oregon Geocaches?
What is the Public Land Survey Grid? pdf
What is the UTM Grid? six pdf pages


How do you use your map, compass and GPS together, in a nut shell?


How can I learn to use my map, compass and GPS?
Do you have map, compass and GPS seminar notes? six pdf pages

Map, Compass and GPS
Map, compass and GPS navigation training Noodle in The Badlands
BLM guidelines for Geocaching on public lands
Geocaching on Federal Forest Lands
OpEd - Geocaching should not be banned in the Badlands
Winter hiking in The Badlands WSA just east of Bend
Searching for the perfect gift
Geocaching: What's the cache?
Geocaching into the Canyon of the Deschutes
Can you catch the geocache?
Z21 covers Geocaching
Tour The Badlands with ONDA
The art of not getting lost
Geocaching: the thrill of the hunt!
GPS in the news
A GPS and other outdoor gadgets make prized gifts
Wanna play? Maps show you the way
Cooking the "navigation noodle"

Lost and Found
Three climbers missing on Mt. Hood, all perish
Missing California family found, dad dies from exposure and hypothermia
Missing man survives two weeks trapped in snow-covered car
Missing snowmobile riders found, Roger Rouse dies from hypothermia
Longacre Expeditions teen group rescued from the snowdrifts above Todd Lake
Lost climber hikes 6.5 miles from South Sister Trail to Elk Lake
Hiking couple lost three nights in San Jacinto Wilderness find abandoned gear
Expert skier lost five days in North Cascades without Essentials, map and compass
Climber disappears on the steep snow slopes of Mount McLaughlin
Hiker lost five days in freezing weather on Mount Hood
Professor and son elude search and rescue volunteers
Found person becomes lost and eludes rescuers for five days
Teens, lost on South Sister, use cell phone with Search and Rescue
Lost man walks 27 miles to the highway from Elk Lake Oregon
Snowboarder Found After Week in Wilderness
Searchers rescue hiker at Smith Rock, find lost climbers on North Sister
Girl Found In Lane County After Lost On Hiking Trip
Search and rescue finds young girls lost from family group
Portland athlete lost on Mt. Hood
Rescues after the recent snows
Novice couple lost in the woods
Broken Top remains confirmed as missing climber
Ollalie Trail - OSU Trip - Lost, No Map, Inadequate Clothing

Your Essential Light Day Pack
What are the new Ten Essential Systems?
What does experience tell us about Light and Fast climbing?
What is the best traditional alpine mountaineering summit pack?
What is Light and Fast alpine climbing?
What do you carry in your day pack? Photos?


What do you carry in your winter day pack? Photos?


What should I know about "space blankets"?
Where can I get a personal and a group first aid kit? Photos?

Carboration and Hydration
Is running the Western States 100 part of "traditional mountaineering"?
What's wrong with GORP? Answers to the quiz!
Why do I need to count carbohydrate calories?
What should I know about having a big freeze-dried dinner?
What about carbo-ration and fluid replacement during traditional alpine climbing? 4 pages in pdf


What should I eat before a day of alpine climbing?

About Alpine Mountaineering:


The Sport of Alpine Mountaineering


Climbing Together


Following the Leader


The Mountaineers' Rope


Basic Responsibilities

Cuatro Responsabiliades Basicas de Quienes Salen al Campo


The Ten Essentials

Los Diez Sistemas Esenciales

Our Leader's Guidelines:


Our Volunteer Leader Guidelines


Sign-in Agreements, Waivers and Prospectus This pdf form will need to be signed by you at the trail head


Sample Prospectus Make sure every leader tells you what the group is going to do; print a copy for your "responsible person"


Participant Information Form This pdf form can be printed and mailed or handed to the Leader if requested or required


Emergency and Incident Report Form Copy and print this form. Carry two copies with your Essentials


Participant and Group First Aid Kit Print this form. Make up your own first aid essentials (kits)


About our World Wide Website:


Information


Mission