TRADITIONAL MOUNTAINEERING ™
www.TraditionalMountaineering.org ™ and also www.AlpineMountaineering.org ™

™
FREE BASIC TO ADVANCED ALPINE MOUNTAIN CLIMBING INSTRUCTION™
Home | Information | Photos | Calendar | News | Seminars | Experiences | Questions | Updates | Books | Conditions | Links
Which backpack do you use?
You have owned and used several backpacks. Which is the best for a light and fast winter or spring overnight?
I like the Gregory Makalu Pro: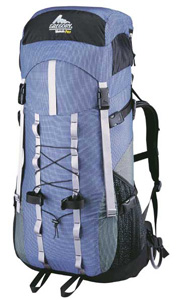 The Gregory Makalu Pro
Here's what Wayne Gregory says: "The Makalu Pro represents the latest advance in our expedition series. This trick ultra-light pack has been designed to specifically handle the technical demands of the hard core backcountry skier, mountaineer and lightweight backpacker.

ACCESS: Top Access only with large stretch-mesh side pockets
FABRIC: Ultra lightweight, super strong 210d White Widow
HARNESS: Flo-Form® II with Auto•Cant™
WAISTBELT: Wilderness™ waistbelt with detachable gear racking loop
HYDRATION: Fluid N.R.G.™ Compatible
BACKPANEL: Flo-Form® II
STAYS: Twin 3/4" 7075-T6 Aluminum
COLORS: Cobalt

SIZE: Small Medium Large
VOLUME: 3800 cu. in. / 62 liters 4200 cu. in. / 69 liters 4600 cu. in. / 75 liters
STRIPPED WEIGHT: 4 lbs. 3 oz. 4 lbs. 7 oz. 4 lbs. 11 oz.
WEIGHT: 4 lbs. 11 oz. / 2.12 kg 4 lbs. 15 oz. / 2.23 kg 5 lbs. 3 oz. / 2.35 kg
FITS TORSO LENGTH: 16" to 17.5" 18" to 19.5" 20" and up
(For information on properly fitting a Gregory pack, click here.)
Built from 210d White Widow fabric, the pack is super strong and extremely light. Every item on this pack has been designed with weight and strength in mind, down to the ultra-lightweight, partial framesheet and top-loading, slim-body profile. The Stealth waistbelt features detachable racking loops for alpine climbs and technical approaches. If you need substantial capacity, but weight is critical, the Makalu Pro should do the trick."
Thanks for asking TraditionalMountaineering!

Read more:
My analysis of the Gregory Makalu Pro 3 pdf pages


Overnight gear list for a spring or summer climb of Shasta, Adams and Jefferson? 4 pdf pages


Photos of this gear packed in the Makalu Pro!

What is the best GPS?
What is the best compass?
What is the best alpine harness?
What is the best belay | rappel | autoblock device?
What is the best ice axe for traditional mountaineering?
Copyright © 2002-2003 by Robert Speik. All Rights Reserved.