TRADITIONAL MOUNTAINEERING ™
www.TraditionalMountaineering.org ™ and also www.AlpineMountaineering.org ™

™
FREE BASIC TO ADVANCED ALPINE MOUNTAIN CLIMBING INSTRUCTION™
Home | Information | Photos | Calendar | News | Seminars | Experiences | Questions | Updates | Books | Conditions | Links | Search

Read suggestions for Climbing South Sister:
A Traditional Mountaineering Seminar climb of South Sister
Click a photo for a full sized image. Broadband users can click here to view full sized pages.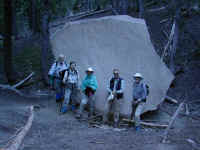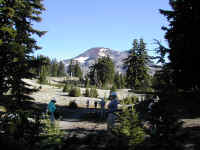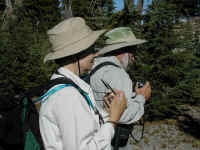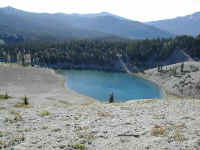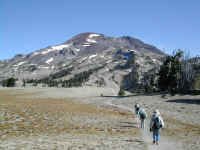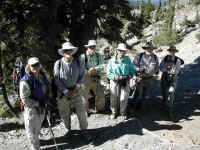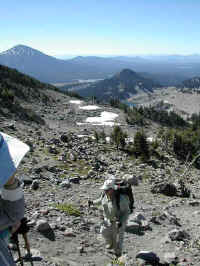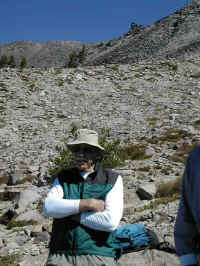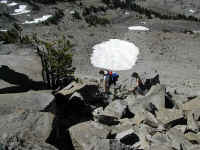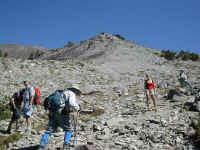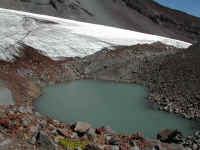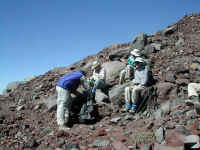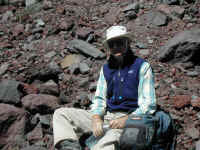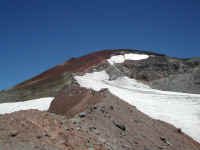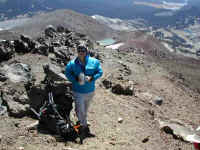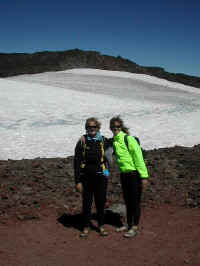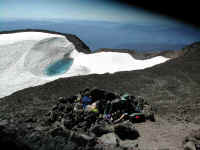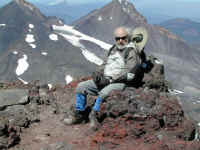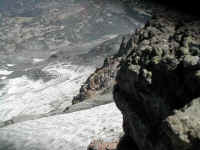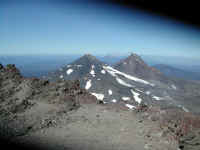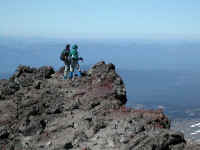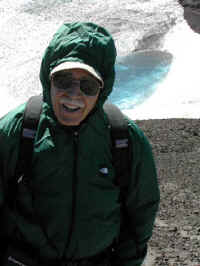 Copyright© 2002-2008
by Robert Speik. All Rights Reserved.
Wednesday, August 14, 2002, South Sister South Ridge Summer Summit Climb (10,358)
A summer climb of South Sister by the South Ridge climbers trace. This climb is suitable for strong hikers as well as more experienced mountaineers. Elevation gain to the summit is 5,000 feet of narrow trails including significant scrambling up and down steep loose scree underlain by hard down-sloping volcanic rock. Distance is more than fifteen trail miles round trip. Views are terrific.Space is limited and pre-registration is required. Read the Prospectus. What do you carry in your summer day pack?

Read more . . .


LATEST PHOTOS
Access Fund's Adopt-A-Crag event at Meadow Crags on the Deschutes River near Bend Oregon
Rafting Rumble on the Deschutes River at Big Eddy Rapids
The Annual Great Duck Race in Drake Park in downtown Bend, Oregon
The Fall Creek Trail to Moraine and Green Lakes near Bend Oregon
USFS Trail Crew builds a log bridge over Fall Creek near the Green Lakes Trail Head
Bend Brewfest takes over the Les Schwab Amphitheater
The Oregon High Desert Classic "A" Rated Hunter/Jumper Show
Central Oregon has a Powered ParaChute meeting
Cascade Cycling Classic's Twilight Criterium around downtown Bend
July Fourth Pet Parade in downtown Bend, Oregon
July Fourth Festival in Drake Park in downtown Bend, Oregon
July Fourth Air Life outreach at Drake Park in downtown Bend, Oregon
Fourth of July along the Deschutes River in Drake Park in downtown Bend, OR
Having a Field Day at Hosmer Lake off Cascades Lakes Highway
ODOT Adopt-a-Highway Awards in Bend, Oregon
Becoming an Outdoors Woman learning backcountry navigation in La Pine Oregon
Photos of a South Sister snow-climb in June 2006
North American Pond Skimming Contest at Mt. Bachelor
Photos of Central Oregon from an ultralight aircraft
Pole, Pedal, Paddle candid finish photos 2006
Smith Rock Spring Thing in 2006

CASCADES SUMMITS
Photos of a South Sister snow-climb in June 2006
Photos of Central Oregon from an ultralight aircraft
Views of the Oregon Cascades in the summer and fall
Views of the Cascades from the ridge above Three Creek Lake
Summits of the Oregon Cascades from Tumalo Mountain in February 2005
A snowshoe summit of Vista Butte off Cascades Lakes Highway near Bend, OR
Mt. Bachelor, the Three Sisters and Broken Top
Photos of the Three Sisters Wilderness Summits form Sparks Lake
Geocaching the Top of Black Crater
Overlooking the Three Sisters from Mt. Bachelor


Three Sisters summits


Scott shares his summits of Middle Sister and Mt. Thielsen

PROFESSIONAL PHOTOGRAPHERS
Ben Moon, MoonFoto
Bruce Jackson Photography
Aerial photos of the Cascades summits by Mark and Jody Tuttle

NORTH SISTER
Timberline Mountain Guides lead North Sister climbs
North Sister, the Terrible Traverse in September, 1999
Middle and North Sister exploratory adventure


North Sister and Middle Sister spring summits on telemark skis
North Sister, Scott's solo summer summit
North Sister exploratory
North Sister winter solo
North Sister: crux photos of the Three Sisters Marathon
North Sister by the south east ridge

MIDDLE SISTER
Middle and North Sister exploratory adventure
North Sister and Middle Sister spring summits on telemark skis
Middle Sister spring summit

SOUTH SISTER
The Fall Creek Trail to Moraine and Green Lakes near Bend Oregon
Photos of a South Sister snow-climb in June 2006
A cross country circumnavigation of South Sister in September
South sister spring overnight snow climb, gear and skills
South Sister Summer Summit
South Sister climbers trail relocated
South Sister Spring South Ridge Summit

BROKEN TOP
Hiking to the glacial tarn below Broken Top in the Three Sisters Wilderness
A cross country circumnavigation of Broken Top in late summer with friends
Broken Top north side, with Z21 TV
Broken Top winter summit with Eric Hoffman
Climbing to the summit of Broken Top
Climbing Broken Top with Eric Seyler
Todd Lake, a gateway to Broken Top
Broken Top circumnavigation
Climbing Broken Top in the winter

MT BACHELOR
North American Pond Skimming Contest at Mt. Bachelor
Mt. Bachelor ski and summer resort during the Atta Boy 300
Atta Boy 300 dog sled race start and finish from Mt. Bachelor
Overlooking the Three Sisters from Mt. Bachelor
Mt. Bachelor from Tumalo Ridge
Photos of the melted snow pack near Mt Bachelor

TUMALO MOUNTAIN
Summits of the Oregon Cascades from Tumalo Mountain in February 2005
Tumalo Mountain across from Mt. Bachelor
A spring climb of Tumalo Mountain near Mt. Bachelor

MOUNT HOOD
Mount Hood - Solo climber falls from Cooper Spur
Mount Hood - climbing accident claims three lives -Final Report and our Analysis

Notable mountain climbing accidents Analyzed

Mount Hood - Solo hiker drowns while crossing Mt. Hood's Sandy River
Mount Hood - Solo climber slides into the Bergschrund and is found the following day
Mount Hood - The Episcopal School Tragedy
Mount Hood - experienced climbers rescued from snow cave
Mount Hood - a personal description of the south side route
Mount Hood - fatal avalanche described by Climbing Ranger
Mount Hood - avalanche proves fatal for members of Mazamas climbing group
Mount Hood - snowboard rider dies on Cooper Spur
Mount Hood - fatal fall on snow, Cooper Spur Route
Mount Hood - fatal fall on snow from the summit
Mount Hood - climb shows the need for knowledge
Mount Hood - climb ends in tragedy
Mount Hood - rescue facilitated by use of a VHF radio

THE THREE SISTERS MARATHON
The Five Sisters Marathon by Pat Creedican
North Sister and Middle Sister spring summits on telemark skis
Middle Sister and North Sister exploratory

BROKEN TOP
Solo backcountry ski to Broken Top Bowl and return
McArthur Rim - responsible climber slips on steep hard snow
A fine winter summit of Broken Top by Eric Seyler
Broken Top - climber disappears
Broken Top - climber slips on hard snow

MIDDLE SISTER
Middle Sister - climb proves need for equipment and experience

NORTH SISTER
Climbers swept by avalanche while descending North Sister's Thayer Glacier Snowfield
North Sister - climbing with Allan Throop
North Sister - accident report to the American Alpine Club
North Sister fatal accident news reports
North Sister and Middle Sister spring summits on telemark skis
North Sister, North Ridge by Sam Carpenter
North Sister, the Martina Testa Story, by Bob Speik
North Sister, SE Ridge solo by Sam Carpenter