TRADITIONAL MOUNTAINEERING ™
www.TraditionalMountaineering.org ™ and also www.AlpineMountaineering.org ™

™
FREE BASIC TO ADVANCED ALPINE MOUNTAIN CLIMBING INSTRUCTION™
Home | Information | Photos | Calendar | News | Seminars | Experiences | Questions | Updates | Books | Conditions | Links | Search

Read more:
July fourth Air Life outreach in downtown Bend, Oregon
Click on an image you like to see the full version; broadband folks can click here to see the full sized page.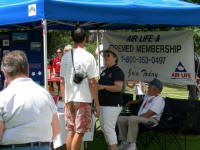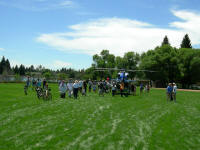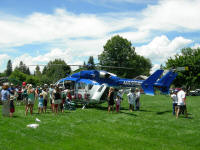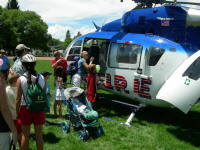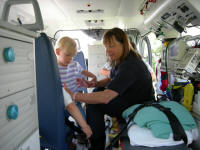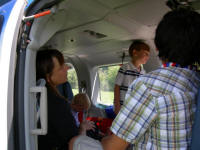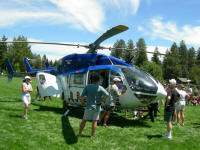 Photos Copyright© 2006 by Robert Speik.
All Rights Reserved.
Our Calendar
Original Old-Fashioned July 4th Festival in Drake Park
Come on down to Drake Park after the Pet parade for tasty food, artisan booths, live music, hay rides and old-fashioned games. 11am-4pm
July 4, 2006, Fireworks on the top of Pilot Butte
Pilot Butte at 10 pm 541-385-6570. Pilot Butte closed for the "Works"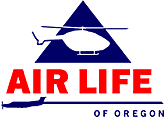 Air Life of Oregon
"Air Life of Oregon is an emergency air ambulance service based at St. Charles Medical Center in Bend, Oregon. Since its inception in 1985, Air Life has flown more than 12,500 missions throughout the state of Oregon with its American Eurocopter EC-145 Helicopter and its three Pilatus PC-12 fixed-wing Airplanes.

Air Life averages more than three lifesaving missions each day, carrying residents to where they can receive necessary, timely medical care. We enjoy the support of more than 31,000 Memberships and are proud to serve the residents of Oregon." Membership costs $45.00 per year and can be combined with Bend's FireMed ambulance coverage. --Webmeister.
A new helicopter
The Air Life of Oregon team selected the Eurocopter EC-145 as their new helicopter in part because it possesses a solid safety record and reputation for stellar performance in hot weather and high altitudes. "We've designed a great medical interior for the new aircraft that will dramatically enhance the way we care for patients, particularly on demanding two-patient flight," says Bill Porter, RN, flight nurse, and Air Life Clinical Operations Manager.

The EC-145 boasts a large, flexible cabin with a flat floor, side and rear loading doors, sliding cabin doors, excellent field view for the crew, low internal and external noise level and small external dimensions for field work. The size allows for easy takeoff and landing in confined areas, while the high-set main and tail rotors enhance safe operations with rotors turning. " With the modern technology of the EC-145, parts don't have to be changed out as often and there is less overall maintenance required. That means fewer missed flights and better reliability for our patients," William Wilkinson, Air Life Maintenance Coordinator.

Air Life of Oregon is a non-profit air ambulance service operating in Oregon for over 20 years. For more information, call 1-800-353-0497.

St. Charles Medical Center — Bend
"St. Charles Medical Center — Bend is the regional referral center for more than 230,000 people in a 32,000-square-mile area of central and eastern Oregon. With more than 240 physicians on its medical staff, representing 40 specialties and subspecialties, and more than 1,950 caregivers, SCMC—Bend provides many services usually found only in larger urban areas. These include open heart and neurosurgery, comprehensive cancer care, inpatient rehabilitation for stroke and major injury, sophisticated imaging technologies and more.

St. Charles Medical Center — Bend is Oregon's only level 2 trauma center east of the Cascade Mountains and has the region's only Level III neonatal intensive care unit. The hospital increased its inpatient bed capacity to 216 in late 2004 to keep pace with exploding population growth and is in the midst of expansions in facilities, technology and equipment requiring an investment of more than $128 million."
--Air Currents Summer 2006
We have copied below, a fine story of rescue from the latest issue of the newsletter "Air Currents" --Webmeister Speik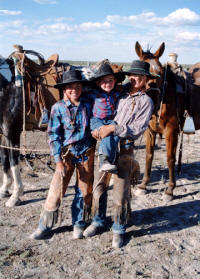 This family photo was taken a few minutes before the accident.
Max, 13, is on the right of this picture, with his brothers Levi and Benjamin.
Breathless
A Frenchglen family learns the value of every last breath
Every now and then, Michelle Miller will catch herself breathing deeply. With the wide expanse of fresh, clean air surrounding the family's Frenchglen ranch, that's not surprising.

But there's a bit more behind Michelle's habit. It stems from the pain of watching her newborn son, then her father, and finally her eldest son, unable to capture enough breath to sustain life.

Just over three years ago, Michelle and her husband, Gary, were expecting their third child. Several visits to her doctor in Bend confirmed the baby was in breech position. With nearly four hours of drive time separating the family's ranch from Bend, Michelle's doctor planned to have Air Life of Oregon fly Michelle when she went into labor.

At first things went as expected, and Air Life pilot Bill Conklin flew Michelle safely to St. Charles Medical Center - Bend where she had a C-section delivery. But in those first moments of Benjamin's life, it became clear something was very wrong.

"I could tell when he cried that something wasn't the same as it was with the other two," Michelle recalls. "[Neonatologist] Allen Merritt picked up on it right away that something was wrong. "

Michelle's obstetrician, Mary Jane Davis, MD, told her there was a problem with the baby's lungs, and that Air Life would fly him to Portland for advanced care. "Dr. Davis held my hand and had tears in her eyes when she told me," Michelle recalls. "I didn't even get to hold him."

Air Life's perinatal team rushed Benjamin to Portland, and Michelle and her husband followed, fearing the worst. For a month, life ground to a halt for the Miller family as they stayed in Portland with the baby. Finally, Benjamin went home a healthy little boy.

It gave Michelle a new appreciation for the healthcare system. "I've been a First Responder for 15 years, but before this happened, I'd never even had surgery before", she said.

But the family's firsthand experience with the trauma system had only just begun. Three years later,
Air Life flew Michelle's father from Lakeview to Bend for complications from emphysema. The family spent days in the Critical Care Unit at St. Charles Medical Center - Bend, watching over him. But on April 7, Michelle's father took his last breath.

"It was a very difficult time," Michelle recalls.

It was at the forefront of Michelle's thoughts on a morning exactly three months later as the Miller family prepared for a long day of branding in a remote area of their Frenchglen ranch. Just as they were leaving the house, Michelle went back for her medical kit. The spot where they'd be working was an hour-and-half away, and something told her she needed to be prepared.

"When we got done branding, we were heading back to the trailer," recalls Max, the family's eldest son, who was 13 at the time. "I got off my horse to kill a rattlesnake, but 1 didn't get back on the saddle right."

With Max clinging precariously to his saddle, the horse bolted. An avid horseman since age three, Max knew to use his legs to hold himself on the horse. But when his shoulder hit his father's horse, Max let go. He landed on the rocky ground with a sickening thud.

"I got up and ran down the road a ways, and then 1 lay down on the ground and passed out," he recalls.

The rest of the family caught up to Max in a heartbeat. With her medical training, Michelle knew immediately that Max was in grave danger. "He was spitting up frothy blood, " she said. "I knew as soon as I got to him that he'd punctured his lung."

As a mother, Michelle's instinct was to fear for her child's life. As a First Responder, her instinct was to assess Max's injuries and determine the best course of action. They moved Max to the pickup and got him into a sitting position. With no cell phone service at the remote spot, Max's father, Gary, rode up to a hilltop to call for help.

"As a First Responder, 1 can call for Air Life," she said. "I knew he needed it. We were an hour-and-a half from the house, and another three-and-a-half or four hours from Bend. 1 knew Max was in bad shape."

When the Air Life helicopter team left Bend, they had only a vague sense of where the family was. Worse, it was growing dark. "We had intermittent cell phone connection with the ground ambulance crew from Harney District EMS," explained helicopter pilot Bill Conklin. "When we got to the area around Hart Mountain, we knew they were north of us so we started a search pattern."

Though the Harney District EMS crew was headed the same direction, everyone knew the helicopter had the best chance of reaching the family quickly. Offering direction from the ground, the HDEMS crew helped direct the helicopter to the right location. By that time, Michelle had been cradling her son in her arms for almost two hours. With every raspy breath Max took, every mouthful of frothy blood he coughed up, his mother grew more desperate.

"It was dusk, and we were down in a hole, and they couldn't see us," Michelle recalls. "We had to turn the flashers on on the truck. At that point, Max's body was just shutting down."

By the time Air Life arrived, Max's condition was dire. Air Life respiratory therapist Michele Moore remembers feeling shocked when she first saw him. "Max was in the pickup with his mom," she said. "As I walked up, I could see his face and I thought, 'Oh my gosh. He's dying. '"

Working fast, the crew loaded Max onto a backboard and started giving him oxygen. With the rotors still turning, the crew asked Max's mom to join them.

"I didn't dream they would let me go," she said. "I was relieved to be able to go with him."

But there was another reason the crew wanted Max's mother on board. "We thought there was a strong chance he could die," Michele Moore said. "We wanted her to be with him."

As the helicopter lifted off, the Air Life team was hard at work trying to save Max. For Max's mom, it was like deja vu seeing another member of her family gasping for breath. In the cockpit, pilot Bill Conklin was having his own moment of deja vu as he realized Michelle was the mother he'd flown more than three years before.

"The pilot looked at me and said, 'three years ago, I came out here,'" Michelle remembers. "I could tell he hesitated like he didn't want to ask what happened to Benjamin. I said, 'Our little boy is fine. He's down there in the pickup truck. '"

For Bill - a father of five - it was a relief to know that Benjamin had survived. Flying another child for the same family gave the situation an even greater sense of urgency. "as a Dad, when you're flying kids, you feel like "This is why I do what I do. The helicopter enables us to help a lot of people who would otherwise not have quick access to the medical care they need."

With seconds ticking, Max desperately needed a chest tube to decompress his chest. Another urgent issue was the need to refuel the helicopter after such a long flight time trying to find the family. As the crew wrestled with the decision to divert to Burns for fuel before continuing to Bend, they got word that general surgeon Stephen Olson, MD, was on duty at Harney District Hospital in Burns. It was the first glimmer of hope they had.

"We have the ability to place a chest tube in the helicopter, but it's much better to have it done in a controlled hospital environment by a surgeon who's done hundreds of these before," explained flight nurse Linda Gregory, RN.

The teamwork at Harney District Hospital was flawless. HDEMS Director Tim Peck put in an airway, Dr. Olson handled the chest tube, and the trauma team worked with Air Life to stabilize Max. By the time they had the chest tube in, Max's condition was improving. "I suspect that if they hadn't stopped and we hadn't decompressed his chest, Max would have died before they got to Bend," Dr. Olson said.

When Max arrived at St. Charles Medical Center - Bend, it seemed he was almost out of the dark. But as his mother sat outside the CCU awaiting word on his condition, she began to grow worried.
"I thought, This is taking way too long. There's something else wrong.'"

Michelle's instincts were right. When the surgeon emerged at last, he asked her a peculiar question: "Has Max ever complained of headaches?"

The answer to the question was yes. And the reason for the long wait was worse than Michelle had feared. "He said, "we've found a brain tumor,'" Michelle recalls. "I thought, oh my gosh, that's why this happened. How else would we have discovered it?"

With her thoughts still reeling from the revelation of Max's tumor, Michelle was finally escorted back to the CCU to see her son. As she approached the room, she was swept by another wave of deja vu. It was the same room her father had been in three months before.

"When Max woke up, he looked around and said, 'this was grandpa's room,''' Michelle said. "I said, 'yes, you have a guardian angel. '"

With Max's respiratory system already in trouble, doctors didn't want to risk the anesthesia for surgery to remove the tumor. The delay gave the Millers time to search the Internet to learn more about neurosurgery and where they might be able to get the best care possible for Max. "My husband said, 'I can't even hire a swather driver, how am I supposed to find a neurosurgeon for my son?" Michelle said.

But the more the family researched, the more they realized the neurosurgeon already scheduled to perform the procedure at St. Charles Medical Center - Bend was among the best in the field. Three weeks later, neurosurgeon Ray Tien, MD, performed Max's operation. Within 24 hours, Max was healthy and ready to go home.

When school started up again in the fall, Dr. Tien volunteered to come to Career Day at Max's school. "Before we found the tumor, Max had been developing progressively worsening headaches and mild personality changes," Dr. Tien explained. "His parents and his teacher chalked it up to a normal part of getting older. When I was there for Career Day, Max's teacher came up to me and said, 'the old Max is back.' It was very rewarding. "

The Miller family is intensely grateful for the top-notch medical care they've received through all their medical emergencies. "I think Central Oregon is so fortunate to be able to draw all these wonderful surgeons and specialists," Michelle said.

And as an added plus, the Millers have something else to be grateful for. "If we didn't have our Air Life membership, we'd be up to about $80,000 in three years," she added. "Having a membership has definitely been a great thing for our family. "
--Air Currents Summer 2006

Read more . . .


EASTERN OREGON ADVENTURES
Scenes from an ODFW - STEP volunteer 1,000 mile drive around eastern Oregon
Backpacking Big Indian Gorge in The Steens


Owyhee Canyon wilderness study area in south east Oregon


ONDA's Owyhee wilderness inventory camp near Rome, Oregon
NOLS group on an Owyhee River Canyon adventure
Owyhee River desert lands - Jordan Valley Rodeo


Steens Mountain wedding in Eastern Oregon

SOME LATEST PHOTOS
Photos of a South Sister snow-climb in June 2006
North American Pond Skimming Contest at Mt. Bachelor
Photos of Central Oregon from an ultralight aircraft
Pole, Pedal, Paddle candid finish photos 2006
Smith Rock Spring Thing in 2006
Smith Rock Spring Thing 2006 volunteer's party at the Barn
HERA climb for life fundraiser at Smith Rock
HERA climb4life party at the Smith Rock Barn
Snow camping from bivy to base camp


ATHLETIC EVENTS IN BEND
Pole, Pedal, Paddle candid finish photos 2006
Fresh Air Sports Sprint Triathlon and the COBRA Children's' Fair
Bend's Cascade Cycling Classic 2005
X-Adventure Raid Adventure Race photos of the 2005 qualifier in Bend, Oregon USA
Just Around the Bend Marathon
Pacific Crest sports festival in Sunriver: Triathlon and Duathlon News of this event!


X-Adventure Raid Adventure Race North America Qualifier in Bend!

Six pages! News of this event!


X-Adventure Raid North American qualifier in Bend - racers' route map

Broadband only!>


Pole Pedal Paddle course transition photos for 2004

Results by age group 2004


Snowshoe Shuffle comes to Bend, Oregon
Atta Boy 300 dog sled race start and finish from Mt. Bachelor
Pilot Butte - hike and run to the summit
Bend Adventure Racing Klub - The Wild Juniper Berry Race


CORK, Central Oregon Running Klub plays in The Badlands
ABS Contest night at InClimb Gym
Pole, Pedal, Paddle 2002

BROKEN TOP
Hiking to the glacial tarn below Broken Top in the Three Sisters Wilderness
A cross country circumnavigation of Broken Top in late summer with friends
Broken Top north side, with Z21 TV
Broken Top winter summit with Eric Hoffman
Climbing to the summit of Broken Top
Climbing Broken Top with Eric Seyler
Todd Lake, a gateway to Broken Top
Broken Top circumnavigation
Climbing Broken Top in the winter

MT BACHELOR
Mt. Bachelor ski and summer resort during the Atta Boy 300
Atta Boy 300 dog sled race start and finish from Mt. Bachelor
Overlooking the Three Sisters from Mt. Bachelor


Mt. Bachelor from Tumalo Ridge
Photos of the melted snow pack near Mt Bachelor

NORTH SISTER
Timberline Mountain Guides lead North Sister climbs
North Sister, the Terrible Traverse in September, 1999
Middle and North Sister exploratory adventure


North Sister and Middle Sister spring summits on telemark skis
North Sister, Scott's solo summer summit
North Sister exploratory
North Sister winter solo
North Sister: crux photos of the Three Sisters Marathon
North Sister by the south east ridge

MIDDLE SISTER
Middle and North Sister exploratory adventure


North Sister and Middle Sister spring summits on telemark skis

SOUTH SISTER
A cross country circumnavigation of South Sister in September
South sister spring overnight snow climb, gear and skills
South Sister Summer Summit
South Sister climbers trail relocated
South Sister Spring South Ridge Summit

Search this site!
Copy and paste - Mt. Bachelor