TRADITIONAL MOUNTAINEERING ™
www.TraditionalMountaineering.org ™ and also www.AlpineMountaineering.org ™

™
FREE BASIC TO ADVANCED ALPINE MOUNTAIN CLIMBING INSTRUCTION™
Home | Information | Photos | Calendar | News | Seminars | Experiences | Questions | Updates | Books | Conditions | Links | Search

Read more:
Photos of a South Sister snow-climb in June 2006
Click on an image you like to see the full version. Broadband people can click here to see the full sized page.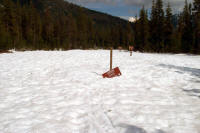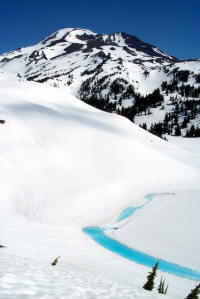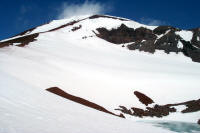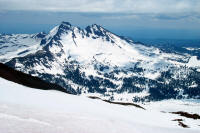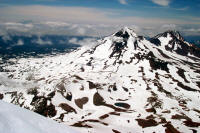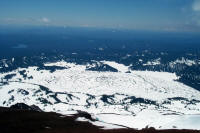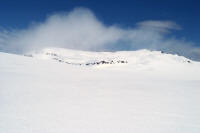 All images Copyright© 2006 by Chris Sabo
All Rights Reserved.
Note: Chris Sabo sent me these images of his personal ski mountaineering visit to the summit of South Sister on June 9, 2006. I used Photoshop Elements to enhance the sharpness, contrast and colors; Chris did the hard work!
Check the Current Trail Conditions for the entire Deschutes National Forest for which Chris is now responsible. Due to the current Bush Administration budget cutbacks, the three Forest Service Districts have been collapsed into the National Forest Headquarters. The remaining long term personnel are picking up the duties of the twelve year-around men and women who have been downsized. Read more about Forest Service Privatization. Chris will not be able to provide the weekly Trail Tips of previous years. These weekly seasonal Trail Tips have been archived by TraditionalMountaineering and can be viewed on our web. Click Here. --Webmeister Speik

Read more . . .


CENTRAL OREGON ADVENTURES
Pilot Butte winter hike in Bend, Oregon
Snowshoe to the summit of Tumalo Mountain
Snowshoe to the summit of Vista Butte
Smith Rock hiking in the spring
Smith Rock from above the Burma Road
A hike to Maiden Lake with Bend Parks and Recreation
A hike to Suttle Lake with Bend Parks and Recreation
A snowshoe adventure with Bend Parks and Recreation
Rafting the Deschutes with Sun Country Tours


Hiking the Deschutes River trail to Big Eddy rapids

LATEST PHOTOS
A circumnavigation of Broken Top in late summer with friends
Adopt-a-Road with TraditionalMountaineering
Traditional slacklining in Bend
Pacific Crest sports festival in Sunriver: Triathlon and Duathlon News of this event!
X-Adventure Raid Adventure Race North America Qualifier in Bend!

Seven pages! News of this event!
X-Adventure Raid North American qualifier in Bend - racers' route map

Broadband only!

BROKEN TOP
Broken Top north side, with Z21 TV

CASCADES SUMMITS
Bruce Jackson Photography
Mt. Bachelor, the Three Sisters and Broken Top
Photos of the Three Sisters Wilderness Summits form Sparks Lake
Geocaching the Top of Black Crater
Overlooking the Three Sisters from Mt. Bachelor


Three Sisters summits


Aerial photos of the Cascades summits by Mark and Linda Tuttle
Scott shares his summits of Middle Sister and Mt. Thielsen

SOUTH SISTER
South sister spring overnight snow climb, gear and skills
South Sister Summer Summit
South Sister climbers trail relocated
South Sister Spring South Ridge Summit
South Sister summer cross country circumnavigation

MT BACHELOR
Mt. Bachelor ski and summer resort during the Atta Boy 300
Atta Boy 300 dog sled race start and finish from Mt. Bachelor
Overlooking the Three Sisters from Mt. Bachelor


Mt. Bachelor from Tumalo Ridge

FAQ RELATED, SUMMER
What is the best summit pack?
South sister spring overnight snow climb, gear and skills
How do you put together a first aid kit?
How do you rack gear on your alpine harness?
What do you carry in your day pack?
Belaying the leader and follower in 1981
Top rope climbing in the 1970's

FREE SEMINARS
Ice axe self belay and self arrest seminar
Traditional snow climbing training: snow anchors and rappels
Glacier travel and crevasse rescue seminar
Bend High invites an old traditional mountain climber
A Navigation Noodle in the Badlands with ONDA