TRADITIONAL MOUNTAINEERING ™
www.TraditionalMountaineering.org ™ and also www.AlpineMountaineering.org ™

™
FREE BASIC TO ADVANCED ALPINE MOUNTAIN CLIMBING INSTRUCTION™
Home | Information | Photos | Calendar | News | Seminars | Experiences | Questions | Updates | Books | Conditions | Links | Search

Read more:
Having a Field Day at Hosmer Lake off the Cascades Lakes Highway
Click on an image you like to see the full version; broadband folks can click here to see the full sized page.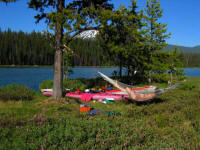 Photos Copyright© 2006 by Paul Chance.
All Rights Reserved.
Ham Radio Field Day Adventure:
Bob (KC6NTX )--
Darn, the Hosmer "Islands" were off limits. Note the height of the antenna above ground - a listening post only. When I attached the far side of the antenna - lo-n-behold - the Eagle's Lair II cache. Note Joy's (KE7DDE) rapt attention to the radio. In all fairness, she did attempt to tune in some SSB while I tested the tensile strength of the hammock rigging. I explained the phenomenon that the ham knows you are trying to tune him in and stops talking as soon as you figure which direction you have to turn the knob, but before the speech is actually intelligible. I didn't notice if any of the near by ducks took interest in our SSB "duck call".

Head waters of Hosmer looks pretty nice. The area required 'sketer repellent though.
---Paul (K7NHB)

Read more . . .

SOME LATEST PHOTOS
Photos of a South Sister snow-climb in June 2006
North American Pond Skimming Contest at Mt. Bachelor
Photos of Central Oregon from an ultralight aircraft
Pole, Pedal, Paddle candid finish photos 2006
Smith Rock Spring Thing in 2006
Smith Rock Spring Thing 2006 volunteer's party at the Barn
HERA climb for life fundraiser at Smith Rock
HERA climb4life party at the Smith Rock Barn
Snow camping from bivy to base camp

ATHLETIC EVENTS IN BEND
Pole, Pedal, Paddle candid finish photos 2006
Fresh Air Sports Sprint Triathlon and the COBRA Children's' Fair
Bend's Cascade Cycling Classic 2005
X-Adventure Raid Adventure Race photos of the 2005 qualifier in Bend, Oregon USA
Just Around the Bend Marathon
Pacific Crest sports festival in Sunriver: Triathlon and Duathlon News of this event!


X-Adventure Raid Adventure Race North America Qualifier in Bend!

Six pages! News of this event!


X-Adventure Raid North American qualifier in Bend - racers' route map

Broadband only!>


Pole Pedal Paddle course transition photos for 2004

Results by age group 2004


Snowshoe Shuffle comes to Bend, Oregon
Atta Boy 300 dog sled race start and finish from Mt. Bachelor
Pilot Butte - hike and run to the summit
Bend Adventure Racing Klub - The Wild Juniper Berry Race


CORK, Central Oregon Running Klub plays in The Badlands
ABS Contest night at InClimb Gym
Pole, Pedal, Paddle 2002

BROKEN TOP
Hiking to the glacial tarn below Broken Top in the Three Sisters Wilderness
A cross country circumnavigation of Broken Top in late summer with friends
Broken Top north side, with Z21 TV
Broken Top winter summit with Eric Hoffman
Climbing to the summit of Broken Top
Climbing Broken Top with Eric Seyler
Todd Lake, a gateway to Broken Top
Broken Top circumnavigation
Climbing Broken Top in the winter

MT BACHELOR
Mt. Bachelor ski and summer resort during the Atta Boy 300
Atta Boy 300 dog sled race start and finish from Mt. Bachelor
Overlooking the Three Sisters from Mt. Bachelor


Mt. Bachelor from Tumalo Ridge
Photos of the melted snow pack near Mt Bachelor

NORTH SISTER
Timberline Mountain Guides lead North Sister climbs
North Sister, the Terrible Traverse in September, 1999
Middle and North Sister exploratory adventure


North Sister and Middle Sister spring summits on telemark skis
North Sister, Scott's solo summer summit
North Sister exploratory
North Sister winter solo
North Sister: crux photos of the Three Sisters Marathon
North Sister by the south east ridge

MIDDLE SISTER
Middle and North Sister exploratory adventure


North Sister and Middle Sister spring summits on telemark skis

SOUTH SISTER
A cross country circumnavigation of South Sister in September
South sister spring overnight snow climb, gear and skills
South Sister Summer Summit
South Sister climbers trail relocated
South Sister Spring South Ridge Summit


Copy and paste - Mt. Bachelor