TRADITIONAL MOUNTAINEERING ™
www.TraditionalMountaineering.org ™ and also www.AlpineMountaineering.org ™

™
FREE BASIC TO ADVANCED ALPINE MOUNTAIN CLIMBING INSTRUCTION™
Home | Information | Photos | Calendar | News | Seminars | Experiences | Questions | Updates | Books | Conditions | Links | Search

Read more:
Solo backcountry ski to Broken Top Bowl (and return)
A Four Hour Adventure

One doesn't need expedition efforts to have an expedition experience - the only requirement is a little imagination. So playing "as if," I started the routine by checking the local weather from NOAA, listening to the broadcast on my weather radio, and checking the weather conditions/cam at Mt. Bachelor .

If I had cable TV I could have also checked the weather ticker on channel forty eight - especially the barometer direction (up = good weather, down = bad weather)

At that point I asked myself, "Do I want to go out in what we have now and what is predicted in the near future". It was a sunny blue sky day - not a hard decision.

Next I prepared the expedition meal - preheated the thermos with hot tap water while the "real' water came to a boil on the stove. To that I added coffee and hot chocolate. One quart thermos of hot drink, one quart of regular water, two cliff bars and I was good to go. I also added another bottle of water to drink on the drive up the mountain and have in the car on my return.

I've been experimenting with layers because I often end up too hot. This time I wore basic ski pants and a light wicking shirt. I added a wind blocking vest and a rainproof, breathable shell. A warmer pile jacket was added to the pack - just in case. Additional wind blockers were added - like a head band ear warmer, silk balaclava, wool hat and three pairs of gloves. Though I figured track skiing would keep me out of deep snow, I wanted to be prepared for real "cross country" and added gaiters. As I was going "alone" I carried two gps units and an extended 10 essentials - including my cell phone after checking the battery charge level.

I planned to ski to Big Meadow and investigate routes to Broken Top. Years before I had skied into the bowl area and remembered the mountain majesty.

What's an expedition without letting someone know where you are going, when you intend to be back, what kind of gear you have or conditions you are prepared to meet? So I called a friend and passed on my intentions.

Just before taking off I recited the winter mantra, "Skis, boots, poles." and checked that they were all in the car.

I arrived at the Mt. Bachelor parking lot about 2 pm - enough time to get where I was going, but late enough to have interesting issues with daylight. I switched on the two GPS units so they could get a fix while I was taking the other gear out of the car. When they were ready, I marked the car, turned one off to save its batteries, and, so I'd have a record of my journey, left the other on with tracking activated. A quick stop at the Nordic lodge and I was off.

The first route decision started to form as I passed the Todd Lake trail head and took the twenty foot wide swath that had been plowed to Dutchman Flats. When I am fresh, it's easy to keep my skis in a straight line in trackless snow. By the end of the day, I'd enjoy the trail in from Todd Lake more.

It was sunny and the single layer plus vest, and wind-block head band were enough. Water stops were made after cresting the various up hills along the Big Meadow trail. I reached Big Meadow about 3:30 PM and had about another hour and a half of daylight. I figured it would take only half an hour to get back because the snow was good and trail benign. So I ate a little Cliff bar and pressed on. But something happened during that stop. Either I checked the GPS for Sunset and turned it off out of habit, or I put it in the pack in such a way that the On/Off button pushed against the hard thermos. In any event, the unit was turned off.

With time to spare I decided to continue towards my goal of finding the access route to Broken Top. After crossing big Meadow the trail was then signed Todd Ridge. A little way along, a clean ski track took off towards Broken Top and I was on my way. When I reached the overlook, from where the photos were taken, it was like I was back home. The trail continued down, into the bowl but I could see pre-sunset shadows and pulled out the GPS for the current time and sunset check. That's when I discovered the unit had been turned off - hence the straight line from Big Meadow on the map. I had an hour left so resisting a variation of "summit fever", it was time to go.

I looked at the route I had just traveled and had been good for the up hill direction, but was not something I especially wanted to go down. And because there are others of a similar mind, what should appear but another trail leading off to the left, following an elevation contour.

I just knew that would lead back to the formal trail - but in case it didn't, I still felt I had time to make my way back to Big Meadow and back to the lodge. This trail, though mostly level, was a bit icy under the trees because of frozen snowmelt. So I was careful not to pick up too much speed, stepping out of the track when necessary. It did lead back to the main trail, not far from where I originally left it, and I started skiing towards the Big Meadow.

But I already knew that path, have done it in the dark in fact. I had an opportunity to learn something new by taking the Todd Ridge trail - marked Most Difficult. I could see what Most Difficult meant and perhaps have a quick trip to the lake and fast ski back to the lodge. For me, "most difficult" is really a matter of decisions.

This was an opportunity to confront some demons. After all, just because a XC ski track goes near trees, there is no need to freak out. If the trail has just enough of a downhill to keep you going, and the snow is pillow soft for any required bailout - no problem. Unfortunately, in this case, often the track was a steep downhill, and the snow was packed and icy. I'd try to imagine how some of my ski heroes, like Bob Mathews, would ski it. How would he, could he, control his speed and stop at the traverse junction? I was disappointed that the trail didn't have a nice long gradual decline along the east ridge. Why not? I was also aware that my cautions were eating up daylight - though that wasn't too much of a concern because the weather was still clear and once at the lake I'd be on an established, heavily traveled, trail. So I focused on my decisions - when to ride the trail, when to step out, when to just side step down to the next traverse.

When I got to the lake I took a water and Cliff bar break and pondered the Ridge trail route. My best guess is it was designed to go up the ridge, not down it. That's why it was so steep - to gain as much elevation as the XC ski kick zone grip would allow.

It was past sundown, but there was still a bit of light as I continued back on the Todd Lake trail. It's been a while since I've been on it but felt good as it took me closer and closer to Century drive and the lodge. I didn't feel so good when it took a turn east, especially when I saw old snow shoe tracks continuing west. At this point I could have alleviated my concern by checking the trail map. But I was feeling fine, there was still some light, and I figure if this trail was turning off, it would be clear in a short time. So I kept following diamonds and looking for trail signs. When I reached the base of Water Tower Hill and the trail curved back towards the lodge I knew it was just a matter of one ski after the other. I was glad I had chosen that route, even though it ended with a hill. The trail wasn't deep and snow gave good grip - an easy slide.

I reached the car about 5:30, half and hour after sundown, and drank some water and ate the rest of my Cliff bar before starting back to Bend. Along the way I called my "check in" friend and told his wife that I was back. I called another friend who wanted me to stop by and I agreed on the condition that I could take a hot shower there.

A hot shower, dry clothes, warm liquids - and life was good.

I learned a little bit more about my clothing/layering requirements. I have a new potential camping spot that could allow views of both sunrise and sunset on Broken Top. I'll be more careful about GPS placement in the pack. And I know that if I have to go down to Todd Lake, I'll make my own trail with my own rate of descent - but I'll plan to take Big Meadow or some other route back.

Some might call this heresy because of the "Don't ski alone" rule. But are you "alone" if you ski to Meissner shelter by yourself. You will usually meet someone on the trail or at the shelter. Am I "alone" when I see the headlights of snowmobiles whizzing by some yards away. I make different decisions if I'm skiing around a "Nordic Center" and when I'm skiing above Hart Lake in Yellowstone. I think it's okay to push the edges a little, as long as you know your performance level and are aware you are doing it.
--Paul Chance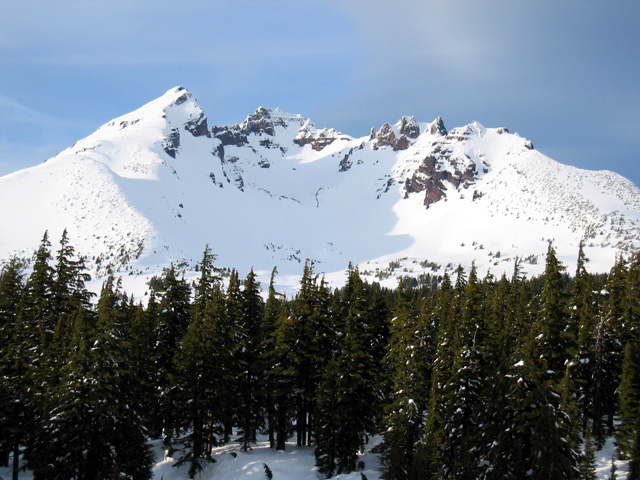 Photo Copyright© 2004 by Paul Chance. All Rights Reserved.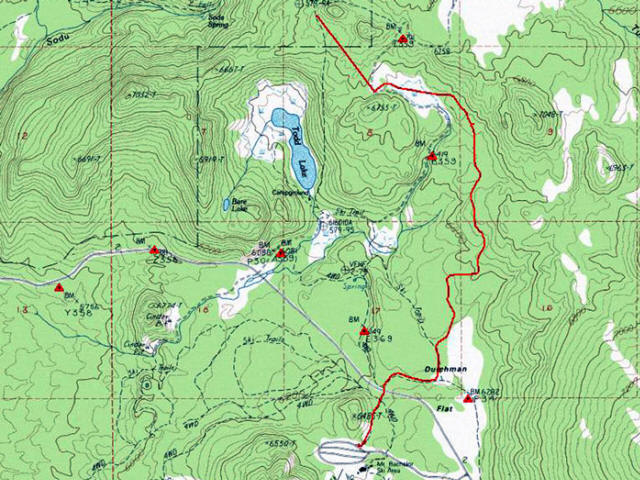 Note: My friend Paul Chance recorded this track of his adventure on his Garmin GPS. The final section, shown as a straight line, was recorded when he discovered he had inadvertently turned off the GPS, and turned it on again where the picture was taken. There is a lesson there somewhere. Hmmm. Paul used Map Tech's Terrain Navigator to record and print the track-in out. (He did not record his Most Difficult ski back to his rig.) Very useful tools indeed! Hmmm. --Webmeister Speik

Read more . . .

FAQs
What should I know about "space blankets"?
What do you carry in your winter day pack? Photos?
Where can I get a personal and a group first aid kit? Photos?
What should I know about snow caves?
A possible emergency snow shelter?
What about Boots and Shoes?

Basic Responsibilities
The Ten Essentials
Climbing together