TRADITIONAL MOUNTAINEERING ™
www.TraditionalMountaineering.org ™ and also www.AlpineMountaineering.org ™

™
FREE BASIC TO ADVANCED ALPINE MOUNTAIN CLIMBING INSTRUCTION™
Home | Information | Photos | Calendar | News | Seminars | Experiences | Questions | Updates | Books | Conditions | Links | Search

Read more:
July fourth along the Deschutes River in downtown Bend, Oregon
Click on an image you like to see the full version; broadband folks can click here to see the full sized page.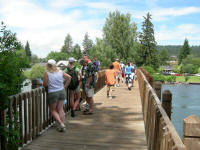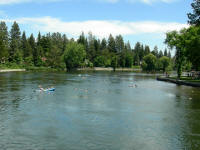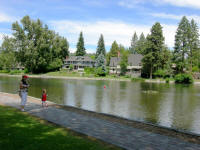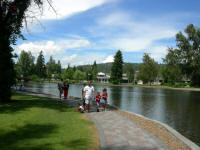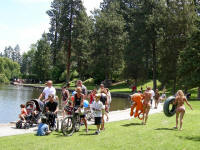 Copyright© 2006 by Robert Speik.
All Rights Reserved.
From our Calendar of interesting local events:
July 4, 2006, Original Old-Fashioned Fourth of July Festival in Drake Park
Come on down to Drake Park after the Pet parade for tasty food, artisan booths, live music, hay rides and old-fashioned games. 11am-4pm
July 4, 2006, Fireworks on the top of Pilot Butte
Pilot Butte at 10 pm 541-385-6570. Pilot Butte closed for the "Works"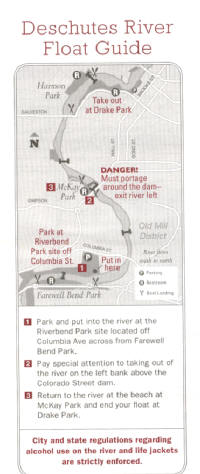 Click for larger image or go to full sized page linked above
##########
Woman drowns on Deschutes in Bend
Spectators watched,
witnesses talked to Bend police Sunday after group floating Deschutes plunged over dam spillway and woman died.
KTVZ.com
By Tony Fuller and Barney Lerten
Jul. 10, 2006
Another happy hot-weather outing on the cool Deschutes River through Bend turned tragic Sunday afternoon when a group of surprised rafters encountered the sudden rapids of the dam at the Colorado Avenue Bridge and went over the spillway. One woman died when she became trapped in the turbulent water, authorities said.
Eighteen Bend Fire and Rescue personnel responded around 4:40 p.m. to the second report in as many days of people going over the rapids, said Battalion Chief Bill Boos. The woman's name had not been released as of late Sunday night.

"All were able to get to the side, but one individual was caught up in the rapids," Boos told NewsChannel 21.

Firefighters employing swift-water rescue techniques used ropes, ladders and a rescue boat to remove people from the river, taking three patients to St. Charles Medical Center-Bend, Boos said. Up to 10 people were in the group, on two rafts and two inner tubes.

Just a day earlier, shortly before noon Saturday, crews responded to another water-rescue situation by McKay Park, on a report that two adults and two children had gone through the dam's water control gates. An unidentified 78-year-old person was found stranded on rocks below the bridge, but the others had made it out of the water on their own, suffering minor injuries. The rescued person was taken to the Bend hospital for observation.

Boos said said none of the people involved in Sunday's incident were wearing life jackets.

Boos said the group, including children and adults, moved to Bend from Hawaii about a week and a half ago. He confirmed that witnesses said one inner tube "started floating away, and they went in to go after it, and went past the takeout (point) and all got sucked into" the spillway.

Others in the river or onshore offered, even screamed warnings to the rafting party as it approached the spillway, but they apparently went unheard or unheeded, at least until it was too late.

"Just before the dam, we saw the sign and we knew we had to get out," said witness Lacey Fertell. "I was explaining to them because they had never been down right here - I was explaining, 'You need to get out right here and not anywhere else, you know, because you can get taken under, and it's dangerous.'"

I was the 17th apparent drowning in Oregon in recent weeks, and the second on the Deschutes in four days. The other was a 17-year-old Oregon City girl whose raft flipped on the Deschutes 20 miles south of Maupin last Thursday, prompting a search that continued into the weekend. KGW.com reported late Sunday, citing interviews with Danielle Hagler's relatives, that the girl's body was located in deep water not far from where the raft overturned.

Witnesses also said the Bend victim apparently could not swim.

"The river is a fun place to be on, but you have to remember to be careful," Boos said, urging everyone on the river to wear life jackets.

"At a moment's notice, a fun event in the water can turn into a disastrous experience," he said.

Last summer, Bend Elks baseball player Michael Wilhite drowned just upstream from the Colorado Avenue dam and bridge. His raft flipped over, and he was found to have been intoxicated, a day before his 21st birthday.

After that tragedy, more signs and warning buoys were installed by the Bend Metro Parks and Recreation District, in an effort to make sure those floating the river knew they needed to go to the takeout point before reaching the bridge.
http://www.ktvz.com/story.cfm?storyID=14856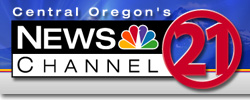 Most stories are published on KTVZ.com!

Read more . . .

SOME LATEST PHOTOS
Photos of a South Sister snow-climb in June 2006
North American Pond Skimming Contest at Mt. Bachelor
Photos of Central Oregon from an ultralight aircraft
Pole, Pedal, Paddle candid finish photos 2006
Smith Rock Spring Thing in 2006
Smith Rock Spring Thing 2006 volunteer's party at the Barn
HERA climb for life fundraiser at Smith Rock
HERA climb4life party at the Smith Rock Barn
Snow camping from bivy to base camp

ATHLETIC EVENTS IN BEND
Pole, Pedal, Paddle candid finish photos 2006
Fresh Air Sports Sprint Triathlon and the COBRA Children's' Fair
Bend's Cascade Cycling Classic 2005
X-Adventure Raid Adventure Race photos of the 2005 qualifier in Bend, Oregon USA
Just Around the Bend Marathon
Pacific Crest sports festival in Sunriver: Triathlon and Duathlon News of this event!


X-Adventure Raid Adventure Race North America Qualifier in Bend!

Six pages! News of this event!


X-Adventure Raid North American qualifier in Bend - racers' route map

Broadband only!>


Pole Pedal Paddle course transition photos for 2004

Results by age group 2004


Snowshoe Shuffle comes to Bend, Oregon
Atta Boy 300 dog sled race start and finish from Mt. Bachelor
Pilot Butte - hike and run to the summit
Bend Adventure Racing Klub - The Wild Juniper Berry Race


CORK, Central Oregon Running Klub plays in The Badlands
ABS Contest night at InClimb Gym
Pole, Pedal, Paddle 2002

BROKEN TOP
Hiking to the glacial tarn below Broken Top in the Three Sisters Wilderness
A cross country circumnavigation of Broken Top in late summer with friends
Broken Top north side, with Z21 TV
Broken Top winter summit with Eric Hoffman
Climbing to the summit of Broken Top
Climbing Broken Top with Eric Seyler
Todd Lake, a gateway to Broken Top
Broken Top circumnavigation
Climbing Broken Top in the winter

MT BACHELOR
Mt. Bachelor ski and summer resort during the Atta Boy 300
Atta Boy 300 dog sled race start and finish from Mt. Bachelor
Overlooking the Three Sisters from Mt. Bachelor


Mt. Bachelor from Tumalo Ridge
Photos of the melted snow pack near Mt Bachelor

NORTH SISTER
Timberline Mountain Guides lead North Sister climbs
North Sister, the Terrible Traverse in September, 1999
Middle and North Sister exploratory adventure


North Sister and Middle Sister spring summits on telemark skis
North Sister, Scott's solo summer summit
North Sister exploratory
North Sister winter solo
North Sister: crux photos of the Three Sisters Marathon
North Sister by the south east ridge

MIDDLE SISTER
Middle and North Sister exploratory adventure


North Sister and Middle Sister spring summits on telemark skis

SOUTH SISTER
A cross country circumnavigation of South Sister in September
South sister spring overnight snow climb, gear and skills
South Sister Summer Summit
South Sister climbers trail relocated
South Sister Spring South Ridge Summit


Copy and paste - Mt. Bachelor