TRADITIONAL MOUNTAINEERING ™
www.TraditionalMountaineering.org ™ and also www.AlpineMountaineering.org ™

™
FREE BASIC TO ADVANCED ALPINE MOUNTAIN CLIMBING INSTRUCTION™
Home | Information | Photos | Calendar | News | Seminars | Experiences | Questions | Updates | Books | Conditions | Links | Search

Read more:
Central Oregon Powered ParaChute Club has a meeting
Click on a picture you like to see the full sized image; click here to see the broadband page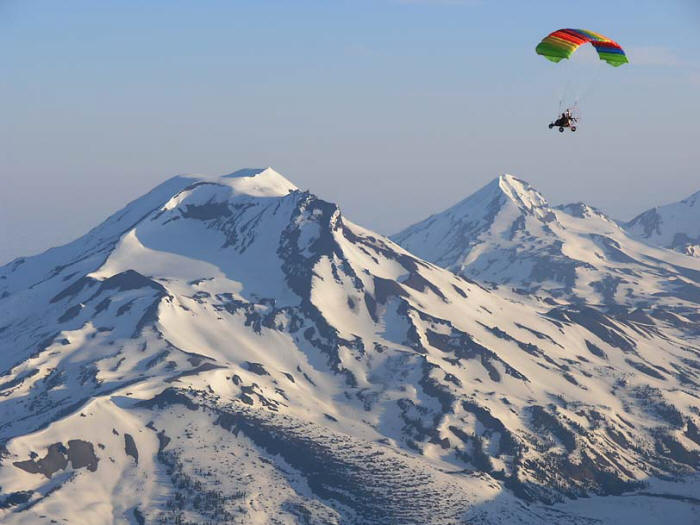 Image of Tom Doerr flying over the Three Sisters. Copyright© 2006 by Q. Meyers. All Rights Reserved.
Here is some information about Powered Parachutes from Q.:
Hello Robert-
You asked for a brief description of what we fly and how it works, so here it is.

The machines are called Powered ParaChutes or PPCs for short. The machine consists of a 3 wheeled cart with one or two seats, a 45 to 65 hp engine turning a pusher prop, and a 400 to 500 sq. ft rectangular ram air parachute used as a wing. The PPC can be kept in a standard garage and hauled around on a small trailer.

Launching the machine involves laying the chute out behind the cart, starting the engine, and accelerating slowly until the chute pops up and centers overhead. Open the throttle farther and the machine lifts off at about 30 mph in about 200'. Once in the air the speed is a constant 30 mph. Add more throttle to go up, less to go down. Push the right foot pedal to go right, the left to go left. That's about it. There's no worry about stall. You don't have to keep an eye on airspeed as you would in a fixed wing aircraft. The pendulum effect of the cart hanging below the wing is inherently stable. If the engine should quit you simply glide down while still being able to steer, then land.

The PPC is a great platform for aerial photography because of the wide-open view and the fact that it will fly indefinitely with no input from the pilot. Your hands are free for operating the camera. Vibration is minimal and the speed is slow. You can safely fly at 10' or 10,000'.

There are now about 20 PPC pilots/owners here in Central Oregon. We fly from local airports, farmer's fields, dry lakebeds, forest service and BLM roads. Flying a PPC is an early morning activity, preferably beginning at sunrise because that's when one finds the smooth, calm air.

Central Oregon with its amazing scenery, calm winds, and clear skies may be the world's best place to fly a PPC.
--Q
I accepted the PPC Club's invitation to come to a Powered ParaChute meeting in Bend Oregon:
Click on a picture you like to see the full sized image; click here to see the broadband page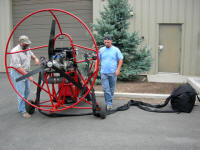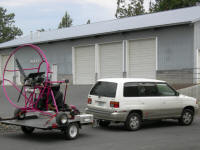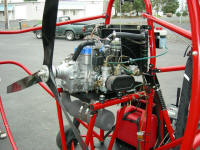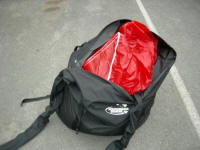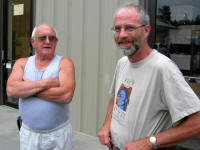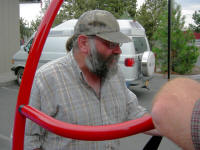 Q.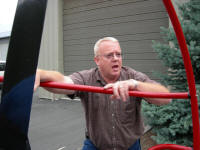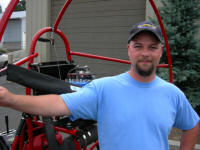 Mike Lockling, Six Chuter, Inc.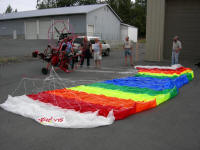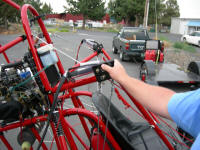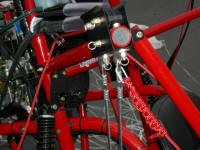 Copyright© 2006 by Robert Speik.
All Rights Reserved.
Note: This is a great group of guys that include Q. who works for the local school district, retired Sherriff's Search and Rescue Sargent Terry Silbaugh and Mike Lockling who built the Powered ParaChute he was testing in the parking lot. Mike is a Sales Representative for Six Chuter, Inc. which makes several models of the Powered ParaChute. --Webmeister Speik. To find out more email info@TraditionalMountaineering.org and we will get you a phone number.

Read more . . .
Photos of Central Oregon from a Powered ParaChute
Soaring with Scott Webber from Bend Airport
The Powered ParaChute Club meets in Bend Oregon

LATEST PHOTOS
The Oregon High Desert Classic "A" Rated Hunter/Jumper Show
USFS Trail Crew builds a log bridge over Fall Creek near the Green Lakes Trail Head
Central Oregon has a Powered ParaChute meeting
Cascade Cycling Classic's Twilight Criterium 2006 around downtown Bend
July Fourth Pet Parade in downtown Bend, Oregon
Cascade Cycling Classic's Twilight Criterium around downtown Bend
July Fourth Pet Parade in downtown Bend, Oregon
July Fourth Festival in Drake Park in downtown Bend, Oregon
July Fourth Air Life outreach at Drake Park in downtown Bend, Oregon
Fourth of July along the Deschutes River in Drake Park in downtown Bend, OR
Having a Field Day at Hosmer Lake off Cascades Lakes Highway
ODOT Adopt-a-Highway Awards in Bend, Oregon
Becoming an Outdoors Woman learning backcountry navigation in La Pine Oregon
Photos of a South Sister snow-climb in June 2006
North American Pond Skimming Contest at Mt. Bachelor
Photos of Central Oregon from an ultralight aircraft
Pole, Pedal, Paddle candid finish photos 2006
Smith Rock Spring Thing in 2006
Smith Rock Spring Thing 2006 volunteer's party at the Barn
HERA climb for life fundraiser at Smith Rock
HERA climb4life party at the Smith Rock Barn
Snow camping from bivy to base camp
Views of the Oregon Cascades in the summer and fall
REI opens new store in Bend's Old Mill District
BARK Wild Juniper Berry VI Adventure Race near Smith Rock, Oregon
Weather Spotting during an Oklahoma spring
Soaring with Scott Weber from the Bend, Oregon airport
Hiking to the glacial tarn below Broken Top in the Three Sisters Wilderness
ONDA's Wilderness inventory of BLM area near Juntura in eastern Oregon
Climbing Three Finger Jack, a deceptively dangerous fifth class summit
Fresh Air Sports Sprint Triathlon and the COBRA Children's' Fair
Iron Mountain wildflowers with Bend Parks and Recreation
Bend's Cascade Cycling Classic 2005
Summer Festival in downtown Bend, Oregon Timberline Mountain Guides - photos from their climbs in Alaska
USFS Five Buttes Healthy Forest fire reduction program in Central Oregon
X-Adventure Raid Adventure Race photos of the 2005 qualifier in Bend, Oregon USA
Bob McGown, AAC Section Chair, builds a telescope pad at Pine Mountain Observatory
Becoming an Outdoors Woman classes in LaPine, Oregon with the ODFW
Hot air balloons over Bend, Oregon
Ben Moon, MoonFoto
Bite of Bend at the Shops at the Old Mill in 2004
Pulling barbed wire fence at the Hart Mountain Antelope Refuge with ONDA
The Tumalo Creek scramble trail up stream from Shevlyn Park
A tour of the aftermath of the B & B forest fire with the Sierra Club
Map, compass and GPS navigation training Noodle in The Badlands
North Sister, the Terrible Traverse in September, 1999
Snow climbing training with Mountain Link
Timberline Mountain Guides lead North Sister climbs
Views of the Cascades from the ridge above Three Creek Lake
Snow Parks in the Oregon Cascades in March 2005
Summits of the Oregon Cascades from Tumalo Mountain in February 2005
Garrett Madison, Mountain Link Senior Guide
Robert Link autographs a poster
Pilot Butte winter hike in Bend, Oregon
A snowshoe summit of Vista Butte off Cascades Lakes Highway near Bend, OR
McMenamins opens new pub, theater and hotel in downtown Bend
American Alpine Club and Traditional Mountaineering build another rescue cache at Smith Rock
Scenes from an ODFW - STEP volunteer 1,000 mile drive around eastern Oregon
Just Around the Bend Marathon
XC Oregon Active Winter Expo and gear swap at COCC
Pilot Butte - hike and run to the summit
AAI Senior Guide Michael Powers guides the classic peaks of Switzerland
A cross country circumnavigation of South Sister in September
A circumnavigation of Broken Top in late summer with friends
A hike to Maiden Lake with Bend Parks and Recreation
A hike to Suttle Lake with Bend Parks and Recreation
Adopt-a-Highway with TraditionalMountaineering over Santiam Pass
Traditional slacklining in Bend
Pacific Crest sports festival in Sunriver: Triathlon and Duathlon