TRADITIONAL MOUNTAINEERING ™
www.TraditionalMountaineering.org ™ and also www.AlpineMountaineering.org ™

™
FREE BASIC TO ADVANCED ALPINE MOUNTAIN CLIMBING INSTRUCTION™
Home | Information | Photos | Calendar | News | Seminars | Experiences | Questions | Updates | Books | Conditions | Links | Search

Read more:
Becoming an Outdoors Woman learning backcountry navigation in La Pine Oregon
Click on an image to see the full version. Broadband people can click here to see the full sized page.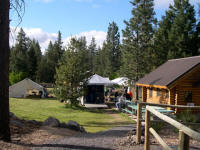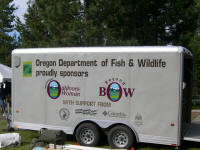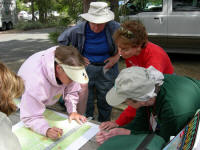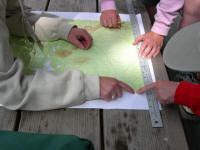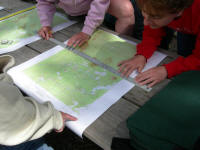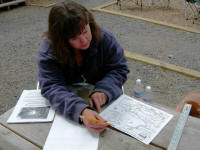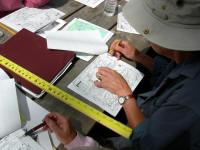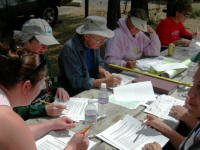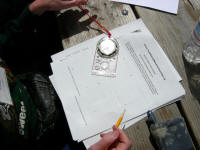 Copyright© 2006 by Robert Speik.
All Rights Reserved.

Friday through Sunday, June 9 to 11, 2006, Becoming an Outdoors Woman (BOW) with the ODFW at LaPine State Park
Oregon Department of Fish and Wildlife sponsors summer and winter workshops for outdoor gals. Sessions include skiing, snowshoeing, Dutch oven cooking, bow-hunting, winter survival, photography, etc. and of course, map, compass and GPS. Robert Speik will teach sessions on staying found and finding your way. For information and to sign-up call Program Coordinator at 503-947-6016. See photos of the winter workshop. See photos of last years summer workshop.
BOW History and program description
"Becoming an Outdoors-Woman (BOW) means becoming more competent, more confident, and more aware. BOW is an outdoor skills program that offers women a chance to grow. 20,000+ women attend BOW events every year.

More than 80 weekend-long workshops are held all across North America annually. The workshops introduce women to a variety of activities equally balanced between hunting and shooting, fishing, and non-harvest sports like canoeing and camping. Participants choose from a list of over 20 activities.

The program began in 1991, offered through the University of Wisconsin-Stevens Point. The first workshop, held at Treehaven Field Station near Tomahawk, filled to capacity with over 100 participants. This successful program, founded by Dr. Christine Thomas, has become popular in more than 40 states and several Canadian provinces.

"The growth of BOW means we are reaching more women and providing them with a venue to learn not just outdoor skills, but also more about themselves," says Assistant Director Peggy Farrell. "Women all across the country have told us, 'BOW has changed my life.' That's a powerful endorsement telling us the program is even bigger than learning how to set up a tent or tie a fly."

BOW program coordinators are also expanding to offer "Beyond BOW" events that include actual pheasant, turkey or deer hunts, guided fly fishing, caving excursions, sea kayaking, horse packing trips and more. The Beyond BOW concept was spurred on by requests from women who wanted to take the next step in learning following their BOW experience. For example, Farrell says, "BOW might teach a woman how to shoot a shotgun. After that where can she go to learn more specifically about pheasant hunting? A Beyond BOW pheasant hunt can fill that need."

In March 2003, BOW took a jaunt over the ocean to offer a Beyond BOW in the Bahamas. Participants learned snorkeling, ocean kayaking, deep-sea fishing, and more on this island adventure.

Specialty programming like BOW and Beyond BOW have become successful due in large part to important on-going research related to women and outdoor activities conducted at the University of Wisconsin Stevens Point College of Natural Resources.

With the help of funding provided by U.S. Fish and Wildlife Service, National Shooting Sports Foundation, Wisconsin Environmental Education Board, and other organizations, BOW launched several projects that assessed the needs, attitudes and participation of women in outdoor activities.

BOW Director Diane Lueck is focusing on the most recent research project by examining ways to better welcome women with disabilities to outdoor recreation. "We know that women who attend BOW workshops gain self-confidence and self-esteem in addition to outdoor skills," says Lueck. "We want to make sure women in underrepresented groups are included in this unique program." The research is part of Lueck's work toward a PhD. at UW-Madison.

BOW welcomes women from all backgrounds to enjoy camaraderie with other women in a supportive, non-competitive learning environment. Participants span the ages of 18 to 80+. In addition to learning new activities, BOW participants are also treated to a variety of evening entertainment including outdoor clothing fashion shows, bird shows featuring live hawks and owls, outdoor storytelling, raffle prizes, and more.

BOW workshops are generally held at camps or resorts. Participants stay in heated cabins or lodges that may be rustic, but have basic modern amenities including hot showers. Meals are provided and cooked by the camp staff. The focus for the weekend is learning in a comfortable atmosphere.
The workshops begin around noon on Friday. Fun remains the watch word from start to finish during three days of camaraderie with like-minded women!"
##########

Read more . . .
Becoming an Outdoors-Woman
Oregon Department of Fish and Wildlife

Becoming an Outdoors Woman at Suttle Lake in the winter
Becoming an Outdoors Woman classes in LaPine, Oregon with the ODFW
Learning map, compass and GPS at BOW classes in LaPine.

YOUR ESSENTIAL SUMMIT PACK
What are the new Ten Essential Systems?
What does experience tell us about Light and Fast climbing?
What is the best traditional alpine mountaineering summit pack?
What is Light and Fast alpine climbing?
What do you carry in your day pack? Photos?


What do you carry in your winter day pack? Photos?


What should I know about "space blankets"?
Where can I get a personal and a group first aid kit? Photos?

BACKCOUNTRY NAVIGATION
Which GPS do you like?


Which Compass do you like?


How do you use your map, compass and GPS together, in a nut shell?
How can I learn to use my map, compass and GPS?
Do you have map, compass and GPS seminar notes? six pdf pages
Photos from a climb of Mt. Bachelor in June
Photos of the Three Sisters Wilderness from Tumalo Mountain in May
Photos of a climb of South Sister in June
Photos of the Three Sisters from Sparks Lake in August

What is the best digital camera for traditional mountaineering?

The Sport of Alpine Mountaineering


Climbing Together


Following the Leader


Basic Responsibilities


The Ten Essentials