TRADITIONAL MOUNTAINEERING ™
www.TraditionalMountaineering.org ™ and also www.AlpineMountaineering.org ™

™
FREE BASIC TO ADVANCED ALPINE MOUNTAIN CLIMBING INSTRUCTION™
Home | Information | Photos | Calendar | News | Seminars | Experiences | Questions | Updates | Books | Conditions | Links | Search

Read more:
Ben Moon's MoonFoto, based in Bend, Oregon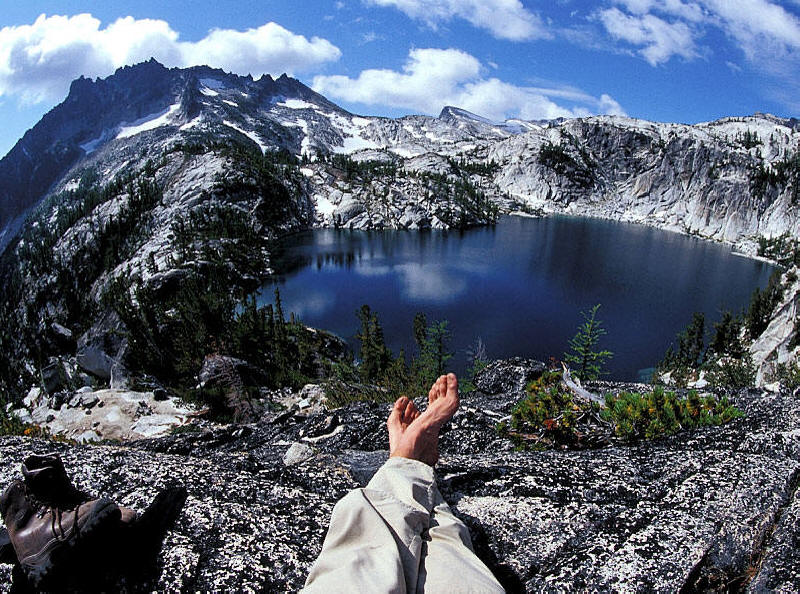 Overlooking Lake Viviane from the base of Prusik Peak. The Enchantments, Washington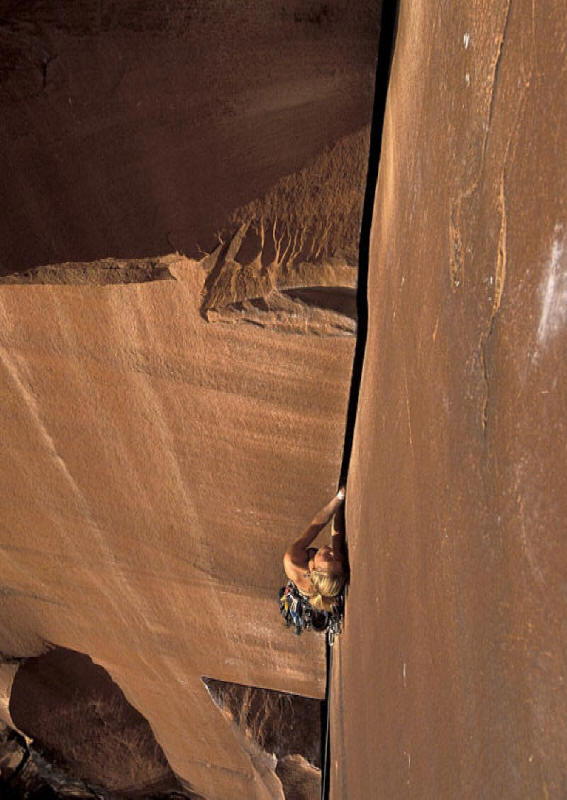 Wendy Davis enjoying perfect jams on 'Incredible Hand Crack'. Indian Creek, Utah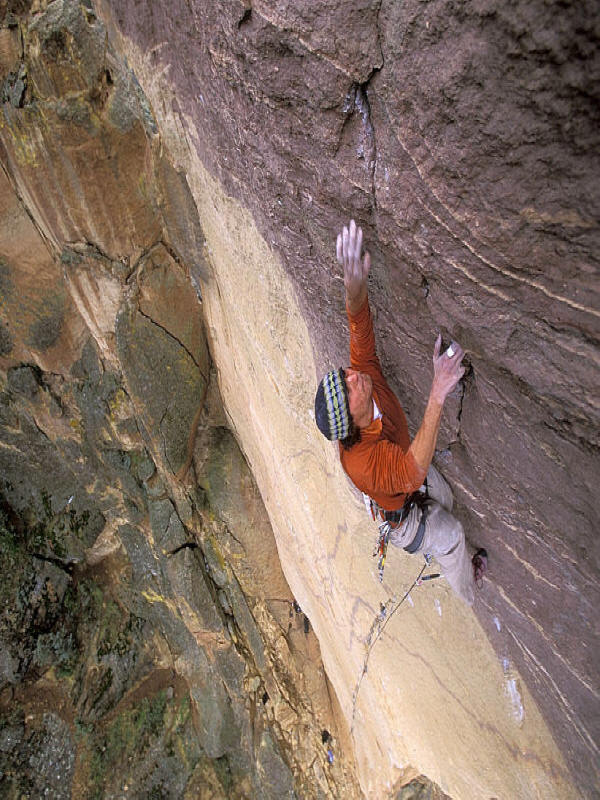 Sonnie Trotter on the first gear redpoint of the 'East Face' 5.13d on Monkey Face, Smith Rock, Oregon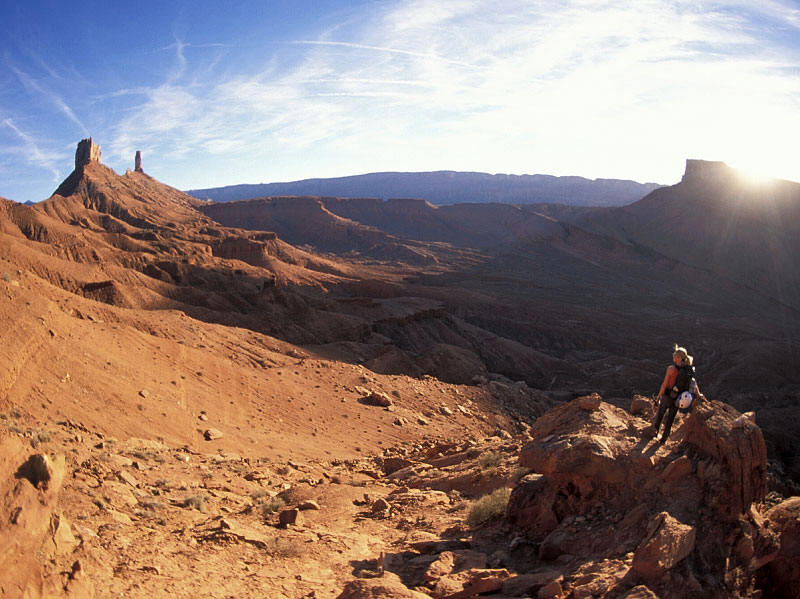 Lisa Hensel enjoying views of the Rectory and Castleton Tower after climbing Sister Superior. Castle Valley, Utah
Photographs Copyright© 2005 by MoonFoto. All Rights Reserved.

Read more . . .
MoonFoto
Ben Moon, MoonFoto
"Ben Moon is a freelance adventure and travel photographer based in Bend, Oregon. His emotional images are known for their ability to draw the viewer into the moment.

Ben leads an athletic outdoor lifestyle that has encompassed a competitive collegiate rowing career to his love for rock climbing, yoga, and surfing today. Being an active participant in the sports he photographs allows an intimate perspective of the athletes and their lifestyles.

Ben prefers a hands-off approach with his subjects, allowing him to capture human emotion and movement in a raw and natural form. This philosophy has allowed him to capture the true essence of athletes' lifestyles and abilities while they pursue the endeavors they live and love."

"Editorial clients include Outside, Climbing, Rock & Ice, Trail Runner, Dandelion, Urban Climber, Sharp End Publishing and more.

Advertising clients include Patagonia, Water Girl, PrAna, Metolius, Black Diamond, The North Face, Eastern Mountain Sports, Cloudveil, Montrail, Julbo, Ailin, Kialoa, Ruff Wear and more."
########
Shooting With Ben
Back to making outdoor images after a tough year
By Bob Woodward
The Source Weekly
June 23, 2005

Through sport, Ben Moon came to his life's work. "I was living and working in Portland, and the more I came over to Smith Rock to climb, the more I fell in love with Central Oregon," he says, relaxing amid a pile of surfing gear and camera equipment at his Bend home.

Following moving here in 2001, Moon, 30, got a job at Metolius Mountain Products and during his time there bought some used 35-mm camera gear and started taking pictures.

"I started shooting climbing images," he recalls, "and soon Metolius started using them in their catalogs. So I decided to send a few images to Patagonia to see if they'd be interested in using any in their catalogs. People told me I was nuts, because Patagonia would never run anything from an unknown like me."

Well, Patagonia liked his images and used a few, and thus began a working relationship with the outdoor apparel and gear maker. That relationship's start coincided with a layoff at Metolius and Moon leaving Bend the next two years to travel, living out of his van.

"I scraped by, shooting all over the West," he remembers. His specialty then was climbing photography, but after a summer on the island of Kauai his focus turned to surfing and lifestyle photography.

"It was a big breakthrough, as I didn't realize Patagonia had such a need for surfing lifestyle images, and particularly ones of women surfers." Photographing women surfers led to photographing women's outdoor lifestyle images, and Moon's reputation began to grow.

After settling back in Bend last year, Moon was off on a climbing photo shoot in Mexico when he realized that something was wrong—very wrong. "I was extremely tired all the time, and when I got back home I was diagnosed with colon cancer," he says. "At my age and in the physical shape I was in at the time, cancer was the last thing I'd expected."

Thus ensued a "rough year" filled with many rounds of chemo and radiation, with two surgeries in between.

Now a cancer survivor, Moon says, "I was lucky to be in such a supportive community as Bend is." That was obvious last fall when 400 people showed up at fundraiser to help him pay his medical bills. "That event was a shocker for me. There were so many people there that I'd never even met before."

Heading off to Mexico this week for a multi-week surfing shoot, Moon talks about 2005 as being a year to "recharge my batteries, get my business more organized, and appreciate the lessons this experience with cancer taught me."

That, and create more stunning surfing images and take on bigger commercial photography jobs.

Note: Ben is just a regular guy who can get to places where he can shoot these shots. We thank Ben for sending this sampler to TraditionalMountaineering. org. Enjoy Ben's website for more great images and a way to order prints for your own enjoyment. --Webmeister Speik