TRADITIONAL MOUNTAINEERING ™


www.TraditionalMountaineering.org ™ and also www.AlpineMountaineering.org ™

™
FREE BASIC TO ADVANCED ALPINE MOUNTAIN CLIMBING INSTRUCTION ™
Home | Information | Photos | Calendar | News | Seminars | Experiences | Questions | Updates | Books | Conditions | Links | Search

Robert Link autographs a Mountain Link poster for TraditionalMountaineering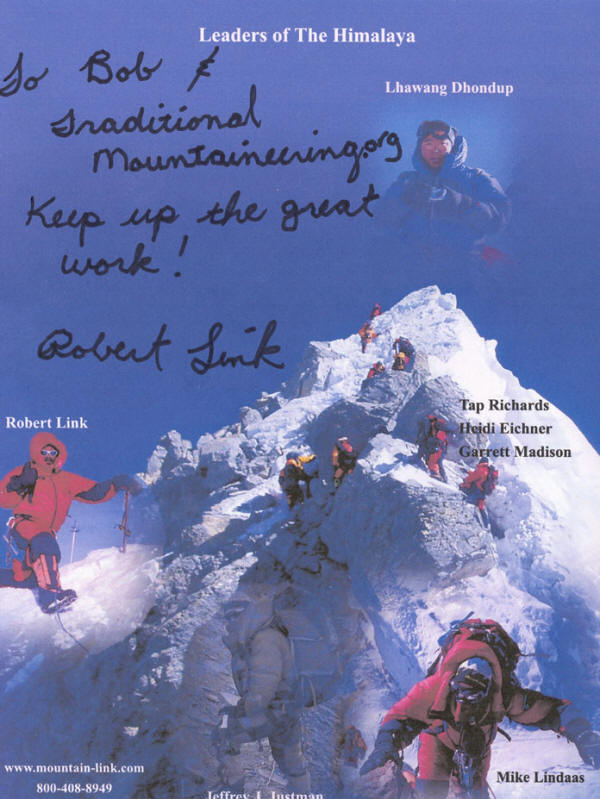 Copyright© 2004 -2007 by Robert Speik. All Rights Reserved.

MOUNTAIN LINK
I am pleased to announce that Mountain Link has moved north to Bend, Oregon. This Central Oregon community is rich with local outdoor activities such as rock climbing, mountaineering, skiing, mountain biking and river sports. I look forward to having our business closer to the mountains, open spaces and the lifestyle that fits our passion for adventure. Being closer to the mountains will afford us the opportunity to build more domestic instructional programs in the nearby Cascades.

Mountain Link recently broadened its horizons internationally by offering trips to Mount Vinson in Antarctica and Mount Elbrus in Russia. The trips were blessed with great success. It has always been our goal to take on the challenge of exploring new adventures with first class service. We continue to work hard to stay on the leading edge of adventure travel.

While Mountain Link continues to grow and change, our philosophy and priorities remain the same: quality instruction in the latest mountaineering techniques and remembering to enjoy the process of mountaineering. Our guides are not only world-class climbers, but also exceptional teachers. Their true talents lie in their ability to mentor others, giving our customers great memories and climbing experiences that will serve them on future adventures.

I invite you to join us on one of our upcoming trips. The first step is always the most difficult, then it is just one after the other, and before you know it you are living the dream.

Come, tie into adventure!
-Robert Link

ROBERT LINK


Climbing Resume
300 summits of Mount Rainier (14,410')
(Note that this is a record few guides can claim. --Webmeister Speik)
21 expeditions on Mount McKinley (20,320')
1 expedition on Mount Hunter (14,235')
5 expeditions to Everest (29,035')
(Summit on the most successful Everest Expedition in History)
Kangchenjunga (28,208')
Cho Oyu (27,766')
(Lead guide for successful expedition via the Tibet side)
Dhaulagiri (26,795'). Group reached 25,300'
Kilimanjaro, Africa, 4 successful guided climbs
12 expeditions on Aconcagua, Argentina (22,835')
13 climbs of Cotopaxi (19,348')
12 climbs of Chimborazo (20,701')
Guided 6 climbs of Popcateptl, Mexico (17,800').
Guided 18 climbs of Pico de Orizaba, Mexico (18,700")
Guided 8 climbs of Ixtaccihuatl, Mexico (17,342')
Guided 5 climbs of Illimani, Bolivia (21,003')
Guided 5 climbs of Huayna Potosi, Bolivia (19,975')
West face of Jahntugan, Russia (14,728)
(First American ascent with Ed Viesturs)
Guided 2 climbs of Mt. Elbrus, Russia (18,501')
Italian side of the Matterhorn

Certifications
Wilderness First Responder
U.S. Avalanche Level II
Leave No Trace Trainer
Certified Alpine Guide by the American Mountain Guides Association

The term "seasoned mountain guide" often conjures up an image of a tough and temperamental veteran of altitude who has seen it all and lived to tell about it. But anyone who has ever been a client of Robert Link knows that there exists another kind of guide who, besides an unyielding concern for safety, is generous with encouragement and whose interests go much further than simply how many clients have reached the summit this year or that. Soft-spoken and genuine to a fault, Robert is known for his dedication to helping clients achieve their goals. Central to his philosophy is the idea that a guide can be much more than just a guide; he or she can also be a teacher and a friend.

Robert began his climbing career at age seven when he climbed Mount Adams with his father. Since that time he has summited Mount Rainier over 290 times and climbed extensively throughout the world, leading numerous successful expeditions in Nepal, Tibet, Argentina, Bolivia, Ecuador, Antarctica, Peru, Mexico, Russia, Italy and Alaska, to name a few. His climbing resume lists dozens of successful ascents on such high-altitude giants as North America's McKinley and Orizaba, South America's Aconcagua, Chimborazo, Illimani and Cotopaxi, and the Himalaya's Kanchenjunga, Cho Oyu and Everest.

In 1989, he was part of the first American team ascent of the North Face of Kanchenjunga. He summited the North Col Route on Everest in 1990 with climbers from China and Russia as part of the International Peace Climb. He lacks just one peak (Carstensz Pyramid or Kosciuszko, depending on who you ask) to achieve success reaching the highest summits on each of the seven continents.

Robert is known for his skills as a professional guide, combining a knack for teaching mountaineering techniques with a thorough, logical approach to safe guiding. People who have been on trips with him have remarked on his calmness under pressure, his love for cultural history, his ability to forge group solidarity and his genuine enthusiasm for seeing his clients realize their goals. Robert likes nothing better than to put his experience and knowledge at the service of those who share his passion for the mountains.

Robert and his wife Cari live in Bend, Oregon, with their son, Dalton.

Robert is a Certified Alpine Guide by the American Mountain Guides Association.
Copyright© 2007 by Mountain Link, LLC. All Rights Reserved.

Read more . . .
Mountain Link website
Senior Guide Garrett Madison moves to Bend, Oregon
JJ Justman autographs a photo for TraditionalMountaineering
Bend team set to scale Mount Everest
Dispatches from Mountain Link's Everest summit
Bend's Mountain Link Guides put four climbers on the summit of Everest!
Climbing Aconcagua with Mountain Link from Mendoza to the summit A 23 minute video by Whitaker Productions


Photos from JJ's expedition to the top of Everest

ABOUT ALPINE MOUNTAINEERING


The Sport of Alpine Mountaineering


Climbing Together


Following the Leader


The Mountaineers' Rope


Basic Responsibilities


The Ten Essentials


Our Mission

CARBORATION AND HYDRATION
Is running the Western States 100 part of "traditional mountaineering"?
What's wrong with GORP? Answers to the quiz!
Why do I need to count carbohydrate calories?
What should I know about having a big freeze-dried dinner?
What about carbo-ration and fluid replacement during traditional alpine climbing? 4 pages in pdf


What should I eat before a day of alpine climbing?

ALPINE CLIMBING ON SNOW AND ICE
Winter mountaineering hazards - streams and lakes
Is long distance backpacking part of "traditional mountaineering"?
How long is the traditional alpine mountaineering ice axe?
What about climbing Mt. Hood?
What is a good personal description of the south side route on Mount Hood?
What should I know about travel over hard snow and ice?
How can I learn to self belay and ice axe arrest? 6 pdf pages


What should I know about snow caves?
What should I know about climbing Aconcagua?

AVALANCHE AVOIDANCE
Young Bend man dies in back county avalanche
What is an avalanche cord?
Avalanche training courses - understanding avalanche risk
How is avalanche risk described and rated by the professionals? pdf table
How can I avoid dying in an avalanche?
Known avalanche slopes near Bend, OR?
What is a PLB?
Can I avoid avalanche risk with good gear and seminars? pdf file

SNOWSHOES AND CRAMPONS
Why do you like GAB crampons for traditional mountaineering?
What should I know about the new snowshoe trails
What are technical snowshoes?
Which crampons are the best?
What about Boots and Shoes?


YOUR ESSENTIAL SUMMIT PACK
What are the new Ten Essential Systems?
What does experience tell us about Light and Fast climbing?
What is the best traditional alpine mountaineering summit pack?
What is Light and Fast alpine climbing?
What do you carry in your day pack? Photos?


What do you carry in your winter day pack? Photos?


Why are "Emergency Kits" dangerous?
What should I know about "space blankets"?
Leave no Trace with Restop bags
Mountaineering blue bag, WAG bag and Restop bag waste solutions in 1985
Where can I get a personal and a group first aid kit? Photos?

YOUR LITE AND FAST BACKPACK
Which light backpack do you use for winter and summer? Analysis pdf


What would you carry in your backpack to climb Shasta or Adams?


Leave no Trace with Restop bags
Mountaineering blue bag, WAG bag and Restop bag waste solutions in 1985
What is the best traditional alpine mountaineering summit pack?
Photos of lite gear packed for a multi day approach to spring and summer summits
Backpack lite gear list for spring and summer alpine mountaineering 4 pdf pages

ESSENTIAL PERSONAL GEAR
Why is the GSM digital cell phone best for backcountry and mountaineering?
What does Steve House wear for light and fast climbing?
What clothing do you wear for Light and Fast winter mountaineering?
What do you carry in your winter day pack? Photos?


Which digital camera do you use in the mountains?
What about Boots and Shoes?


Notable Events
Free solo climber Michael Reardon swept from Irish sea cliff and drowns
Brittany Griffith, Patagonia Athlete and American Alpine Club Ambassador
Bend's Mountain Link Guides put four climbers on the summit of Everest!
Climbing Aconcagua with Mountain Link from Mendoza to the summit A 23 minute video by Whitaker Productions


HERA , Rebeckah Berry and the Climb for Life at Smith Rock State Park
Royal Robbins speaks on 40 Years of Adventure, first ascents and first descents
Steve House of Bend and Vince Anderson summit Rupal Face Alpine Style


REI opens new store in Bend Oregon
Patagonia by Pandora's Backpack get a new website
Tommy Caldwell free climbs both The Nose and Freerider in a day
Climbing Mount Hood in April with Arlene Blum and friends
Tomaz Humar rescued from Rupal Face in Pakistan
Jim Ratz, NOLS Director, AMGA Director and Environmental Leader dies in climbing accident
Climbers summit Rainier, Adams and Hood in 28 hours!
Pandora's Backpack opens in downtown Bend Oregon
Ed Viesturs summits Annapurna
Jim Angell, master trail builder, dies at age 76
Fred Beckey, "Will Belay For Food!!!
Smith Rock "Spring Thing"
About Brad Washburn by Michael Chessler
Top of the world: Bend team set to scale Mt. Everest
Annapurna, a woman's place is on top
The search for Peter Starr
Seven summits in twenty-four hours in Oregon Cascades
Mountaineers mourn Ira Spring
Climbing Legends returning for another shot at Everest
Fred Beckey, icon and living legend
Galen and Barbara Rowell die in plane crash
Mike Bearzi spearheads donation of rescue cache to Smith Rock
Veteran alpinist Mike Bearzi dies while climbing in Tibet
Bend's Midge Cross with women's team on Everest!
Bend's Nancy Knoble climbs Aconcagua!

Search this site!
Copy and paste these search suggestions:

Light and fast alpine climbing
Accidents in North American Mountaineering