TRADITIONAL MOUNTAINEERING ™


www.TraditionalMountaineering.org ™ and also www.AlpineMountaineering.org ™

™
FREE BASIC TO ADVANCED ALPINE MOUNTAIN CLIMBING INSTRUCTION ™
Home | Information | Photos | Calendar | News | Seminars | Experiences | Questions | Updates | Books | Conditions | Links | Search

X-Adventure Raid Adventure Race 2005 qualifier in Bend, Oregon USA
2004 Coverage
BROADBAND: Registration | Start | Mountaineering to Bike | Bike to Canoe | Canoe to Rollerblades | Hiking to Ropes | Finish Festival
DIAL-UP: Registration | Start | Mountaineering to Bike | Bike to Canoe | Canoe to Rollerblades | Hiking to Ropes | Finish Celebration
Pre-Race Meeting at Mt. Bachelor Village in 2005

Click on an image to see the full version. Broadband people can click here to see the full sized page.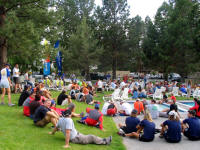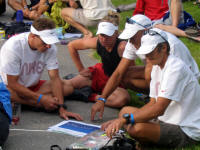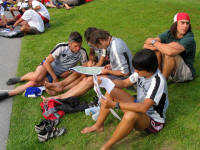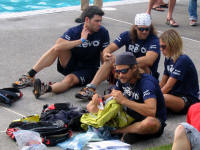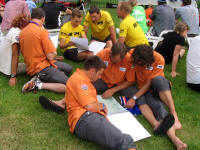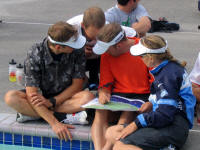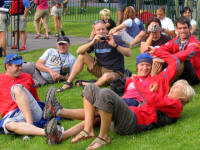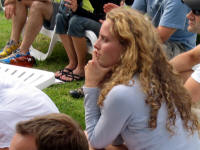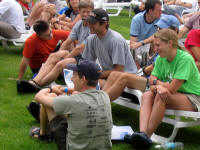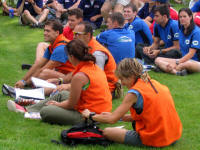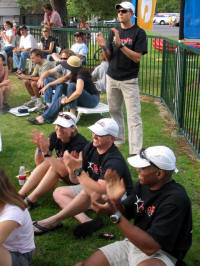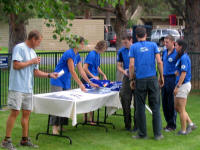 Copyright© 2005 by Robert Speik. All Rights Reserved.
Note: My Nikon digital had to go to the hospital just before this Race. I got a Canon loaner, but I did not have a chance to study the 20 page manual. The previous user must have been taking studio portraits, so these are all the photos I could use. Besides I was so busy during two six hour Check Point assignments that I could not have gotten any action shots anyway, and the waiting shots would have been very boring. My Check Point on Sunday was a solo out in the brush on a Mountain Bike trail. I did have good company at my Check Point on Saturday. See picture below. But by that time I had used up nine AA batteries and three chips on huge pictures. I was sure the Canon camera had malfunctioned, but Vince, the Kitz Camera store manager, convinced me on Monday, that the camera operator had malfunctioned. Oh well, just look at the 2004 photos. They came out pretty well. --Webmeister Speik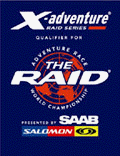 Friday to Sunday, June 24 to 26, 2005, Raid World Championships Adventure Race North America qualifier runs two days near Bend Oregon!
This race is an official US qualifier for the Salomon X-Adventure Raid World Championships to be held later this year. The best teams from five continents are chosen in these qualifiers and Bend is the host of the only qualifier on the North American Continent. Bend race organizer Patrick Harper will assist the professional race crew from France and local volunteers. Volunteers and participants will attend a pre-race orientation at Mt. Bachelor on Friday night. The Adventure Race starts Saturday morning at 6:30AM at Mt. Bachelor and will conclude late Sunday at the Amphitheater in the Old Mill District. More information from BARK's Pam Stevenson at 389-5599. See photos of a local BARK Adventure Race in 2003. The official web of The Raid World Championships. Read local 2004 coverage . See 2004 photos of this event! To volunteer with us and be part of this event, call Bob Speik at 385-0445.



Host a Raid Team!
The best adventure racing teams from all over the world will be here for the Raid World Cup Adventure Race June 24-26. BARK has volunteered to help find host families for teams from places like France, Canada, Australia and Colorado. Even if you can't host a team come out and root for the six local teams competing against the pros. Like last year, the start will be at Mt. Bachelor at the crack of dawn Saturday and the finish will be Sunday afternoon in the Les Schwab Amphitheatre. Disciplines include mountaineering, trekking, mountain biking, in-line skating and paddling. Team BARK Rebound, subverting the dominant paradigm, will be a women's team with a token male. If you can help host a team, please contact Pam Stevenson at pam_stevenson@hotmail.com, 389-5599

#########

PRESS RELEASE


2005 – an exceptional year with a final in Europe, set in the mythical Alps

Aix-les-Bains, France – "The adventure racing World Cup will consist of a four-stage tour. The most powerful teams will be out to qualify for the 2nd edition of The Raid World Championship, to be held in Europe through France, Italy and Switzerland in September 2005, on an incomparable course designed to inspire exceptional sporting exploits.

With a good 15 years of professional experience in the organizing of adventure racing, including the twelve editions of the Raid Gauloises, under its belt Alain Gaimard, and the technical team of Saga d'Adventures, have conspired, once again, to elaborate a phenomenally selective World Cup and World Championship, where only the athletic performance and the technical quality of the courses will discriminate between the Word's topflight teams. The goal is to gather the best adventure athletes into extreme sporting challenges. The organizers of The World Cup and The Raid World Championship have thus fashioned a calendar, permitting for the the 2nd year running the world's best adventure racing teams to compete around the globe.

The Raid World Championship 2005 11 - 16/09: Annecy -Mont Blanc - Gstaad The best adventure racing teams will participate in the World cup events, to qualify for a slot in the Raid World Championship held in September. After Argentina in 2004, the organizers have chosen for 2005 the European continent and more specifically the mythical Alps. This is a location of exceptional beauty and extreme diversity that will captivate the eyes of the watching world with the most beautiful images that adventure-racing can offer.

The course will cross the Alps' most spectacular mountain ranges and will lead the Raiders across the Massif of Mont Blanc - the Roof of Europe. The favored and intrepid few will traverse crystalline lakes (Lakes Leman and Annecy) and will pass through the most prestigious mountains resorts in the Alps (Chamonix, Courmayeur, Gstaad). An infernal ordeal, from a technical and physical point of view, of more than 500km that the fastest teams will cover in 5 days and, with an elevation gain of 24,000 metres, it works out to the equivalent of climbing Everest three times!"

#########

TraditionalMountaineering folks volunteered again this year in 2005,
to assist the management of this fine weekend of world class aerobic sport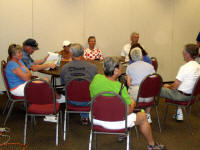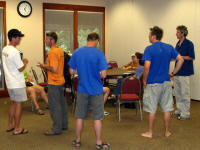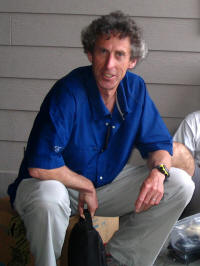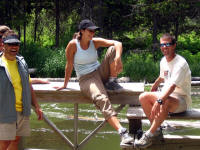 Read more . . .
News of the 2004 X-Adventure Raid World qualifier in Bend, Oregon USA | News of the Race in 2005
Map of the Raid adventure race course for 2004 Broadband only | Map of the Race course in 2005 Broadband only

ATHLETIC EVENTS IN BEND
Just Around the Bend Marathon
Pacific Crest sports festival in Sunriver: Triathlon and Duathlon News of this event!


X-Adventure Raid Adventure Race North America Qualifier in Bend!

six pages News of this event!


X-Adventure Raid North American qualifier in Bend - racers' route map

Broadband only!


Pole Pedal Paddle course transition photos for 2004

Results by age group 2004


Snowshoe Shuffle comes to Bend, Oregon
Atta Boy 300 dog sled race start and finish from Mt. Bachelor
Pilot Butte - hike and run to the summit
Bend Adventure Racing Klub - The Wild Juniper Berry Race


CORK, Central Oregon Running Klub plays in The Badlands
ABS Contest night at InClimb Gym
Pole, Pedal, Paddle
Cascade Cycling Classic

TRADITIONAL MOUNTAINEERING R&R
Hot air balloons over Bend, Oregon
McMenamins opens new pub, theater and hotel in downtown Bend
Bite of Bend at the Shops at the Old Mill in 2004


XC Oregon Active Winter Expo and gear swap at COCC
Traditional slacklining in Bend
Para-gliding off the summit of Mt. Bachelor near Bend in Central Oregon
Winterfest in Bend, Oregon
Bend's Tower Theater restored to 1940s elegance
Bend's Wednesday market near the Deschutes River in Drake Park
Central Oregon's High Desert Museum in Bend


Bend Log Jam celebrates the opening of the Deschutes southern crossing bridge


Bend's southern crossing bridge
The Beach Boys concert in Bend Oregon, Summer 2003


Cascade Music Festival in Drake Park, Bend Oregon


A sea kayak adventure on Puget Sound
Outdoor Retailer's 2002 Summer Market in Salt Lake City
Andrew Mallory offers scenic flights from the Sunriver Resort airport
Sunriver adventures with Andrew Mallory
Misty River Band plays a free concert next to the Deschutes River


Riverfest boat-demo in Bend Oregon
Earth Day in Bend, Oregon


Customer appreciation night at a local store
Nordic Club's fall ski swap
Sustainable living expo in Bend
Fall festival in Bend


Joan Baez concert at the Athletic Club of Bend
Sunriver Resort exotic car rally
Munch-n-Music R & R in Bend


Flashback rally in downtown Bend
• Alpine Mountaineering: This is the central interest of TraditionalMountaineering. This tradition-based sport includes: on and off trail hiking, scrambling, light weight wilderness backpacking, Leave-No-Trace camping and bivouacking, as well as technical travel and mountaineering on snow, rock and ice, glacier travel, technical rock climbing and summitting peaks.
• Related Activities: Alpine Mountaineering is an aerobic sport. It includes jogging, running, hiking the hills, backpacking, climbing, mountain biking, back country skiing, snowshoeing, telemark skiing and similar sports all acting together to improve aerobic capacity, strength, balance and athleticism.