TRADITIONAL MOUNTAINEERING ™
www.TraditionalMountaineering.org ™ and also www.AlpineMountaineering.org ™

™
FREE BASIC TO ADVANCED ALPINE MOUNTAIN CLIMBING INSTRUCTION™
Home | Information | Photos | Calendar | News | Seminars | Experiences | Questions | Updates | Books | Conditions | Links | Search

Fred Beckey is a living traditional mountaineering legend
"Icon to some, legendary climber Beckey still obscure to many"

SEATTLE POST-INTELLIGENCER
By Neil Modie
Saturday, March 8, 2003

A wide-eyed Hilary Garrett gasped. She was gazing at her Superman, her idol since her teens.

"I can't believe I've finally, actually seen you in the flesh!" exclaimed Garrett, an avid mountain climber, excitedly shaking the scarred hand and peering into the weathered face of an ageless mountaineering icon, Fred Beckey.

Garrett, 45, had gone to an authors' reception in Portland in December not realizing the elusive Beckey would be there. Uncharacteristically spruced up -- coat-and-tie, clean-shaven and his unruly gray hair cut short -- he was accepting orders for his newly published book.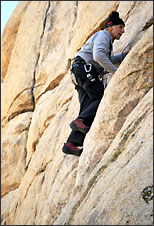 © 2003 Neil Modie
Fred Beckey ascends Sail Away, a route on Hidden Tower, a rock pinnacle in Southern California's Joshua Tree National Park, on New Year's Day. Beckey, whose 80th birthday was Jan. 14, has been climbing throughout the world since he was a teenager growing up in Seattle.


"Range of Glaciers" is a scholarly history of the exploration and survey of the Northern Cascade Range, not a mountaineering guidebook like his best-known works. Yet many of the people who lined up to meet Beckey that Sunday weren't history buffs but young, hero-worshiping climbers.

They beheld one of the least famous of the world's most accomplished athletes, a wiry, slightly stooped nomad who has set records that will never be broken -- and who, at the age of 80, is still at it, relentlessly.

For years, mountaineering journals and climbers' tales have buffed the outlaw-tinged Beckey mystique: his independence, prickly personality, raucous sense of humor and seeming aversion to fame; his endless pursuit of unclimbed peaks and routes, his knowledge of mountains no one else has heard of and even his womanizing -- "He's going to do that until he's dead," says Sybil Goman, an ex-girlfriend and a still-close friend.

Yet despite his near-mythical status in the mountaineering world and his occasional public lectures and slide shows, few non-climbers know of Beckey. It's an improbable obscurity, given that he has made first ascents of more peaks and climbing routes in North America -- and possibly the world -- than anyone else ever has, or ever will.

Choosing his own route
Decades ago, local contemporaries of Beckey such as Jim Whittaker, Jim Wickwire and Peter Schoening became celebrities and established Seattle as a mountaineers' center with exploits on Mount Everest, K2 and other Himalayan giants. They undertook months-long, siege expeditions supported by a juggernaut of sponsors, Sherpas and money.

Beckey seemingly set out to climb practically everything else, with less fanfare, on leaner, quicker, Alpine-style trips with a few scruffily outfitted pals. His renown began in the North Cascades, British Columbia Coast Range and Alaska and spread elsewhere.

There is even a Mount Beckey, a previously unnamed, 8,500-foot peak in Alaska's remote Cathedral Mountains that Beckey and two partners were the first to climb in 1996.

"Fred belongs in the community of climbers who don't put a lot of value in the highest. They put more value in the more difficult, or the classic (climbs)," said Alex Bertulis, a Seattle architect and long-time friend who has climbed all over the world.

"Nobody has been as prolific (in first ascents), and nobody ever will be, because there aren't enough (unclimbed) mountains left," Bertulis said. "So he's one of a kind in history."

Wesley Bunch, a Jackson, Wyo., mountain guide, has climbed with Beckey in China and calls him "a living god." Echoing Bertulis, he said, "There's undoubtedly nobody on earth who has done as many first ascents as Fred Beckey, and certainly not as much exploratory climbing. You can look in practically any guidebook, and you'll see a 'Beckey route.' "

Garrett, of Bend, Ore., frequently found Beckey's name in guidebooks of the Canadian and Montana Rockies while climbing there in the 1980s.

"It seemed like everywhere you went, whether it was the most formidable climb or whatever, Fred Beckey had already been there and his was the first ascent," Garrett said.
"It's like 'Kilroy was here.' "
Bertulis said Beckey never boasts and "doesn't even talk about past climbs at all except in the context of a specific discussion. He'd rather talk about women and future climbs."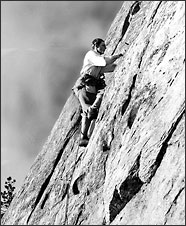 1963 - Fred Beckey, mountain climber, on a rock slab.
The fabled alpinist curtly dismisses any suggestion that he might have more first ascents than anyone else on earth.


"I don't know. I don't care," he said in an interview. "I don't want to claim that, and I really don't care. There are people in Europe who have probably done more new routes."

He said he'd "rather focus on the history and the scholarly" -- on the more intellectual achievements, that is, of an erudite historian, geographer, explorer and author who happens to be a climbing bum. He has written at least eight books on mountaineering and historical topics.

Beckey's rock-star status with young climbers stems from his age-defying, never-ending climbing career and also from his books, especially the three-volume, 1,000-page Cascade Alpine Guide. It describes nearly every route on each of the hundreds of peaks in the Cascades north of the Columbia River.

The guide includes encyclopedic detail about the geological, human and mountaineering history of the range as well.

The Mountaineers, a Seattle-based outdoor club, made Beckey an honorary member in 1991. He is also one of only 23 living honorary members of the American Alpine Club, along with the likes of Sir Edmund Hillary, the first person to reach the summit of Mount Everest, and Schoening.

"In some European countries, (Beckey) probably would have been knighted and given some generous pension. That's the kind of stature he has in the mountaineering community," said Bertulis, who has climbed with Beckey since the 1960s.

With expeditions probing every unexplored recess of the planet and herds of climbers paying $65,000 each to be led up Everest, it seems inconceivable that any virgin peaks or routes could remain.

Yet Beckey is still searching out and summiting them, as he has for more than 60 years, since he was a Boy Scout in West Seattle.

His latest unclimbed target is 19,094-foot Jara, in the Daxue Shan, a little-explored range in China's western Sichuan province, where Beckey has climbed frequently in recent years. He, Bunch and another climber are seeking sponsors to help finance an expedition in September.

"It's absolutely a beautiful peak, a gorgeous mountain. And if we have time, there are a lot of other (peaks) we can do there," Beckey said.

He is also planning an Alaska climbing trip in May or June. Since Jan. 1, he has gone rock climbing in California and Arizona, downhill skiing in Utah and cross-country ski touring at Sun Valley, Idaho.

Injuries don't seem to slow him for long. He sprained a foot in a Tucson hotel lobby Jan. 12 and underwent long-postponed hernia surgery at an Olympia hospital Feb. 4. And last September, doctors in Portland drilled two holes in his skull to relieve pressure from a hematoma caused by a head injury in a car crash in June.

Yet despite hundreds of ascents that no one had tried before, Beckey has rarely been injured climbing.

"He's the safest person in the mountains I've ever climbed with, and I think the record shows that he's still alive," said Schoening, a renowned Himalayan climber and former Beckey climbing partner.

A vagabond's life
Beckey turned 80 Jan. 14. Yet he typically climbs with people in their 20s and 30s -- partly because many of them, like their single-minded, never-married, Gypsy-like elder, aren't yet encumbered by spouses, mortgages, families and 9-to-5 jobs.

For example, he spent Dec. 31 rock climbing in Southern California's Joshua Tree National Park with two Canadian friends in their 20s, and Jan. 1 climbing with three Seattle acquaintances, all in their 20s.

"I have the most luck with Canadians because most of them don't have set jobs," Beckey said. "They (mountain) guide or heli-guide or they're carpenters. It's kind of networking: once you get to know a few of them, you know 20 or 30 of them."

"He's like the Peter Pan of climbing," Rob Knoth, 27, said enviously after he and two climbing pals met Beckey at the December book fair in Portland. "You don't have to always be a climber all your life, but it's beautiful to see someone who always is."

Beckey has friends -- and boxfuls of climbing gear stowed in their basements -- in every mountaineering, skiing and rock climbing crossroads in North America and some overseas.

"Fred is on the road so much that you can jump in a car with him and drive perhaps 1,000 miles, and wherever you stop, he'll have someplace to stay, somebody's house," said Cameron Burns, a Basalt, Colo., mountain guide and guidebook author.

Burns is one of countless Beckey climbing comrades who both revere him and sometimes curse him for his temper and his obduracy, but they say he has mellowed somewhat.

Goman said Beckey "rotates his climbing friends because when they come back from a climb or two with him, they can't stand him any longer. But when they cool off, they come back because you never get as interesting a climb as you do with Fred."

A necessary attribute of a Beckey climbing partner is an ability to depart for the mountains on scant notice when he suddenly phones to propose a new destination. During marathon drives home from climbs, he routinely stops at phone booths to find partners for his next one.

Once while returning from a climb, Beckey and several friends stopped at a hotel in Fresno, Calif., to let him use a phone. He spotted a wedding reception, so the unwashed climbers lined up to kiss the bride and fed themselves wedding cake and other food before being thrown out.

Bunch, 38, the Wyoming mountain guide, recalled returning exhausted from an unsuccessful assault on Jambeyang, a still-unclimbed peak in Sichuan, that he, Beckey and another climber attempted in 2000.

"We got back from Jambeyang at the Vancouver airport, and Fred was calling people about a climb," Bunch said. "My climbing partner, Judd Stewart, and I, we just wanted to go home, put our stuff in the closet for a couple of days. Not Fred."

"Fred will call on the phone at 1 or 2 in the morning, like a teenager, always to talk about a climb. He is perpetually planning a climb. I learned a long time ago that if Fred has his eye on something, not to ask him questions because it's always a beautiful mountain and a beautiful route and always in a very remote place."

Goman said the peripatetic climber is "always on a sugar and caffeine high." He rarely drinks alcohol but enjoys bars for the social scene.

The closest thing Beckey has to a permanent home is a room he rents at a friend's house in the Bellevue area. He takes occasional jobs to supplement his book royalties. Lately he has been part of a state Department of Ecology team studying coastal erosion in Southwest Washington.

Beckey has never hired an agent to promote his books and line up product endorsements. He keeps such a low profile that one author, he groused, suggested he didn't exist.

First peak
His single-mindedness about climbing showed up early in life.

He was born Wolfgang Gottfried Beckey in Dusseldorf, Germany, but his father, a surgeon, and mother, an opera singer, moved to Seattle with him and his younger brother Helmy when the future climber was 3. Schoolyard taunts prompted the name change to Fred, friends say.

His first climb, at the age of 13, in 1936, was a solo trip up Boulder Peak in the Olympic Mountains. He quickly became a prolific climber, sometimes with his Boy Scout troop, and was only 16, in 1939, when he reached his first unclimbed summit, Mount Despair, a North Cascades peak that a Mountaineers publication had deemed unclimbable.

That year, Beckey made four first ascents in the Cascades while bagging 30 peaks in the Cascades and the Tetons of Wyoming. By the time he had earned a business degree from the University of Washington, he practically owned the North Cascades, having been the first, sometimes with Helmy, to summit such classics as Forbidden Peak, Crooked Thumb, Phantom Peak, McMillan Spire and Inspiration Peak.

In those days, long before the North Cascades Highway was built, just reaching the remote, glacier-draped peaks was far more daunting than it is today. Approaches were miles longer, trails were non-existent and maps were sketchy. Beckey and his climbing friends were like early explorers of a new world.

In the 1950s he pioneered new routes up Mount Rainier and made first ascents of Alaska's Mount Hunter, Mount Deborah and the Northwest Buttress of Mount McKinley.

In 1955 Beckey made an unsuccessful attempt of Lhotse in the Himalayas, at 27,923 feet the then-highest unclimbed summit in the world. He was thwarted by a storm but reached 25,000 feet and set a world altitude skiing record on the 23,000-foot-high Khumbu glacier. He also made first ascents of two other Himalayan peaks.

As Beckey's aura grew, so did his reputation as an independent, stubborn, sometimes reckless climber, not a team player. It was exacerbated by his pursuit of peaks that no one else would attempt.

"There was a little criticism of him because Fred would climb these spectacular things, and there was word that Fred was unsafe and he was going to get himself killed and it would reflect poorly on climbing," Schoening said. "Well, most of those people didn't even know what Fred looked like. It didn't bother Fred."

Beckey was snubbed for a spot on the 1963 American expedition to Mount Everest. The same year that event made the less accomplished Jim Whittaker the first American to reach the top of the world, Beckey went on a climbing frenzy.

Perhaps determined to show he could outperform the new Everest celebrities, he blitzed to the tops of more than 40 peaks and spires -- some by multiple routes -- in the North Cascades, Sierra Nevada, Yosemite, Tetons, Wind River range, Canadian Bugaboos, Canadian Rockies and other ranges in Alaska, Oregon, Idaho, Utah and Southern California.

"He took that (Everest) rejection really badly," said his friend Goman.

Bertulis said Beckey "undoubtedly would have been the most qualified climber" on Everest.

Beckey rarely still climbs in the North Cascades, now riddled with roads, trails and regulations. He prefers Canada: "A lot more freedom. You don't have all these rangers doing all these stupid campground checks."

Colleagues say he is more cautious than he once was. Although still the organizer, researcher, route-finder and leader of expeditions into little-known parts of China and Alaska, he often lets a younger, stronger climber make the summit climb and, on a rock climb, might let a younger colleague lead the pitch.

"Climbing is a lot of about camaraderie and trust, one reason it appeals to me," Beckey said. "Time can go quickly as you get absorbed in problems."

Beckey's friends wonder how long he will continue climbing. With his almost non-stop regimen of skiing, rock climbing and mountaineering, he's in solid physical shape even though years of ice storms and desert heat have given his face the lines of a topographical map.

Still, the years are creeping up. Bertulis said his friend "hasn't adjusted from his historic drive of continuous climbing. His body just won't keep up with him any more."

Asked about his age, Beckey backhanded the air dismissively and muttered, "I dunno, we don't want to talk about that."

For the legendary mountaineer, there would seem to be no reason to stop climbing, ever. Too many unscaled peaks are out there, and only he knows where some of them are.

"China's full of 'em," he enthused. "Just full of 'em, all over the place."

New book
Meticulous research and Fred Beckey's intimate knowledge of every Cascade peak, pass and basin from a 67-year climbing career brings color and authority to his new book, "Range of Glaciers: the Exploration and Survey of the Northern Cascade Range."


Read more . . .
Fred Beckey "Will Belay For Food!!!"
Fred Beckey is a living traditional mountaineering legend
Fred Beckey's classic three volume Cascade Alpine Guide

The Sport of Alpine Mountaineering


Climbing Together


Following the Leader


The Mountaineer's Rope


Basic Responsibilities


The Ten Essentials


Mission



South, Middle and North Sister (the sinister sister) and Broken Top in the Three Sisters Wilderness near Bend, Oregon
Copyright© 2004 - 2011 by Robert Speik. All Rights Reserved.