TRADITIONAL MOUNTAINEERING ™
www.TraditionalMountaineering.org ™ and also www.AlpineMountaineering.org ™

™
FREE BASIC TO ADVANCED ALPINE MOUNTAIN CLIMBING INSTRUCTION™
Home | Information | Photos | Calendar | News | Seminars | Experiences | Questions | Updates | Books | Conditions | Links | Search

Jim Ratz, NOLS Director, AMGA Director and Environmental Leader dies in climbing accident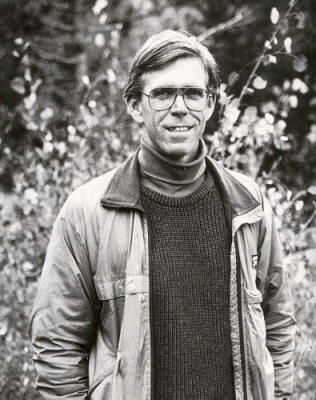 Jim Ratz 1953-2005
Environmental advocate and climber Jim Ratz died in a climbing accident in Sinks Canyon, Wyoming, on May 4. 2005. He was 52.

I first came to know Jim during his years with the National Outdoor Leadership School (NOLS), 1973 to1995, which culminated with 11 years as executive director. Under Jim's leadership, NOLS grew in both size and scope; he opened the Patagonia, Southwest, and Canada programs. He published Soft Paths, the authoritative book on minimum-impact backcountry travel. Jim was also instrumental in starting NOLS's Leave No Trace research and public-policy programs.

In 1999, Jim and I joined Rob and Kathryn Hess in purchasing Jackson Hole Mountain Guides. With Jim as president and guide, we grew substantially. Guides and clients were extremely fond of Jim as an employer, mountain guide, and friend.

Frequently, Jim's work and love for the mountains took him into the Tetons and Wind Rivers, and occasionally to more distant peaks including Denali, Aconcagua, and Kilimanjaro. While he was passionate about preserving time with his family, Jim loved sunny afternoons climbing with his friends in Sinks Canyon, where he made numerous first ascents.

At times, Jim came off as quiet and sometimes even shy, but he held strong opinions and had a truly rowdy side. He was the first to say yes when the guides suggested we drill a hole through a refrigerator door and devote the entire thing to cooling and tapping a keg. At a party, he was the one ready to dance, asking for the music to be turned up. And if that party was outside, we always knew who was behind those mysterious fireworks.

Jim was a leader, and involved in many organizations that ranged from serving as Director of the American Mountain Guides Association, and later as the board's vice president, to chairman of Leave No Trace, Inc. He was on the advisory board of the World Wildlife Congress and he even took time to be the Director of the Lander Valley High School Swim Club Board.
--Phil Powers, September 2005
Jim Ratz and the birth of Leave No Trace, Inc.
By Tom Reed
I've been exploring new country lately and these expeditions require maps. I've been buying a few. On the corner of each is a logo: the dot and twin swirls of Leave No Trace, Inc.

By now, almost everyone who shrugs into a backpack or takes off in the family Subaru for a couple of days in the outdoors knows the logo. In 1994, it wasn't that way. In May that year, I started my career with NOLS and there was a tremendous debate raging over the logo for Leave No Trace, the outreach program of minimum impact. NOLS wanted to take its curriculum beyond its own students to the general public and LNT was the tool, but the new program needed a logo, an identity.

Like a lot of things that are developed for public consumption these days, the logo had been studied, opinioned and study-grouped ad nauseam. One of the early editions had an arrow on one of the swirls. People
said it was like looking into a top-loading washing machine. Others liked the arrow. It was a debate that went on for weeks. Finally, the boss had enough.

"We're going to take the arrow off the logo and that will be it," said Jim Ratz, who was the executive director of NOLS and the man most responsible for me having a job.

Today, that logo has been seen by millions of people. There may be some out there who think of laundry day when they see it, but there are far more who recognize the logo of Leave No Trace, Inc., and think about
going camping. That's a pretty good legacy, but Jim Ratz has left this world with a lot more.

Most of 1994 at the International Headquarters of NOLS was spent trying to figure out how to keep the LNT program afloat while still doing what NOLS does so well — teaching students in the outdoors. LNT was a
tremendous financial burden on the school and initially, NOLS sought corporate sponsors to help out. They were willing, but the details, the financial structure and the administration of the program were all causing
one big headache.

That summer, Jim Ratz, Rich Brame (who was administering LNT for NOLS) and I flew to Reno, Nevada, for the Outdoor Retailer summer show. After a few days of listening to manufacturers and retailers, Jim, Rich
and I found ourselves sitting at a bar across from our hotel. I can still remember the place: it advertised something like eighty beers from around the world. We were trying a few out and discussing Leave No Trace
and how NOLS was going to deal. Clearly, the program was on the verge of explosion and NOLS just didn't have the resources or the staff to take it to another level. Somewhere in that discussion, Jim came up with
the solution.

"How about Leave No Trace, Inc.?" he said. "Its own nonprofit, with its own staff, its own fundraising?"

And that is how Leave No Trace, Inc., was born. Since those beginnings from the brain of Jim Ratz, LNT, Inc. has grown up: it has educated thousands. Its principles are on the lips of backcountry world travelers
every year, and its logo is a lot of places. Jim did that.

Jim was a doer. He made decisions quickly, or if he thought long about them or processed them, he did it silently. When the decision came out of his mouth, it seemed sometimes as if no thought at all had gone into
it, but action people get accused of doing this all the time. Jim Ratz was the poster boy for the term "man of action."

Jim took the school from a little organization into the all-important midlife of a nonprofit. He pushed the school to explore the wonders of the Internet, he was instrumental in starting the public lands policy program, and
he led the school in new and exciting directions. He encouraged me to make The Leader into a publication with broad appeal and a classy design, and he helped the annual catalog be more appealing and, simply,
better. He let you do your job and he supported you. I worked for him for less than a year, but he remains one of the most influential leaders in my career.

Jim died this spring while climbing near his home in Lander. In a life, one can only hope to leave something of a tiny legacy, to love well, lead and mentor others, and to do the right thing. Jim did all of that in spades.
He loved his family and friends, he left one hell of a legacy, and he did the right thing, even when the right thing was the tough thing. That's the definition of moral integrity.

I can still hear Jim, talking in that clipped, soft way of his. It's interesting how people have influences not only on one's career and one's personal life, but on speech patterns. Jim was famous for always saying:
"Fabulous. Fabulous." It was so funny that Bruce Palmer and I often laughed about it and imitated him. That word and the way Jim said it is still part of my repartee. Lately, whenever I say it, I think of him. One could
say that of Jim's life: Fabulous.

--Tom Reed, former NOLS Publications Manager, now works on roadless area protection in Wyoming and Montana for Trout Unlimited. He is the author of Great Wyoming Bear Stories and a NOLS Instructor. He lives in Bozeman, Montana.
http://www.nols.edu/alumni/leader/05summer/jim_ratz_and_lnt.shtml

Read more . . .
How can I self belay my rappels?



Notable Events
European helicopter lands on Mount Everest's summit!
Ed Viesturs summits Annapurna
Jim Angell, master trail builder, dies at age 76
Fred Beckey, "Will Belay For Food!!!
Smith Rock "Spring Thing"
About Brad Washburn by Michael Chessler
Top of the world: Bend team set to scale Mt. Everest
Annapurna, a woman's place is on top
The search for Peter Starr
Mountaineers mourn Ira Spring
Climbing Legends returning for another shot at Everest
Fred Beckey, icon and living legend
Galen and Barbara Rowell die in plane crash
Mike Bearzi spearheads donation of rescue cache to Smith Rock
Veteran alpinist Mike Bearzi dies while climbing in Tibet
Bend's Midge Cross with women's team on Everest!
Bend's Nancy Knoble climbs Aconcagua!

About Traditional Alpine Mountaineering

The Sport of Alpine Mountaineering

Climbing Together

Following the Leader

The Mountaineers' Rope

Basic Responsibilities

Cuatro Responsabiliades Basicas de Quienes Salen al Campo

The Ten Essentials

Los Diez Sistemas Esenciales

About our World Wide Website:


Information


Mission





WARNING - *DISCLAIMER!*
Mountain climbing has inherent dangers that can in part, be mitigated!


South Sister, Middle Sister, North Sister (the sinister sister) and Broken Top in the Three Sisters Wilderness near Bend, Oregon USA
Photo Copyright© 2005 - 2010 by Robert Speik. All Rights Reserved.