TRADITIONAL MOUNTAINEERING ™
www.TraditionalMountaineering.org ™ and also www.AlpineMountaineering.org ™

™
FREE BASIC TO ADVANCED ALPINE MOUNTAIN CLIMBING INSTRUCTION™
Home | Information | Photos | Calendar | News | Seminars | Experiences | Questions | Updates | Books | Conditions | Links
Mike Bearzi Killed on Gyachung Kang
Kathmandu, Nepal - Friday, May 17, 2002
By MountainZone.com Staff





Veteran Himalayan climber Mike Bearzi, 49, of Boulder, Colorado, was killed May 12 while attempting to climb the Northeast Face of Nepal's Gyachung Kang, according to Explore Himalaya, the local agency that handled the expedition.

According to the agency's website, Bearzi and partner Bruce Miller left Kathmandu on April 9 in order to attempt an alpine-style (single push, no support) first ascent of this never mapped mountain. The pair were also attempting to determine the true height of this remote mountain high on the Qutar Glacier. The unofficial height is 7952 meters.

Explore Himalaya reported that the whereabouts of Miller and Namgyal Sherpa are not known at this point.

Bearzi was a member of the 2000 K2 Expedition covered live by MountainZone.com. That year, attempting the North Ridge route, Bearzi and team were turned away by weather.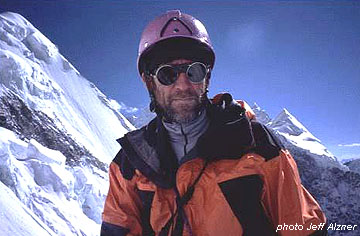 "I can't add up enough little places we could have done better that would have put us on the summit," Bearzi reported on August 23, 2000. "In the end we pushed it as well as we could." Though not a new route, K2's North Ridge held an attraction for Bearzi because of its remoteness and what he called its "magnificent line" which "epitomizes" the essence of Himalayan adventures.

In early 1990s, as one of the most prominent pioneers of modern mixed climbing, Bearzi invented the "M system," a widely accepted method of ranking mixed climbs. In 1986, he did the first free ascent of Cerro Torre, on its West Face. He also has been to Everest three times, in 1992, 1993 and 1995, including two alpine-style attempts on the North Face and its Great Couloir Route without oxygen or any support.

The 1993 and 1995 climbs were attempted during summer monsoon weather and both times Bearzi was turned back.

Bearzi also has put up new routes in Alaska, and in 1981, climbed Alaska's Devil's Thumb and Mt. Burkett. He started climbing along Colorado's Front Range in 1976.

Bearzi, a master craftsman and carpenter, leaves his wife Renee.
Veteran Climber Mike Bearzi Said to Have Perished in Tibet

Brian Handwerk
for National Geographic News
May 15, 2002

Veteran climber Mike Bearzi reportedly fell to his death sometime last week, during an attempt on the unclimbed northeast face of Tibet's remote Gyachung Kang.

"The information we have so far is a bit sketchy," said James Balog, a close friend and frequent climbing partner who traveled with Bearzi last year to the Arctic National Wildlife Refuge for National Geographic Adventure (Expedition to ANWR," November/December 2001). "It's based on a single call from Bruce, who reached a mutual friend in Colorado on Sunday night"

Bearzi and climbing partner Bruce Miller were in Tibet to make the first attempt at climbing the remote, northeast face of Gyachung Kang. The towering peak is difficult by any route and is rarely visited. At approximately 26,000 feet (7,952 meters), it's thought to be the 15th highest mountain in the world.

Although details are sketchy, the accident occurred while the two climbers were descending a ridge during an acclimatization climb near their base camp. Coming down on relatively easy ground, Bearzi apparently slipped on some snow or ice, and took a very long fall off the ridge.

Because of the area's challenging terrain, it took Miller a day and a half to reach a position where he could even view the body with binoculars and confirm that Bearzi had died. Miller then hiked four days to reach Everest Base Camp, the nearest location with a telephone.

Climbing Alpine Style

"Mike had seen Gyachung Kang during an acclimatization hike for one of his Everest climbs," Balog said. "He became really excited about climbing this giant, deep in the more remote reaches of the Himalayan wilderness."

The climb, said Balog, epitomized much of what drew Bearzi to mountaineering. "Light, small, focused, and very bold—that's what Mike really enjoyed. He had become disenchanted with large, expedition-style alpinism, and felt it was becoming too commercialized by media and sponsorships. He cherished the aesthetic purity of guys just getting out there and doing climbs."

Bearzi and Miller planned to climb the massive 6,000-foot (1,800-meter) rock-and-ice northeast face of the mountain "alpine style," without a support team, fixed camps, or oxygen.

The attempt had a scientific component. Mountains hitting the 8,000-meter mark are especially coveted by climbers, and there has been speculation that Gyachung Kang might be a "lost" 8,000-meter peak. Bearzi and Miller carried a handheld GPS unit, in the hope of reaching the summit and pinpointing the Himalayan giant's true height.

The ambitious project attracted much attention in the alpine community, and was supported by the American Alpine Club's Lyman Spitzer grant, a Mugs Stump Grant, and a Polartec Challenge Grant.

Part of the reason the climb drew so much support is that it "represented a level of adventurous spirit beyond what most other U.S. expeditions have had in quite some time," said Balog.

Mixed Climb Pioneer

Bearzi was an accomplished alpinist whose distinguished resume included the first alpine-style free ascent of Patagonia's Cerro Torre, and an attempt on the North Ridge of K2, which was featured on National Geographic Explorer. He had been on Everest three times, including two alpine-style attempts on its treacherous North Face.

In the 1980s and early '90s, he helped pioneer mixed climbing, and claimed many first ascents of mixed winter routes in Rocky Mountain National Park. He was instrumental in the invention of the "M system," which has become a widely used standard for ranking the difficulty of mixed climbs.

The 49-year-old Bearzi lived in Boulder, Colorado, with his wife Reneé St. Aubin. During off-climbing times, he worked as a carpenter to finance his passion for the mountains.

He will be remembered most of all as a man whose love for the outdoors was a driving passion.

"Most of the guys I've encountered who are performing at a high level aren't out there for the pure love of the space," said Balog. "They're out there for the technical exercise, and other reasons, but sometimes they're lacking an aesthetic and spiritual love of the place. Mike just loved being out there, enjoying the wild. He could have just as much fun doing a casual climb on the Flatirons near Boulder, on a summer morning, as he could pushing toward the summit of an 8,000-meter peak. That really strikes at the essence of what kind of person he was."
###