TRADITIONAL MOUNTAINEERING ™
www.TraditionalMountaineering.org ™ and also www.AlpineMountaineering.org ™

™
FREE BASIC TO ADVANCED ALPINE MOUNTAIN CLIMBING INSTRUCTION™
Home | Information | Photos | Calendar | News | Seminars | Experiences | Questions | Updates | Books | Conditions | Links | Search

Read more:
Mt. Rainier snowshoe leader falls, rescued after two days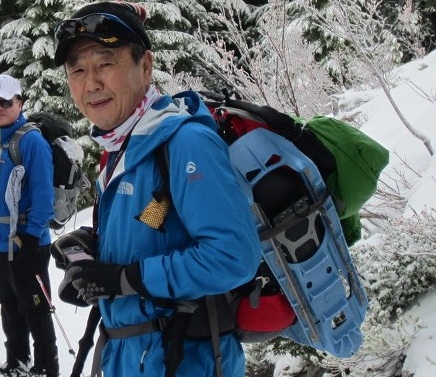 Rescued Snowshoer Yong Chun Kim
January 16, 2012
Mt Rainier National Park
Family of Rescued Snowshoer Yong Chun Kim Issues Statement:
We were truly impressed with how well the project was organized and executed. It is clear that Search and Rescue has come a very long way, built upon a long history and utilizing the latest technologies today as well. Even before we had arrived, the team had developed a complex plan, and constantly adjusted with new information. The coordination between the people in the field, the operations center, and our family was flawless. We all recognize that this was a miracle from God, but clearly, a miracle assisted by his good people.

On behalf of the Kim and An families, I would like to sincerely thank the entire collaborative team involved in the tremendous effort to save my father. Through selfless, extraordinary acts, the search and rescue teams beat incredible odds to successfully find my lost father.

We were truly impressed with how well the project was organized and executed. It is clear that Search and Rescue has come a very long way, built upon a long history and utilizing the latest technologies today as well. Even before we had arrived, the team had developed a complex plan, and constantly adjusted with new information. The coordination between the people in the field, the operations center, and our family was flawless. We all recognize that this was a miracle from God, but clearly, a miracle assisted by his good people.
With that being said, my family and I would like to convey our most sincere gratitude to the entire National Park Service staff at Mount Rainier for their leadership, resources, and excellent communication. Just a few names among many include Stefan Lofgren, and John Piastuck (NPS Search Team leaders), Chuck Young (Chief Park Ranger), Rebecca Roland and Mary Wysong (Family Liaison Rangers). Unfortunately, we were not able to thank and interface with the entire team in person, but we know that there were over 100 different people searching for my father each day and most of them were volunteers! We would like to send our deepest gratitude to all the Mountain Search and Rescue Teams including: Seattle, Tacoma, Everett, Olympic, Volcano, Central Washington, and Portland, along with the three German Shepherd Search Dog Teams from around the state. We would also like to thank the Ski Patrols from Crystal Mt., NPS Nordic Patrol, and the Emergency Medical Teams from both Washington and Oregon. The response from around the
area was amazing! Just knowing that these people cared, giving up so much for my father touched all of our family and friends throughout the entire ordeal. Lastly, sincere thanks to our family, friends, and church for their thoughts, prayers, and support from the beginning.

A terrible situation that could have ended in tragedy, instead turned into another beautiful example of how Americans come together to help each other. Not for monetary gain or other selfish reasons, but because as a community, we care about each other. In the end, God works in mysterious ways and we would like to especially thank our Lord, God for good people, his grace, and the love that ended up saving my father today.
- Malcom An, son of Yong Chun Kim
http://www.nps.gov/mora/parknews/family-issues-statement.htm
Climber, 66, reveals how he survived two days in mountain blizzard
Yong Chun Kim has been snowshoeing for ten years; He did not need hospital treatment when rescued
January 18, 2012
By Daily Mail Reporter
A seasoned mountaineer, who was lost for two days in a snowstorm on a mountainside, told rescuers he survived by burning dollar bills and dreaming of a sauna.

Yong Chun Kim, 66, started a fire and first burned leaves - before resorting to the contents of his wallet and his socks.

The pensioner, from Tacoma, became stranded on Mount Rainier in Washington after becoming separated from a group who were also snowshoeing on Saturday.

Tough terrain: Yong Chun Kim, 66, survived two days and nights on Mount Rainier in Washington by burning money and then his socks.
Mr. Kim, who served in the South Korean military in the Vietnam War, told local station KOMO-TV that he had fire starters with him and first burned some leaves before turning to personal items.
The 66-year-old also kept moving to stay warm, took cover under a tree at night and dreamed of his wife and being in a sauna.

He was rescued yesterday but was in such good shape that there was no need for him to go to hospital.

An emergency team discovered Mr. Kim in deep snow in a river valley after snowshoeing to find him. It took nine hours to bring him down from the remote spot because of the treacherous conditions.

Fighting for survival: Kim snapped a photo of a fire he attempted to start by burning a $5 bill and other personal possessions

Mr. Kim, who has been a U.S. citizen for 30 years, said: 'The rangers, they're good people. I love them.'
Rescue service spokeswoman Lee Taylor told the News Tribune newspaper that Mr. Kim was an experienced hiker, and had been alert, conscious and stable when he was found by the team of three.
Mr. Kim was reported missing on Saturday after he fell down a slope and became separated from his group in the highly-elevated Paradise region. The group continued to navigate back to the Trail Head, but Mr. Kim did not meet them there.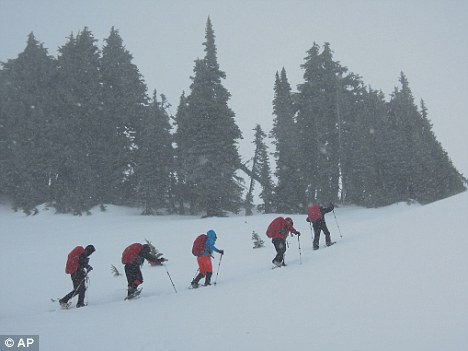 Little visibility: Five members of a snowshoe group led by Kim in the early hours of an outing at Mount Rainier National Park. (Note the Essential winter day packs and ski poles).

Snowshoe enthusiasts use specialized footgear that allows them to spread their weight over a larger area, which keeps them from sinking into deep snow. It makes it possible to hike across huge drifts that would otherwise be inaccessible.

Mr. Kim, who has been snowshoeing for a decade, was well-equipped for a day trip but didn't have overnight gear.

The 66-year-old was the leader of his group meaning the other less experienced members weren't able to accurately describe where he had slipped.

Mount Rainier has seen temperatures in the teens (minus 9 Celsius), and eight inches of new snow fell in some places over the weekend. Wind-blown snow drifts were as high as 30 inches in some areas.
Bad weather prevented a helicopter rescue, so crews used a Sno-Cat snow vehicle to reach the area where Mr. Kim was.
His son Malcom An thanked rescuers.
http://www.dailymail.co.uk/news/article-2087986/Yong-Chun-Kim-66-survived-mountain-blizzard-2-days-burning-money.html#ixzz1kInzufq9
"Anatomy of the search for the four overdue hikers at Mount Rainier"
Mount Rainier – further analysis of the tragedy and rescue – three saved, four still missing
The Mountain News - WA
By Bruce A. Smith
Three weeks after Mount Rainier's epic snow storm of January 14-22, personal testimonies from the survivors – principally Josephine Johnson and Jim Dickman, two snow shoers serendipitously rescued as part of the search for a third snow shoer, Yong Chun Kim – are co-mingling with facts from park officials to deliver a clearer picture of what happened during a storm that has left four climbers still missing on the Mountain.
For the full detailed account please click our link to the blog The Mountain News - WA "Serving those who live close to Mount Rainier in body or spirit", for a detailed description and lay analysis of the events leading up to the rescue of three snowshoe hikers and the loss of four climbers and campers in the forecast strong storm that overtook many on a fateful mid-winter weekend in January 2012.
We shall continue to follow this tragedy. --Robert Speik
What can be learned from this tragic incident?
We have been unable to talk to Yon Chung Kim. Federal HIPPA privacy laws prevent medical personnel, including SAR Units, from providing contact information for patients. If Mr. Kim will contact us, we will correct any inaccuracies in our analysis. This is not a 'could-a, would-a, should-a exercise, but a traditional effort to help others learn valuable lessons from the experiences of others.
We note from the photos of Mr. Kim and his companions, that they carried good winter sized day packs (with the Ten Essential Systems). Mr. Kim was able to overnight, with his skills learned in South Korea and the regular gear he carried snowshoeing on Mt. Rainier with his winter day pack.
We think he did not have a small stove to melt essential drinking water. We do not know the temperature on Mt. Rainier for those two days and if melt-water was available. Perhaps he was able to get water from the river.
Cell phones have increasing coverage, year by year. (Check your favorite areas). Most of the urban facing slopes of Mt. Rainier are covered by cell phone towers signals. We do not know if Mr. Kim and his companions had cell phones or coverage. We do know that a SPOT-2 was not activated. We do not know whether a Responsible Person had or had not agreed on a time to call 911 if the backcountry travelers had not returned. We believe that a cell phone was used to call Rainier SAR by his group from the parking lot..
Consider whether Mr. Kim, as a Leader, would benefit from a $149.00 SPOT-2 GPS Satellite Messenger. This new device will send a message home, "I'm OK and having fun exactly here on this map"; or message friends "I could use a little help, exactly here"; or send a message to 911 "I need help exactly here, right now - see the map attached," (taking the Search out of Search and Rescue)!
Navigation back to camp or car with a map and compass and optional GPS . Mr. Kim slid down a steep slope and it was not judged feasible to climb back up to his group. Reportedly, he directed them to return to the Trail Head and planned to meet them there. Reportedly, however, Mr. Kim became overwhelmed by deep un-consolidated snow in a river valley in the storm and was unable to make his way back to the Trail Head. Reportedly, it took nine hours to reach the trail head with the rescue team members.
Did he have a USGS Topo Map and a declination adjusted base plate compass? Did Mr. Kim have a GPS?
(Note that it is not necessary to leave a $100.00 GPS on all the time! Most GPS receivers have at least 14 hours of life on two new batteries. Extra AA batteries can be carried in a warm pants pocket to change out batteries weakened by cold. Lithium batteries withstand the cold much better than "regular" AA batteries).
It is not necessary or even a good plan, to "track back": Using a $7.00 USGS topo map and a $30.00 base plate declination-adjusted compass, it is simple to draw a line back to camp (where you have surely input a waypoint). Then find on the map, the best way back to camp, (by the nearby road system, etc.) Leaving your simple $100.00 Garmin eTrex H GPS "on" so you can "track back" is not recommended and very inefficient. If you do not need to save a "Track", leave your GPS in a pants pocket, shut off until needed. Learn to use your topo map, adjusted base plate compass and adjusted GPS together, when needed!
One of my hiking buddies suggests I add the following to this Incident Report:
"By reporting over and over what went wrong in these cases, we learn what to avoid. If you read about avalanche accidents, you'll see that about 80% of the accidents are caused by about the same five mistakes. There are similar 'what went wrong' reporting's of Kayak accidents. If you are a kayaker who takes on more than Elk Lake, its helps to know the three or four elements that appear common to most incidents. It's called learning from the mistakes of others and it doesn't happen unless those mistakes are pointed out."

"No one is saying human's are expected to be perfect. But painting every outdoor 'incident' with the mantra of 'He did nothing wrong - it just 'happened' is a recipe for such incidents to happen again and again and
again."
A suggested minimum standard news advisory for all backcountry travelers
"We would like to take this opportunity to ask our visitors to the backcountry of Oregon to plan for the unexpected. Each person should dress for the forecast weather and take minimum extra clothing protection from a drop in temperature and possible rain or snow storm or an unexpected cold wet night out, insulation from the wet ground or snow, high carbohydrate snacks, two quarts of water or Gatorade, a map and compass and optional inexpensive GPS and the skills to use them, and a charged cell phone and inexpensive walkie-talkie radios. Carry the traditional personal "Ten Essentials Systems" in a day pack sized for the season and the forecast weather.
Visitors are reminded to tell a Responsible Person where they are going, where they plan to park, when they will be back and to make sure that person understands that they are relied upon to call 911 at a certain time if the backcountry traveler has not returned. Carry a simple cell phone and/or a SPOT-2 Satellite Communicator to call for help when the problem first appears. If you become lost or stranded, mark your location and stay still or move around your marked location to stay warm. Do not try to find your way until you are exhausted, or worse yet - wet. Wait for rescuers.
THE MISSION of TraditionalMountaineering.org
"To provide information and instruction about world-wide basic to advanced alpine mountain climbing safety skills and gear, on and off trail hiking, scrambling and light and fast Leave No Trace backpacking techniques based on the foundation of an appreciation for the Stewardship of the Land, all illustrated through photographs and accounts of actual shared mountaineering adventures."
TraditionalMountaineering is founded on the premise that "He who knows naught, knows not that he knows naught", that exploring the hills and summitting peaks have dangers that are hidden to the un-informed and that these inherent risks can be in part, identified and mitigated by mentoring: information, training, wonderful gear, and knowledge gained through the experiences of others.
The value of TraditionalMountaineering to our Friends and Subscribers is the selectivity of the information we provide, and its relevance to introducing folks to informed hiking on the trail, exploring off the trail, mountain travel and Leave-no-Trace light-weight bivy and backpacking, technical travel over steep snow, rock and ice, technical glacier travel and a little technical rock climbing on the way to the summit. Whatever your capabilities and interests, there is a place for everyone in traditional alpine mountaineering.



WARNING - *DISCLAIMER!*
Mountain climbing has inherent dangers that can, only in part, be mitigated
Read more . . .
FCC requirements for providing mobile phone geographic locations
Four lost in forecast storm on Mt. Rainier
Mt. Rainier snowshoe leader falls, rescued after two days
Climber dies in forecast storm on Mt. Rainier
The Episcopal School Tragedy
SPOT Satellite Messenger "PLB" reviewed and recommended
How do you use your map, compass and GPS together, in a nut shell?
Why is the GSM digital cell phone best for backcountry travel and mountaineering?
How do GSM mobile phones assist mountaineering and backcountry rescues?
FREE Clinic on Real Survival Strategies and Staying Found with Map, Compass and GPS together
Two climbers become lost descending Mt. Hood's standard South Side Route
What do you carry in your winter day and summit pack?
Why are "snowcaves" dangerous?
Why are "Space Blankets" dangerous?
Why are "Emergency Kits" dangerous?
How can you avoid Hypothermia?
Final Report to the American Alpine Club on the loss of three climbers on Mount Hood in December 2006
Missing climbers on Mount Hood, one dies of exposure, two believed killed in fall
Missing California family found, dad dies from exposure and hypothermia
Missing man survives two weeks trapped in snow-covered car
Missing snowmobile riders found, Roger Rouse dies from hypothermia
Olympic Champion Rulon Gardner lost on snowmobile
Lost Olympic hockey player looses feet to cold injury
Expert skier lost five days near resort in North Cascades without map, compass, gps or cell phone
Mount Hood - The Episcopal School Tragedy
Mount Hood - experienced climbers rescued from snow cave
How can you learn the skills of snow camping? Prospectus

Mountaineering Accidents
Smith Rock Climbers injured by Monkey Face swing stunt
Two rescued in Three Sisters Wilderness
Bend Teen Falls Into Crevasse on South Sister
Three Stranded Hikers Assisted from Atop South Sister by SAR
Mount Hood - Analysis of the December 2009 deaths of three climbers on Reid Glacier Headwall
Smith Rock climber survives 40-foot fall, rescued by SAR
Smith Rock climber rescued after 70-foot sliding fall
Two climbers die in fall from Horsethief Butte Crags
Mt. Hood climber badly injured by summer rockfall
Mount Hood - Fatal ice fall below the Pearly Gates during warming winter weather
Man rescued from crevasse just off South Sister climber's trail
Father and sons rescued descending South Sister in storm on Labor Day
Mount Hood climber falls descending Mazama Chute from the summit
Mt. Hood climber killed by summer rockfall
Climber on Mt. Rainier dies, others injured
Young climber stuck on a steep snow slope rescued from Mt. Hood
Climbers badly injured during 500-foot sliding fall on Mt. Hood
You Tube videos of recent incidents on Mount Hood
Final Report to the American Alpine Club on the loss of three climbers on Mount Hood in December 2006
Climber on Mt. Rainier dies of hypothermia in brief storm. What happened
Death on Mt. Hood - What happened to the three North Face climbers?


Three Fingered Jack - OSU student falls on steep scree slope
Climber injured by rockfall, rescued by helicopter from Mount Washington, Oregon
Three Mountaineers struck by rock-fall in North Cascades
Solo climber falls from Cooper Spur on Mount Hood
Climber dies on the steep snow slopes of Mount McLaughlin
Climbers swept by avalanche while descending North Sister's Thayer Glacier Snowfield
Wilderness Travel Course Newsletter this is a large PDF file
Runaway glissade fatal for Mazama climber on Mt. Whitney
Yosemite's El Capitan tests rescuers' skills
Climbers fall from Mount Hood's Sandy Glacier Headwall
Solo hiker drowns while crossing Mt. Hood's Sandy River
Injured climber rescued from Mount Washington
Mt. Washington tragedy claims two climbers
Another Mt. Rainier climber dies on Liberty Ridge
Mt. Rainier climber dies after rescue from Liberty Ridge
Young hiker suffers fatal fall and slide in the Three Sisters Wilderness
North Sister claims another climber
Solo climber Aron Ralston forced to amputate his own arm
Portland athlete lost on Mt. Hood
Broken Top remains confirmed as missing climber
Grisly find: hikers on Broken Top find apparent human remains
Once again, cell phone alerts rescuers of injured climber
Storm on Rainier proves fatal
Mountain calamity on Hood brings safety to the fore!
Fall into the Bergschrund on Mt. Hood, rescuers crash!
Paying the price for rescue
Accidents in North American Mountaineering
Goran Kropp killed while rock climbing in Washington

Your Essential Light Day Pack
What are the new Ten Essential Systems?
What does experience tell us about Light and Fast climbing?
What is the best traditional alpine mountaineering summit pack?
What is Light and Fast alpine climbing?
What do you carry in your day pack? Photos?


What do you carry in your winter day pack? Photos?


What should I know about "space blankets"?
Where can I get a personal and a group first aid kit? Photos?

Carboration and Hydration
Is running the Western States 100 part of "traditional mountaineering"?
What's wrong with GORP? Answers to the quiz!
Why do I need to count carbohydrate calories?
What should I know about having a big freeze-dried dinner?
What about carbo-ration and fluid replacement during traditional alpine climbing? 4 pages in pdf


What should I eat before a day of alpine climbing?

About Alpine Mountaineering:


The Sport of Alpine Mountaineering


Climbing Together


Following the Leader


The Mountaineers' Rope


Basic Responsibilities

Cuatro Responsabiliades Basicas de Quienes Salen al Campo


The Ten Essentials

Los Diez Sistemas Esenciales

Our Leader's Guidelines:


Our Volunteer Leader Guidelines


Sign-in Agreements, Waivers and Prospectus This pdf form will need to be signed by you at the trail head


Sample Prospectus Make sure every leader tells you what the group is going to do; print a copy for your "responsible person"


Participant Information Form This pdf form can be printed and mailed or handed to the Leader if requested or required


Emergency and Incident Report Form Copy and print this form. Carry two copies with your Essentials


Participant and Group First Aid Kit Print this form. Make up your own first aid essentials (kits)


About our World Wide Website:


Information


Mission


Map, Compass and GPS
Map, compass and GPS navigation training Noodle in The Badlands
BLM guidelines for Geocaching on public lands
Geocaching on Federal Forest Lands
OpEd - Geocaching should not be banned in the Badlands
Winter hiking in The Badlands WSA just east of Bend
Searching for the perfect gift
Geocaching: What's the cache?
Geocaching into the Canyon of the Deschutes
Can you catch the geocache?
Z21 covers Geocaching
Tour The Badlands with ONDA
The art of not getting lost
Geocaching: the thrill of the hunt!
GPS in the news
A GPS and other outdoor gadgets make prized gifts
Wanna play? Maps show you the way
Cooking the "navigation noodle"