TRADITIONAL MOUNTAINEERING ™
www.TraditionalMountaineering.org ™ and also www.AlpineMountaineering.org ™

™
FREE BASIC TO ADVANCED ALPINE MOUNTAIN CLIMBING INSTRUCTION™
Home | Information | Photos | Calendar | News | Seminars | Experiences | Questions | Updates | Books | Conditions | Links | Search

Read more:
Mount Hood climbers died attempting Reid Headwall route in December, 2009
Searchers look for clue to missing Mount Hood climbers' position
December 14, 2009
Allan Brettman, The Oregonian
Associated Press/Don Ryan
Like detectives on a criminal case, rescuers searching for two missing climbers on Mount Hood have been trying to piece evidence together.

Behind a closed door in a ski lodge cafeteria, investigators have examined the clues since the two and their climbing partner went missing Friday.

They've scrutinized photos taken by one climber at several points along the route as well as aerial images shot Sunday and Monday. They've interviewed friends and family of the trio. They've compared items found near one climber's body with items seen in the photos. And they know what killed him.

"We're all sitting around going, 'What about this? What about that?'" said Monty Smith, vice president of Portland Mountain Rescue, the volunteer organization that has supplied climbers to assist the Clackamas County Sheriff's Office.

Despite all of the clues, the case remained unsolved Monday and two climbers remained on the mountain for what would be their fourth night in subfreezing temperatures.

"Why we've not found any trace of the other people is really confusing," Smith said.

Monday, the 11,239-foot-high mountain, though unexpectedly welcoming, offered no more information on the missing climbers. Searchers feared a winter storm expected overnight would shroud any other clues of what has become of them.

Luke Gullberg, 26, of Des Moines, Wash.; Katie Nolan, 29, of Southeast Portland; and Anthony Vietti, 24, of Longview, Wash., embarked about 1 am Friday on an expected summit of Mount Hood. The sky was clear and would be most of that day.

There has been conjecture about their intended route, but searchers think they probably attempted to ascend the technically challenging Reid Headwall.

They didn't return Friday as planned, and a friend notified authorities that afternoon. Searchers found Gullberg's body about 10 am Saturday along with some belongings.

Monday, the state medical examiner's office said Gullberg died of hypothermia, an abnormally low body temperature that leads to confusion, lethargy and, left untreated, death.

Gullberg survived "a long, slow" fall, the medical examiner's office said. Rescuers said Gullberg, regarded as the most experienced climber among the three, was able to walk and crawl several hundred yards before expiring.

"He had minor trauma but nothing lethal," said Dr. Chris Young of the medical examiner's office.

The finding has not helped solidify theories about the climbers' fates, said Smith, of Portland Mountain Rescue.

Officials revealed another confusing clue Monday: two of the items found near Gullberg's body were not his.

A glove and a water bottle are believed to belong to Nolan, said Clackamas sheriff's Deputy Scott Meyers. He turned over the items to Nolan's family Monday afternoon.

Other items found near Gullberg's body include his helmet, two water bottles and his climbing harness. Those items have also contributed to the mystery.

Although a fall might have knocked off the helmet and the harness, that appeared unlikely given the severity of Gullberg's injuries. Also, climbing harnesses are designed to withstand severe stress and have redundant safety systems to prevent their removal.

For some reason, Gullberg might have removed the harness. But the last photo on his camera suggests he probably was wearing it.

He was shown anchored to the snow and ice of the Reid Headwall, apparently with two snow screws, Smith said. A rope led from the anchors to Gullberg and probably was secured to his harness.

"It's another part of the mystery," said Smith, who also is a climb leader with Mazamas, a Portland-based climbing club.

A 1.5-hour helicopter flight at various points on the mountain also did not provide clarity Monday.

Earlier in the day, it appeared the flight would not take place as strong winds were forecast. But the winds remained unexpectedly calm, and the Oregon National Guard UH-60 Black Hawk took off from a parking lot near Timberline Lodge, carrying Smith, Bob Alexander of Portland Mountain Rescue and four members of the Army National Guard, including the pilot and co-pilot.

"None of us saw anything," Smith said.

The helicopter hovered for an extended time over the Reid Glacier and West Crater Rim, two areas where Nolan and Vietti might have built an emergency snow cave.

It also descended into Zig Zag Canyon, on the mountain's southwest flank, traveling about 1,000 feet below Timberline. Searchers thought if the two climbers had walked out and not followed a path to where they started, they could have ended up in the Zig Zag drainage.

The searchers looked for footprints and signs of clothing but didn't see any, Smith said.

The unexpectedly clear weather also allowed eight Portland Mountain Rescue searchers on backcountry skis to cover points on the mountain: Illumination Saddle and the area below Crater Rim.

While they searched, another team of climbers, from the U.S. Air Force Reserve's 304th Rescue Squadron in Portland, was stationed high on the mountain in case an emergency evacuation was needed of any of the eight skiers, all members of the Hood River-based Crag Rats.

No ground search was expected because of high avalanche danger. Skiers did not attempt to travel onto Reid Glacier, where Gullberg's body was found.

The avalanche threat is expected to worsen today, with more snow accumulation and more severe winds, said Scott Weishaar, incident meteorologist for the National Oceanic and Atmospheric Administration. He provided regular weather updates to rescuers at Timberline.

Forecasters said up to two feet of snow could fall on the mountain overnight, with winds gusts to 60 mph and low temperatures in the teens around 7,000 feet. Another foot of snow is forecast to fall today with more Wednesday, Thursday and Friday, increasing the avalanche hazard.

Three consecutive days with no trace of the missing climbers as well as the forecast present a worst-case scenario for rescuers.

Nevertheless, on Monday evening, Steve Rollins of Portland Mountain Rescue, said the effort was still proceeding as a rescue.

If that status changes, a recovery probably would not take place until early summer, he said. By then, accumulated snow and ice would have melted and climbing conditions would be safe. -- Allan Brettman. Stuart Tomlinson of The Oregonian contributed to this story.
http://www.oregonlive.com/news/index.ssf/2009/12/searchers_look_for_clue_to_mis.html
Medical examiner IDs Mt Hood bodies
by KGW.com Staff
KGW.com
August 27, 2010 at 11:55 AM
Investigators recovered two bodies on Mount Hood and Friday morning, the medical examiner confirmed that they were Anthony Vietti and his climbing companion, Katie Nolan.

Many of the same expert climbers who searched for the pair last year were among those who recovered the bodies on Thursday. They said it was a very emotional day for all of them.

The bodies were found at the 9,700-level of Reid Headwall and it appeared that the two climbers had fallen down a steep slope. Climbers at the scene Thursday said the two were still roped together and located only about two feet apart.

"When we went back up... the warming we had this week had melted more of the snow and we could see we had both remains there," said Bob Brownback with Portland Mountain Rescue.

Searchers said that the location of the remains made it likely they were Vietti and Nolan, who never made it off the mountain from a December, 2009 climb.
The body of their climbing companion, Luke Gullberg was found last year, but the search was called off before searchers found Vietti and Nolan.
Gullberg, 26, was found at the base of the Reid Glacier at the 9,000-foot level of Oregon's highest peak, one day after the trio was reported missing. Rescue teams battled winter storms for five days, searching for Nolan and Vietti.

Clackamas County detective Jim Strovink said the recovery effort was highly technical and challenging.
Two still missing from 2006 climb
In December 2006, Kelly James, Brian Hall and Jerry "Niko" Cooke died after deciding to continue their attempt to reach the summit even as a winter storm packing wind gusts up to 130 mph began to move in.

Stranded in a storm, James made a cell phone call to his wife but harsh weather thwarted searchers efforts to reach him. James' body was found in a snow cave but the bodies of his climb partners were never found.
http://www.kgw.com/news/local/Human-remains-found-on-Mt-Hood-101342214.html
Are there recent Trip Reports and photographs of Reid Headwall climbs?
Trip: Mount Hood - Reid and Leuthold
Major Major
Registered: 12/22/08
Loc: Portland, OR
Date: 12/5/2009

Trip Report:
We started around 2:00 a.m. and reached the top of Palmer before sunrise. My partner, Ryan, was cold so I dug small snow cave and we sat waiting for the weather to clear. To some surprise, the sunrise offered clear skies with decent wind conditions (15 mph sustained, and up to 40 mph gusts). It was cold but very ideal for a Reid climb, or any climb. On the top of Palmer, my climbing partner and I met up with two other climbers (Matt and Scott) going via the same route. We all decided to team up and enjoy the company, which definitely made things interesting.

After crossing I-rock ridge, there is a semi-steep, traverse that requires a straight shaft ice axe for potential self arrest. I could see the crevasses on Reid Glacier at the bottom. After reaching the bottom of the Reid headwall, the next challenge is to find the best route. It was my intention to climb straight up the Reid headwall, but my partner convinced me to carry on toward what is either the left side of Reid or the right side of Leuthold. I know for a fact that we didn't ascend via Leuthold proper, since this is merely a straightforward slog up a friendly, 50 degree couloir.
The route we chose was a bit less friendly but fun. It required an ice axe and at times a second tool. My partner became fatigued early on the headwall, so I tied his back pack to my body while carrying my own backpack to give him a rest for about 1,000 feet. He was definitely reaching his limit. I convinced myself at this point that it would be easier to ascend than to turn back. He looked in a very bad way.
After climbing the crux (a 30-40 foot ice run), I was a bit fatigued. But thanks to Scott and his just-in-time rappel, everything turned out well. From here on out I was very tired, but not more than one would feel after having dragged an extra 35 pound bag up snow and ice. Anyway, after the ice crux, we came to an impasse on Reid. It quickly became evident that our continuation of this route would result in getting lost and, thus, a forced down climb, which I do not favor. So, we traversed left until we reached the very obvious top of Leuthold couloir. My partner carried his bag the rest of the way up to the summit, and I continued with extreme fatigue due to carrying his bag.
The blue-sky summit was intermittently decorated with vertical oriented clouds and the warmth of sun. After this, we descended via the Old Chute with fresh tracks. Everything went without a hitch until my crampon fell off and I tripped and tore an ankle ligament. A half mile later, I felt (and maybe heard) the ligament literally snap. Matt ran down to Timberline and retrieved a Snowcat to take me off Palmer (thanks Matt). I was unable to walk and had to wear a cast for two weeks. Other than this silly incident, it was a very memorable climb. Watch out for the ice on Reid; it requires one or possibly two ice tools, a rope, and good judgment.

Note: this is the first time I watched the sun set twice in one moment. It set in the clouds; the clouds departed, and it set again. Incredible day.

Gear Notes:
Cold weather equipment:
Bivy
Sleeping bag
Foam pad
Second down coat
extra pair of mittens
Wool sweater

Two liters water
Ice axe
Ice tool
30 meter rope
Snow pickets (didn't use)
GPS (activated in case of white out)
Crampons
Sunglasses
All the other accoutrements one would expect for a fun winter climb.

Approach Notes:
Although labeled a Class II climb, Reid definitely exhibited Class III characteristics. Just a note to those who might assume this is just an 'easy' climb. I think it changes to a Class II climb as more snow builds up over
the ice during the winter. Leuthold, however, is very obviously just a steep Couloir.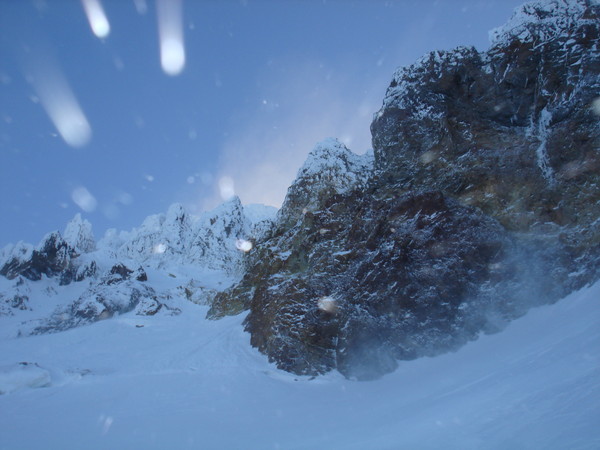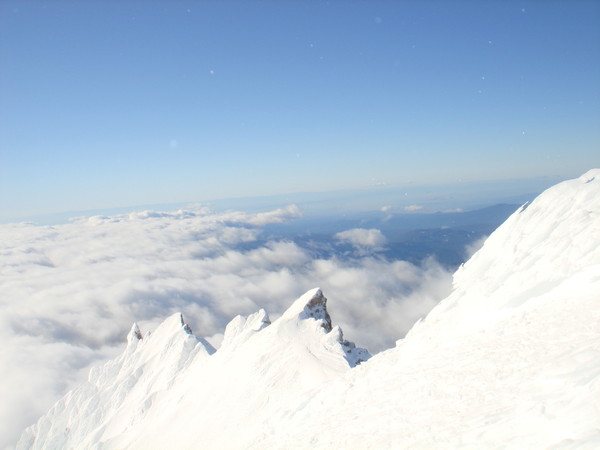 http://cascadeclimbers.com/forum/ubbthreads.php?ubb=showflat&Number=929723
Note: There are several excellent Trip Reports and many photos of climbs of the Mount Hood west side glacier climbs here: http://cascadeclimbers.com/forum/ubbthreads.php/ubb/tripreports/
--Webmeister Speik
Topographic map and aerial photos of the west side of Mount Hood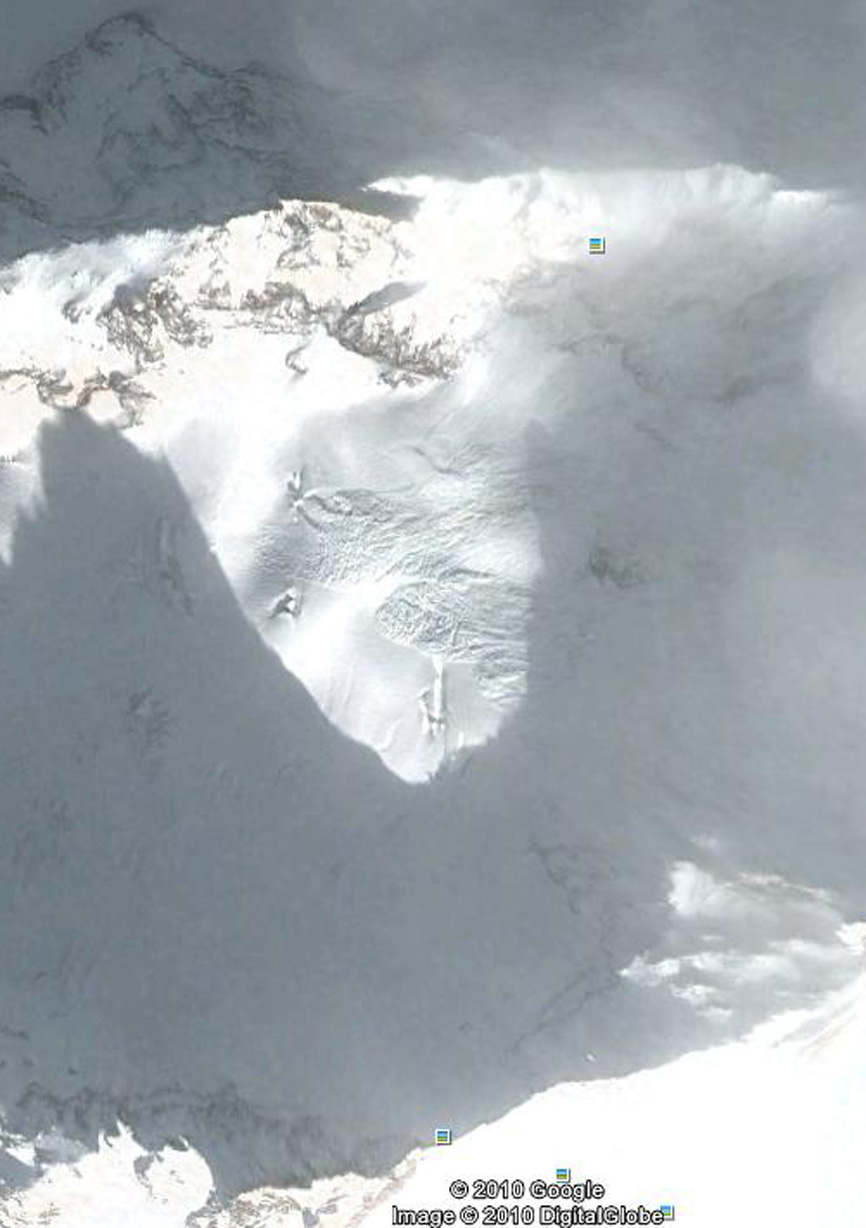 Summit of Mt. Hood at top, Illumination Rock just above 'Google', winter view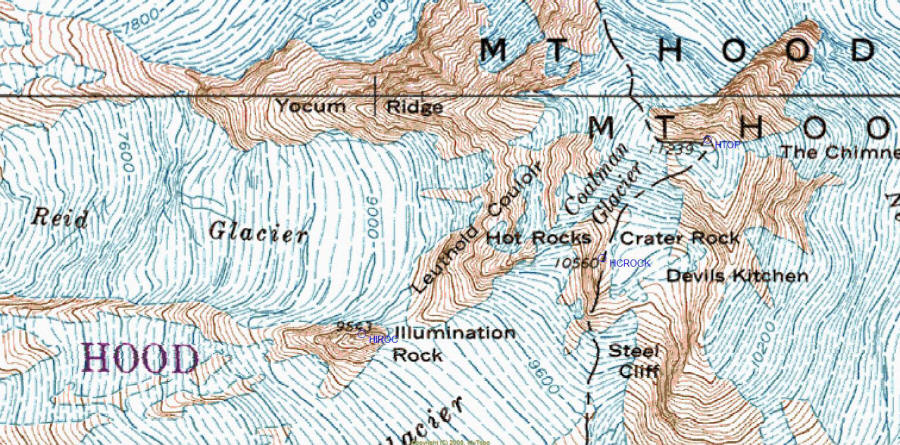 Map produced from USGS Quad topographic data base by My TOPO's Terrain Navigator Pro. Waypoints by Robert Speik.
Note: The UTM Grid (NAD27) is included on the printed map. Waypoints can be input on the computer at home and downloaded to each climbers' GPS receiver.
What can climbers learn from this tragic event?
A formal Report to the American Alpine Club was published in the 63rd Annual Report on "Accidents in North American Mountaineering" in 2010. A more detailed Final Report will follow in 2011.
Rescuers now believe that Gullberg, Vietti and Nolan fell, roped together, 300 to 500 vertical feet down a steep gully, described as an "ice gully" in late August, 2010, and likely filled with early winter snow in December, 2009. Experience tells us that the long fatal fall was likely due to an unconsolidated snow avalanche.
It is clear the climbers had abandoned their summit attempt, perhaps because they were behind schedule and had lost their planned route in the maze of ridges and gullies of the Leuthold and Reid Glaciers which led to the easier slopes leading to the summit.
They had secured their short ice tools to their packs before starting to descend the gully to the south of the Leuthold "hourglass" where their catastrophic fall occurred.
Videos with sound show that they are not hypothermic and not distressed, but were in good spirits. Reportedly, a video with sound recorded just before the fall shows Nolan in the gully belayed by Vietti from a flat area at the top of the chute. Nolan slipped and was caught by Vietti, laughing and thanking him for "saving her life". All of the climbers wore helmets and were dressed for the conditions on that very cold winter day. Each of the three climbers carried day packs, reportedly with gear appropriate for the weather and the summit climb that day.
Nolan and Vietti died covered in snow, where they landed at the foot of the ice gully, just two feet apart. Their packs with extra clothing and a camera and cell phone were unopened. Gullberg, appropriately the upper climber, caught a crampon in the fall. We understand that he came to rest beyond his companions and the snow debris, tied in at the end of the climbing rope. He may have lain unconscious in the snow for some time and become hypothermic. His companions could not be seen. He untied from the rope. He left his pack and made his way perhaps 1,000 feet down the glacier snow field toward Illumination Rock and the saddle to the ski slopes of the basic Mount Hood south side route, collapsed in the snow and died from hypothermia. Katie Nolan and Antony Vietti also died of hypothermia, according to the Medical Examiner. None of the climber's injuries, including broken bones, were in themselves life threatening according the the Medical Examiner, however Nolan and Vietti appeared to have died precisely the way they came to rest at the foot of the gully. It is clear no effort was made to open packs, put on extra clothing, phone 911, "dig a snow cave" or to shelter in any way. Experience tells us Katie and Antony were covered with avalanched snow.
Luke Gullberg, "lightly clad", succumbed to hypothermia according the the Medical Examiner in 2009. Loose items found above him, including a glove and water bottle belonging to Nolan, appear to have slid down the snow slope of the Reid glacier from the foot of the ice gully. Gullberg had left his pack unopened, where he had untied from the rope, near his companions. He had removed his helmet and harness, a few feet from where he died in the snow. One of his crampons appeared to have been wrenched from his boot.
Were each of the three climbers physically Prepared for this hard climb?
Luke Gullberg and Antony Vietti, on their two cameras, took many digital photos and filmed short videos with sound, beginning at the parking lot and ending at the top of the ice gully, just before the fatal fall. They started from Timberline Lodge about 2 AM and the accident occurred after perhaps twelve hours of hard climbing above 9,500 feet. Videos with sound show that they are not hypothermic and not distressed, but were in good spirits. Experience tells me that the answers to this question is yes. Each of the three climbers carried day packs, reportedly with gear appropriate for the weather and the summit climb that day.
Were the three climbers fully Prepared for the technical steep snow and ice climbing required by this route on a very cold day in December. Seemingly, the answer is no. As an example, Search and Rescue veterans noted from photographs, that on one steep snow slope early in the climb, Nolan was first on the rope, Vietti second and Gullberg last, not the traditional snow climbing order where the strongest climber is at the top, better able to hold a slip before it might become a fall. Further, the rope was not shortened by coils secured on the first and last climber, but draped in large loops between climbers creating a serious danger of shock loading if any of the three came loose from the snow. Other photos show Nolan, front pointing a steep hard snow slope in crampons, resting with her knees on the snow and hands off the ice axes with a large loop of the climbing rope below her, (i.e. slack to the second) a dangerous position.
A friend wrote the following about Luke Gullberg: "Climbing was what initially drew Luke and I together, and a deep friendship blossomed from it. After four years in the military, I wondered how Luke and I would connect again. He was a talented English major and I was a veteran Jarhead just readjusting to civilian life. I'm not sure whose idea it was, but we two made plans to climb Mt Rainier during our first summer back together. We had a blast and fell hook, line and sinker! We went on to climb many other peaks together, often via challenging (for us) routes. Lukey always seemed to draw the crux pitch, except on Dragontail Peak's Northeast Couloir. As I inched my way upwards, Luke and Dave shouted encouragement and his high praise, though undeserved, had me beaming like a child opening the perfect Christmas present."

"When I moved away to North Carolina in 2008, Luke continued to hit the hills with the same fervor, though his focused had changed. Instead of fast and light climbs up technical routes, Luke began to focus on moderate routes that he could bring several novice friends up. He led trips up Baker, Hood, Rainier, Stuart and several smaller Cascades Peaks. Through his patience and determination Luke introduced several people to the magic of the mountains." http://cascadeclimbers.com/trip-reports/alpine/alpental-thoughts-of-luke-gullberg-12-30-2009-4593/
Luke Gullberg's MySpace site includes a blog with photographs of past climbs. http://www.myspace.com/climb4life/blog
Another friend wrote the following about Katie Nolan: "Her outdoor pursuits — hiking, climbing, backpacking, running in the Portland Marathon, running in Hood to Coast, bicycling a century ride, participating in a triathlon — was her way of recharging her batteries, . . . "

"They needed recharging in part because of the demands she faced with a graduate student's class load and her social work with Catholic Charities."
http://cjaye57.wordpress.com/2009/12/23/mount-hood-climber-katie-nolan-remembered-as-traveler-writer-adventurer/
Antony Vietti, a former volunteer with Olympic Mountain Rescue for one year, reportedly had climbed Mount Hood twice before by the standard route with Luke. http://www.kgw.com/video/featured-videos/Background-on-missing-climbers-79221957.html
Our conclusion:
These three climbers were not fully prepared by personal climbing experience for this committing, exposed, technical and unforgiving early winter snow and ice climb on Mount Hood.
--Robert Speik
Copyright© 2010 by Robert Speik. All Rights Reserved.


A Final Report from Portland Mountain Rescue
Follow-up Report to Mt Hood, Reid Glacier Headwall Accident on December 11, 2009:
On August 26, 2010, several teams from Portland Mountain Rescue under the control of Clackamas County Sheriff engaged in recovery operations on the Reid Glacier headwall on the Southwest flank of Mt. Hood. This was the scene of an accident about 9 months earlier (December 11, 2009) involving three climbers. One body was recovered several days after the accident, while the remaining two were the basis for the operation. From numerous clues gathered (including a second camera) and the judgment of a panel of experienced mountain rescuers, the following scenario is presented as the most likely sequence of events involving the accident.
On the day of the climb, the properly equipped party descended from Illumination Saddle to the cross-over on Yokum Ridge on the approach to the Sandy Glacier Headwall. The view from the ridge may have revealed the difficulty of their intended route. The party changed their objective and started a rising traverse back toward the Reid headwall, crossing Leuthold's Couloir just below the hourglass. The trio ascended the first (western) major gully system (Reid Headwall) to about 10,200 feet elevation where an anchor was placed. The roped party was using front-point techniques with ice axes and second tools for traction in this 45-50 degree gully. Nolan suffered a short fall with no apparent physical injury, as she was belayed from above by Vietti. At this point (about 1200) the party decided to retreat from the climb, possibly using a snow ramp on easier ground rather than downclimbing or rappelling the gully. While on or approaching the ramp, one of the climbers fell, was unable to self-arrest, and pulled the other two climbers off their stances. The roped party was unable to team-arrest and fell down the slope about 500 feet vertical. There were no anchors placed to protect the team (the only anchors found were ice screws on the outside of a backpack), nor were the climbers using second ice tools at the time of the fall (also found fastened to backpacks). All three climbers suffered non-lethal injuries during the fall (and all were wearing helmets). Gullberg, the most experienced who was found last December approximately 500 feet below this accident site, unclipped from the rope, removed his backpack, and descended for assistance. His actions may have been influenced by a head injury, as he apparently did not provide any first aid nor assistance to his injured companions. Inside the backpacks were found full water bottles, first aid kits, a cell phone, and additional clothing. Undoubtedly slowed by injuries, Gullberg succumbed to hypothermia on the upper Reid Glacier.
What lessons can be learned to prevent repeating such an accident?
While the cause of the fall cannot be determined, mitigation efforts can be identified. When descending or retreating from a climb on an easier route than the ascent, it is important to maintain vigilance. Even when terrain becomes non-technical, the surrounding exposure can provide ample opportunity for injury. If the falling potential of a weak member of the party is recognized by the leader, a rope is normally used to protect that member. To protect the other members of the roped team, the leader must consider placing anchors. Protection afforded by fixed or running belays usually improves the safety of a roped party. Climbers planning trips in late season should consider the additional difficulties presented by ice/ glacier routes, sometimes a grade above their guidebook ratings.
--Jeff Sheetz, Portland Mountain Rescue
(ANAM requested that a copy of PMR's updated Report be sent for public information to www.TraditionalMountaineering.org by Jeff Sheetz. It will not be included in ANAM 2011)
Portland Mountain Rescue states their position on the Mt. Hood Locator Beacon
http://www.pmru.org/pressroom/headlines/20091213PMRStatementRegardingMissions.html
The Reason for this enquiry: A QUOTE FROM 1871
See yonder height! 'Tis far away -- unbidden comes the word "Impossible!"

"Not so," says the mountaineer. "The way is long, I know; its difficult -- it may be dangerous."

"It's possible, I'm sure; I'll seek the way, take counsel of my brother mountaineers,
and find out how they have reached similar heights and learned to avoid the dangers."

He starts (all slumbering down below); the path is slippery - and may be dangerous too.
Caution and perseverance gain the day
-- the height is reached! and those beneath cry, "Incredible! 'Tis superhuman!"

This is a passage we found on page 161 of "Scrambles Amongst the Alps" by Edward Wymper,
first published in 1871 and reprinted 1981 by Ten Speed Press, Berkley, CA.
THE MISSION of TraditionalMountaineering.org
"To provide information and instruction about world-wide basic to advanced alpine mountain climbing safety skills and gear, on and off trail hiking, scrambling and light and fast Leave No Trace backpacking techniques based on the foundation of an appreciation for the Stewardship of the Land, all illustrated through photographs and accounts of actual shared mountaineering adventures."
TraditionalMountaineering is founded on the premise that "He who knows naught, knows not that he knows naught", that exploring the hills and summitting peaks have dangers that are hidden to the un-informed and that these inherent risks can be in part, identified and mitigated by mentoring: information, training, wonderful gear, and knowledge gained through the experiences of others.
The value of TraditionalMountaineering to our Friends and Subscribers is the selectivity of the information we provide, and its relevance to introducing folks to informed hiking on the trail, exploring off the trail, mountain travel and Leave-no-Trace light-weight bivy and backpacking, technical travel over steep snow, rock and ice, technical glacier travel and a little technical rock climbing on the way to the summit. Whatever your capabilities and interests, there is a place for everyone in traditional alpine mountaineering.



WARNING - *DISCLAIMER!*
Mountain climbing has inherent dangers that can, only in part, be mitigated
Read more
Mount Hood - The Episcopal School Tragedy
Mount Hood - Fatal ice fall below the Pearly Gates during warming winter weather
Mount Hood - Fatal rock fall on the Elliot Headwall during summer conditions
Mt. Rainier - Fatality from falling rock in summer conditions
North Sister - Climbers swept by avalanche while descending Thayer Glacier Snowfield
North Sister - AAC Report of fatal fall from east side by Martina Testa
Mount Hood - Climber injured by falling ice, rescued by helicopter
Mount Hood - Avalanche proves fatal for member of Mazamas climbing group
Mount Hood - Final Report to the American Alpine Club on the loss of three climbers in December 2006
Mount Hood - Veteran climber injured during ice axe arrest on Mt Hood

Basic Responsibilities
Climber on Mt. Rainier dies of hypothermia in brief storm. What happened
How can I avoid, recognize and treat hypothermia in the backcountry?
Mount Hood - Lessons learned from the latest lost climbers
SPOT Satellite Messenger "PLB" reviewed and recommended
How do you use your map, compass and GPS together, in a nut shell?
Why is the digital cell phone best for backcountry travel and mountaineering?
How do GSM mobile phones assist mountaineering and backcountry rescues?
FREE Clinic on Real Survival Strategies and Staying Found with Map, Compass and GPS together
Two climbers become lost descending Mt. Hood's standard South Side Route
What do you carry in your winter day and summit pack?
Why are "snowcaves" dangerous?
Why are "Space Blankets" dangerous?
Why are "Emergency Kits" dangerous?
How can you avoid Hypothermia?
Final Report to the American Alpine Club on the loss of three climbers on Mount Hood in December 2006
Missing climbers on Mount Hood, one dies of exposure, two believed killed in fall
Missing California family found, dad dies from exposure and hypothermia
Missing man survives two weeks trapped in snow-covered car
Missing snowmobile riders found, Roger Rouse dies from hypothermia
Olympic Champion Rulon Gardner lost on snowmobile!
Lost Olympic hockey player looses feet to cold injury
Expert skier lost five days near resort in North Cascades without map, compass, gps or cell phone
Mount Hood - The Episcopal School Tragedy
Mount Hood - experienced climbers rescued from snow cave
How can you learn the skills of snow camping? Prospectus

Lost and Found
Missing man survives two weeks trapped in snow-covered car
Missing snowmobile riders found, Roger Rouse dies from hypothermia
Longacre Expeditions teen group rescued from the snowdrifts above Todd Lake
Lost climber hikes 6.5 miles from South Sister Trail to Elk Lake
Hiking couple lost three nights in San Jacinto Wilderness find abandoned gear
Expert skier lost five days in North Cascades without Essentials, map and compass
Climber disappears on the steep snow slopes of Mount McLaughlin
Hiker lost five days in freezing weather on Mount Hood
Professor and son elude search and rescue volunteers
Found person becomes lost and eludes rescuers for five days
Teens, lost on South Sister, use cell phone with Search and Rescue
Lost man walks 27 miles to the highway from Elk Lake Oregon
Snowboarder Found After Week in Wilderness
Searchers rescue hiker at Smith Rock, find lost climbers on North Sister
Girl Found In Lane County After Lost On Hiking Trip
Search and rescue finds young girls lost from family group
Portland athlete lost on Mt. Hood
Rescues after the recent snows
Novice couple lost in the woods
Broken Top remains confirmed as missing climber
Ollalie Trail - OSU Trip - Lost, No Map, Inadequate Clothing

Your Essential Light Day Pack
What are the new Ten Essential Systems?
What does experience tell us about Light and Fast climbing?
What is the best traditional alpine mountaineering summit pack?
What is Light and Fast alpine climbing?
What do you carry in your day pack? Photos?


What do you carry in your winter day pack? Photos?


What should I know about "space blankets"?
Where can I get a personal and a group first aid kit? Photos?

Carboration and Hydration
Is running the Western States 100 part of "traditional mountaineering"?
What's wrong with GORP? Answers to the quiz!
Why do I need to count carbohydrate calories?
What should I know about having a big freeze-dried dinner?
What about carbo-ration and fluid replacement during traditional alpine climbing? 4 pages in pdf


What should I eat before a day of alpine climbing?

About Alpine Mountaineering:


The Sport of Alpine Mountaineering


Climbing Together


Following the Leader


The Mountaineers' Rope


Basic Responsibilities

Cuatro Responsabiliades Basicas de Quienes Salen al Campo


The Ten Essentials

Los Diez Sistemas Esenciales

Our Leader's Guidelines:


Our Volunteer Leader Guidelines


Sign-in Agreements, Waivers and Prospectus This pdf form will need to be signed by you at the trail head


Sample Prospectus Make sure every leader tells you what the group is going to do; print a copy for your "responsible person"


Participant Information Form This pdf form can be printed and mailed or handed to the Leader if requested or required


Emergency and Incident Report Form Copy and print this form. Carry two copies with your Essentials


Participant and Group First Aid Kit Print this form. Make up your own first aid essentials (kits)


About our World Wide Website:


Information


Mission


Map, Compass and GPS
Map, compass and GPS navigation training Noodle in The Badlands
BLM guidelines for Geocaching on public lands
Geocaching on Federal Forest Lands
OpEd - Geocaching should not be banned in the Badlands
Winter hiking in The Badlands WSA just east of Bend
Searching for the perfect gift
Geocaching: What's the cache?
Geocaching into the Canyon of the Deschutes
Can you catch the geocache?
Z21 covers Geocaching
Tour The Badlands with ONDA
The art of not getting lost
Geocaching: the thrill of the hunt!
GPS in the news
A GPS and other outdoor gadgets make prized gifts
Wanna play? Maps show you the way
Cooking the "navigation noodle"