TRADITIONAL MOUNTAINEERING ™
www.TraditionalMountaineering.org ™ and also www.AlpineMountaineering.org ™

™
FREE BASIC TO ADVANCED ALPINE MOUNTAIN CLIMBING INSTRUCTION™
Home | Information | Photos | Calendar | News | Seminars | Experiences | Questions | Updates | Books | Conditions | Links | Search

Man rescued from crevasse just off South Sister climber's trail

Climber Rescued After Fall Into Crevasse
July 28, 1986
A 30 year old Washington, D. C man fell 40 feet into a crevasse on South Sister in the Oregon Cascades and was rescued about four hours later.

Eleven members of the Deschutes County Search and Rescue Mountain Rescue Team and two helicopter crews from the 304th Air Force Rescue Emergency Squadron had to be called in to search for David William Danner.

Danner was descending from the mountain's 10,750 foot summit, along Summit Ridge, with his brother Peter Danner at about 3 p.m. Monday when the two noticed footprints across Lewis Glacier and decided to take that path down to Green Lake, the Deschutes County sheriff's office reported. Danner broke through an ice bridge covering a crevasse on the glacier, and fell about 40 feet.

The sheriff's office said he was within inches of dropping another 30 feet.

Rescuers were called to the scene by another hiker waved down by Peter Danner.

Just before the rescue team arrived on the glacier, several other hikers hoisted Danner out of the crevasse using a makeshift rescue rope, constructed with a dog leash and a clothes line. The 304th flew Danner to St. Charles Medical Center in Bend, where he was treated for scrapes, bruises, and a fractured rib in the emergency room and released.

The sheriff's office said that neither Danner nor his brother were experienced climbers. Neither had the proper equipment to walk across the glacier.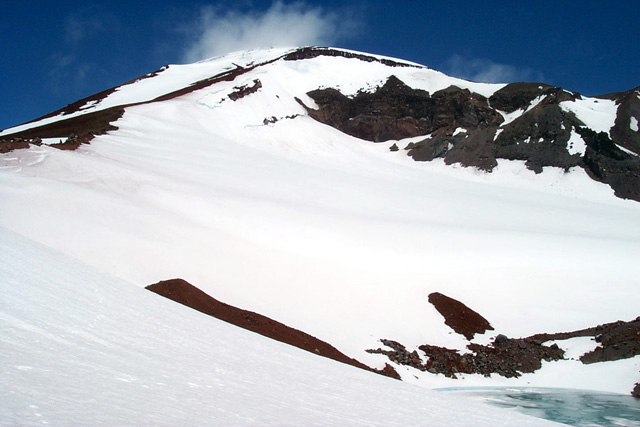 This photo of the crevassed Lewis glacier is from a climb of South Sister in June 2006 by Chris Sabo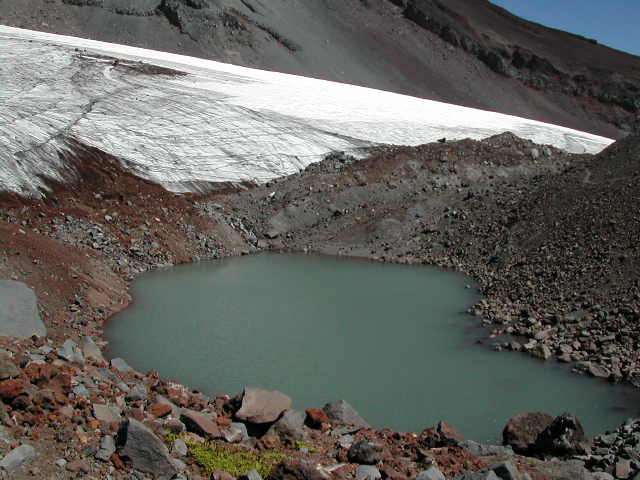 This is the best summer picture I have now of the glacial tarn at the bottom of the Lewis glacier on South Sister.
You can see some of the smaller crevasses uncovered by the summer sun at the left of the picture.
PEOPLE LOST IN THE WILDERNESS SHOULDN'T HAVE TO PAY FOR RESCUE
PEOPLE LOST IN THE WILDERNESS SHOULDN'T HAVE TO PAY FOR RESCUE
By Alice Keiser Greth
Bulletin guest columnist
January 12th 2007
This letter is for all the mean cranks who complain about dogs, solo hikers and climbers, demanding that the rescued should foot the bill for their rescues, not the taxpayers! Do these same cranks complain about the bankrupting billions of dollars that our government has spent on 200 violent incursions, bombings, etc., since W.W.II? And our billions of taxpayer dollars spent on destroying Iraq and its people, who were never a threat to anyone?
Reminder to dog haters: No dogs that I know bomb and torture and kill innocent people and run military bases around the world, all at our expense.

This story began on the morning of July 28, 1986, a glorious sun-splashed day on South Sister. My dog and I were heading up the last steep scree pitch when I heard someone screaming from the Lewis Glacier far below. A descending climber had binoculars, which revealed a frantic fellow jumping up and lying down on the glacier. We realized someone was in a crevasse. Binocular man was not from this area and did not know where Mount Bachelor was. After pointing. it out to him, he agreed to stop there to notify rescue.

He left, and my dog and I turned back down the ridge to crying man. I continually yelled to him, "I'm coming," wondering what in the world I could do to get a person out of a deep crevasse. I always did carry a 35-foot nylon clothesline for the dog, and Sandy, my daughter's rescued Samoyed pooch, also had two nylon leashes on her, as I never let my dogs run loose in a danger area.

At the trail juncture, two young folks were heading up the mountain and they agreed to come and help in the rescue. So we hurried around the little lake to the glacier, where we met a Frank Fisher, his wife and girl on an 8-foot rope. And thanks be that Fisher was an experienced climber, and we both carried ice axes. Fisher quickly set up a rescue with our axes and clothesline and his short rope. The victim was wedged in the ice 40 feet below as we lined up to pull him out. The ropes did not reach, so Fisher called for the two dog leashes. Another dilemma for me, as I was afraid the dog would also fall in. I tied her to my boot with a spare boot lace.
With the leashes, the victim could loop them under his arms, and we began the tough haul up.

At every command to pull from Fisher, we five laid back on the ropes. After stretching the lines and leashes to almost breaking point, "crevasse man" was pulled out, floundering on the ice. Almost hypothermic, wearing only shorts and a T-shirt, soaking wet and alive -- all 200 pounds plus of him!
An hour or two after falling in, crevasse man was injured but alive, thanks to Frank Fisher, dog leashes, clothesline, dog and I.

Four hours later, after moving crevasse man to the rocks and giving him some warm clothes, the Army helicopter from Portland flew over. Binocular man had done his job in calling rescue. Crevasse man' was flown to the hospital, where his broken ribs and bruises were treated.

Two days later, my dog and I stood on top of South Sister, watching climbers walking across the Lewis Glacier. A week later, a teenager coming down climbed down the ridge to the glacier, planning a glissade. He fell and slid into the same crevasse, but 20 feet down from our rescue. The next morning he was found dead 60 feet deep at that point.

For the 40 years I've lived here, I've hiked; climbed and cross-country skied wherever my compass and topographic maps take me, usually alone, or with my dog. Nature is my religion and cathedral - better to expire out there than in some hospital or nursing home bed, hooked up to a machine.

In my younger years, as a water instructor and. lifeguard, I pulled my share of people (from a WWII veteran to 5 year-old children) out of the pool. As a. school librarian here for 22 years, I would give a survival lesson to all of my students every few years, with films and talks. I also would bring my daughter's rescued dog, Cooper, to the library for kindness to animals week. For the past two years on Fridays, I've been part of the amnesty protest group on the Greenwood, and 97 corner to show a visible resistance against war and violence.

So all the cranks, dog haters and all can go smoke a pipe and hope for a dog to come along if they ever need assistance in the outdoors!
--Alice Keiser Greth lives in Bend
Note: Alice Greth is a friend of mine. In 1998, she was one of the first members of our new Cascades Mountaineers Alpine Climbing Club in Bend. I still plan to do a peak with Alice Greth and other friends. The photo below shows Alice competing in the annual Race to the Summit of Pilot Butte in 2003.
--Webmeister Speik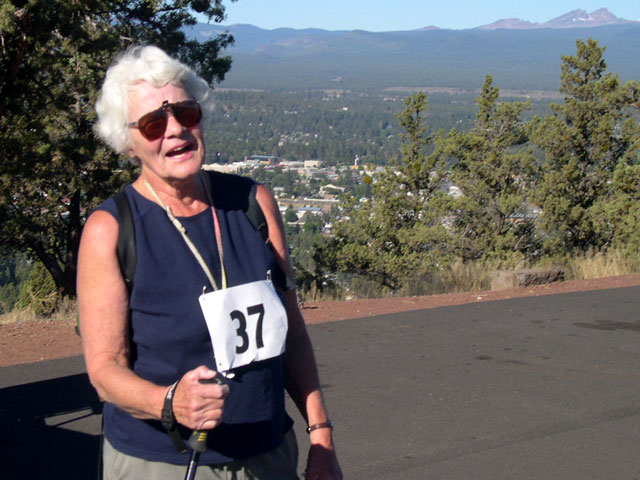 Read more from the links below that include a South Sister Prospectus for an adult hiking group and photos of that climb. Note that cell phones were not ubiquitous in 1986. 911 was contacted by phone call from Mt. Bachelor after a fast run down the South Sister climber's trail and a drive to the resort. Read the Basic Responsibilities and The Ten Essential Systems.
THE MISSION of TraditionalMountaineering.org:
"To provide information and instruction about world-wide basic to advanced alpine mountain climbing safety skills and gear, on and off trail hiking, scrambling and light and fast Leave No Trace backpacking techniques based on the foundation of an appreciation for the Stewardship of the Land, all illustrated through photographs and accounts of actual shared mountaineering adventures."
TraditionalMountaineering is founded on the premise that "He who knows naught, knows not that he knows naught", that exploring the hills and summiting peaks have dangers that are hidden to the un-informed and that these inherent risks can be in part, identified and mitigated by mentoring: information, training, wonderful gear, and knowledge gained through the experiences of others.

The value of TraditionalMountaineering to our Friends and Subscribers is the selectivity of the information we provide, and its relevance to introducing folks to informed hiking on the trail, exploring off the trail, mountain travel and Leave-no-Trace light-weight bivy and backpacking, technical travel over steep snow, rock and ice, technical glacier travel and a little technical rock climbing on the way to the summit. Whatever your capabilities and interests, there is a place for everyone in traditional alpine mountaineering.



WARNING - *DISCLAIMER!*
Mountain climbing has inherent dangers that can, only in part, be mitigated
Read more . . .
Bend Teen Falls Into Crevasse on South Sister
Three Stranded Hikers Assisted from Atop South Sister by SAR
Father and sons rescued descending South Sister in storm on Labor Day
Man rescued from crevasse just off South Sister climber's trail
Prospectus for a summer climb of South Sister
Hiking to the summit of South Sister
Family of five and exhausted Great Dane dog rescued from South Sister Climber's Trail
Photos of a South Sister snow-climb in June 2006
A cross country circumnavigation of South Sister in September
South sister spring overnight snow climb for gear and skills

Lost and Found
Hiking couple lost three nights in San Jacinto Wilderness find abandoned gear
Expert skier lost five days in North Cascades without Essentials, map and compass
Climber disappears on the steep snow slopes of Mount McLaughlin
Hiker lost five days in freezing weather on Mount Hood
Professor and son elude search and rescue volunteers
Found person becomes lost and eludes rescuers for five days
Teens, lost on South Sister, use cell phone with Search and Rescue
Lost man walks 27 miles to the highway from Elk Lake Oregon
Snowboarder Found After Week in Wilderness
Searchers rescue hiker at Smith Rock, find lost climbers on North Sister
Girl Found In Lane County After Lost On Hiking Trip
Search and rescue finds young girls lost from family group
Portland athlete lost on Mt. Hood
Rescues after the recent snows
Novice couple lost in the woods
Broken Top remains confirmed as missing climber
Ollalie Trail - OSU Trip - Lost, No Map, Inadequate Clothing

About Alpine Mountaineering:


The Sport of Alpine Mountaineering


Climbing Together


Following the Leader


The Mountaineers' Rope


Basic Responsibilities

Cuatro Responsabiliades Basicas de Quienes Salen al Campo


The Ten Essentials

Los Diez Sistemas Esenciales

Our Leader's Guidelines:


Our Volunteer Leader Guidelines


Sign-in Agreements, Waivers and Prospectus This pdf form will need to be signed by you at the trail head


Sample Prospectus Make sure every leader tells you what the group is going to do; print a copy for your "responsible person"


Participant Information Form This pdf form can be printed and mailed or handed to the Leader if requested or required


Emergency and Incident Report Form Copy and print this form. Carry two copies with your Essentials


Participant and Group First Aid Kit Print this form. Make up your own first aid essentials (kits)


About our World Wide Website:


Information


Mission


Map, Compass and GPS
Map, compass and GPS navigation training Noodle in The Badlands
BLM guidelines for Geocaching on public lands
Geocaching on Federal Forest Lands
OpEd - Geocaching should not be banned in the Badlands
Winter hiking in The Badlands WSA just east of Bend
Searching for the perfect gift
Geocaching: What's the cache?
Geocaching into the Canyon of the Deschutes
Can you catch the geocache?
Z21 covers Geocaching
Tour The Badlands with ONDA
The art of not getting lost
Geocaching: the thrill of the hunt!
GPS in the news
A GPS and other outdoor gadgets make prized gifts
Wanna play? Maps show you the way
Cooking the "navigation noodle"