TRADITIONAL MOUNTAINEERING ™
www.TraditionalMountaineering.org ™ and also www.AlpineMountaineering.org ™

™
FREE BASIC TO ADVANCED ALPINE MOUNTAIN CLIMBING INSTRUCTION™
Home | Information | Photos | Calendar | News | Seminars | Experiences | Questions | Updates | Books | Conditions | Links | Search

Read more:
Cooking The 'Navigation Noodle'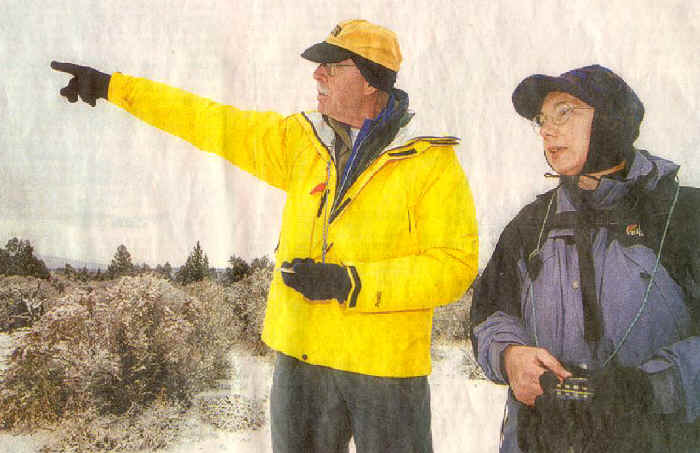 Cooking The 'Navigation Noodle'
By Jim Witty for The Bulletin
February 2003

When it comes to finding your way back after getting yourself lost, practice makes perfect and the Badlands is a prime location for this kind of training.

You've got your compass, a global positioning system (GPS) receiver a map and the better part of a day.

It is time to get lost and have an epiphany or two.

The Badlands, just 17 miles east of Bend, is an ideal place to bone up on your navigation skills. It's 34,000 acres of sagebrush, junipers and some very cool rock formations. But just because it's not real steep and not real far away doesn't mean its' not real easy to loose your bearings.`

See that juniper over there? See that one next to it? And the one that looks an awful lot like the first one next to it?

Hey, where's the trail? Where's the car? Where are we?

Bob Speik is about as good at getting people lost as he is at getting them found again.

Speik, a Bend based wilderness skills instructor and a whiz with map, compass and satellite navigation technology, offers classroom orientations to familiarize people with the basic techniques of staying found.

That's the theory. Here is the practical side. Today, Terri Grimm of Bend has joined Speik in the Badlands Wilderness Study Area for an invigorating hike in the snow and a hands-on educational adventure navigating the High Desert. Grimm is 45, an active hiker, biker and camper, and like many of her counterparts, a little rusty on her navigation skills.

She's having fun. She gets a healthy eight-mile aerobic hike in and for the first time, uses a topographic map, her compass (adjusted to Central Oregon's 18 degree declination) and her GPS (with fresh batteries) in concert.

After getting their bearings with map and compass and reading and recording their exact starting point in the GPS, Grimm and Speik and a third hiker with a notebook, a pen and a quizzical expression stride out up the white stippled dirt path (Road 4) towards Badlands Rock. Through a crude barbed wire gate they march, past an info poster on nesting falcons and over coyote tracks in the snow – paw prints arrayed in a single-minded line across the road and on to hunting grounds or cozy nook to the west.

The trio of hikers strides on as well, as straight as the road allows, pausing to relate the map to ridges and swales and confirm their findings via the GPS along the way.

At Badlands Rock, a jumble of basalt, they stop for a bite to eat. It's noon.

By 1 P.M., they'll be utterly lost.

Time for an epiphany.

They locate another pile of rocks, this one at least a mile from the last judging by the time. The two students pore over maps. Scratch their heads. Not a clue.

Then they climb to the top and marvel that Badlands Rock is in a different direction than they thought.

More map poring and compass calculating reveals that where they are may not have been where they thought they were but, thanks to confirmation by the GPS, it's absolutely without a doubt an identifiable place – a pinprick spot on the map, an unusual physical feature in a sea of sameness. We are here: X. Eureka. We have found us. They have passed what Speik calls his "Navigation Noodle". And it feels good.

"Okay, now you are lost, find your way," Grimm says later, reliving the exercise. "You have to think about putting those different tools together. It was a good little test. For me, it's going to take a little bit of practice."

The Badlands is a great place to do it. While there's sometimes snow on the ground this time of year, it's usually fairly easy going and you don't need to get lost to stay found. See Horse Ridge to the southeast? Confirm your suspicions.

Putting the skills to use in the field is essential. And it's a powerful feeling when you put it all together.


Read more . . .


Map, Compass and GPS
BLM guidelines for Geocaching on public lands
Geocaching on Federal Forest Lands
OpEd - Geocaching should not be banned in the Badlands
Winter hiking in The Badlands WSA just east of Bend
Searching for the perfect gift
Geocaching: What's the cache?
Geocaching into the Canyon of the Deschutes
Can you catch the geocache?
Z21 covers Geocaching
Tour The Badlands with ONDA
The art of not getting lost
Geocaching: the thrill of the hunt!
GPS in the news
A GPS and other outdoor gadgets make prized gifts
Wanna play? Maps show you the way
Cooking the "navigation noodle"

Lost and found
Hiker lost five days in freezing weather on Mount Hood
Professor and son elude search and rescue volunteers
Teens, lost on South Sister, use cell phone with Search and Rescue
Lost man walks 27 miles to the highway from Elk Lake Oregon
Snowboarder Found After Week in Wilderness
Searchers rescue hiker at Smith Rock, find lost climbers on North Sister
Girl Found In Lane County After Lost On Hiking Trip
Search and rescue finds young girls lost from family group
Portland athlete lost on Mt. Hood
Rescues after the recent snows
Novice couple lost in the woods
Broken Top remains confirmed as missing climber
Ollalie Trail - OSU Trip - Lost, No Map, Inadequate Clothing

The Badlands Wilderness
Deschutes County takes no position on Badlands Wilderness
OpEd - Dirt road through The Badlands must close
Photos of Road 8 damage sent to Commissioners
Badlands Wilderness with a road?
The Badlands have unique interest for the hiker
BLM guidelines for Geocaching on public lands
Geocaching on Federal Forest Lands
OpEd - Geocaching should not be banned in the Badlands
Fee Demo groundwork may save Geocaching on our public lands
Protest of exclusion of Geocaching in Badlands WSA in BLM's UDRMP
BLM's UDRMP puts Bend's Badlands off limits to Geocaching
Deschutes County Commissioners hearing on Badlands Wilderness support
OHV use restricted in Upper Deschutes Resource Management Plan
Winter hiking in The Badlands WSA just east of Bend
Tread Lightly OHV USFS tip of the month
OHVs to be held to designated trails by USDA Forest Service!
New pole shows Badlands Wilderness favored by voters
BLM posts Reward for information on Juniper rustlers
BLM weighing public input on management plan
Oregon's Badlands hit by old growth Juniper rustlers Photos
Congressman Greg Walden to visit The Badlands
Badlands Wilderness endorsed by COTA
OpEd - Unregulated OHV use is being reviewed across the western states
OHV use curtailed by new USFS policy decisions
Sierra Club's Juniper Group supports Badlands Wilderness
OHV regulation discussed at BLM meeting in Bend, Oregon
OpEd - Badlands part of BLM's recreation management area
OpEd - We need the Badlands Wilderness
OpEd - Off-roaders have no reason to fear Badlands Wilderness designation
Speak for the Badlands at Town Hall Meeting
Hiking poles are becoming essential gear
Vandals destroy ancient pictographs in the Badlands
Senator Wyden tests support of Badlands Wilderness
Badlands Wilderness endorsed by Bend City Commissioners
The Badlands: proposed for Wilderness status
The Badlands unique geologic forms explained by Chitwood pdf
The Badlands, a brief history
The Badlands pictographs reported 75 year ago

TraditionalMountaineering FREE Seminars:
Prospectus for snowclimbing Seminar
Other free Seminars
Traditional self belay and ice axe arrest training
Snow anchors and rappelling a steep snow slope
Glacier Travel and Crevasse Rescue seminar prospectus
Climbing and descending steep snow slopes
Snow Climbing Training six pdf pages



What do you carry in your winter day pack?
What is the best traditional alpine harness?
What do you rack on your harness?
What is the best belay | autoblock | rappel device?
How do you self belay a rappel

About Alpine Mountaineering:


The Sport of Alpine Mountaineering


Climbing Together


Following the Leader


The Mountaineers' Rope


Basic Responsibilities


The Ten Essentials

About our World Wide Website:


Information


Mission


Subscription Form I am still pondering this. Hmmm.


Our Gear Discounts Don't miss this!


Please Read Me Awards, pdf, affiliations, donations and more