TRADITIONAL MOUNTAINEERING ™
www.TraditionalMountaineering.org ™ and also www.AlpineMountaineering.org ™

™
FREE BASIC TO ADVANCED ALPINE MOUNTAIN CLIMBING INSTRUCTION™
Home | Information | Photos | Calendar | News | Seminars | Experiences | Questions | Updates | Books | Conditions | Links | Search

Read more:
'It is with deep sadness...': Broken Top remains confirmed as missing hiker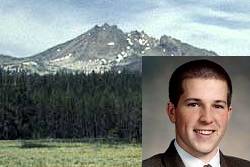 'It is with deep sadness...': Broken Top remains confirmed as missing hiker
Danny Curran's November disappearance prompted massive search - and outpouring of support

By Barney Lerten, bend.com
Originally Posted July 31, 2002 at 5:16 pm
Last Update July 31, 2002 at 10:27 pm
July 31 - One of two months-old missing-hiker mysteries in the Three Sisters Wilderness Area has been solved, in sad but not surprising fashion: Remains found near the base of Broken Top Mountain's west slope, west of Bend, were confirmed Wednesday to be those of a 24-year-old Pennsylvania man who vanished on a solo climb last November.

The state Medical Examiner's Office and Deschutes County sheriff's investigators used clothing and dental records to identify the remains found last Friday afternoon by hikers as those of Danny Curran III of Springfield, Pa. He had been reported missing Nov. 9 by his brother after he went for a climb up the 9,175-foot peak, triggering the second massive – and fruitless – search in the area in several months.

"It has been determined by the state Medical Examiner's Office that the cause of death was hypothermia due to exposure to cold," sheriff's Detective Donald Pray said in a news release.

"I just can't imagine – the poor guy," Curran's mother, Mary Ann, told bend.com after hearing the news.

Hikers called the agency by cell phone around 2 p.m. Friday to report that they had possibly located human remains. Sheriff's detectives and members of the Sheriff's Search and Rescue Unit responded, located and removed the remains, which were taken to the medical examiner in Portland on Monday for examination.

Curran had been camping at Green Lakes with his younger brother, Cavan, 20, when he left their camp on the afternoon of Nov. 7, saying that he intended to hike to the summit of Broken Top on an unspecified route. When he didn't return that night, Cavan spent the next day searching, then hiked out to notify authorities.

Danny Curran did not have a pack or climbing gear with him, and his dark down jacket made the search even more difficult. He reportedly had some climbing experience and was in good physical condition, but was not prepared for an overnight stay, wearing jeans, hiking boots, a knit cap and gloves, and carrying a Swiss Army knife.

Formal word took days, but initial news made outcome clear Mary Ann Curran told bend.com that they had gotten the call from

I just can't imagine - the poor guy.'
Mary Ann Curran
mother of hiker who apparently died of exposure

Deschutes County authorities last Friday night, and were asked to fax their son's dental records to Bend.

"But it was pretty much determined from the onset that it was Danny's clothing," she said. "I had sent out to Lisa (Jeffcott of Deschutes County SAR) a picture that Cavan had taken of Danny just five minutes before he left" on the fateful hike.

"The dental records were pretty distinctive," the grieving mother said. "He was 24 and didn't have any cavities. He only had three wisdom teeth out of four." Plus, "he had special hiking boots on. We got info from REI Hiking Supply."

It's the call you are waiting for that you don't really want to get," Dan Curran, the young man's father, told Delaware County Daily Times reporter Timothy Logue. "There was no wallet or identification, so they couldn't say it with absolute certainty, but they were his clothes and his boots."

Searchers believe the man most likely had reached the summit of Broken Top and ran into trouble on the way back to camp.

"The cause of death was listed as exposure," Dan Curran said. "There was concern that he might have suffered a bad fall, but there was no sign of broken bones, no fractured skull or anything like that. There's a possibility that he sprained an ankle and was unable to walk out."

The father said autopsy results indicate Curran likely died on his first night away from camp. "They said he may have settled in an area where there was two feet of snow and died in his sleep," he told the Pennsylvania paper. "Foremost in all of our minds is that he didn't suffer."

Hiker's disappearance prompted hundreds of bend.com postings by friends, family.

A National Guard helicopter and Air Force Reserve plane aided in the search for Curran, which covered more than 140 square miles

It's the call you are waiting for that you don't really want to get.
Dan Curran
Hiker's father, after word son's remains were found

and prompted a huge outpouring of support for family members in postings at bend.com. A family friend also created a Web site (http://www.dannycurran.net/) to share photos and memories of their friend and loved one.

As the search wound down before Thanksgiving, with colder temperatures and snow moving in, Curran's mother, Mary Ann Curran, posted a note to that site: "It is a very hard decision to leave Bend, but that time has come. … We will bring Danny home with us in our hearts and minds."

Last June, Corwin Osborn, 45, of Bellevue, Wash., disappeared while hiking from the Devils Lake Trailhead and was last seen near the summit of South Sister. The athletic and experienced climber intended to reach the summit of one, perhaps all the Sisters, on an undetermined route. His father, who dropped him off at the Dvils Lake Trailhead, reported him missing when he'd failed to show up at Lava Camp Lake Trailhead as planned.

In June, on the first anniversary of Osborn's disappearance, Deschutes County Sheriff's Search and Rescue volunteers returned to the Green Lakes trailhead, to begin posting a pair of fliers about the missing men at the entry to every trail into the high Cascades. They knew the summer would bring both snow melt and more hikers back to the area, possibly leading to such a discovery and the much-sought closure for not only family members, but searchers as well.

The Curran family sent an e-mail to their many family and friends late Wednesday: "It is with deep sadness that we must tell you that on Friday, July 26th, Danny's body was found on Broken Top Mountain by hikers," it began. "In the next several days, we will be completing arrangements for a memorial mass. We will post all information to the http://www.dannycurran.net/ Website."

"Please keep us in

I can't say enough, to all of the people of Bend ... how wonderful they are.
Mary Ann Curran
Danny Curran's mother

your prayers," they wrote. "Thank you again for your warm and loving support over these past months."

'I can't say enough to all of the people of Bend … how wonderful they are.'

Mary Ann Curran said they had yet to complete arrangements to fly to Central Oregon and retrieve the young man's remains.

She said her husband had said, "You never quite get over it. You get a little less numb, and then this gets it all open again."

As she had last November, when the mournful family members headed back East for a sad Thanksgiving, Mary Ann Curran wished to express her thanks to Central Oregonians for their support and kind words, prayers and condolences.

"I can't say enough, to all of the people of Bend," she said. "I can't say how wonderful they are. They have been so supportive in the past months. I've stayed in touch with the people back there."

And she also watched as friends and family of another missing person, snowboarder Kate Svitek, came together online at bend.com to share their wishes.

"I watched the thing on Katie," she said, pointing out how the ability to post online messages is "a source of great comfort" for both sender and recipient. "I think people find it easier than picking up a telephone," which can be far more intrusive. "It helps people to let us know and let those families know, we're here and we're thinking of you."

Dan Curran told the Pennsylvania paper that the close-knit family has been doing about as well as can be expected in the months since Danny's disappearance.

"Obviously, we all miss him terribly," he said. "Like other tragedies, the further you get away from it – even though it hurts – the pain gets a little easier. But then you get the call, and everything resurfaces."

"I know that we're happy to finally bring him home."




WARNING - *DISCLAIMER!*
Mountain climbing has inherent dangers that can, only in part, be mitigated
Read more . . .
Broken Top remains confirmed as those of missing climber
Climbing Broken Top, a traditional mountaineering summit

Hypothermia
Ten Essentials
What do you carry in your winter day pack?


American Alpine Club
Oregon Section of the AAC
Accidents in North American Mountaineering

About Alpine Mountaineering:


The Sport of Alpine Mountaineering


Climbing Together


Following the Leader


The Mountaineers' Rope


Basic Responsibilities

Cuatro Responsabiliades Basicas de Quienes Salen al Campo


The Ten Essentials

Los Diez Sistemas Esenciales