TRADITIONAL MOUNTAINEERING ™
www.TraditionalMountaineering.org ™ and also www.AlpineMountaineering.org ™

™
FREE BASIC TO ADVANCED ALPINE MOUNTAIN CLIMBING INSTRUCTION™
Home | Information | Photos | Calendar | News | Seminars | Experiences | Questions | Updates | Books | Conditions | Links | Search

Read more:
Hiker eludes rescuers by keeping on the move!
Rescuers find missing hiker
The Bulletin
July 25, 2000

After five lost days in the rugged Willamette National Forest, an injured hiker from Canby thought she'd never find civilization again.

"I feel safe," Marchine Newton said Monday as she was transferred by stretcher from the Oregon Army National Guard "Blackhawk" to an ambulance.

Tall, thin and hiding behind tinted glasses, 51-year-old Newton appeared to be in fair condition as she was taken to Salem Hospital. Later, she told a nurse that the first glass of water she received after being rescued "was the best of her life."

It was a happy ending to a saga that began Wednesday afternoon when she and a good friend, Don Palermini, 52, of Portland, set out on a simple day hike into the Opal Creek Wilderness Area, taking Palermini's dog, Rosie, along.

But Newton hurt her knee. Palermini went for help, leaving Newton with Rosie and some snacks.

Rescuers expected to find Newton Thursday, but when they reached the spot where she was supposed to be waiting, they found a note instead. It said she was thirsty and was going to try to hike out on her own.

A former artist and hairdresser, Newton left two other notes. One call for help consisted of the letters "H-L-P" made from her sketch pad and held down by rocks. A third note said she was lost and would try to backtrack to the site where Palermini left her.

Late Sunday night, a Civil Air Patrol plane spotted a campfire on top of a ridge, said Lt. Roy Flint, Marion County sheriff's spokesman. Following up early Monday morning, rescuers spotted another "H-L-P" sign, this one made from sticks.

Searchers moved into the area on foot and on horseback. Eventually, two members of the Marion County posse, Bob Eberle and Debbie Driesner, heard a dog barking. They saw the dog, Rosie, and followed her to Newton about 1:30 p.m.

Volunteers from Marion, Linn, Multnomah and Polk counties led the exhaustive search. Newton's daughter rushed to the search base camp to talk to her mother over a CB radio as she was rescued.

"Oh God," Newton said in a shaky voice, "I am going to get to see you."

The daughter, Sasha Van Roy, began to cry, "You were in God's hands."

Her mother replied: "I think I am starting to realize that now."

Newton, who declined interviews by eating hawthorn berries plucked from shrubs. At night, she snuggled with the dog.

Once rescued, she was "just really happy to see everybody," said Sgt. William Welborn, a flight medic. "She said she learned a lot about staying in one place."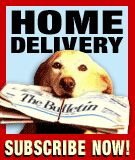 TraditionalMountaineering Analysis:
If you are not lost. it is best to keep moving and generating heat rather than to wait in one place until found. If you know where you need to go to car or camp, it is better to keep moving, even if painfully injured. There are many extreme examples of self rescue in traditional mountaineering literature.
If you are truly lost, it is better to to mark your location for rescuers and stay in one place for hours or days until found.
Surely, you have followed the Basic Responsibilities of the Backcountry Traveler so that someone will be looking for you. Surely you are not wearing cotton, but are dressed for the forecast weather. Surely you have the Ten Essentials so that you can protect yourself from seasonal weather changes and can keep hydrating and eating the right fuel to maintain your ability to keep using your large muscle groups to generate heat.
In this unusual case, the person was "found" (rescuers knew where she was supposed to be) but became lost because she moved and did not stay in one place. Confused?

Surely, we can learn from the mistakes of others. --Webmeister Speik
Warning: Traditional Mountaineering is an inherently dangerous sport!

Read more . . .

Hypothermia
four pdf pages


About Alpine Mountaineering:


The Sport of Alpine Mountaineering


Climbing Together


Following the Leader


The Mountaineers' Rope


Basic Responsibilities


The Ten Essentials


Lost and found
Solo hiker drowns while crossing Mt. Hood's Sandy River
Updated
Professor and son elude rescuers in the Three Sisters Wilderness
Teen boys lost overnight high on South Sister
Snowboarder Found After Week in Wilderness
Searchers rescue hiker at Smith Rock, find lost climbers on North Sister
Girl found In Lane County after becoming lost on hiking trip
Search and rescue finds young girls lost from family group
Portland athlete lost on Mt. Hood
Rescues after the recent snows
Novice couple lost in the woods
Broken Top remains confirmed as missing climber

Ollalie Trail - OSU Trip - Lost, No Map, Inadequate Clothing

Backcountry Navigation
What are some good Central Oregon Geocaches?
Which GPS do you like?


Which Compass do you like?


How do you use your map, compass and GPS together, in a nut shell?
How can I learn to use my map, compass and GPS?
Do you have map, compass and GPS seminar notes? six pdf pages

Mountaineering Accidents
Solo hiker drowns while crossing Mt. Hood's Sandy River
Injured climber rescued from Mount Washington
Mt. Washington tragedy claims two climbers
Another Mt. Rainier climber dies on Liberty Ridge
Mt. Rainier climber dies after rescue from Liberty Ridge
Young hiker suffers fatal fall and slide in the Three Sisters Wilderness
North Sister claims another climber
Solo climber Aron Ralston forced to amputate his own arm
Portland athlete lost on Mt. Hood
Broken Top remains confirmed as missing climber
Grisly find: hikers on Broken Top find apparent human remains
Once again, cell phone alerts rescuers of injured climber
Storm on Rainier proves fatal
Mountain calamity on Hood brings safety to the fore!
Fall into the Bergschrund on Mt. Hood, rescuers crash!
Paying the price for rescue
Accidents in North American Mountaineering