TRADITIONAL MOUNTAINEERING ™
www.TraditionalMountaineering.org ™ and also www.AlpineMountaineering.org ™

™
FREE BASIC TO ADVANCED ALPINE MOUNTAIN CLIMBING INSTRUCTION™
Home | Information | Photos | Calendar | News | Seminars | Experiences | Questions | Updates | Books | Conditions | Links | Search

Read more:
ACCIDENT REPORT FOR THE AMERICAN ALPINE CLUB
Two climbers die on Mount Washington in the Oregon Cascades

The primary purpose of these reports and the Annual Report of Accidents in North American Mountaineering is to aid in the prevention of accidents: Fall or slip on rock, Exceeding abilities, No belay anchor, two fatalities
On Thursday, July 29, 2004, Thomas Siefert, 46, and Gary Gentz, 50, were making their first attempt at climbing the West Face of Mount Washington in the Oregon Cascades. "Oregon High", a 1991 climbing guide for the Oregon Cascades by Jeff Thomas, details several west side routes to the summit at 7,794 feet. The two men were reported overdue and a Search and Rescue action was initiated. The Jefferson County Sheriff's Camp Sherman Hasty Team reached the site on Saturday morning and confirmed their deaths from a mountain climbing accident.

Jefferson County Sheriff's Sargent Mark Foster conducted an investigation on the scene and filed a Report of several pages with photographs of the site. The details of that Report are included here-in. Initial news stories of the accident referred to equipment failure perhaps mid-way up the face leading to local speculation about the quality of the rock on the West Face.

Evidence found at the scene indicates that the two men fell from near the top of the face, about 400 vertical feet. There was no gear on the rope indicating it was not anchored to the rock at the time of the fall. One climber may have been working with his gear at the time he fell, based on an unlocked carabiner on his harness and loose gear - an older model belay plate and a runner with two carabiners, at an initial impact point. Based on the position of the rope at the scene, one man fell first and when the rope played out, he pulled the other climber off the cliff.

It is not know whether Tom and Gary were ascending or descending at the time of the accident.

Analysis of Accident: What knowledge and techniques will help prevent future accidents?
The mountaineer's rope is a tool designed to anchor climbers to the mountain by using several of many possible techniques. An anchor system must be built from securely placed gear, backed-up redundantly, equalized and providing for no extensions if part of the redundant system should fail. When the rope is attached to the rock, snow or ice using anchor and protection techniques, a belayer is needed to make constant adjustments to be sure there is little or no slack in the rope running to the climber so as to avoid shock-loading the anchor system. A belayer who is personally and correctly attached to the anchor system, can belay the climber from the belayer's harness by using a friction belay device. The belay can also be made using one of several types of friction belay devices, directly off such a "SARENE" anchor system with the belayer located above the belay device, being separately anchored to the mountain.
Additional Comments:
The mountains demand our constant attention and respect.
Report filed by Robert Speik for the 58th edition of ANAM, year 2005
Copyright© 2004 by Robert Speik. All Rights Reserved.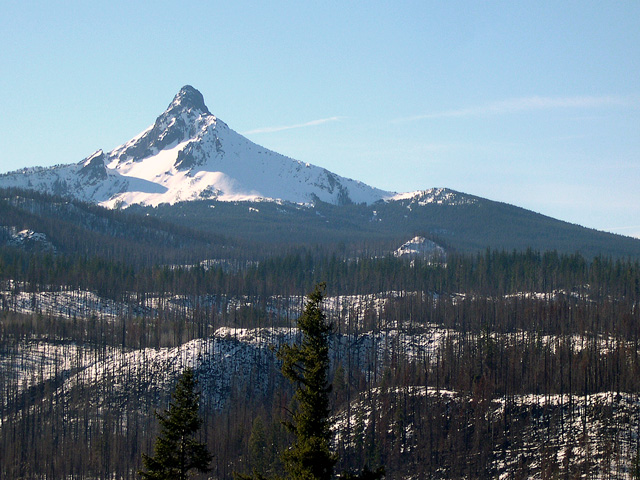 Copyright© 2004-2007 by Robert Speik. All Rights Reserved.

DOUBLE FATALITY ON MOUNT WASHINGTON
When the Rope Becomes a Hazard
MATT SAMET, RockandIce
April 5, 2005
Needle-like summits have always exuded a particular siren song.

The spire of spires is the Matterhorn (14,691 feet), first ascended in 1865 by Edward Whymper et al., as led by the Chamonix guide Michael Croz. While Whymper and two of his teammates survived, Croz and three others didn't: They were dragged to their deaths, roped together but not anchored, high on the peak when one climber slipped while descending. The incident haunted Whymper until his death, in 1911.


A similar tragedy occurred in 2004 on Mount Washington (7,794 feet) in the High Cascades of central Oregon, near Bend. This slender finger of volcanic rock beckons climbers, who normally approach via a casual three-mile hike from the pleasant Big Lake.
Because of its beauty, accessibility and notoriously soft, crumbly rock, Mount Washington has been the scene of many accidents, including deaths. The mountain claimed its latest fatalities in July 2004, when two climbers, ages 46 and 50, fell 400 feet down the west face, home to roughly eight Grade II routes ranging from 5.6 to5.10.

The climbers, neither of whom had previously scaled the mountain, were reported missing when they failed to return on schedule. They were found at the base of the wall roped together but with no gear on the cord between them.
ANALYSIS:
According to Robert Speik, a climbing instructor of 30 years from Bend who posted an analysis of the accident on his website www.TraditionalMountaineering.org, one climber was found with an unlocked locker on his harness. A Sticht plate and six-foot sling with two carabiners were found nearby.

"The fellow who fell first was trying to set up a rappel and pulled his partner off," Speik posits.

Though the peak has an alternate descent—a walk-off with only one rappel—Speik surmises that the men intended to rappel their line of ascent, likely the Central Pillar (II5.8).

Their gear, which appeared dated (e.g. the Sticht plate) but not well used, points to the fact that the pair, both experienced climbers, may have climbed rock some, but not often. For most climbers, says Speik, "The main lesson here is that climbing at [for instance] a world-class crag like SmithRock doesn't translate well into climbing on friable mountain rock.

PRECAUTIONS:
•The rope, rather than being a lifesaver, can be deadly unless it's anchored to or through solid protection on exposed terrain, be it 45-degree snow, class III rock or a 5.9 jam crack.

*It's easy to get complacent on third-or fourth-class terrain, saying, "We'll just stay tied in and scramble over to those rap-slings.

" However, if one climber falls in such a situation, she'll likely pull her partner with her. Had the two men on Mount Washington not been roped together, one of them might have survived.

•While slow, simul-climbing (placing protection on the fly) and/or leading (placing protection and constructing belays as you go) are much safer on easier ground than un-roping and scrambling. This is especially true on unknown territory, where surprise cruxes could force you into making a hasty, potentially fatal decision.

•Alternately, a less recommended but quicker method is to un-rope and simul-solo, maintaining a safe distance (at least 100 feet, though it can vary) from your partner in case of a fall or rockfall. If, however, one of you does not feel comfortable soloing, stay roped up and place pro, especially if there is a disparity in climbing experience.

Never pressure your partner into un-roping. If someone pressures you, refuse.
Note: I was interviewed by Matt Samet, Editor for Rock and Ice Magazine for the story of this tragedy. It appeared in Issue 141 and Matt quoted the above Report and credited www.TraditionalMountaineering.org in his Accidents column. --Bob Speik


Read more . . .
American Alpine Club
Oregon Section of the AAC
Accidents in North American Mountaineering

SMITH ROCK
Smith Rock - AAC: Leader fall turns climber upside down
Smith Rock - AAC: Warning!! ** Belayer drops climber off the end of the top rope
Smith Rock - AAC: Fall on rock - protection pulled out
Smith Rock - AAC: WARNING - Belayer drops climber off the end of the top rope
Smith Rock - AAC: Inadequate top rope belay
Smith Rock - AAC: Climber injured on the approach
Smith Rock - AAC: WARNING - belayer drops climber off the end of the top rope
Smith Rock - AAC: Belay error - novice sport climber injured
Smith Rock - AAC: Fall on rock, protection pulled out
Smith Rock - AAC: Fall on rock - poor position, inadequate protection
Smith Rock - AAC: Pulled rock off - fall on rock, failure to test holds, exceeding abilities
Smith Rock - AAC: Belay error - fatal fall on rock

MOUNT WASHINGTON
Mount Washington - AAC: Matt and Joanne, Accident on traditional North Ridge Route ends with helicopter rescue
Mount Washington - News: Matt and Joanne, News reports of their serious accident
Mount Washington - AAC: BC and JWS, Leader fall, good belay, self rescue and extraction by helicopter
Mount Washington - AAC: Seifert-Gentz, Report on fatal accident while setting rappel anchor
Mount Washington - Rock and Ice, Double fatality on Mount Washington
Mount Washington - News: Seifert-Gentz, Oregon tragedy claims two lives
Mount Washington - News: JM, Injured climber rescued from Mount Washington
Mount Washington - AAC: Seyler-Smith, Leader fall, protection pulled out and anchor fails - Epic accident
Playing Icarus on Mount Washington, an Epic story by Eric Seyler

NORTH SISTER
Climbers swept by avalanche while descending North Sister's Thayer Glacier Snowfield
North Sister - climbing with Allan Throop
North Sister - accident report to the American Alpine Club
North Sister fatal accident news reports
North Sister and Middle Sister spring summits on telemark skis
North Sister, North Ridge by Sam Carpenter
North Sister, the Martina Testa Story, by Bob Speik
North Sister, SE Ridge solo by Sam Carpenter

OTHER SUMMITS
Climber dies on the steep snow slopes of Mount McLaughlin
Report: R.J. Secor seriously injured during a runaway glissade


Mount Rainer . . . eventually, with R.J. Secor by Tracy Sutkin
"Mt. Whitney's East Face Route is quicker!"
Mt. Whitney's Mountaineer's Route requires skill and experience
Sierra Club climb on Middle Palisade fatal for Brian Reynolds
Runaway glissade fatal for Mazama climber on Mt. Whitney
Slip on hard snow on Snow Creek route on San Jacinto
Notable mountain climbing accidents analyzed
California fourteener provides an experience
The Mountaineers Club effects a rescue in the North Cascades

Recent mountaineering accidents in the news
Climber injured by rockfall, rescued by helicopter from Mount Washington, Oregon
Three Mountaineers struck by rock-fall in North Cascades
Solo climber falls from Cooper Spur on Mount Hood
Climber dies on the steep snow slopes of Mount McLaughlin
Climbers swept by avalanche while descending North Sister's Thayer Glacier Snowfield
Wilderness Travel Course Newsletter this is a large PDF file!
Runaway glissade fatal for Mazama climber on Mt. Whitney
Yosemite's El Capitan tests rescuers' skills
Climbers fall from Mount Hood's Sandy Glacier Headwall
Solo hiker drowns while crossing Mt. Hood's Sandy River
Injured climber rescued from Mount Washington
Mt. Washington tragedy claims two climbers
Another Mt. Rainier climber dies on Liberty Ridge
Mt. Rainier climber dies after rescue from Liberty Ridge
Young hiker suffers fatal fall and slide in the Three Sisters Wilderness
North Sister claims another climber
Solo climber Aron Ralston forced to amputate his own arm
Portland athlete lost on Mt. Hood
Broken Top remains confirmed as missing climber
Grisly find: hikers on Broken Top find apparent human remains
Once again, cell phone alerts rescuers of injured climber
Storm on Rainier proves fatal
Mountain calamity on Hood brings safety to the fore!
Fall into the Bergschrund on Mt. Hood, rescuers crash!
Paying the price for rescue
Accidents in North American Mountaineering
Goran Kropp killed while rock climbing in Washington