TRADITIONAL MOUNTAINEERING ™
www.TraditionalMountaineering.org ™ and also www.AlpineMountaineering.org ™

™
FREE BASIC TO ADVANCED ALPINE MOUNTAIN CLIMBING INSTRUCTION™
Home | Information | Photos | Calendar | News | Seminars | Experiences | Questions | Updates | Books | Conditions | Links | Search

Read more:
Badlands Wilderness with a road proposed by Commissioner

Commissioners consider Badlands federal wilderness with a road

The Bulletin
By Chris Barker
Wednesday March 23, 2005

Deschutes County commissioners may consider endorsing a federal wilderness designation for the Badlands with one caveat: Keep a 8.5-mile route running through the area open to vehicle traffic.

County Forester Joe Stutler suggested the option at a meeting of the commission on Tuesday.

"It's certainly not precedent setting," Stutler said.

Some wilderness areas in California allow limited vehicle access, Stutler said. Traditionally, all motorized use is banned in wilderness areas.

Commissioners are scheduled to make a recommendation on the Badlands wilderness issue on March 30.

Previously, commissioners had agreed to either endorse one of two proposals to designate the area as wilderness, support a separate U.S. Bureau of Land Management (BLM) plan to close the one remaining open path in the area, support a non-wilderness designation or take no action.
The county received 1,572 comments on the proposal -75 percent of them in favor of a wilderness designation, according to Stutler.

Off-road vehicle enthusiasts and some disabled activists have pressed commissioners to decide against a wilderness designation. Others, including the nonprofit Oregon Natural Desert Association (ONDA), have lobbied in favor of wilderness.

Only the U.S. Congress can officially designate wilderness, but a county recommendation could be used by either side in the argument to bolster their position.
Endorsing wilderness with a drive-through option could satisfy people on both sides of debate, said County Commissioner Mike Daly.

"To me, this makes a lot of sense," Daly said.

County Commissioner Tom DeWolf said he didn't want to discuss the new option until the hearing next week.

'I'm not ready to settle this now," DeWoIf said.

Regardless of what commissioners decide, a recent recommendation by the Prineville District of the BLM will likely close off vehicle access anyway.

Currently, the 8.5-mile "way" running through the Badlands is open to vehicle traffic year around, said Robert Towne, field manager for the BLM, But the recently released Upper Deschutes Resource Area Management Plan recommends its closure and the closure of 11.5 other miles of ways in the area that are currently open to seasonal vehicle traffic.

The ways are not called "roads" because it couldn't be proved they had been maintained and used regularly when they were named in the late 1970s, according to Berry Phelps, a recreation planner with the BLM.

The BLM received about 100 comments on the proposed closure but no formal appeals, Towne said.

BLM officials will consider the comments and issue a formal decision on the plan this summer, he added.

Even though BLM allows vehicle traffic on public lands within the Badlands area, portions of the 8.5-mile route dubbed "Route 8"- that's now open are private property, Towne said.
"We do not have the authority to keep Route 8 open from start to finish totally on public land," he said.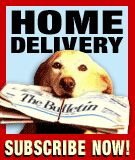 Read more . . .



The Badlands Wilderness
OpEd - Dirt road through The Badlands must close
Photos of Road 8 damage sent to Commissioners
Badlands Wilderness with a road?
BLM guidelines for Geocaching on public lands
Geocaching on Federal Forest Lands
OpEd - Geocaching should not be banned in the Badlands
Fee Demo groundwork may save Geocaching on our public lands
Protest of exclusion of Geocaching in Badlands WSA in BLM's UDRMP
BLM's UDRMP puts Bend's Badlands off limits to Geocaching
Deschutes County Commissioners hearing on Badlands Wilderness support
OHV use restricted in Upper Deschutes Resource Management Plan
Winter hiking in The Badlands WSA just east of Bend
Tread Lightly OHV USFS tip of the month
OHVs to be held to designated trails by USDA Forest Service!
New pole shows Badlands Wilderness favored by voters
BLM posts Reward for information on Juniper rustlers
BLM weighing public input on management plan
Oregon's Badlands hit by old growth Juniper rustlers Photos
Congressman Greg Walden to visit The Badlands
Badlands Wilderness endorsed by COTA
OpEd - Unregulated OHV use is being reviewed across the western states
OHV use curtailed by new USFS policy decisions
Sierra Club's Juniper Group supports Badlands Wilderness
OHV regulation discussed at BLM meeting in Bend, Oregon
OpEd - Badlands part of BLM's recreation management area
OpEd - We need the Badlands Wilderness
OpEd - Off-roaders have no reason to fear Badlands Wilderness designation
Speak for the Badlands at Town Hall Meeting
Hiking poles are becoming essential gear
Vandals destroy ancient pictographs in the Badlands
Senator Wyden tests support of Badlands Wilderness
Badlands Wilderness endorsed by Bend City Commissioners
The Badlands: proposed for Wilderness status
The Badlands unique geologic forms explained by Chitwood pdf
The Badlands, a brief history
The Badlands pictographs reported 75 year ago
Map of huge exclusive OHV areas adjoining the Badlands