TRADITIONAL MOUNTAINEERING ™
www.TraditionalMountaineering.org ™ and also www.AlpineMountaineering.org ™

™
FREE BASIC TO ADVANCED ALPINE MOUNTAIN CLIMBING INSTRUCTION™
Home | Information | Photos | Calendar | News | Seminars | Experiences | Questions | Updates | Books | Conditions | Links | Search

Read more:
Snowshoer dies in backcountry avalanche in Washington State
Snowshoer's Body Found In Snow Slide
The Associated Press
January 2001
WENATCHEE, Wash. - The body of a man killed in an avalanche was found Wednesday, buried in about four feet of snow, in the backcountry of the Wenatchee National Forest, Chelan County Sheriff Mike Brickert said.

Derek "Jay" Bowen, 33, of East Wenatchee and a friend were snowshoeing Monday afternoon near Twin Lakes when the slide covered them and three dogs
.
Seneca Mott, 29, of Cashmere told sheriff's deputies the avalanche carried her down the mountainside about 100 feet, but she knew what was happening and was only partially covered in snow.

She was shaken up but not injured. She used a ski pole to probe the snow for Bowen but could not find him. One of his dogs also was missing.

Mott estimated the size of the avalanche at 20 feet by 200 feet. Strong winds were picking and she feared they would bring down more avalanches, so she left to get help.

On Wednesday, 15 searchers and a search dog looked for Bowen near the spot where Mott's ski pole was found Tuesday. Crews used l0-foot-long poles to probe the snow.

The body was located after about four hours of searching Wednesday and turned over to the Chelan County coroner's office.

The missing dog was not found, Brickert said.

Mott and Bowen, a paramedic, had worked together for a Wenatchee ambulance service. Last year, he took a job at Samaritan ] Hospital in Moses Lake, about 50 miles away.

The two remained friends and enjoyed outdoor recreation. On Monday, they traveled up White River Road to snowshoe to Twin Lakes.

They reached the lakes about 3 p.m. and were on their way back to the trailhead when they were hit by the slide.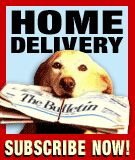 Note: I clipped this story from The Bulletin a while ago and neglected to note the date. The purpose of reprinting the news report here is to make the point that most people killed in an avalanche are covered by very small slides (and that includes roof releases). In another incident in Washington State, two missing snowshoers were found buried in their tent at the edge of the clearing that had been used for several days as a helicopter LZ, during the search. So, heads up everyone! --Webmeister Speik
Monday, December 28, 2009
Mr. Speik, I came across the AP story about my friend Jay Bowen's death on your website. At the bottom you noted that you were not sure of the date, since you had set the clipping aside sometime back. The correct year is 2001. The avalanche occurred on Monday January 29. Jay's body was recovered on Wednesday January 31. I have a PDF of the original AP story, but don't have access to it right now. I recall that it was issued on either February 1st or 2nd.

If possible, please correct the date on your website. I appreciate your work - mitigating the risks of mountain climbing was one of Jay's core avocations.

Thank you,
John S. Person

Tuesday, December 29, 2009
Thanks very much Robert, I greatly appreciate your kind willingness to fix this when you are able.

Thank you again, for your very kind email.
John S. Person

Thank you John, we are sorry for the loss of your friend. --Webmeister Speik
Avalanche avoidance is a practical approach to avalanche safety
Avalanche avoidance is a practical approach to avalanche safety and travel in the mountains in the winter and spring. Snow avalanches are complex, natural phenomena that are studied in detail worldwide.
Professional avalanche controllers may be able to assess and maintain the general safety of particular slopes in-bounds of their ski resort, but for backcountry travelers there is a different story.
Backcountry downhill skiers and snowboarders must accept the obvious avalanche dangers of steep snow slopes. Deaths of professional heli-ski guides and their clients are reported every year. Read more about this risk from the linked experience reports below.
Do snow-riders have a false sense of security based on their limited layman's knowledge from an avalanche class or two and the purchase of expensive gear and electronic equipment? This question is being asked more and more often. A wind slab avalanche may be many feet thick – will the typical snow-rider dig to the ground in a ten-foot snow pack? And even if he does will peer pressure and enthusiasm enter into the decision to give it a try? Is there a cadre of professional ski-resort ski-patrollers available to probe for the injured and entombed party, encased in air-tight "concrete", even just a couple of feet below the surface?
The backcountry traveler: hiker, climber, peak-bagger, snowshoer and nordic skier (and snow-machine driver) can practice simple, common sense Avalanche Avoidance Techniques:

>Is the current general avalanche danger rating Low, Moderate, High or Extreme? No mater what the avalanche hazard, there are avalanche-free areas in the mountains.
>General observations, following the current area avalanche hazard warnings and safe route selection are common sense ways to avoid major risk.

>The safest routes are on the ridge tops and slightly on the windward side, away from any cornices.
>If you cannot travel on the ridges, the next safest route is out in the valley, away from the obvious deposition zones at the bottom of slopes. Observe old slide paths, recent avalanche activity on slopes with a similar aspect, sounds and cracks, volcanic scree slopes with no features to hold the snow pack.
>If you must cross a potentially dangerous slope, stay high and near the top. If you must ascend or descend a dangerous slope, go straight up or down; do not traverse back and forth, cutting the snow pack. Take advantage of areas of dense timber, ridges and rocky outcrops as islands of safety.

>Keep in mind that most people die under small slides, including roof releases. Recently, two snowshoe travelers in Washington were found days buried in their tent under the snow under the search helicopter-landing zone at the foot of just a small slope.

Learn everything you can about avalanche activity and select the safest routes. Psychological reliance on expensive gear and gadgets may actually put you in more danger!
--Bob Speik



WARNING - *DISCLAIMER!*
Mountain climbing has inherent dangers that can in part, be mitigated
Read more . . .

ALPINE CLIMBING ON SNOW AND ICE
Winter mountaineering hazards - streams and lakes
Is long distance backpacking part of "traditional mountaineering"?
How long is the traditional alpine mountaineering ice axe?
What about climbing Mt. Hood?
What is a good personal description of the south side route on Mount Hood?
What should I know about travel over hard snow and ice?
How can I learn to self belay and ice axe arrest? 6 pdf pages


What should I know about snow caves?
What should I know about climbing Aconcagua?

AVALANCHE AVOIDANCE
Young Bend man dies in back county avalanche
What is an avalanche cord?
Avalanche training courses - understanding avalanche risk
How is avalanche risk described and rated by the professionals? pdf table
How can I avoid dying in an avalanche?
Known avalanche slopes near Bend, OR?
What is a PLB?
Can I avoid avalanche risk with good gear and seminars? pdf file

AVALANCHES
US National Avalanche Accidents Database
Climbers swept by avalanche while descending North Sister's Thayer Glacier Snowfield
Three personal experiences with avalanches
Mount Hood avalanche proves fatal for members of climbing group
Climbers swept by avalanche while descending North Sister's Thayer Glacier Snowfield


Snowshoer dies in backcountry avalanche in Washington State
Young Bend man dies in remote backcountry avalanche
Recent deaths cause concern over avalanche beacons
Skilled member of The Mountaineers killed in avalanche
Basic Responsibilities of the cross country skier
Avalanche avoidance a practical approach to avalanche safety
Tumalo Mountain a wintertime treat
Fatal Mount Hood avalanche described by Climbing Ranger

SNOWSHOES AND CRAMPONS
Why do you like GAB crampons for traditional mountaineering?
What should I know about the new snowshoe trails
What are technical snowshoes?
Which crampons are the best?
What about Boots and Shoes?


YOUR ESSENTIAL SUMMIT PACK
What are the new Ten Essential Systems?
What does experience tell us about Light and Fast climbing?
What is the best traditional alpine mountaineering summit pack?
What is Light and Fast alpine climbing?
What do you carry in your day pack? Photos?


What do you carry in your winter day pack? Photos?


What should I know about "space blankets"?
Where can I get a personal and a group first aid kit? Photos?