TRADITIONAL MOUNTAINEERING ™
www.TraditionalMountaineering.org ™ and also www.AlpineMountaineering.org ™

™
FREE BASIC TO ADVANCED ALPINE MOUNTAIN CLIMBING INSTRUCTION™
Home | Information | Photos | Calendar | News | Seminars | Experiences | Questions | Updates | Books | Conditions | Links | Search

Read more:
Note- Veteran mountaineer R.J. Secor, author of the High Sierra climbing bible "The High Sierra: Peaks, Passes, and Trails,"
was seriously injured April 16, 2005 when he slid more than 1,000 feet down a snow-covered slope in a backcountry area of Mt. Baldy. --See below.

Mt. Rainier.... eventually, with R.J. Secor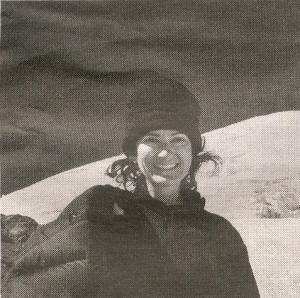 "MT. RAINIER... EVENTUALLY"
SOUTHERN SIERRAN NEWSLETTER FOR MARCH 2005
Despite a friendship tested and falling upside-down in a crevasse, fifth time's a charm for member's summit
BY TRACY SULKIN

You can tug all you want. I'm not gonna move any faster, you son of a --! My friend R.J. Secor was on the other end of the rope, trying to motivate me. That is your friend up there, I reminded myself. Nothing like rope travel to bring out the worst in me.

We were attempting to finish what we had started last year-then, my fourth attempt on the mountain and first time by the Emmons/Winthrop Glacier route. The trailhead begins in the White River campground on the northeast side of Rainier, at about 4,000 feet, and wanders through a beautiful forest for three miles, aside a rushing river. The trail crosses numerous waterfalls and streams, and tops out at the Glacier Basin campground--a pretty place to camp if you get a late start. The trail continues past a meadow and up a steep hill to the Inter Glacier, where you can refill water bottles. A yellow-white, shaggy-haired mountain goat made an appearance here on the other side of the river.

We roped up and headed for Camp Curtis, 8,900 feet, switching leads at intervals. Marginal crevasses blemish the sides of this seemingly benign glacier. This stretch is very strenuous with a heavy pack, however, being the second most popular route, there are plenty of rest-stop opportunities for mingling with descending traffic.

I like to guess at the success of a climber by studying his/her face. I discretely ask. "Did you have a nice climb?" Someone else, who shall remain nameless, blurts out, "Dja summit?"

The push for Curtis in one day was my stupid idea. The last 500 feet were pure torture, but my altimeter provided motivation. Every 10 steps, I hoped it would show significant change. We stopped on a wind-swept ridge just across the slope from Camp Curtis. During the night, the wind picked up to hurricane force, partially collapsing R.J.'s tent, but the ties held.

We had only 500 vertical feet and one mile to get to Camp Sherman, where there is an outhouse and a ranger. Skinny crevasses crossed the route; however, at about 75 feet from camp was a wider leap-across whose sides were pinched closer together about four feet below the surface. The other side of the crevasse sloped uphill. I stepped over and promptly slid backward into the crevasse, wedged in like an upside-down turtle. I managed to turn myself over by pushing my legs off of one side of the crevasse. It was an embarrassing way to make an entrance. On the other hand, it was my first crevasse fall and for some strange reason, I was thrilled.

Midnight came around too soon. I asked R.J. to reset the alarm for 2 am. At 2, I gave R.J. the honor of making the go/no-go decision, secretly hoping he'd say no. The wind was blowing strong. "Let's get this done," he said resolutely.

Things went really well at the start-somehow, I managed 800 vertical feet per hour for the first couple of hours. We followed the route-of-the-week that some yahoo had set bloody straight up. We ascended the Emmons Corridor, then moved southwestward onto the Winthrop Glacier. At one point, I suddenly went tumbling down the slope and yelled out a desperate, "R.J.!" He leaned back and held my fall, during which the shaft of my ice ax hit me in the face near my cheekbone. Ouch!
Three rope teams descended past; one guy asked R.J. his destination (!). I guess it was getting late. I was down to about 400 vertical feet per hour and getting tired and cranky.

"We've got an ice wall ahead," R.J. called back to me.

"Yeah, so?" I was annoyed. Then I got to the wall.

Holy crap! The route had been reduced to a 7 inch wide catwalk with enough room for only one foot at a time. The wall didn't take the ax very - well-maybe 3 inches, and that with dislocating your shoulder just to plant it. So this was "crossing the Bergschrund." It was worse than it sounded at camp yesterday.

About 15 feet straight down was a crevasse that resembled the mouth of a mako shark. This was not the best route choice for a two person rope team. More yelling took place. I was too scared to place foot over foot, so I shuffled across -to R.J.'s amplified frustration. Right in the middle, I started to lose my footing and let out a scream to rival Jamie Lee Curtis.

Back on safe ground, the alternating voices of reason and illogic kicked in. This is not pleasant. You can't go back defeated again. Why are you doing this? Hurry, those clouds coming up are going to beat us to the summit.

R.J. and I proceeded to the saddle between Columbia Crest and Liberty Cap, then hung a left and followed the route to the base of a 400-foot pile of dirt: the summit. We were in our 10th hour. Clouds were swirling around the summit now and the wind grew colder. At 3pm, I set foot on the summit of Mt. Rainier. It had taken me 11 hours. The clouds receded and allowed for a quick look around. We couldn't find the register. After a Kodak moment, we hightailed it back to the edge of the dirt, where we had dumped my pack and the rope. I searched maniacally for our summit treat, a large Rainier candy bar: chocolate with raspberry filling. R.J. divided it precisely and we had a moment of silence, immersed in the desolate, glacial landscape and chocolate.

R.J. had an idea for a return route that would bypass that nasty wall and horrible crevasse. I was tickled pink as we waltzed right by. We had crossed the saddle and then stuck with the contour line all the way around, above the mangled glacier. This brought us back to the route that we had ascended. The rest of the descent was unremarkable, except that my water bottle got away. I was sure that it had bounced into a crevasse, but there-2oo vertical feet below-was my water bottle resting in a ditch.
Tickled pink again.

Every 10 steps, I glanced at the altimeter and groaned. My legs were shaking badly and I was contemplating collapse when faint voices in the distance made my heart leap.
Could it really be the folks at Emmons Flats (300 feet above Sherman)? Words of joy echoed through my head. I'm going to be in my sleeping bag, soon, soon, soon.

Only a trace of daylight remained at 8:30pm as we wobbled into camp. It had taken five hours to descend. R.J. immediately dove into his sleeping bag, but I needed to stumble around the camp first and readjust tent ties.

Would anyone see the success of the summit on my tired face, on our way out the next day?

"Dja summit?"

"Eventually."
Note- What a great story! R.J. Secor has written several books including the definitive guide to Climbing Mexico's Volcanoes published by The Mountaineers Press in 1981, and The High Sierra: Peaks, Passes, and Trails published in 1992 and 1999. I will try to pass along some current knowledge of the protagonists of this fine mountaineering story. --Webmeister Speik 04.15.05
R.J. Secor, author and climber
Back Packer Magazine
BackPacker.com
R.J. Secor
"R.J. has been hiking and skiing since he learned to walk. An enthusiastic peak-bagger, he has attained coveted List Completion status twice in the Sierra Peaks Section of the Sierra Club with more than 700 mountain ascents in the High Sierra, climbing as many as sixty peaks in a single year. He has also done extensive climbing in Baja California, Arizona, Nevada, Utah, Idaho, Washington, Oregon, Wyoming, Montana, British Columbia, Alberta, and Alaska. Other mountain adventures have taken him as far as the Himalayas in Tibet and Nepal, the Karakoram in Pakistan, the Andes in Argentina, and the volcanoes of Mexico.

He is the author of The High Sierra: Peaks, Passes, and Trails (1992, Second Edition 1999), Mexico's Volcanoes: A Climbing Guide (1981, Third Edition 2001), Aconcagua: A Climbing Guide (1994, Second Edition 1999) from The Mountaineers and Denali Climbing Guide (1998) from Stackpole Books. He is a member of the Sierra Club, the American Alpine Club, the Southern California Mountaineers Association, and the California Mountaineering Club." --BackPacker Magazine
About R.J. Secor, according to his friend, Tracy Sulkin
I talked to Tracy Sulkin on the phone a few nights ago. (R.J. continues to improve.) Tracy is the author of the fine story "Rainier . . . eventually" posted above with her permission. Tracy is an M rated leader in the Angeles Chapter of the Sierra Club and she has been active in the Wilderness Travel Course (WTC) including a stint as Chair of the San Gabriel Area. Currently, Tracy is a Hut Monitor for the Sierra Club Ski Mountaineers' Baldy Hut. (She was not at the hut when R.J. fell.)
Tracy had tried to summit Rainier three times when R.J. offered to climb with her and with another man. Tracy says she is a "slow climber", so slow that the other climber abandoned the rope team, un-clipped from their rope and returned down the hill as the weather went bad! (So much for the "shared companionship of the climb".) Tracy and R.J. continued on for a while and then were forced to return by the gathering storm.
R.J. offered to climb again last year with Tracy, and the saga of that adventure is chronicled above. I wanted to know more about R. J. Secor, author of climbing guides to big mountains.
Tracy told me that R.J. was just a nice guy. He is 48 years old. He graduated from Claremont Men's College (CMC), (Tommie and I graduated from Pomona College at Claremont), climbed in Mexico, wrote a guidebook while in his 20s and has climbed and written guide books ever since. He is not noted as a very gifted athlete. He is an SPS (Sierra Peaks Section) List finisher times two. (Doug Mantle has finished the SPS List of all the Sierra peaks five times!)
Tracy knew R.J. as a mentoring climber in the Sierra Club in Southern California. He was an occasional speaker to students in the WTC (the successor to Basic Mountaineering Training Course which graduated up to 1,000 folks per year until the mid 1980s when the cost of insurance put BMTC out of business).
His friend and the preceding Chair of the SPS, Duane McRuer, (R.J. was Chair for a time) agrees that R.J. was an average trained athlete and not a superman. While he had summitted 60 Sierra Peaks in one year, another has climbed 85 Sierra Peaks and Doug Mantle has climbed 100 in one year. Duane mentioned that R.J. could be opinionated and declaratory at times, while defending his position. He clearly has many friends.
Tracy Sutkin states that R.J. is just a nice guy who climbs a lot. He is a friend.
To me, who knew R.J. in his 20s only by reputation, he represents the best of Traditional Mountaineering: "it is not about the route or the summit, it is about the shared companionship of the climb". R.J. Secor is a friend and Mentor. And our thoughts are with him during his recovery.
--Robert Speik
R. J. Secor injured during runaway glissade on April 16, 2005 on Mt. Baldy
Los Angeles Times
April 26, 2005

BRIEFS
Mountaineer injured in fall
by Scott Doggett

"Veteran mountaineer R.J. Secor, author of the Sierra climbing bible "The High Sierra: Peaks, Passes, and Trails," was seriously injured April 16 when he slid more than 1,000 feet down a snow-covered slope in a backcountry area of Mt. Baldy, officials say.

Secor, 48, of Pasadena, was taken by helicopter to a local hospital in critical condition with head and chest injuries. He was transferred to Kaiser Permanente Medical Center in Los Angeles, where a hospital spokesperson said Monday that he was in serious condition.

Secor apparently lost control during a seated glissade — a maneuver that mountaineers use to descend a steep or icy slope — in a snow chute from the top of Baldy Bowl, says a witness, Kathy Wing of Redlands. She said he struck rocks jutting through snow and tumbled to the bottom about 1,200 feet below."


Click for subscription information.

From AmericasRoof.com
Wednesday, April 20th, 2005 at 10:16AM
"Denali Climbing Guide Author R.J. Secor Airlifted to California Hospital After 1,000 Foot Slide Down Mount Baldy

Various backcountry bulletin boards are buzzing about an accident Mount Baldy in California involving R.J. Secor, author of various guidebooks including "Denali Climbing Guide" as well as guides to the Sierras, Aconcagua, and the Mexican volcanoes.

Secor slid 1,000 feet down the mountain and had to be airlifted to Arrowhead Regional Medical Center in San Bernardino County, California.

Wed Apr 27, 2005 9:24PM
I went to Kaiser Sunset to see RJ today.

I met with his mother and father, his trauma surgeon, and the nursing director of the ICU, where he is located.

His mother specifically asked me to post this about his condition, to let people know how he was doing.

He remains in stable condition. His skin wounds have largely healed. He is on a ventilator, and heavily sedated, and can not really be aware of one's presence meaningfully.

He is on the ventilator to reduce the pressure on his brain, brought on by multiple skull fractures, and bleeding into the brain tissue. The bleeding has stopped. He may have had mild pneumonia, but that seems to be controlled at this point.

The hour spent with him was sobering. He is severely injured. He will require a significant time to recover, I'd guess, by what I saw. His mother prefers that optimistic possibilities be contemplated, and that seems reasonable at this stage of things. Much more will be known when he is able to be taken off the ventilator and the sedation stopped.

I was under the impression that his parents were very grateful for the messages they'd received, and the visitors who had come.

His mother specifically asked me to impart her request for your prayers.

Feel free to post this message anywhere else
--Ken Murray, M.D.
Thursday, May 05, 2005 9:02AM
Kurt Wedberg and I went to see RJ at the hospital yesterday. We spent about an hour there, visiting with RJ, and talking at some length with his mom. There are entries in both journals, how neat! His mother really enjoys the entries.

RJ has been moved out of ICU to a regular hospital room, 640b. He is breathing well, his O2 sat was 97%, and he gets breathing treatments every 3 hours to clear the secretions. He had a test the day before, to test whether he could swallow while protecting his airway, but did not pass that yet (common right after a head injury), so he is being fed via a tiny tube through the nose into his stomach. This is not a big deal, is not painful, and is temporary. It IS a big deal that they were able to move him off of IV feeding to this tube...Big Progress.

Personally, I thought his mental functioning was quite better. He spoke some sentences, although a little difficult to understand, as he speaks softly (This is RJ??), and he was able to answer questions correctly with one word answers. He could certainly squeeze his hands appropriately.
He remains under significant sedation, and spent most of the time we were there, asleep. When he is not sedated, apparently he gets quite agitated.

The next step will be to move him to a Skilled Nursing Facility, where the primary goals will shift away from healing his injuries (physically, he seems to have done that pretty well, already), to rehabilitation of his body functions. He will need to be re-taught coordinated body movements, and this may go quickly or slowly. He will go home after that, after he has recovered sufficiently.

His folks have visited some facilities, and have settled on one they liked in Arcadia, not far from his home.

Friends, RJ is facing a long, uphill slope. However, it seems that he has the potential for even a full recovery. Having friends and familiar people visiting and give stimulating input will be an important part of his recovery. Once he gets settled in, I'll post particulars as to where he is, and I'd suggest that trying to make it out to see him will be helpful in his healing process.

Kurt and I both think that some mountain pictures will definitely help him, and that is being arranged. We also thought about an ice axe on the wall, but we're not sure what the hospitals might think of that!
--Ken Murray, M.D.
Wednesday, May 18, 2005 9:38PM
I talked to RJ's mom tonight. RJ has been back in the ICU for the past few days. He apparently contracted pneumonia again, but is responding well to antibiotics. He needed to go back onto the ventilator to assist getting his oxygen level to a sufficient level. Due to the length of time he has had to be on a ventilator the last month, and anticipating that he will need the support for some more time, they performed a tracheotomy today. This makes it much more comfortable for RJ.

His blood count had dropped, and he was found to have an ulcer, which has been successfully treated, and should not be a further issue.

Right now, his doctors feel that getting a maximum amount of rest without stimulation is the best course of action. His mom has requested that for that reason, folks should call first before coming, to make sure that he can receive visitors. It is anticipated that will be the case soon, probably when he is back out of the ICU.

I will stay in touch with her, and post updates as to when visits will resume. She asks people to keep RJ in their prayers.
--Ken Murray, M.D.
Saturday, June 4, 2005, 10:42PM:
I talked to RJ's mom Friday night, and she asked me to post this information:

RJ is doing much better. He has been discharge from the hospital, to a rehabilitation facility where they will be undertaking very aggressive therapy on multiple fronts. He appears to have completely recovered from his pneumonia, and is requiring virtually no sedation at this point. He continues to have his tracheotomy, and continues to be fed via a nasal tube into his stomach. This is because he continues to not be able to protect his airway adequately, however, this will hopefully improve rapidly.

His mother feel that it would be good for RJ to have visitors again, now that he is no longer sedated.

The address of his facility is:
Country Villa Rehab Center, at 340 So. Alvarado, corner of 3rd., Los Angeles, CA 90057
Phone: 213-484-9730. room #211. Visiting hours 10 or 11am to 8pm

His mom specifically wanted me to thank for her, Jody Langford and Kurt Wedberg, who both arranged to have beautifully crafted photographs of the Sierra enlarged for RJ's wall. He seems to focus on them specifically!
--Ken Murray, M.D.
Wednesday, June 8, 2005, 8AM
RJ developed pneumonia again, and had to be transferred to the ER in the middle of the night. He has been admitted to Kaiser West LA (Sunset had no beds available) It is anticipated that he will have a short admission of a few days to treat this, and get him back to where he was. Visitors are welcome at this time.
--Ken Murray, M.D.
Friday, June 10, 2005 6:37PM
Bob and Sheila Rockwell and I went to see RJ in Kaiser West-LA today, and spent about a half hour with him. He was actually the best I've seen him. He immediately began tracking with his eyes, as we came into the room, and started moving around. I got the sense that he was frustrated. When Bob asked if he remembered Carl Heller, he vigorously nodded, and the same if he remembered both Bob and Sheila. He made a funny face when we mentioned the nurses! Remembering that he has a tracheotomy, and that that makes it quite difficult to talk, I was quite surprised when he gave a one-word answer to one question. He has quite a bit of muscle atrophy, as one would expect from being in a bed for 7 weeks, and you almost got the sense that he was trying to exercise or stretch. He clearly was stimulated by our visit.

He had a pulse ox attached, which was consistently displaying in the 90's, so his lungs seem to be working well, and the pneumonia seems to be successfully subdued.

Bob had one of his famous pictures of Whitney from an airplane, and I had some of Kurt's pictures with me of North Pal, Whitney, Aconcagua, and others, and they seemed to fascinate RJ. I can't wait for him to be in a room where he can have them up on the walls all day. He should be back to the rehab center in a day or two, I'd expect.
--Ken Murray, M.D.
Bob Rockwell also wrote:
I will add that, for about the last half of our visit, RJ's eyes seemed to be focused on me a lot. It seemed as if he didn't remember who I was initially, but recognition came later.

There was a tear coming from his eye that the others couldn't see (I was on one side of his bed while Sheila and Ken were on the other). I felt that he wanted to talk but was frustrated because no words could come. I have forgotten the question Ken referred to above, but it was of the yes-no sort. RJ's answer was a clear "uh-huh" - one word, but two syllables!

RJ has many other friends who are closer than I am, so I am not really special to him. But this was my first visit since his accident, so perhaps that meant something.

I left with the strong feeling that frequent visits from friends can do much to hasten his recovery.
--Bob R, "The mountains are calling, and I must go." --John Muir
Good News about RJ!!
Tuesday, August 2, 2005
R.J. was doing well when I visited him on 7/29 at the Rehabilitation Center at Northridge Hospital, where he is an in-patient. I spoke with him; he speaks in a whisper, normal sentences and vocabulary, and says a few sounds by normal voice. His mind is sharp, he has his personality, is communicative, and he responds to questions and gives opinions. The speech therapists (ST's) work with him to practice basic sounds with his vocal cords that are sore and recovering from the tubes and tracheotomy that he no longer has in his throat.

He does therapy with an occupational therapist (OT), accomplishing reading and writing exercises. He got up out of the wheelchair unassisted, and walks the hallways without support, although the physical therapist (PT) is there next to him with strong arms ready to catch him if he should stumble. He ate lunch unassisted, a normal meal including with pork and potatoes, eating easily with spoon and fork as we do.

His schedule that day included half hour sessions with OT's, PT's, and ST's totaling 4 hours. He agrees his days there are to do work, and that is why he is there. He says he wants to go home and do some real work writing more on the 3rd edition (of Peaks, Passes, and Trails). We emphasized to him to stay and do the treatment program, and he reluctantly agreed. He needs the therapy to build up strength, endurance, and muscle mass in order to hike again. He appears very thin. The facility in Northridge appears clean, first class, and professional; top quality care.

He doesn't really care about getting on the internet now, and that he will do it when he goes home. If you wish to email him, I have set up an email address, where I print out the messages (when I am home) and take them to R.J. or mail them to his mother. The address is rjmailfwd@yahoo.com.

With cheers for our mountaineering guru and friend R.J.
--Ron H.
MightyMouseMtr
September 13, 2005
R.J. went home about two weeks ago and has resumed his normal routine. I visited at the Northridge rehab center a few days prior to his discharge. He kept me laughing for over an hour. If you didn't know he had an accident, you couldn't tell unless you knew RJ pretty well and paid very close attention.

Case closed.
--Tracy
Bob Rockwell writes
September 14, 2005
Today my wife and I received a letter from RJ's mother. In part it said

"RJ came home Aug. 22 and that night he went to a Jansport mountain show at a local store. He's doing great: walks several blocks in the neighborhood, rides his bicycle, took a short hike in Eaton Canyon yesterday. Medical equipment - none; nurses - none; he's taking care of himself!

"Gaining weight and strength, too. Rests and sleeps good. Finishing up the work on the 3rd edition of the High Sierra book. Keeping up with all his reading, etc., etc."

RJ's accident was on April 19. When I saw him on June 10, I thought to myself that it will be a miracle if he ever improves to the point of being able to feed himself - let alone function independently and carry on a conversation. And now, this. Remarkable!
--Bob R, "The mountains are calling, and I must go." --John Muir
The rest of the story!
Mountaineer on the mend
Southern Sierran
R.J. Secor is hiking again after Mt. Baldy accident
By Ginny Heringer
January 2006

Mountain climber and author R.J. Secor is famous for his classic guide book, The High Sierra: Peaks, Passes, and Trails; his climbing guides for Aconcagua, Denali, and the volcanoes of Mexico; and internationally for his mountaineering exploits around the world.

Now he can add another remarkable achievement: his recovery from an uncontrolled slide 1,200 feet down Baldy Bowl on April 16, 2005.

Secor doesn't remember much about that day. He knows that he drove to Mt. Baldy and hiked up to the Sierra Club's Ski Hut and then hiked up the bowl toward the summit. He spoke to people who remember him there, but he has no memory of leaving the summit. Skiers, snowboarders, and other mountaineers were at the bowl that day, taking advantage of a favorite local slope to practice their skills.

Witnesses saw Secor don glissading pants, start down the slope in the classic sitting glissade position, and then lose control of his speed. He was not wearing a helmet. Using his ice ax, he tried to self-arrest but was unable to slow down. He hit some rocks and rolled to the bottom, ending his slide close to the ski hut where he was treated immediately by ski patrollers and a trauma nurse who luckily were on site.

He was still conscious and speaking on the helicopter ride to a local hospital and then ambulance ride to Kaiser Permanente Medical Center in Hollywood. He was found to have a broken shoulder blade, broken ribs, and skull fractures, and spent months in the intensive care unit, fighting episodes of low blood pressure and pneumonia.

Friends who visited Secor in those first weeks were shocked to see him weak and thin, heavily sedated, on a ventilator to reduce the pressure on his brain, and unable to speak or recognize them.

But he remained in stable condition and needed no operations. Slowly he began to recover. Friends put up posters of his favorite mountains on the walls—Mt. Whitney, Aconcagua. He remembers "waking up" in Kaiser's Northridge hospital in the summer, spending a few weeks in a nursing facility for physical rehabilitation, and finally returning to his home in Pasadena at the end of August.

Secor, 49, began his first walks around the block, but kept looking from his house up toward the Mt. Wilson Toll Road to Henninger Flats in the Angeles National Forest, a hike he has done more than 2,000 times. Now he is hiking the road again, four miles round-trip with a 1,200 foot elevation gain.

Secor has his driver's license again, and is working on the third edition of his High Sierra guidebook. He plans to return to the Mt. Baldy Ski Hut this winter, where he expects to be the hut host the first weekend of March. He welcomes visitors to hike up to see him there
http://angeles.sierraclub.org/news/SS_2006-01/RJSecor.asp

Read more . . .

AAC Report: Sierra Club leader and author R.J. Secor seriously injured during runaway glissade
Sierra club, Angeles Chapter
American Alpine Club
Oregon Section of the AAC
Accidents in North American Mountaineering

Denali
"Friendship is the rope that binds us"

Mount Adams
A fine Mount Adams summit by Paul Chance
Mount Adams, a fine traditional alpine mountaineering summit

Mount Shasta
Mt. Shasta climb highlights need for arrest skills
Five Seconds (on Mt. Shasta)© 1996 by Mike Sarmiento

Mount Rainer
Mount Rainer, eventually, with R.J. Secor
Mount Rainier climber killed by falling rock
Another Mt. Rainier climber dies on Liberty Ridge

Other Summits
Mt. Whitney's East Face Route is quicker!
Mt. Whitney's Mountaineer's Route requires skill and experience
Warning!! ** Belayer drops climber off the end of the top rope ** WARNING!!
Runaway glissade fatal for Mazama climber on Mt. Whitney


Sierra Club climb on Middle Palisade fatal for Brian Reynolds


Slip on hard snow on Snow Creek route on San Jacinto


Notable mountain climbing accidents analyzed


California fourteener provides an experience
The Mountaineers Club effects a rescue in the North Cascades

Mount Washington
Mount Washington - Report to the American Alpine Club on the recent fatal accident
Mount Washington - Oregon tragedy claims two lives
Mount Washington - fall on rock, protection pulled out
"Playing Icarus on Mount Washington", an epic by Eric Seyler 7 pdf pages, later published in Outside magazine
A fine weekend winter summit of Broken Top, beta by Eric Seyler Eric has fully recovered from his injuries

North Sister Experiences
Climbers swept by avalanche while descending North Sister's Thayer Glacier Snowfield
North Sister accident claims another climber
North Sister and Middle Sister spring summits on telemark skis
North Sister, North Ridge by Sam Carpenter
North Sister, the Martina Testa Story, by Bob Speik
North Sister, SE Ridge solo by Sam Carpenter

North Sister Photos
Middle and North Sister exploratory adventure


North Sister and Middle Sister spring summits on telemark skis
North Sister, Scott's solo summer summit
North Sister exploratory
North Sister winter solo
North Sister: crux photos of the Three Sisters Marathon
North Sister images

Mountaineering Accidents in the News
Mount Washington - Oregon tragedy claims two lives
Young hiker suffers fatal fall and slide in the Three Sisters Wilderness
North Sister claims another climber
Solo climber Aron Ralston forced to amputate his own arm
Portland athlete lost on Mt. Hood
Broken Top remains confirmed as missing climber
Grisly find: hikers on Broken Top find apparent human remains
Once again, cell phone alerts rescuers of injured climber
Storm on Rainier proves fatal
Mountain calamity on Hood brings safety to the fore!
Fall into the Bergschrund on Mt. Hood, rescuers crash!
Paying the price for rescue
Accidents in North American Mountaineering