TRADITIONAL MOUNTAINEERING ™
www.TraditionalMountaineering.org ™ and also www.AlpineMountaineering.org ™

™
FREE BASIC TO ADVANCED ALPINE MOUNTAIN CLIMBING INSTRUCTION™
Home | Information | Photos | Calendar | News | Seminars | Experiences | Questions | Updates | Books | Conditions | Links
The Mountaineers effect a rescue in the North Cascades

THE MOUNTAINEER
The Mountaineers, Seattle Washington
September, 2003
A team of six Mountaineers members helped effect a rescue near Mt. Logan in North Cascades National Park on July 5 and 6. The group, made up of members from the Bellingham, Tacoma and Olympia branches, had crossed paths with the victim's party twice before the accident occurred.

A group of three friends - Mike, Mitch and Steve - set out to summit Mt. Logan via the Banded Glacier. They were traveling light, and made good time up the route. On the way, they encountered the Mountaineers group, also attempting the summit. As they were not roped and had little gear, they quickly moved on from the party. After reaching the summit, and then climbing a nearby spur, the threesome returned along their previous route. They once again met the six-member Mountaineers party, continuing down to a lake. Upon reaching the lake, Steve decided to return to camp while the others continued on to do a peak known as Peak 7880+.
While traversing a class II section of rock, Mitch heard an exclamation and turned to see his friend cart wheeling alongside a rock "half the size of a washing machine." Mike fell about 30-50 feet and landed with his head downslope. Mitch reached his position in a matter of minutes, and found Mike unconscious and breathing heavily. Remembering the group of Mountaineers they had passed, Mitch knew he had to leave his friend while he went to get help. He sat Mike up, then began to traverse back to a spot where he might be able to make visual or verbal contact.
Back where they had begun the traverse, Mitch was able to get the other group's attention. He yelled that his friend had been injured and was in serious danger. The Mountaineers group sprung into action. The two Bellingham members, Jay and Jen Janousek, were sent back down the trail to get help. If they could not find anyone, they would hike out and get the rangers. While John Wickham (the leader) and Steve Paul stayed behind to gather emergency gear from the Janouseks, Ron Lavigne and Charles Richert took off immediately to reach the accident scene.

After approximately 45 minutes, the two came to the ledge where Mike and Mitch waited. Charles Richert is to be a pathologist, and did a quick assessment of Mike's condition. Mike had two bleeding head wounds and was badly beaten up. After being secured by a rope for safety, Richert bandaged Mike's head and fashioned a collar for his neck. He then proceeded to perform a more detailed examination, while Ron filled out a MOFA accident report. John and Ron had arrived a little while later.

A flat spot was built nearby to provide a stable platform for Mike to rest on. He was placed on top of three ThermaRest, put inside a sleeping bag and covered in space blankets. A Platypus bag filled with hot water was placed on his chest and two chemical hand warmer packets were placed in his armpits to keep him warm. The group then proceeded to anchor a rope, which along with slings and more rope, was fashioned into a harness to keep Mike from moving around on the narrow ledge.

Having secured Mike, it was decided that John and Ron would head back to camp. John would get food and supplies, while Ron would carry the MOFA report out to the rangers so they could have all important information at hand.

Meanwhile, the Janouseks had reached Mike and Mitch's friend Steve at camp. After apprising him of the situation, Steve decided he would head out right then. Loading up his gear, he managed to achieve an amazing feat. In five hours time, he covered the twelve miles of mostly steep, descending terrain, to the trail and a further 2800 foot gain. By 11 p.m. that night, Steve reached the trailhead and using the Janousek's car, drove out to a phone and called 911. He eventually was able to get hold of a park ranger, Kelly Bush, who began to organize the rescue.

Mitch, Steve and Charles took turns staying close to Mike to keep him warm and to make sure he didn't hurt himself trying to move. Mike passed in and out of consciousness throughout the night.

At 6 a.m., back at the accident site, Steve Paul descended to a snowfield 200 vertical feet below the ledge. He laid out a blue bivy sack to attract the attention of the helicopter when it finally arrived. They had all expected not to see any rescuers until the following day. At 8 a.m., however, the ranger and an ER doctor were on their way to the accident site, passing John Wickham as he made the long journey back with supplies.

Assessing the situation, the helicopter was sent back to get a collapsible litter basket with which to lift Mike off the ledge. The ranger and the doctor stayed behind, and preparations to move Mike began.

The helicopter returned a short while later with the basket, and a second Life Flight helicopter with two emergency attendants. The first 'copter lifted Mike and the ranger off the ledge, taking them to the snowfield. From there, Mike was moved to the Life Flight helicopter, which then sped him to Harborview Medical Center.

John Wickham, who is also Intermediate Climbing chair for Olympia and trustee-at-large on The Mountaineers board, feels that The Mountaineers training helped the rescue effort go so well. Of the decision making process he said, " 'We were able to commit to certain things because we knew that it could be done. There was no conflict between the party members, we sorted it out fluidly. Nobody had to pull out a book, we knew what we were doing because of the way we've been taught."

It is almost certain that Mike's injuries would have been fewer had he and his partners been equipped properly with ropes and helmets. Outside of The Mountaineers, however, it is not uncommon to see climbers traveling "fast and light" in this fashion. Because one never knows when an accident just like this may occur, it is a sound policy that The Mountaineers have adopted that every single outing follows a prescribed method of safe travel and proper equipment.

Mike is at home now in Bellevue, recovering from his brutal fall. He suffered fractures to his cranium, cheekbone, orbital bone, thumb (with a dislocation), and each fibula (lower leg bone) with one ankle complication. Talking with him on the phone in early August, he sounds well; grateful for the presence of a group of Mountaineers on the mountain that day.
###
Note: Another lengthy narrative, but filled with illustrative lessons. --Webmeister Speik
Report from Volume 97, Number 9, the September, 2003 issue of The Mountaineer
Copyright© 2003 by The Mountaineers. All Rights Reserved.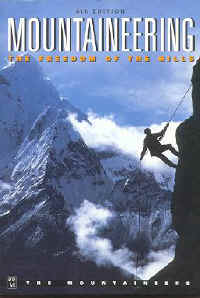 Read more:
The Mountaineers, Seattle Washington
The Ten Essentials
Mountaineering, The Freedom of the Hills