TRADITIONAL MOUNTAINEERING ™
www.TraditionalMountaineering.org ™ and also www.AlpineMountaineering.org ™

™
FREE BASIC TO ADVANCED ALPINE MOUNTAIN CLIMBING INSTRUCTION™
Home | Information | Photos | Calendar | News | Seminars | Experiences | Questions | Updates | Books | Conditions | Links | Search

Read more:
ACCIDENT REPORT FOR THE AMERICAN ALPINE CLUB
Two climbers rescued by military helicopter from Mount Jefferson
On Sunday morning, April 25, 2004, Brent McGregor, 51 and Tom Herron, 40, began a climb of Mount Jefferson, second highest peak after Mount Hood, in the Oregon Cascades. McGregor and his climbing partner had started their climb at 3 a.m. Sunday but did not reach the summit until around 5:30 p.m., as heavy, wet spring snow challenged their every step. "The snow was pretty soggy, and we had a late summit – later than we should have," he recalled. "The snow conditions slowed us way down."

The pair was ankle-, sometimes knee-deep in snow on their journey. "Once you stepped onto the crust layer, you're way down to your ankles," he said. "It's very tiring, a long haul to the top. The snow was warm, and the freezing level was 11,000 feet" – higher than the 10,495-foot peak.

McGregor summited the peak after fourteen hours of climbing as Herron, who was very tired, waited below.

"We knew that we were going to have soft snow," he said, and as for the descent: "A lot of people say that's where you get hurt. My energy level was high. We knew we had two hours to get down the mountain that we would be able to use our headlamps to follow the (Pacific Crest Trail) out.

"We would have been fine, if I didn't slip," McGregor recounted. "I was going down maybe a 45-degree slope. The snow was really soft, and we were 'plunge-stepping' down the mountain. You're plunging in and able to work your way down," using an ice ax. (The pair was not roped together.)

"I hit an area where there was a sheet of ice, with two inches of fresh snow on top of it, instead of the deeper snow we were going on," he said. "The area around me, the surface snow broke loose. Everything came down and took me with it. I was face down to self-arrest – that's how you stop a fall, you turn to your belly and plunge your ice axe into the snow."

"When I did that, it ripped through the snow," McGregor said. "I worked up a pretty fast speed for 15, 20 feet. Then one of my crampon points hit the snow, and they catch. They say never wear crampons if you're going to glissade," a controlled fast descent on snow. "They will catch the snow, and you'll break your ankle. I was going down the mountain, unable to stop myself, and caught the snow. You're going from a very fast deceleration (sic) to a complete stop, and something's got to give."

"Then I heard a snap, a pop," he said, of his fibula (small leg bone), down by the ankle. "I went a few more feet and stopped, because my other foot was buried under the snow. Similar to the friction of an avalanche, it built up a hard substance around my leg." Once he dug out his other foot with the ice ax, McGregor said, he saw "that (left) boot had been twisted completely around. It looked like it should have been broke, but it wasn't."

Herron, who got within 100 feet of the summit Sunday, did not see McGregor fall, as he was on the other side of some rocks at that point in their descent.

"As soon as I stopped myself, that's when the pain hits real hard," McGregor recalled. "I sort of focus on breathing, calm myself down, try to collect my thoughts, wiggle my toes a little, bend my ankle, then I feel the pain. I called for (Herron), he came over, and I said, 'I'm not walking out.'"

Emergency dispatchers got a call on McGregor's cell phone around 7:30 p.m., but somehow got the mistaken impression the pair were closer to Pamelia Lake, a popular fishing and hiking area, said Linn County Sheriff Dave Burright. Information that came in during the night made it clear that the pair were higher up the slope than earlier believed, at about 7,900 feet, the sheriff said.

The location error was caused by use of a GPS datum, which did not match the Search and Rescue quad maps, according to McGregor.

Search and Rescue teams felt the spring conditions of the snow on Mount Jefferson were too dangerous. This was confirmed on the snow by one SAR team, which approached the bottom of the slope being descended by the climbers. They reported old and new avalanche debris up to 35 feet high.

The pair would have been even better prepared, as "we had stored a lot of water and extra food and extra provisions 1,200 feet (farther) down the mountain, below us. I drank 150 ounces of water that day. We were about depleted. We had all that supply, "but Tom was so tired, he couldn't retrieve the extra supplies".

"So we burrowed in and stayed there," McGregor said. "Tom used the ice axe and dug kind of like a small snow cave, wind break. We took the climbing rope and put it on my back, for insulation from the snow, took the foam pad out of the backpack, put all our clothes on, and looked up at the stars and down at the rescue lights.

"We were comfortable, but cold. It wasn't terribly cold. I don't think it got below freezing."

Linn County Sheriff's Search and Rescue called for Military helicopter assistance because of the danger and difficulty and the climbers were lifted off the mountain at mid-morning, the next day. After an hour at the emergency room, McGregor was released with a temporary cast.

Analysis of Accident: What knowledge and techniques will help prevent future accidents?
The climbers had pushed on in spite of difficult and dangerous snow conditions.

"Plunge stepping" down a 45-degree slope in crampons is dangerous. Predictably, the climber slipped on a hard snow section, perhaps with crampons balled with snow, slid into arrest position and at speed, caught a crampon, breaking a bone in his leg. Traditional "ice axe arrest practice" reminds the arresting climber wearing crampons to keep his legs bent at the knee and crampons high in the air. Automatic ice axe arrest reflexes are built over time through multiple practice sessions.

Additional Comments:
Traditional climbers are very cautious on the descent.
Submitted to The American Alpine Club for inclusion in annual Issue 58, 2005, of Accidents in North American Mountaineering by Robert Speik, following interviews with the injured climber and Search and Rescue personnel. Portions of an interview conducted by website reporter Barney Lentern and posted on Bend.com are quoted in this report.
Corvallis Mountain Rescue reports on this incident . . .
"On Sunday, April 25th Brent McGregor (51) and Tom Herron (40) climbed Mt. Jefferson and descended via the west side of the mountain. They had summitted at 1730 and were descending unroped when shortly after 1900 Brent fell. In self-arresting his fall, Brent caught a crampon point and heard a pop and snap in his lower leg. He was unable to descend further and called for help on his cellphone.
His call was received at the PSAP (911 center) in Stayton and they tapped out Gates Fire Department (before the call was turned over to the Linn County Sheriff). He was able to give his location from a GPS reading.
Brent and Tom then prepared to spend the night on the mountain. The temperature remained above freezing throughout the night at their 7900 foot bivouac site with low winds and clear skies. CMRU was initially informed of the incident at 2023 after Camp Sherman Hasty Team had been contacted. Joy paged a Stand-by at 2039. But Linn County then informed CMRU that we were not needed. Later, it was ascertained that the subjects were near the 8000 foot level of the mountain and we were activated. Three CMRU members arrived in base camp at 0230 and were teamed with three from Deschutes MRU who arrived about 0315. Equipment was divided between CMRU, Deschutes, and ESAR Post 64 and they were all on the trail by 0430.
Shortly above where Milk Creek crossed the PCT, there was a 30 foot wall of avalanche debris which had come off the mountain. The team skirted this on the north side and continued to ascend. By the time the team reached 6000 feet, they had visual contact with the two subjects, but were on a ridge one large gully to the north of the two subjects. By 0930 the team was still about an hour away using snowshoes in the soft conditions.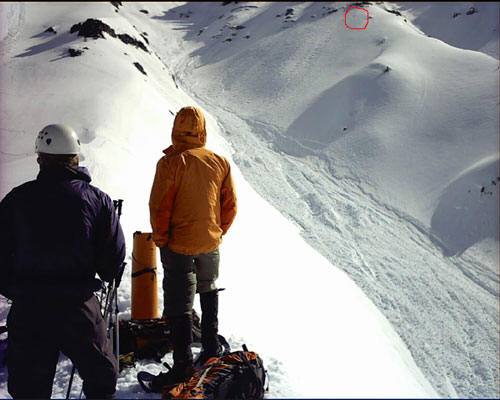 "Nate (in orange) and another rescuer looking across the large gully (avalanche chute) on the west face of Mt. Jefferson. The subjects are located in the red circle (top right of the picture). Recent avalanche debris is visible not only in the chute, but in the top left of the picture. Three snow pits done near this location showed very poor snow stability. All rescuers were using avalanche transceivers and were carrying shovels and probes (in addition to all the other rescue equipment)."
Photo courtesy of Jim Dagata

http://cmru.peak.org/PhotoAlbum/04-02/found.html
There were avalanches on all aspects of the ridges and snow stability was very poor. Base then informed the team that the National Guard's 1042nd Air Ambulance Company was on Standby to assist and the reply was to "spin them up." The helicopter arrived at the mountain about 1010 and after a couple passes located the rescue team, but could not see the two subjects (who had been advised by the rescue team via cellphone to drag themselves up to the top of their ridge). John (from Deschutes) suggested the rescue team form a line pointing toward the subjects. This was done and the helicopter was then able to spot the two.
First the flight medic was lowered to assess the two subjects. Then, Brent was hoisted into the helicopter with the flight medic on the jungle penetrator followed by Tom. The helicopter departed for Bend to deliver the climbers to St. Charles Medical Center.

The ground teams returned down the mountain as the snow conditions became more unstable. They were met at the bottom of the snow by Posse members who were able to take some of the equipment. After getting back to the trailhead, gear was sorted and repacked. Nate slept in his car at the trailhead before returning home while Jim and Matt drove to Idanha to refuel before sleeping for an hour or so. They stopped in Mill City for some food and were contacted by a member of Gates Fire Department who was curious how the mission ended. Jim Dagata was team leader and reported that the mixed team of Deschutes and CMRU worked well together. Also, Laurie Adams, a member of Camp Sherman Hasty team, was at basecamp with the injured climber's wife; and assisted in getting navigation points plotted and put into GPS units.

Lesson Learned: Map datum for coordinates given to the field team for the subject's location was not specified. While these coordinates may have indeed come from the subject, they were plotted with a NAD 27 datum which led the rescue team onto the wrong ridge. When plotted using WGS-84, the subject's position more nearly agrees with their actual location. Most people don't know about map Datums and most GPS receivers initially use WGS-84 – so, be cautious of coordinates derived by others. Ask about map datum and if your question is met with silence or a blank stare – chances are good that the GPS in question is (still) on WGS-84.
--Bob Freund, Corvallis Mountain Rescue Unit."
http://cmru.peak.org/PhotoAlbum/04-02.html

Read more . . .

Mount Jefferson
Mount Jefferson - climbing accident recounted
Mount Jefferson - downclimb proves fatal to solo climber
Mount Jefferson - two climbers rescued by military helicopter

Basic knowledge
How to travel over steep snow
The traditional alpine mountaineer's ice axe
Learning to climb steep hard snow slopes 5 pdf pages
Learning roped travel and ice axe arrest
South Sister spring climb learning gear and techniques

Map, compass and gps together
Map, Compass, GPS and Altimeter 11 pages in pdf
Wilderness Navigation Seminar Flyer 1 page pdf
The Public Land Survey Grid 4 pages in pdf
Map, Compass and GPS together, in a nutshell


Avalanche avoidance
Young Bend man dies in back county avalanche
What is an avalanche cord?
Avalanche training courses - understanding avalanche risk
How is avalanche risk described and rated by the professionals? pdf table
How can I avoid dying in an avalanche?
Known avalanche slopes near Bend, OR?
What is a PLB?
Can I avoid avalanche risk with good gear and seminars? pdf file

Experinces
What about climbing Mt. Hood?
Mount Hood - climbing accident claims three lives -Final Report and our Analysis
Mount Hood - fatal avalanche described by Climbing Ranger
What about snow caves?
Olympic athlete alive after ordeal in the backcountry

Light and fast climbing
Carboration and hydration in aerobic mountaineering several pdf pages
Hypothermia 2 pdf pages
What are the new Ten Essential Systems?
What is Light and Fast alpine climbing?
What does experience tell us about Light and Fast climbing?
What do you wear for light and fast winter climbing?
What is the best traditional alpine mountaineering summit pack?
What do you carry in your day pack? Photos?


What do you carry in your winter day pack? Photos?


What should I know about "space blankets"?
Where can I get a personal and a group first aid kit? Photos?
American Alpine Club
Oregon Section of the AAC
Accidents in North American Mountaineering