TRADITIONAL MOUNTAINEERING ™
www.TraditionalMountaineering.org ™ and also www.AlpineMountaineering.org ™

™
FREE BASIC TO ADVANCED ALPINE MOUNTAIN CLIMBING INSTRUCTION™
Home | Information | Photos | Calendar | News | Seminars | Experiences | Questions | Updates | Books | Conditions | Links | Search

Read more:
Skyline Forest should be purchased by Deschutes Land Trust!
Support land trust's attempt to purchase local forest
OpEd by Eva Gill, The Bulletin guest columnist
December 2005

What an incredible opportunity our community has to conserve land that impacts us all! A large tract of private land between Bend's west side and the mountains will soon be up for sale. It is doubtful that a chance like this to shape the future landscape of our region will come up again in our lifetimes. The Deschutes Basin Land Trust and their Skyline Forest project need your support, now.

The local media has covered the development of the Trust's plan to purchase this property. Most people have some idea of what it is about, albeit many I have spoken with still have only a vague understanding. This property is over one and a half times the area of Bend, and is our view looking west from town. It extends from close to Skyliner Road, past Shevlin Park and Tumalo Reservoir, toward Sisters, and includes Three Creek Butte and Bear Wallow. On its west side, it connects with the U.S. Forest Service.

This land has been managed as a tree farm by the various timber companies who have owned it for several decades. The Deschutes Basin Land Trust intends to continue to manage it as such. This area is important winter deer habitat for the large herds of mule deer which live in the Three Sisters Wilderness area and move to lower elevations when snow is deep in the mountains. It has also been used for recreation by Bend and Sisters area residents for years, many of whom have believed it to be U.S. Forest Service land.

Support for this project comes from all sides. There is backing for this project from environmentalists, developers, timber companies and families, groups that often do not agree. Even with the broad based appeal, there are those who have voiced their dissent.

I have heard the argument that Bend needs room to grow, and that we already have enough public land in Deschutes County. While it is true that much of our area is held by various government agencies, there is still much room for development without cutting into this large forest. In my opinion, development is better suited in areas that are already in smaller parcels. So much of our area is already cut up into small "ranches" from 10 to 300 acres, with fences and structures. It has so much less impact on the community to subdivide these, rather than to cut up a large area of open forest land. We should also ask ourselves if it is the inalienable right of those developers and realtors who have made this argument to change Bend into continuous sprawl.

Others have been very protective about their own interests in this parcel but are less than enthusiastic about preserving the land for other purposes. Different groups would like to see their own uses continued, and are hesitant about supporting the project because it also preserves other uses. The horseback riding contingent may want the roads closed to motor vehicles. Preservationists would like the timber to be left completely untouched. I would argue that your interests will be better represented by a local group whose sole purpose is to preserve land for open space, wildlife, recreation and views than by other groups who may hope to acquire this land. A timber investment management organization or a developer's first responsibility (rightfully so) is to the financial interests of their shareholders, not to the community at large.

The Trust is currently in phase one of this project, working with bond counsel and a consultant who specializes in this type of transaction. The first phase is to lay the groundwork, so the Trust will have enough pieces in place when the land comes on the market to make a run at buying it. This phase alone will cost $130,000. The Trust needs our support in many ways, not the least of which is expressing your endorsement of this project to the community and our leadership. And, finally, through your financial support through donations to the Deschutes Land Basin Trust.

An opportunity such as this will likely never come again. Do not let it pass us by.
--Eva Gill, of Bend, works at a guest ranch.


##########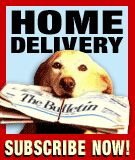 Read more . . .
Deschutes Basin Land Trust
Map of Skyline Forest between Bend and Sisters

The Badlands Wilderness
Wilderness workshop for USDA Forest Service held by University of Idaho
BLM's final UDRMP opens Bend's Badlands to Geocaching
BLM's final UDRMP closes Bend's Badlands WSA to motorized vehicle use
BLM's UDRMP plans for Badlands deal with exploding public use
Map, compass and GPS navigation training Noodle in The Badlands
Deschutes County Commissioners fail to support Badlands Wilderness!
Deschutes County takes no position on Badlands Wilderness
Deschutes County Commissioner DeWolf supports Badlands Wilderness
OpEd - Dirt road through The Badlands must close
Photos of Road 8 damage sent to Commissioners
Badlands Wilderness with a road?
The Badlands have unique interest for the hiker
BLM guidelines for Geocaching on public lands
Geocaching on Federal Forest Lands
OpEd - Geocaching should not be banned in the Badlands
Fee Demo groundwork may save Geocaching on our public lands
Protest of exclusion of Geocaching in Badlands WSA in BLM's UDRMP
BLM's UDRMP puts Bend's Badlands off limits to Geocaching
Deschutes County Commissioners hearing on Badlands Wilderness support
OHV use restricted in Upper Deschutes Resource Management Plan
Winter hiking in The Badlands WSA just east of Bend
Tread Lightly OHV USFS tip of the month
OHVs to be held to designated trails by USDA Forest Service!
New pole shows Badlands Wilderness favored by voters
BLM posts Reward for information on Juniper rustlers
BLM weighing public input on management plan
Oregon's Badlands hit by old growth Juniper rustlers Photos
Congressman Greg Walden to visit The Badlands
Badlands Wilderness endorsed by COTA
OpEd - Unregulated OHV use is being reviewed across the western states
OHV use curtailed by new USFS policy decisions
Sierra Club's Juniper Group supports Badlands Wilderness
OHV regulation discussed at BLM meeting in Bend, Oregon
OpEd - Badlands part of BLM's recreation management area
OpEd - We need the Badlands Wilderness
OpEd - Off-roaders have no reason to fear Badlands Wilderness designation
Speak for the Badlands at Town Hall Meeting
Hiking poles are becoming essential gear
Vandals destroy ancient pictographs in the Badlands
Senator Wyden tests support of Badlands Wilderness
Badlands Wilderness endorsed by Bend City Commissioners
The Badlands: proposed for Wilderness status
The Badlands unique geologic forms explained by Chitwood pdf
The Badlands, a brief history
The Badlands pictographs reported 75 year ago

Environment
Outdoor folks can help Katrina incident victims now!
An update on the Hart Mountain Antelope Refuge in Oregon
The Store Wars best with broadband!
TraditionalMountaineering adopts the Crooked River through Smith Rock State Park
The Republican Political Party is responsible?
Times Up, by Yvon Chouinard
Nation's forests might be on the road to ruin, by President Bill Clinton
Wilderness at risk from new Bush policies
Steens management scandal may affect wilderness study areas
BLM outsourced Steens Management Plan to mining industry leaders!
Owyhee River wilderness study area inventory with ONDA
OHV vandals charged in Yellowstone
Oregon's B and B Complex fire closure modified
Senate says NO to Big Oil in Alaska
Gloria Flora - Environmental Hero
Re-introducing wolves into Oregon
George Bush overlooking the environment

About our World Wide Website:


Information


Mission


Subscription Form I am still pondering this. Hmmm.


Our Gear Discounts Don't miss this!


Please Read Me Awards, pdf, affiliations, donations and how best to enjoy this website



Customer Service Please hold -



WARNING - *DISCLAIMER!*
Mountain climbing has inherent dangers that can in part, be mitigated


South Sister, Middle Sister, North Sister (the sinister sister) and Broken Top in the Three Sisters Wilderness near Bend, Oregon USA
Photo Copyright© 2004 - 2006 by Robert Speik. All rights reserved.