TRADITIONAL MOUNTAINEERING ™
www.TraditionalMountaineering.org ™ and also www.AlpineMountaineering.org ™

™
FREE BASIC TO ADVANCED ALPINE MOUNTAIN CLIMBING INSTRUCTION™
Home | Information | Photos | Calendar | News | Seminars | Experiences | Questions | Updates | Books | Conditions | Links | Search

Read more:
The Access Fund's Adopt A Crag retro-bolt at Meadow Crags near Bend

Day one: climbers community scoping out the best lines and marking the proposed top rope anchors
Larry Brumwell, Jim Ablao, Chris Garner, Rod Jacobsen, Bob Speik and Aaron Lish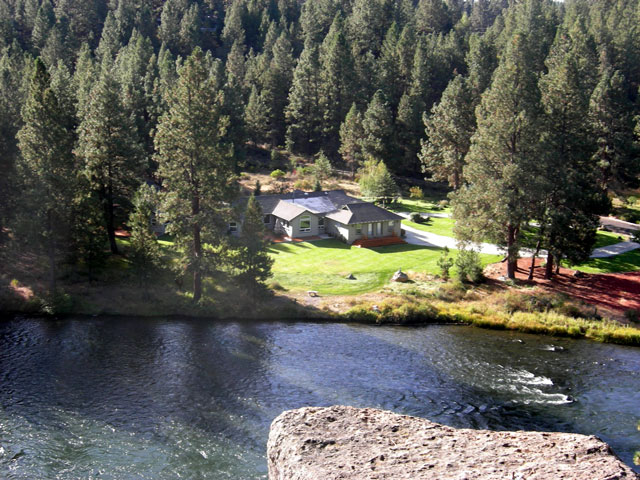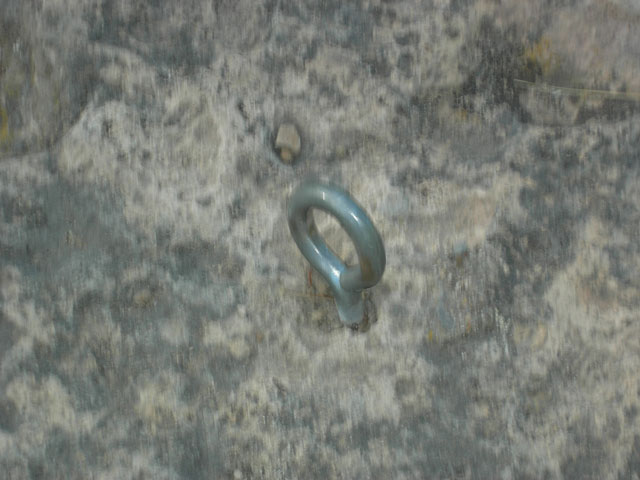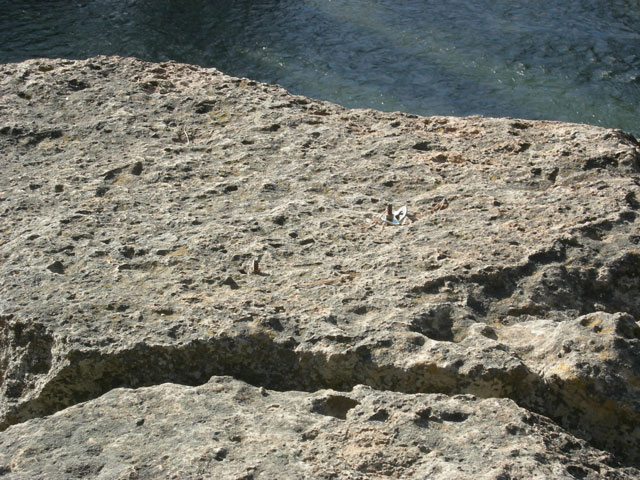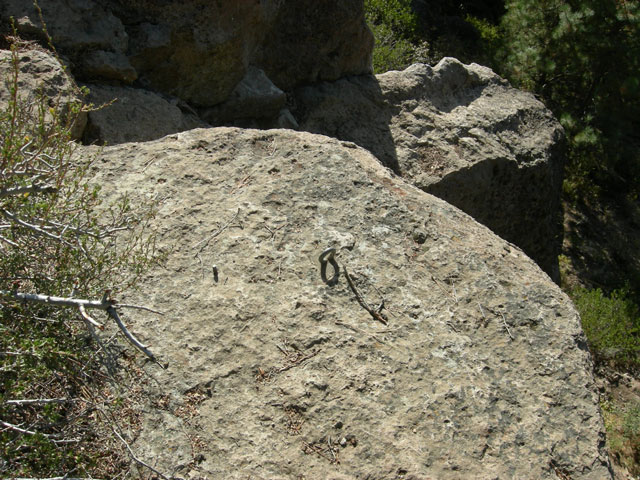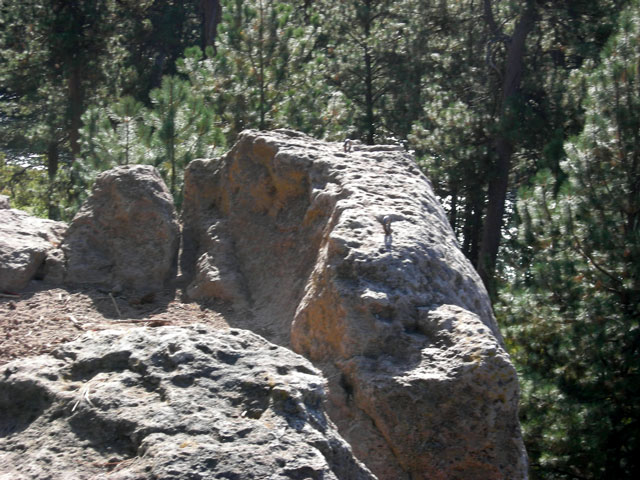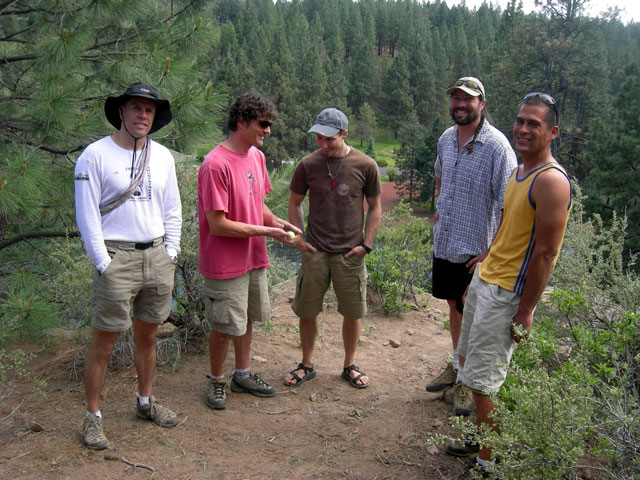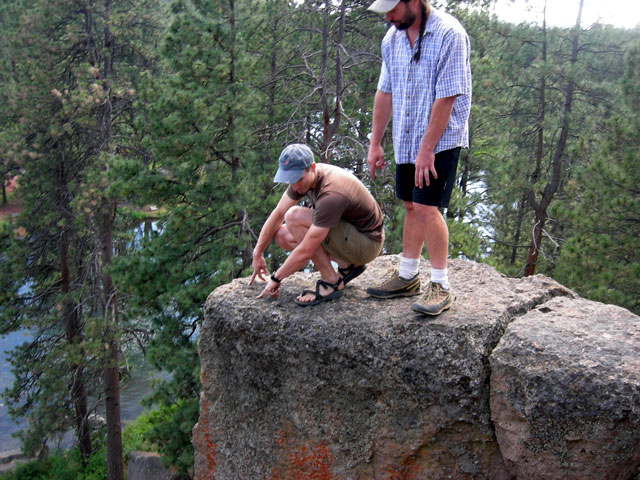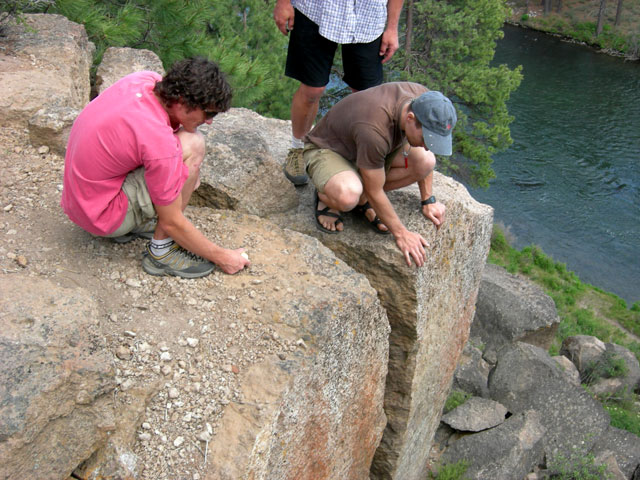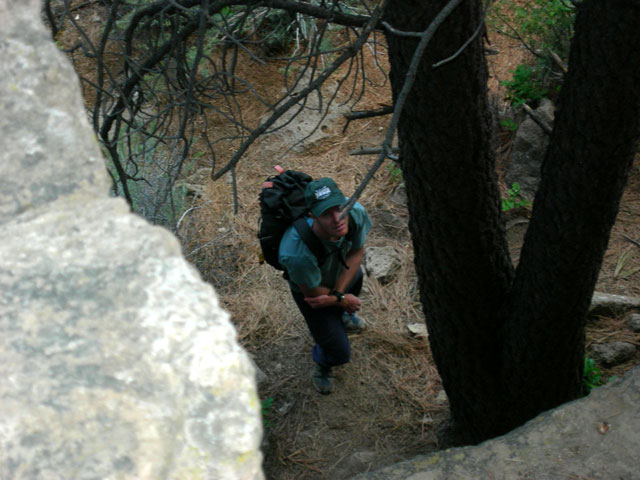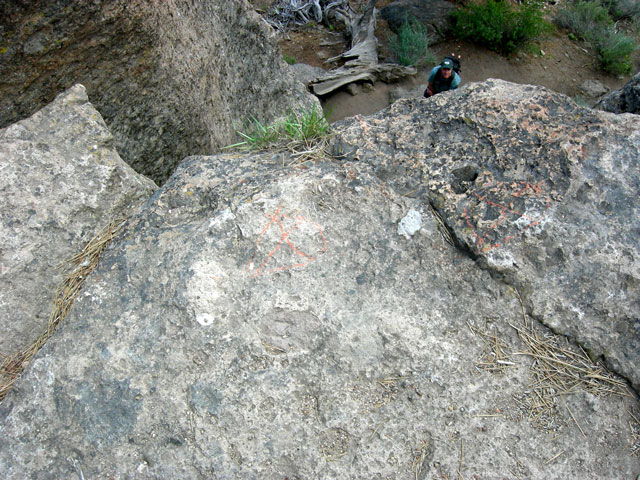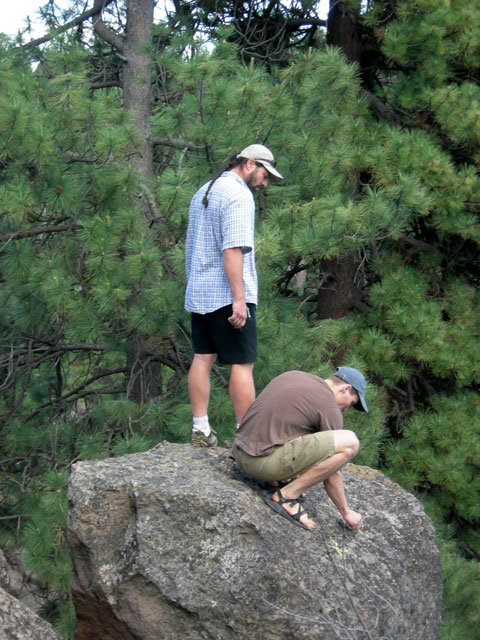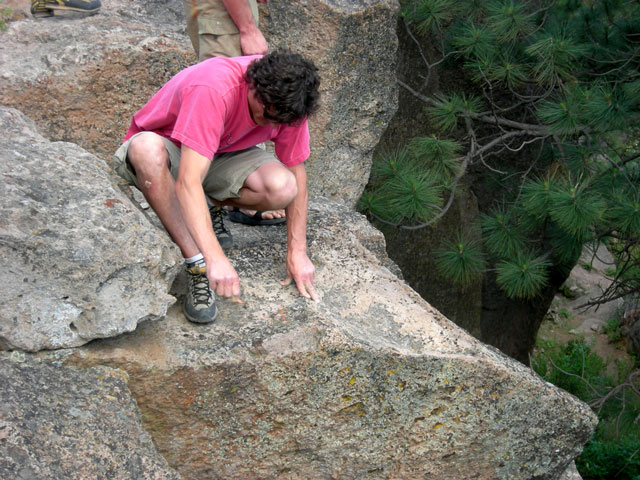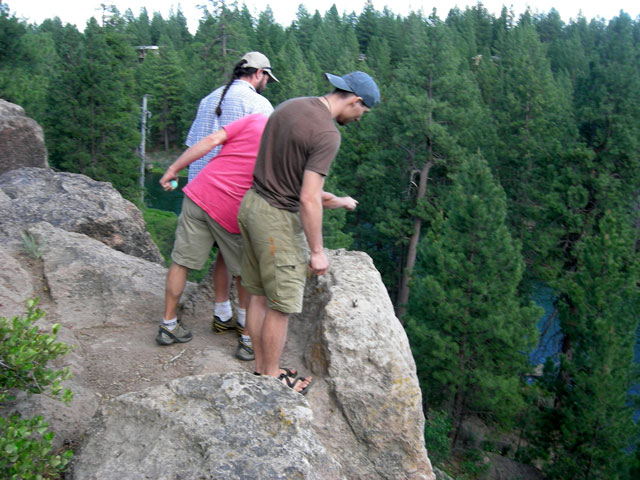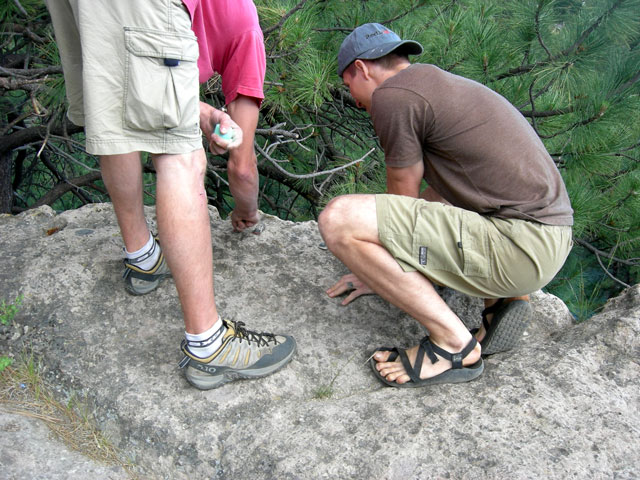 Day two: locating, drilling, testing and removing ten failed smaller 10mm by 80 mm climbing anchors
Larry Brumwell, Ryan Brophy, Bob Speik and Rod Jacobson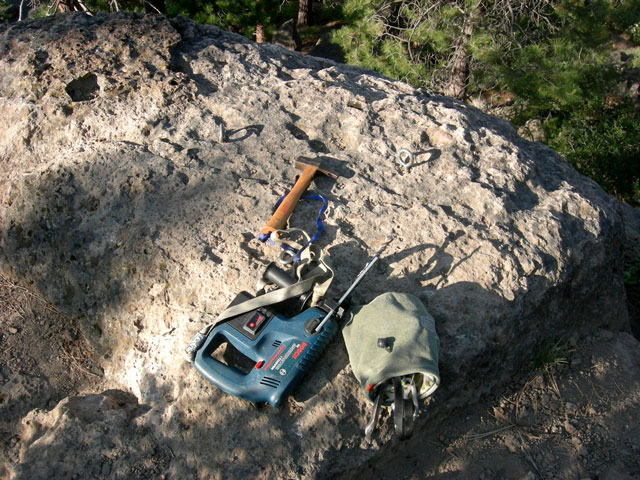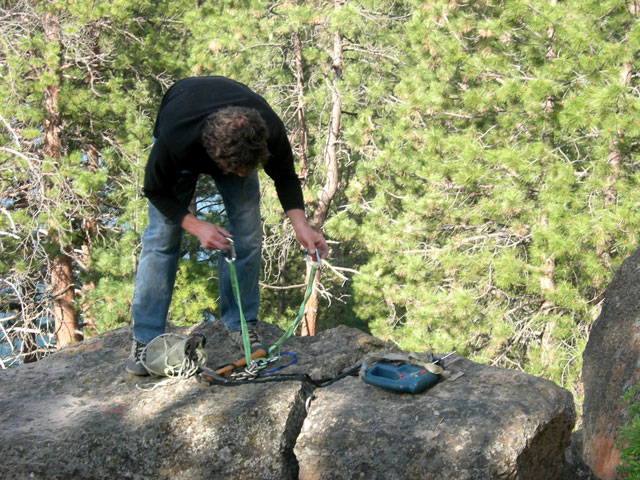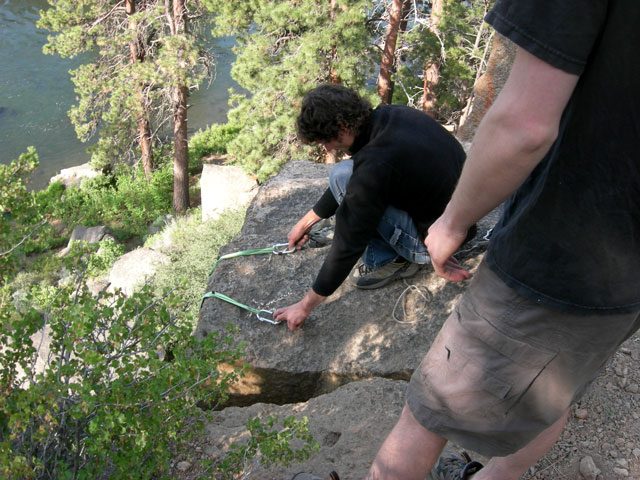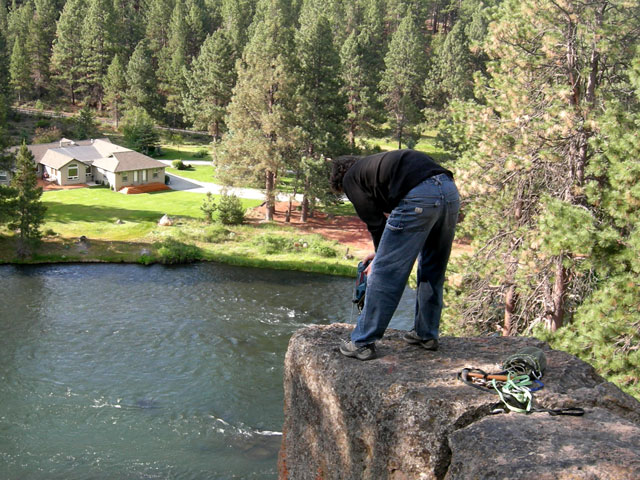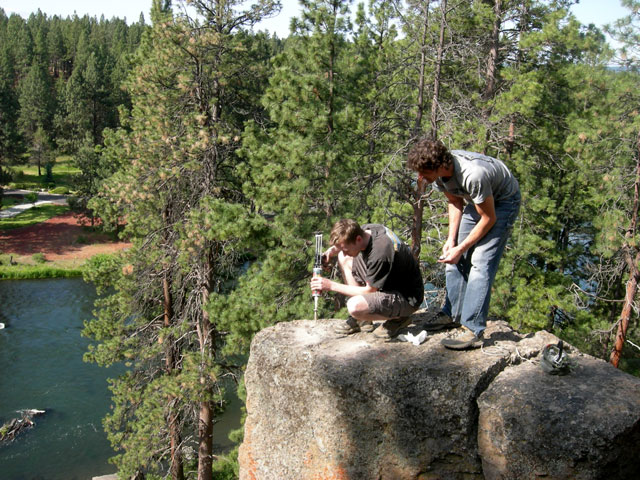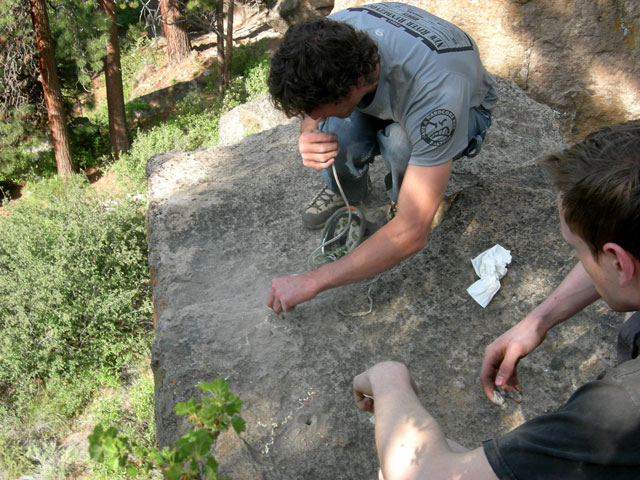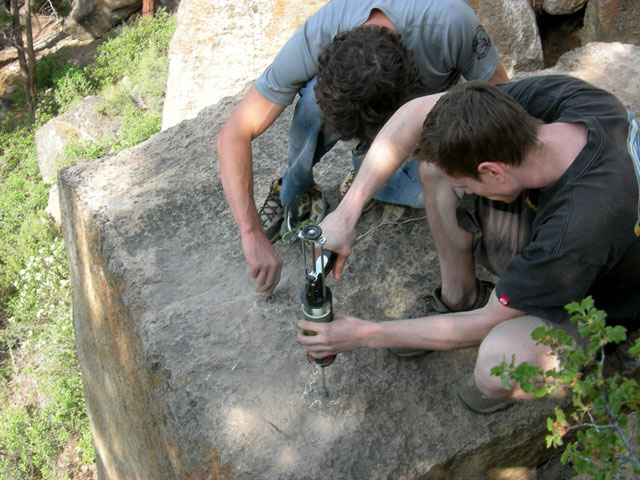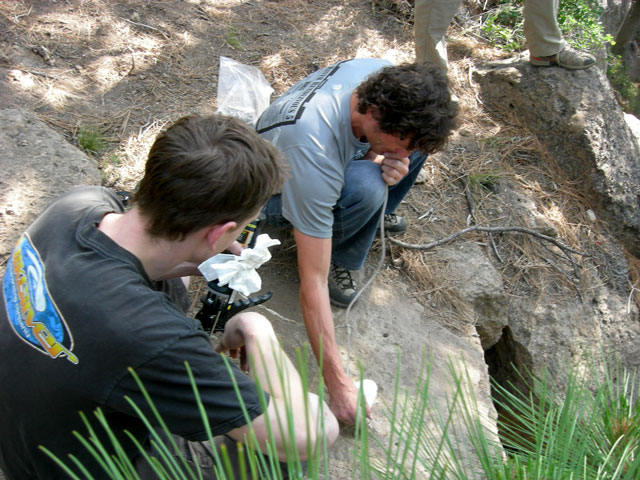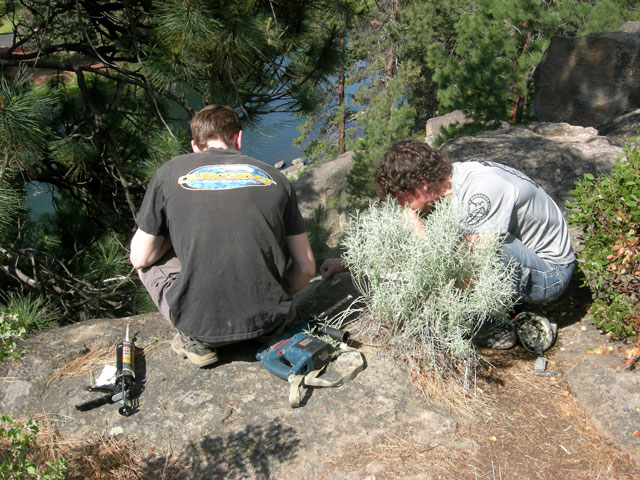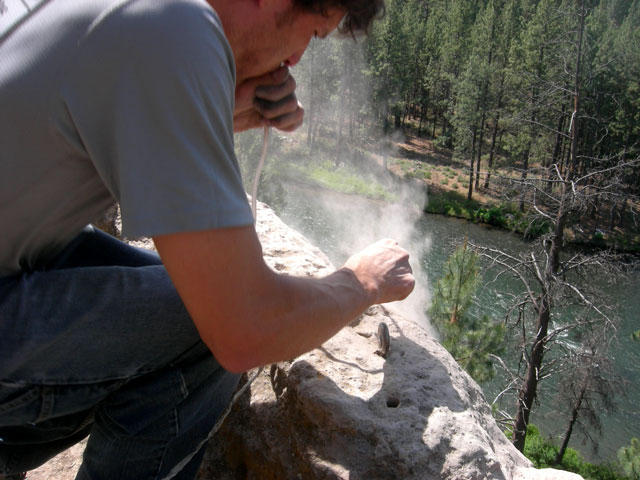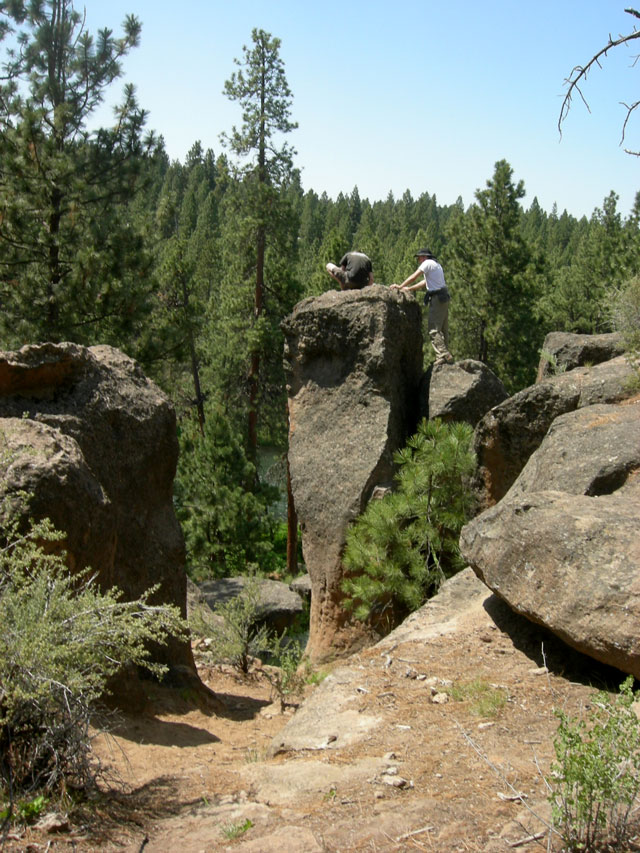 Day three: deepening, brushing, blowing and the epoxy installation of new 8" by 1/2" stainless bolts
Larry Brumwell, Bob Speik and Ryan Brophy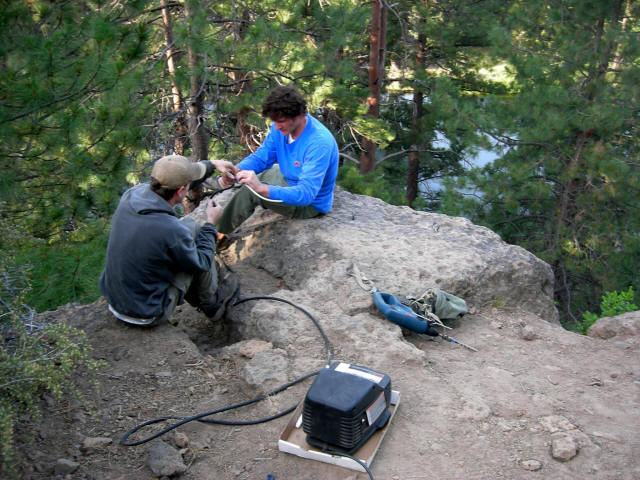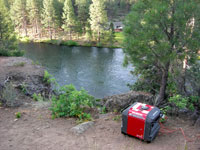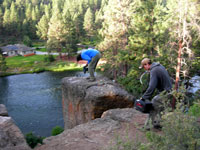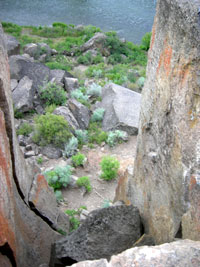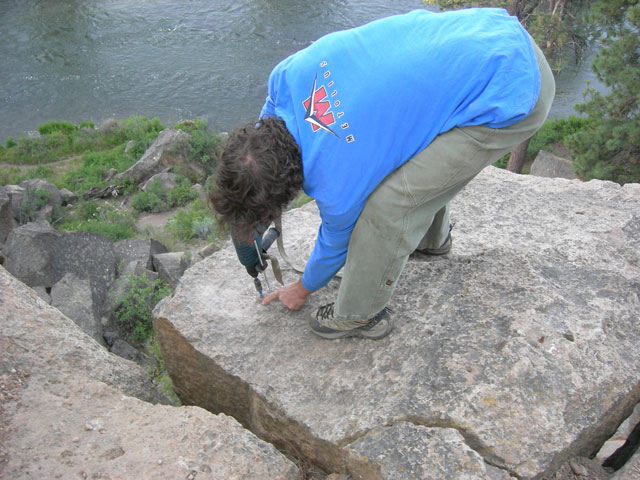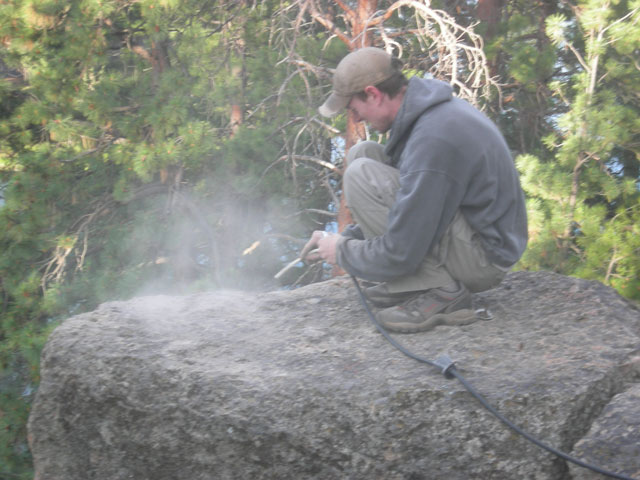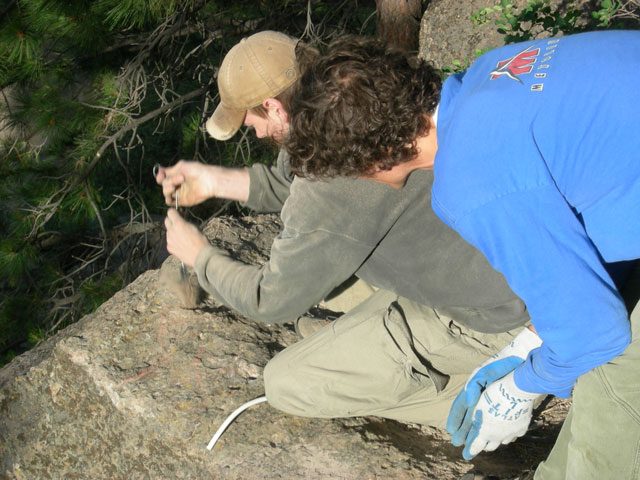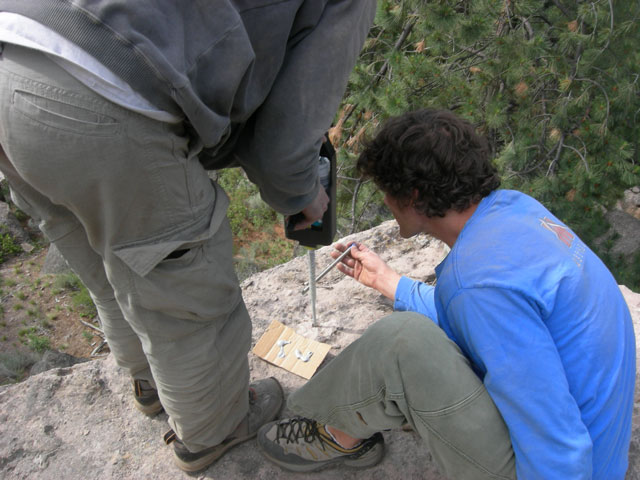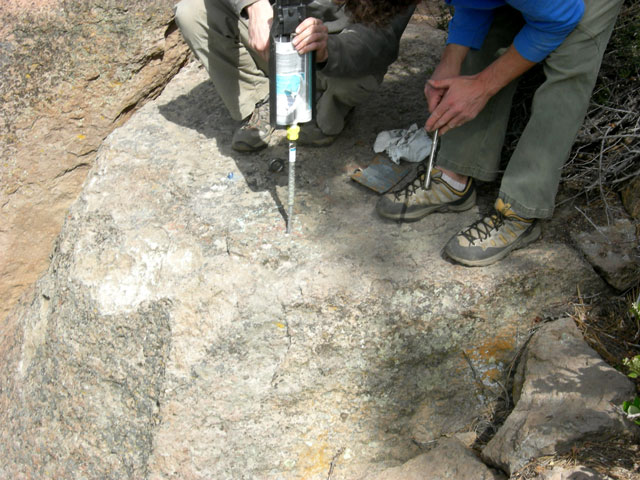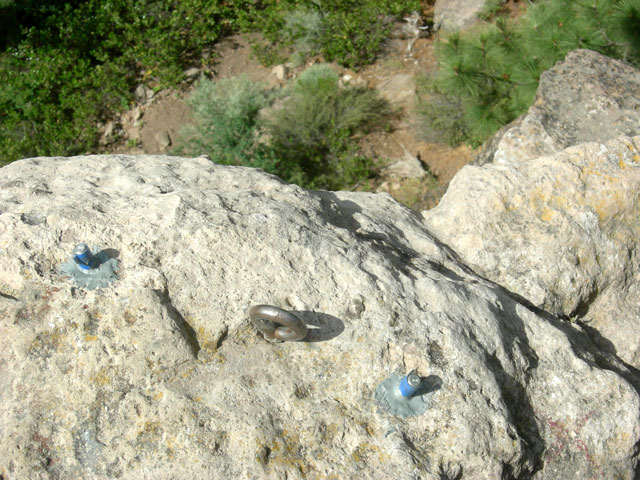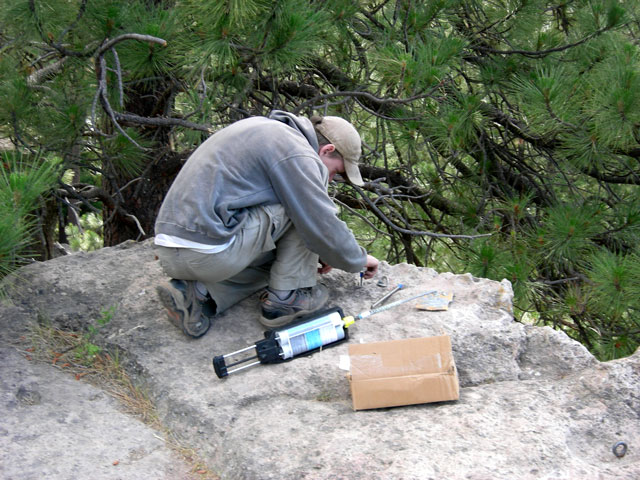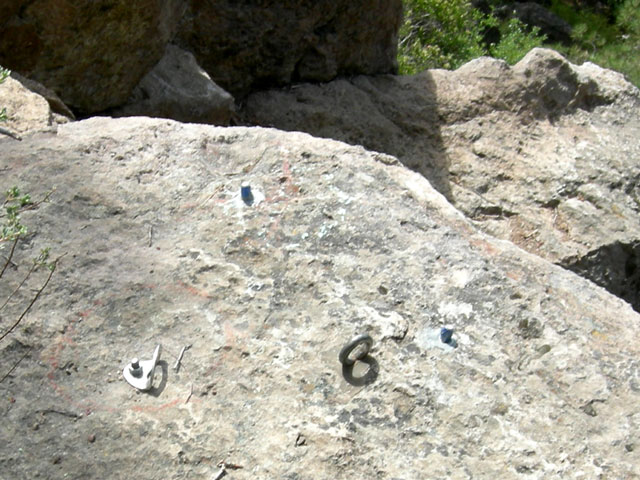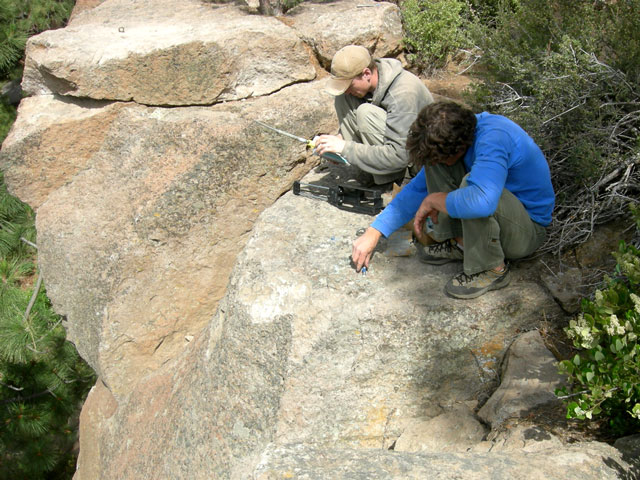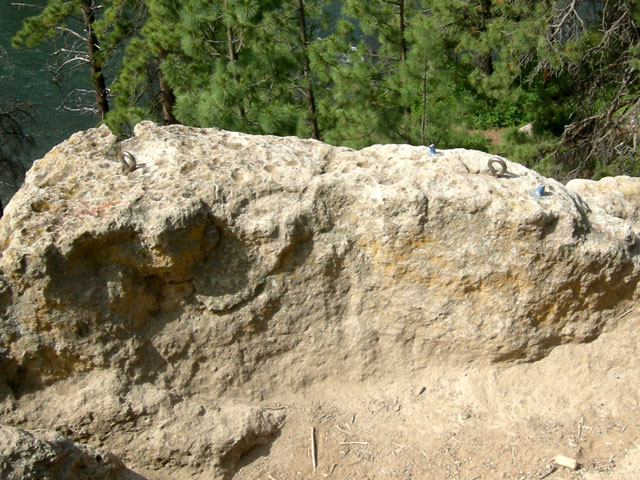 Day four: installing the Metolius enviro hangers, stainless washers and nuts
on the new 8" by 1/2" stainless bolts: Larry Brumwell, Jim Ablao and Bob Speik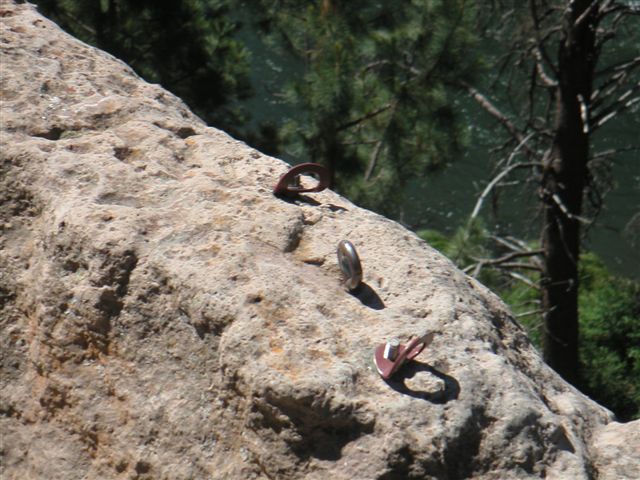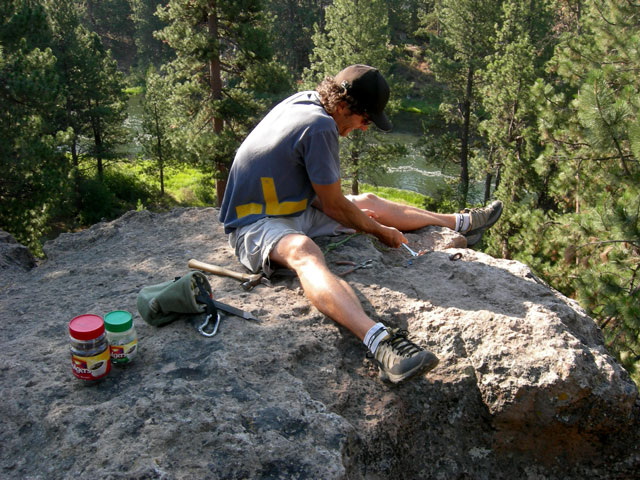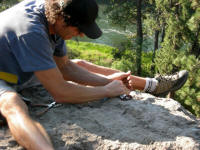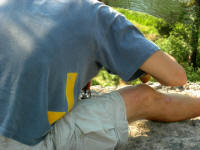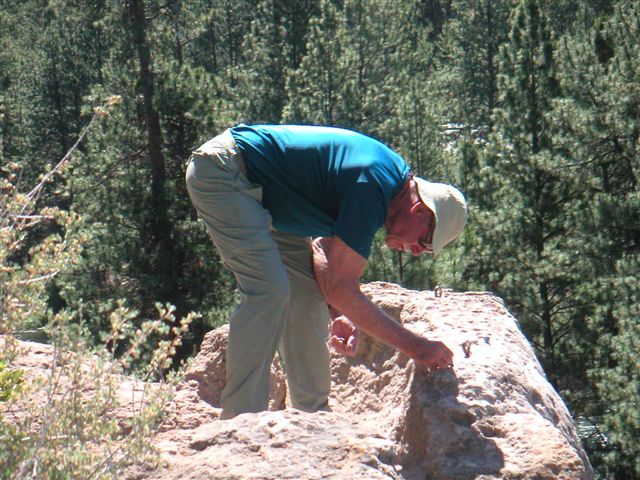 Copyright© 2007-2011 by Robert Speik. All Rights Reserved.
From our Calendar of interesting related events:


Several Saturdays in June, 2007, 9AM to about noon, Adopt a Crag near Meadow Trail Head with The Access Fund
Near Meadow Trail Head on the Deschutes River just west of Bend. The Meadow Crags Re-bolting Project, a Community Effort, is hosted by TraditionalMountaineering.
See photos of last years Adopt a Crag at Meadow Camp. For specific information, call Robert Speik, at 541-385-0445, speik@bendcable.com
Here is the original request to the Land Managers:
----- Original Message -----
From: The Speik's
To: Marv Lang; Les Moscoso at the Deschutes National Forest
Sent: Thursday, September 14, 2006 10:17 AM
Subject: Meadow Crags Redundant Bolting

Managers-
Many people have been concerned for several years about the existing top rope anchor bolts at Meadow Crags. At last, we may have an opportunity to bring these anchor bolts up to more modern safety standards.

Meadow Crags, down stream on the Deschutes River from the USFS Bend-Ft. Rock Meadow Picnic Area, is a very convenient practice area for locals. Meadow Crags will never be a destination venue.

The bolts are used to protect individuals who are climbing cracks and rock features ranging from easy to seemingly impossible. Most climbs on the Crags are introductory and basic. The climbs are very short. There is little to interest the experienced sport climber at Meadow Crags. The Crags are used primarily for basic practice and the mentoring of friends.

Last year, we placed a very few back-up bolts during the Access Fund's Adopt A Crag Event in September 2005, officially hosted by TraditionalMountaineering. With Forest Management approval, I had obtained a donation of bolts from Metolius Climbing and thirty hangers from Entre Prises USA, valued at more than $300.00. However, we were not satisfied with the initial results and we stopped the work. I returned the bolts and hangers to the donors.

I have talked to many people about the configuration of the bolts at Meadow Crags. Last Fall I met the individual who had placed the original bolts, but I have lost touch with him since. He agreed that the configuration of the anchor bolts did not comply with modern climbing safety standards that require redundancy.

The large diameter half-inch inch ring bolts placed at the Crags over thirteen years ago seem solid as the rock of Gibraltar. However, modern practice dictates the use of redundant anchors and the existing bolts are placed very wide apart or in solitary positions without available back-up bolts.

This configuration of the existing ring bolts which makes it difficult or impractical to back-up the anchors, is the basis of our concern.

I have learned that it is dangerous to place expansion bolts on a horizontal surface that is exposed to the weather. Rain or melt water will always enter the hole in the rock and through freeze-thaw, loosen the bolt or possibly crack the rock. Any bolts placed on the top of the rocks at Meadow Crags must be glue-in bolts. Ring bolts like the originals are best because vandals can not remove the hangers and they are considered visually less obtrusive.

An alternative to backing up the bolts on the top, is to place new top rope anchor bolts on the face of the huge boulders that comprise the Crags. These new face anchors would be placed with expansion bolts and hangers configured for short quick-draws or alternatively, be connected by chains. Such new anchor setups on the face of the boulders would be visible from the Deschutes River Trail. The bolts and hangers would be vulnerable to vandalism.

At sport climbing areas such as Smith Rock, a line of bolts leads up to the anchors at the top of the sport climb. An experienced climber (the "rope-gun") or guide, lead-climbs the route and treads the rope through the anchor chains or clips to the anchor bolts with quick draws and is lowered-off or he rappels down to the ground. This is different from Meadow Crags where trail access is easy to the top of the boulders. There are no intermediate bolts on the climbs. At the Crags, the rope and anchor runners and carabineers are carried to the top, set and both ends thrown down to the base of the climb. No "rope-gun" is required.

I am opposed to any proposal to place the top rope anchors on the face of the climb. I am very concerned that the individuals struggling to set the top rope may slide off the rounded boulders in a fatal head first fall of thirty feet or so.

I had the opportunity to talk to Alan Watts last night about all of the above. Alan Watts is often referred to as the father of sport climbing. Alan Watts confirms that the Meadow Crags anchors should not be placed on the face of the climb.

I propose to place glue-in 3/8 inch by 5 1/4 inch long eye bolts about 12 inches distant from the existing eyebolts at Meadow Crags. The manufacturer's specifications for drill size, epoxy glue and installation will be followed.

Last night we collected small cash donations from the audience at Alan Watts' presentation at the Cascades Mountaineers Meeting in Bend. The Directors of Cascades Mountaineers may vote to support this project with a further small donation in the next few days.

We have an opportunity on Saturday, September 23, 2006 at the Access Fund Adopt A Crag Event to get this work completed. Here is that month's event:
http://www.traditionalmountaineering.org/Photos_Adopt_MeadowCrag.htm

Here is the Flyer for this month's event:
http://www.traditionalmountaineering.org/Flyer_Adopt_06-09.pdf

I will contact you by phone to walk the proposed work site and get your Land Management decision, (This email has been edited for brevity and clarity.)
--Bob Speik

www.TraditionalMountaineering.org
and also www.AlpineMountaineering.org
Here is the Rest of the Story:
In September, 2006, following up on this email, I spoke directly with Marv Lang, Recreation Forester for The Deschutes National Forest about our Access Fund supported "subtle" maintenance of the climbers trails at Meadow Crags and about the need for re-bolting the top rope anchors. He referred me to Les Moscoso at the National Forest Headquarters. a few days later, Les walked the Crags with me and agreed we should re-bolt and remove the existing manky 1/4 inch and other miscellaneous expansion bolts along the top of the Crags.
Time passed as we were advised to wait until Spring 2007 for a long stretch of warm dry weather because of the epoxy application.
Alan Watts, arguably the father of Sport Climbing, Chip Miller of Metolius and Greg Barnes of the American Safe Climbing Association gave us early advice. Mike Stoeger, Quality Control Manager for Metolius Hardware advised us through out the Project.
In June 2007, we forged ahead. Our First Supporter was Trudy McClaskey of Mountain Supply! Rod Bien, owner of Patagonia by Pandoras Backpack was next. Larry and Lea Brumwell of InClimb Gym offered personal help and a money donation. (Larry B. was key to actually installing the hardware with his friend Ryan Brophy, a Commercial Contractor in Bend.) Rod Jacobson of Cascades Mountaineers stepped up with a personal donation as well as a Club donation. Rod also contacted Chris Garner of Redpoint and Aaron Lish of COCC; both helped with scoping the best routes on the Crags. Jim Ablao, AMGA Climbing Guide and owner of Chockstone Guides at Smith Rock helped decide the best anchor locations. Another climber, sporting a fine beard and a pony tail helped scope the best lines. (See the photos. I will list his name if he will call me.) Bob McGown sent a check from the Oregon Section of the American Alpine Club. Jerry Itken, Gary Beck and Keith Mischke, transplanted Mazamas, stepped up with personal checks. Margaret "Tommie" Speik contributed personal and monetary support.
(Please support Mountain Supply, Patagonia, InClimb Gym, Chockstone Climbing Guides and Metolius Climbing and join The Access Fund, American Alpine Club and Cascades Mountaineers! Please read TraditionalMountaineering.org and listen to Podclimber.com.)
We tested 12mm by 80mm glue in ring bolt climbing anchors and an epoxy system from Fixe. We drilled the initial holes. We decided we needed larger bolts. We decided that we should use 1/2" by 8" stainless steel all-thread rods with stainless climbing hangers.
Brooke Sandahl, Vice President of Metolius, donated special Enviro Hangers, custom drilled to 1/2" and tested (by Mike Stoeger) for strength. This was a major donation valued at more than $300.
I purchased the threaded stainless steel rods from HILTE for $114. through Peter Brazel of Hooker Creek who was very helpful. We purchased Simpson ET-22 adhesive, EMN22 tips, EDT22B applicator and 2 hole brushes at a 10% Community Service Discount from Home Depot in Bend for $118.10 and we rented a 20 amp generator and 5/8" by 15" hammer drill bit from Rental Service Corporation at a discount for $45.80. (The oil free Sears compressor was borrowed from Tommie Speik.) The total cost of installing the rods was $279.90.
The total value of the final installation was $577.90 including the Metolius contribution.
Again, I specifically thank Larry Brumwell and Ryan Brophy for helping make this Project possible. See the photographs above.
Following the cure of the epoxy, we will add the hangers, washers and 1/2" nuts, secured by a punched thread.
--Webmeister Speik, Saturday, June 30, 2007
We finally got together on a Monday morning in mid July to finish the job:
Larry Brumwell and Jim Ablao spent a final morning installing the special stainless steel Metolius Enviro Hangers and stainless steel nuts on the new 8" rods. As agreed with the Land Managers, we removed dozens of odd old rusty shaky 1/4" and 3/8" bolts and filled the holes. We have left the iron ring bolts pending a Land Managers decision of whether or not to saw them off. Our recommendation is to keep them for added safety for climbers while they install there anchor gear. In sense, they are historic artifacts, we feel. (Larry B. owns Inclimb Gym with Lea B. and Jim Ablao is an AMGA Certified Rock Instructor and owner of Chockstone Climbing Guides at Smith Rock.)
Climbers: Please note that these anchors are designed to require two 24" runners and appropriate locking carabiners, and not quick draws.
Please note that one of the test hangers disappeared last week, and two sets of nuts and hangers that were stashed at the work site have been taken. We have taken steps to safe guard the new anchors.
--Webmeister Speik, July 16, 2007
Where is "Meadow Crags"?
----- Original Message -----
From: JL
To: info@traditionalmountaineering.org
Sent: Sunday, July 08, 2007 1:05 AM
Subject: Meadow Crag near Bend

Dear Sir-
I recently moved to Bend and am interested in climbing at Meadow Crag, although information on your website says it is just west of Bend on the Deschutes I cannot
find an exact location. If you could help me find Meadow Crag I would greatly appreciate it. Thanks for your time.
Sincerely,
--JL
----- Original Message -----
From: The Speik's
To: JL
Sent: Sunday, July 08, 2007 7:15 AM
Subject: Re: Meadow Crag near Bend

Hi John-
Thanks for your email!

The short cinder entrance road to Meadow Trail Head is at the Bend side of Wigi Creek Golf Course. There is a road sign on Cascade Lakes Highway.

Drive down the road to the Deschutes River and park in the first parking places next to the Forest Pass Fee Tube. Then walk on the River Trail down stream a few hundred feet to the Crags.

You can reach the top of the crags by a faint trail off the entrance road at the turn. The climber's way runs along the top of the Crags a few hundred feet to the downstream end of the Crags and a scramble way to the bottom. There are other ways to scramble to the top as well.

You should know that we have not put the hangers on the new anchor bolts as yet. We plan to do this in a few days. Want to help some evening? Let me know. You can meet some locals.
--Bob Speik

PS: The new bolts are placed so that two 24" slings and appropriate steel links, rings or lockers are needed. You may need a belay to place some of the top ropes - take a friend with you and use an end of the top rope that you are placing.

PPS: How did you find my website?
--Robert Speik
speik@bendcable.com; 541-385-0445
----- Original Message -----
From: JL
To: The Speik's
Sent: Sunday, July 08, 2007 6:49 PM
Subject: Re: Meadow Crag near Bend

Bob-
Thanks! I really appreciate the quick reply and look forward to checking out the crag. I would be happy to help set up some hangers, I am going out of town later in the week but hopefully I can still get in on the action.
I found traditionalmountaineering.org when I was looking into climbing Broken Top last night. I found it to be a very helpful website with a variety of useful information thanks!
--JT(L)
Climbers: Please note that these anchor bolts are designed to require two 24" runners and appropriate locking carabiners.
Please note that one of the test hangers disappeared last week, and two sets of nuts and hangers that was stashed at the work site has been taken. We have tried to safe guard the new anchors from future mischief
--Webmeister Speik, July 16, 2007

Read more . . .
Fatal climbing accident at Meadow Crags near Bend Oregon
Adopt a Crag Rebolting Project at Meadow Crags
The Access Fund Adopt a Crag event at Meadow Crags
Traditional Mountaineering rappelling seminar at Meadow Crags
CMC high angle rescue seminar at Meadow Crags
Leave No Trace Ethics
USFS builds a log bridge for the Fall Creek Trail to Green Lakes
Log bridge for the Bridge Creek Trail
Map of the Bend Ft. Rock trail system west of Bend
Hiking trails near Bend Oregon
Map of the Cascades Range and Central Oregon
Trail Crews improve a trail to South Sister
IMBA helps COTA build trails west of Bend

ENVIRONMENTAL
Photos of Central Oregon from an ultralight aircraft
Weather Spotting during an Oklahoma spring
ONDA's Wilderness inventory of BLM area near Juntura in eastern Oregon
USFS Five Buttes Healthy Forest fire reduction program in Central Oregon
Bob McGown, AAC Section Chair, builds a telescope pad at Pine Mountain Observatory
Becoming an Outdoors Woman classes in LaPine, Oregon with the ODFW
Pulling barbed wire fence at the Hart Mountain Antelope Refuge with ONDA
A tour of the aftermath of the B & B forest fire with the Sierra Club
Adopt-a-Road with TraditionalMountaineering
The Bend Bicycle Festival 2004
Wolves introduced to the High Desert Museum
Twenty old growth Juniper stolen from The Badlands WSA More information
A sustainable way to use feathers to adorn my lady
ODFW clinic - Becoming an Outdoors Woman
Dutch Oven cooking at GI Joes parking lot in Bend Oregon
President Bush holds photo opportunities
Trail Crew builds a log bridge over Spring Creek
Sierra Club holds a Christmas party
Tour fire ravaged Davis Lake
IMBA helps COTA build trails
South Sister climbers trail relocated
President Bush hopes no child will be left behind
Adopt-A-Highway with TraditionalMountaineering
Department of Inferior dumps wilderness protection
An ODFW juvenile steelhead sampling project near John Day, Oregon
The ODFW juvenile steelhead survey in the stream
Owyhee Canyon wilderness study area in south east Oregon
ONDA's Owyhee wilderness inventory camp near Rome, Oregon
Touring The Badlands with ONDA
Riverfest river cleanup in Bend Oregon
USFS Mud Bog poster
A Pay to Play bust
President Bush reassures us that SUVs do not damage the environment!
President Bush overlooking the environment
Al Gore and his young son summit Mt. Rainier
Fee Demo demonstration in Central Oregon

CASCADES SUMMITS
Photos of a South Sister snow-climb in June 2006
Photos of Central Oregon from an ultralight aircraft
Views of the Oregon Cascades in the summer and fall
Views of the Cascades from the ridge above Three Creek Lake
Summits of the Oregon Cascades from Tumalo Mountain in February 2005
A snowshoe summit of Vista Butte off Cascades Lakes Highway near Bend, OR
Mt. Bachelor, the Three Sisters and Broken Top
Photos of the Three Sisters Wilderness Summits form Sparks Lake
Geocaching the Top of Black Crater
Overlooking the Three Sisters from Mt. Bachelor


Three Sisters summits


Scott shares his summits of Middle Sister and Mt. Thielsen

Search this site!
Copy and paste these search suggestions for more views of the Cascades

North Sister
Middle Sister
South Sister
Broken Top