TRADITIONAL MOUNTAINEERING ™
www.TraditionalMountaineering.org ™ and also www.AlpineMountaineering.org ™

™
FREE BASIC TO ADVANCED ALPINE MOUNTAIN CLIMBING INSTRUCTION™
Home | Information | Photos | Calendar | News | Seminars | Experiences | Questions | Updates | Books | Conditions | Links | Search

Read more:
Leave No Trace Ethics for Backpackers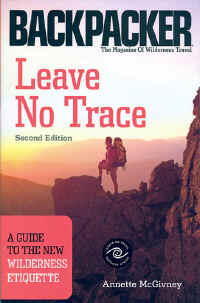 Click to enlarge, back arrow to return!
The TraditionalMountaineering Book Review of Leave No Trace
I first learned about the important Leave No Trace environmental ethics in 1995 when I was trained as a Volunteer Wilderness Ranger for Bend/Ft. Rock District of the Deschutes National Forest in Central Oregon. In April 1995, the Bend USFS District had budgeted for a week long training seminar for volunteers and summer seasonal folks. We learned a great deal about the problems of land management and about the legal aspects and the ethical values of Wilderness.
When I was active on weekends in the 1970s and 1980s, bagging peaks from fourteeners in the Sierras to rugged and not so rugged peaks in Southern California, Mexico, Oregon and Washington, folks learned 1. Don't Cut the Switchbacks; 2. Pack It In and Pack It Out and, 3. Don't Cut Down or Burn Down the Forest.
In 1990 the US Forest Service got together with NOLS to develop hands-on minimum impact training for the increasing numbers of folks in the backcountry, and the Leave No Trace message was created. Now, LNT is managed by the non-profit Leave No Trace Center for Outdoor Ethics.
Backpacker Magazine's Leave No Trace, second edition written by Field Editor Annette McGivney introduces two new principles: minimizing impacts on fellow wilderness travelers and minimizing impacts on wildlife. The book is endorsed by Leave No Trace, Inc. and a portion of the proceeds go to the nonprofit.
This inexpensive paperback belongs in the library of every Traditional Mountaineer.

--Bob Speik, www.TraditionalMountaineering.org
Former Chair of the Mountaineering Training Committee, Sierra Club's Angeles Chapter
NOLS offers Leave No Trace Masters Classes:
"Leave No Trace (LNT) is a national educational program to promote and inspire responsible outdoor recreation through education, research and partnership. It unites the U.S. Forest Service, National Park Service, Bureau of Land Management, U.S. Fish and Wildlife Service, educational programs and the outdoor industry in teaching the public to enjoy the outdoors in a responsible manner. Leave No Trace courses are for people with a strong interest in outdoor recreation, a commitment to training others and a desire to protect wilderness resources. These 5 or 6 day courses focus on minimum-impact camping and traveling skills using a three part curriculum; ethics, techniques and teaching methods.
Twenty-one courses are offered in some our most spectacular public lands. Course Tuition $725.00 (course tuition does not include LNT Inc. membership fee)
College Credit: Beginning June 1, 2003 participants on NOLS Master Educator Courses can earn 2 hours of College Credit from the University of Utah Department of Parks, Recreation and Tourism. Details are available from the NOLS Leave No Trace office. This optional college credit is available for an additional $50.00 per semester hour."
Leave No Trace, Inc. is proud to have The Mountaineers Books as partners. Dana Watts, Executive Director
The Mountaineers Club, based in Seattle, Washington, was founded in 1906. It is now the third largest outdoor recreation club of its kind in the United States, with nearly 15,000 members. The Mountaineers sponsors both classes and year-round outdoor activities, which include hiking, climbing, ski touring, snowshoeing, kayaking, canoeing, and more.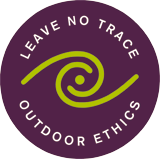 Read more . . .
Leave No Trace Ethics in the 1970s
USFS builds a log bridge for the Fall Creek Trail to Green Lakes
Log bridge for the Bridge Creek Trail
Map of the Bend Ft. Rock trail system west of Bend
Map of the Cascades Range and Central Oregon
Trail Crews improve a trail to South Sister
IMBA helps COTA build trails west of Bend

ENVIRONMENTAL
Photos of Central Oregon from an ultralight aircraft
Weather Spotting during an Oklahoma spring
ONDA's Wilderness inventory of BLM area near Juntura in eastern Oregon
USFS Five Buttes Healthy Forest fire reduction program in Central Oregon
Bob McGown, AAC Section Chair, builds a telescope pad at Pine Mountain Observatory
Becoming an Outdoors Woman classes in LaPine, Oregon with the ODFW
Pulling barbed wire fence at the Hart Mountain Antelope Refuge with ONDA
A tour of the aftermath of the B & B forest fire with the Sierra Club
Adopt-a-Road with TraditionalMountaineering
The Bend Bicycle Festival 2004
Wolves introduced to the High Desert Museum
Twenty old growth Juniper stolen from The Badlands WSA More information
A sustainable way to use feathers to adorn my lady
ODFW clinic - Becoming an Outdoors Woman
Dutch Oven cooking at GI Joes parking lot in Bend Oregon
President Bush holds photo opportunities
Trail Crew builds a log bridge over Spring Creek
Sierra Club holds a Christmas party
Tour fire ravaged Davis Lake
IMBA helps COTA build trails
South Sister climbers trail relocated
President Bush hopes no child will be left behind
Adopt-A-Highway with TraditionalMountaineering
Department of Inferior dumps wilderness protection
An ODFW juvenile steelhead sampling project near John Day, Oregon
The ODFW juvenile steelhead survey in the stream
Owyhee Canyon wilderness study area in south east Oregon
ONDA's Owyhee wilderness inventory camp near Rome, Oregon
Touring The Badlands with ONDA
Riverfest river cleanup in Bend Oregon
USFS Mud Bog poster
A Pay to Play bust
President Bush reassures us that SUVs do not damage the environment!
President Bush overlooking the environment
Al Gore and his young son summit Mt. Rainier
Fee Demo demonstration in Central Oregon

CASCADES SUMMITS
Photos of a South Sister snow-climb in June 2006
Photos of Central Oregon from an ultralight aircraft
Views of the Oregon Cascades in the summer and fall
Views of the Cascades from the ridge above Three Creek Lake
Summits of the Oregon Cascades from Tumalo Mountain in February 2005
A snowshoe summit of Vista Butte off Cascades Lakes Highway near Bend, OR
Mt. Bachelor, the Three Sisters and Broken Top
Photos of the Three Sisters Wilderness Summits form Sparks Lake
Geocaching the Top of Black Crater
Overlooking the Three Sisters from Mt. Bachelor


Three Sisters summits


Scott shares his summits of Middle Sister and Mt. Thielsen

Search this site!
Copy and paste these search suggestions for more views of the Cascades:

North Sister
Middle Sister
South Sister
Broken Top