TRADITIONAL MOUNTAINEERING ™
www.TraditionalMountaineering.org ™ and also www.AlpineMountaineering.org ™

™
FREE BASIC TO ADVANCED ALPINE MOUNTAIN CLIMBING INSTRUCTION™
Home | Information | Photos | Calendar | News | Seminars | Experiences | Questions | Updates | Books | Conditions | Links | Search

Read more:
Traditional ice axe self belay and self arrest training
April 2004 at an "appropriate slope" near Oregon's Mt. Bachelor ski resort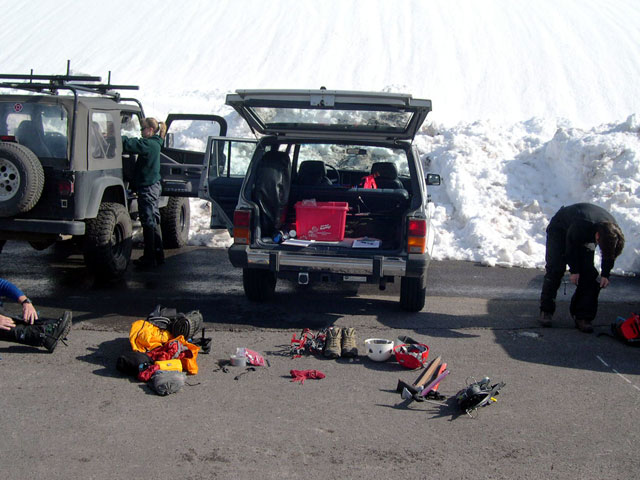 Gearing up for ice axe self belay and self arrest training/practice on an "appropriate slope".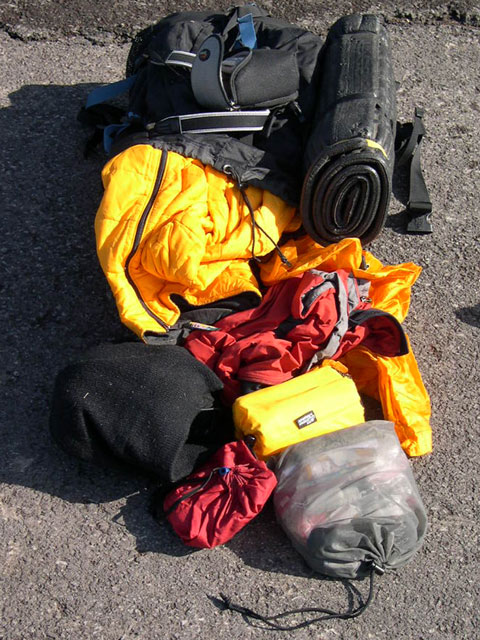 Day pack: Clothing - light generic poly belay jacket, light Patagonia Integral soft shell, GoLite Wisp wind shirt, various hats and gloves, Clif Bars and bagel, water, group first aid kit, small Essentials in the net bag, Adventure Medical Kits emergency bivy, Cascades Designs RidgeRest 6 oz. 3/4 length insulating pad and winter sized TNF Exocet pack.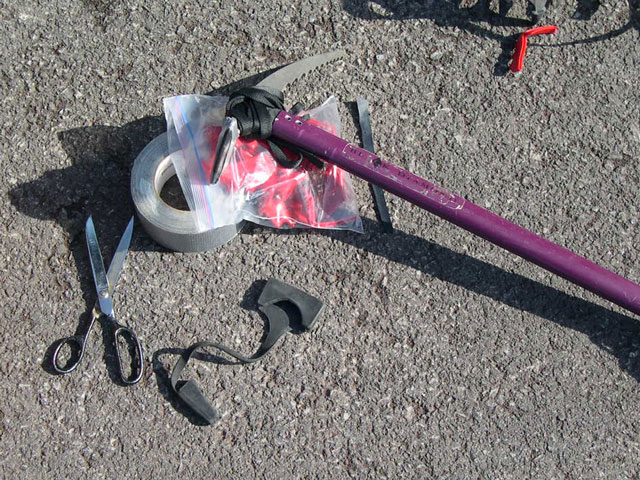 Materials for padding the adze for instruction/practice. Note the black rubber protection. In climbing, this can be pulled off the pick and looped under keeping the adze covered. In practice, last season's dead protector can be cut and taped over adze, protecting it from being blunted by the face and head of the participant. There is no way to cover the spike of the ice axe as any condom-like protection will be pulled off in the snow and lost. Besides, the spike must be pushed deep into the snow as it is used. (Instructors note: the red rubber pieces in the baggie were salvaged from some new snow shoe packing.)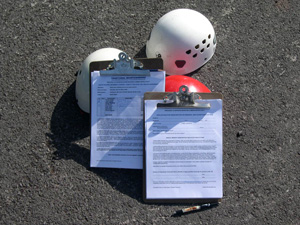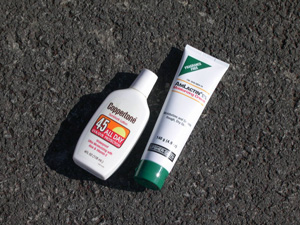 Safety imperatives for instructors: sign-in sheets and liability wavers and helmets for participants. Hmmmm. Well, it is personal choice to wear the helmets, I guess. You can lead a horse to water . . . Sun screen: a non greasy lotion or alcohol based liquid that will not get all over your costly duds. And AmLactin® 12%, Bob's secret over-the-counter hand lotion virtually guaranteed to fix those cracks in your skin next to your thumb: a lactic acid based cream that is the generic equivalent to the expensive prescription cream Lac-Hydrin® 12%, I think. Better ask your dermatologist. Great for fly fishers, too.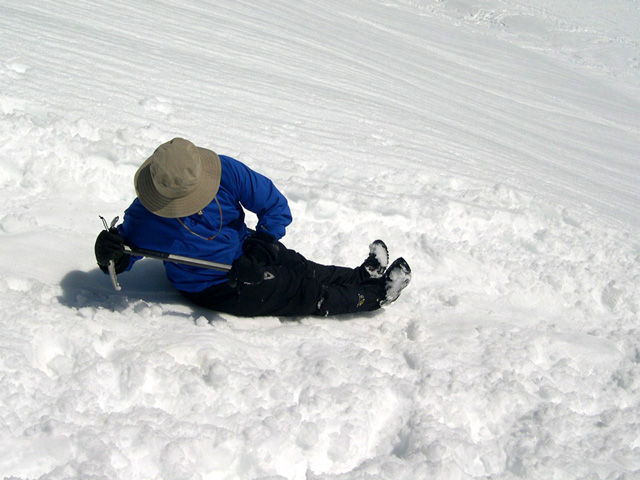 "Going to the Head!" Sitting glissade. When the speed scares you - "GO TO THE HEAD". The natural inclination is to roll towards the spike which you are pushing with all your weight into the snow trying to slow your slide. If you roll the wrong way, the spike will stick and the axe will be torn from your grasp!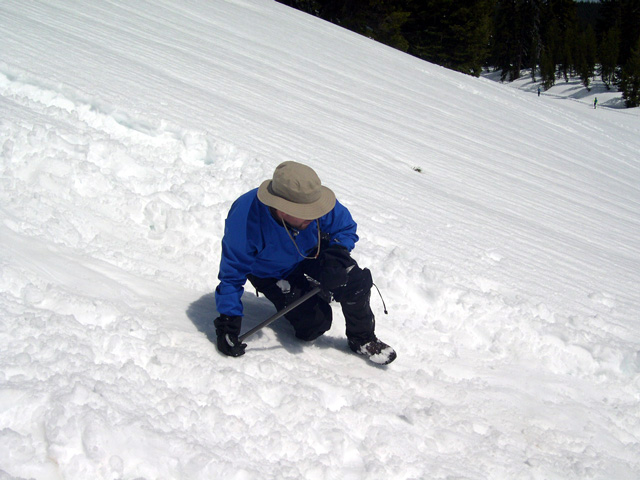 Getting up again. be sure you get up on your feet which have been kicked into the snow. If you try to get up on your knees, you will slide again!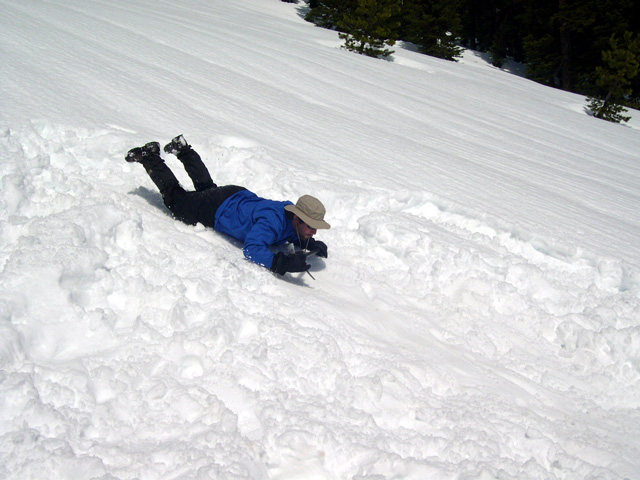 Head first, on your stomach! "Plant the pick out to the side and you will whip around into the basic belay position.
Hang on tight or the axe will be torn from your grasp!"

Pretty good!. This is the basic arrest position: axe head under the shoulder, ice axe and not the forearm holding the weight of the climber, long mountaineering ice axe spike being kept, near but not in, the groin and femoral artery. Note the sun hat, gloves, gaiters and hard edged boots.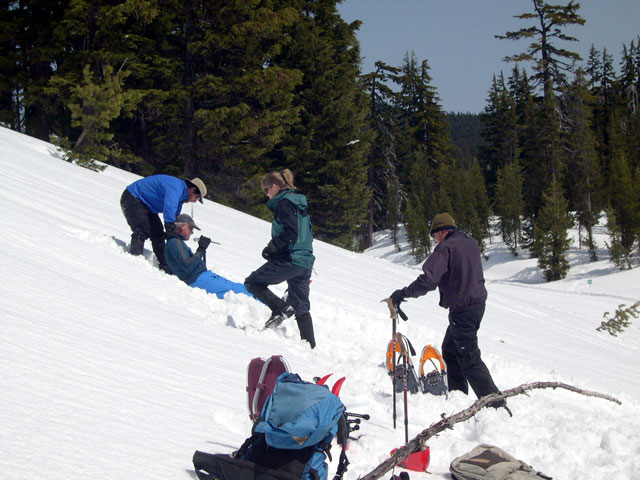 Have an assistant hold the slippery slider, ask what they are going to do and give a little push in the right direction. NOTE THAT THE CLIMBERS MUST ARREST IMMEDIATELY AND NOT WAIT UNTIL THEY "PICK UP SPEED". These climbers were able to do several arrests in each slide providing fast reflexes, more practice, less sweat and more turns at bat. (Requiring a long slide to generate great speed then having an assistant shout arrest at the hapless student fifty feet down the hill is pretty STUPID.) "What are you going to do?" "I am going to the HEAD!" Note that the student only gets one chance to verbalize what they are going to do. By the second or third arrest, the action becomes a conditioned reflex, no thinking required!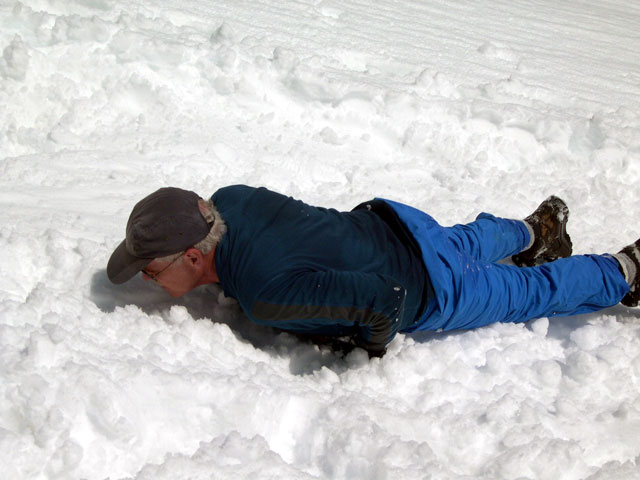 "Great job!" Very first arrest, from a sitting glissade. "Your feet could be a little wider apart and kicked into the snow."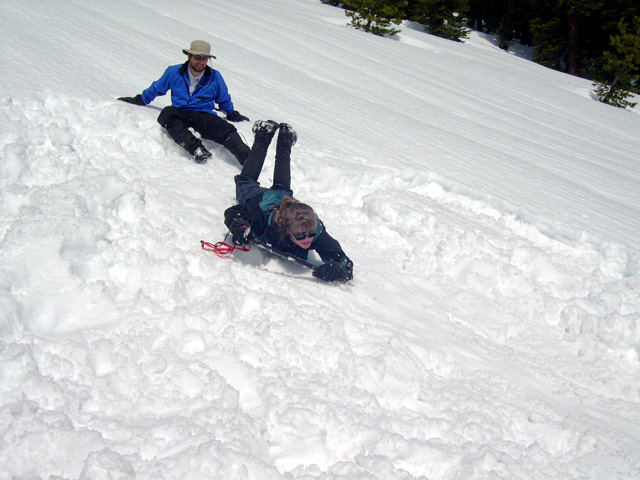 Head first, on the stomach, axe in the right hand.
"What are you going to do?" "I am going to plant the axe out to the side and whip around the pivot point of the pick."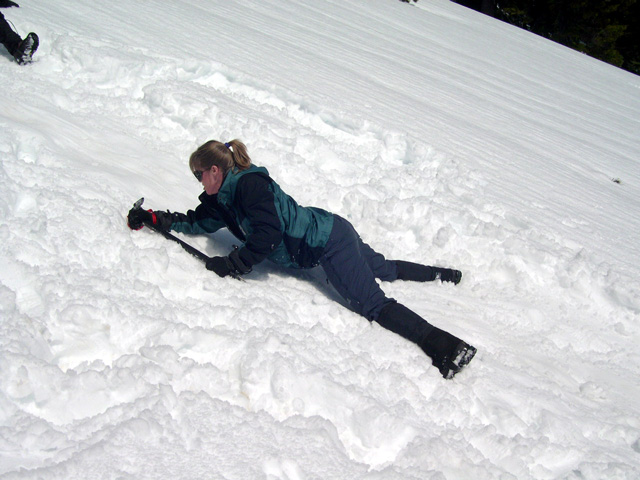 "Great job! The axe got away a bit. The force can be surprising, can't it? Your feet are very good."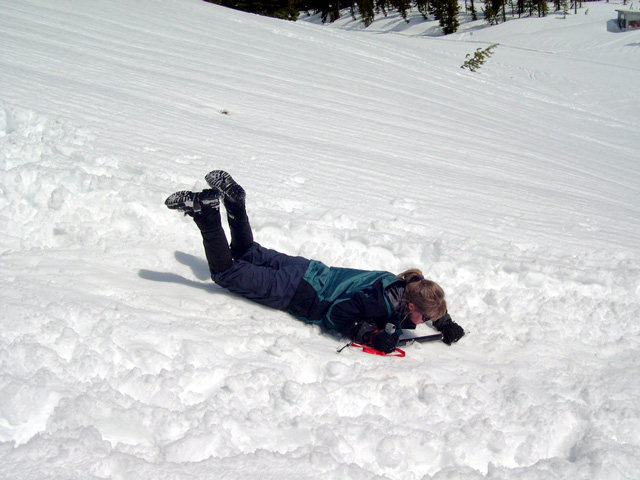 "Great job!"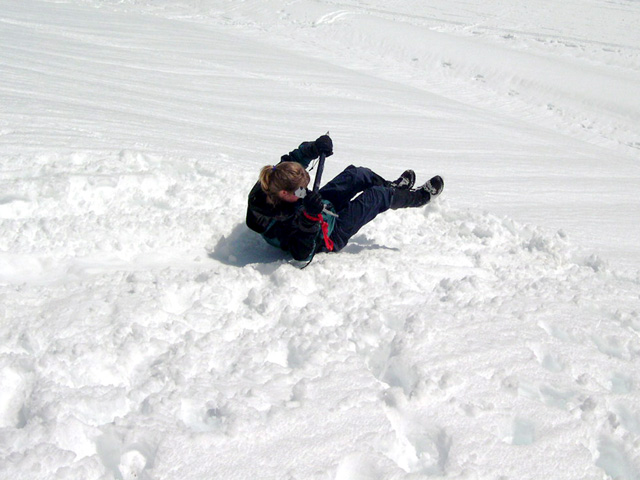 Going to the HEAD.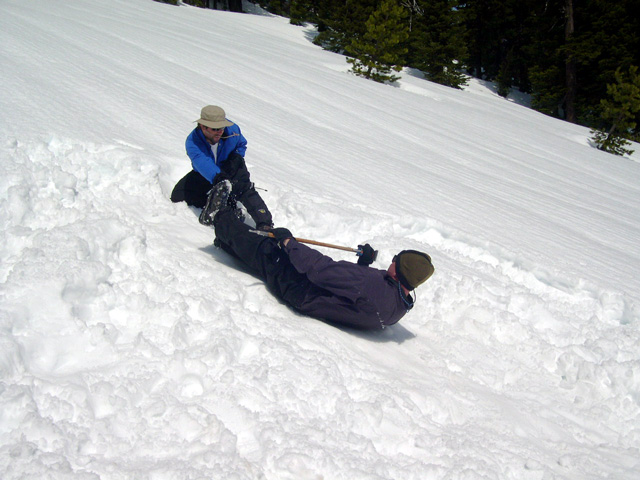 This is the scary one. Head first, on your back, axe in the left hand this time.
"What are you going to do?" "I am going to do a crunch, plant the pick to the side, roll my left hip under and stop quick."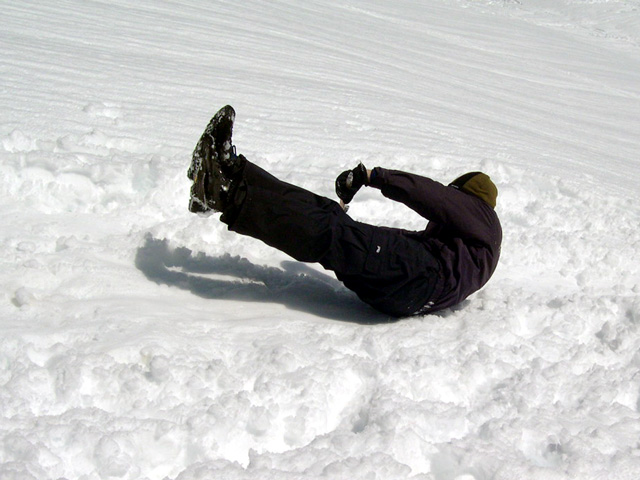 Look at the speed after a five foot slide on fairly low angled, rough snow!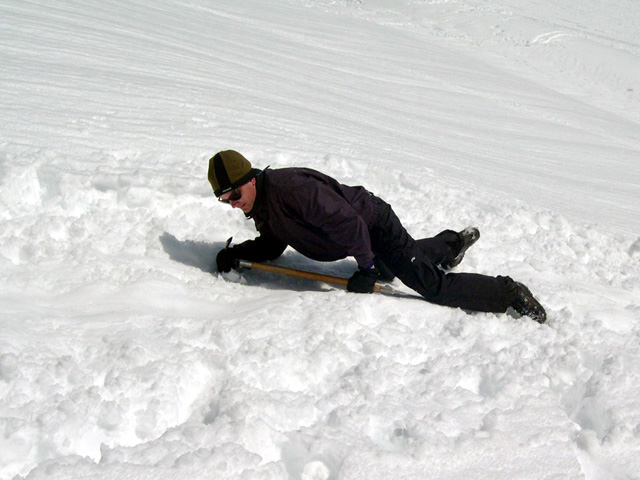 "Great job!" Note his Mazama dad's fine old Chouinard mountaineering axe.
(Note that he is starting to get up. This is not the correct arrest position - his weight is only on his slippery forearm and toes!)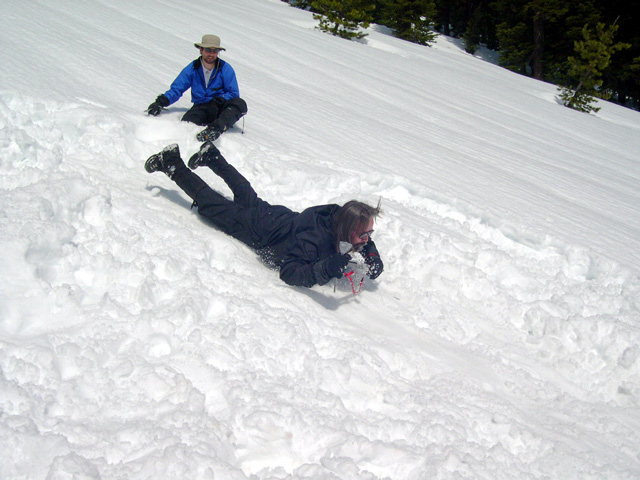 Head first, on the stomach, axe in right hand. Note that runs must be made with both the right and left hands.
(Remember, the axe must be changed to the up-hill hand at every switch-back.)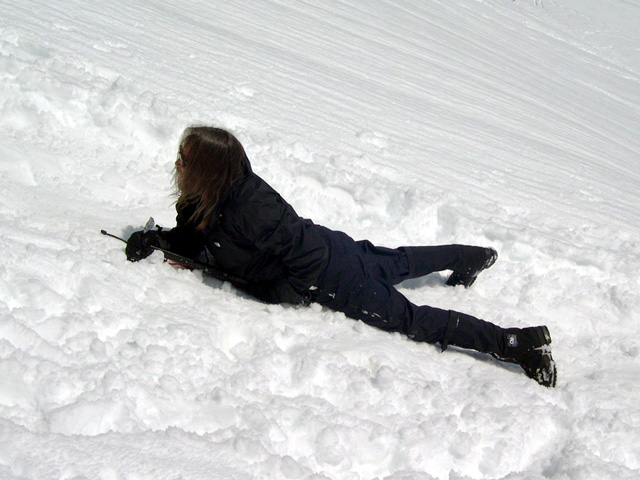 "Great job! Try to get the axe head a little closer to your shoulder."
"OK, Bob! Where are the photos of the self belay grasp and the self arrest grasp? Where are the photos of the self belay action?" Well, I was too busy. Well, I forgot. So I will try to add some photos soon. --Webmeister Speik
Copyright© 2004 by Robert Speik. All Rights Reserved.
####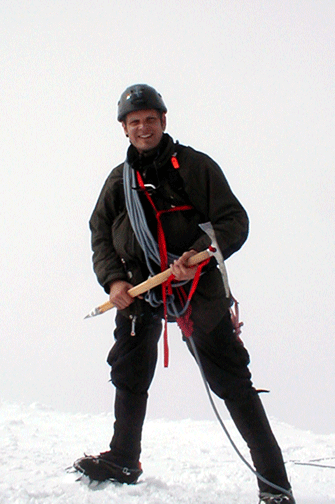 Copyright© 2004 by Mark Kent. All Rights Reserved.
May 22, 2004
Bob,
Scott and I finally summited Hood on Thursday! We had tried the week before, but weather forced us back at the Hogsback. Aside from an initial navigational error, we found we were getting a little close to the White River Canyon, the climb went very smoothly. Your instruction and suggestions were indispensable; we used a running belay above the Bergschrund (the 'shrund is huge, right now), we used your roping suggestions, and Scott had to self-belay at one point, which was automatic after our practicing. Thanks, again.

I'll be in Bend the first week of June, do the TradMount folks have anything planned during that time? I look forward to seeing everyone again.
Mark
Mark- Congratulations! You are looking good! --Bob

Read more . . .


TraditionalMountaineering FREE Seminars:
Snow climbing training with Mountain Link
Traditional self belay and ice axe arrest training
Snow anchors and rappelling a steep snow slope
Glacier Travel and Crevasse Rescue seminar prospectus
Climbing and descending steep snow slopes
Snow Climbing Training six pdf pages



What do you carry in your winter day pack?
What is the best traditional alpine harness?
What do you rack on your harness?
What is the best belay | autoblock | rappel device?
How do you self belay a rappel

About Alpine Mountaineering: Interesting essays reviewed 05.11.04


The Sport of Alpine Mountaineering


Climbing Together


Following the Leader


The Mountaineers' Rope


Basic Responsibilities


The Ten Essentials

About our World Wide Website: Important information updated 05.11.04


Information


Mission


Subscription Form I am still pondering this. Hmmm.


Our Gear Discounts Don't miss this!


Please Read Me Awards, pdf, affiliations, donations and more