TRADITIONAL MOUNTAINEERING ™
www.TraditionalMountaineering.org ™ and also www.AlpineMountaineering.org ™

™
FREE BASIC TO ADVANCED ALPINE MOUNTAIN CLIMBING INSTRUCTION ™
Home | Information | Photos | Calendar | News | Seminars | Experiences | Questions | Updates | Books | Conditions | Links | Search

Smith Rock trad practice weekend in June 2001
Click on an image to see the full version; broadband folks can click here to see the full sized page.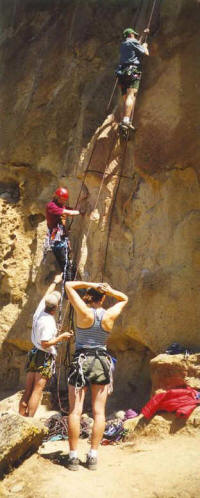 Mountaineers practicing climbing the rappel rope
with prussics and aid climbing on top rope.




Mountaineers practice climbing a tall 5.9 at Smith Rock


All images on this page Copyright© 2002 by Robert Speik. All Rights Reserved.

Photo credit to Bob Speik using a 4 ounce, $14.00, Ansco Pix Plastic Panoramic camera, great for traditional mountaineering!

Read more . . .
Smith Rock Spring Thing
News about the Smith Rock Spring Thing

EXPERIENCE REPORTS - SMITH ROCK
Smith Rock - WARNING - top rope belay error
Smith Rock - inadequate top rope belay
Smith Rock - climber injured on the approach
Smith Rock - WARNING - belayer drops climber off the end of the top rope
Smith Rock - novice sport climber injured
Smith Rock - fall on rock, protection pulled out
Smith Rock - fall on rock - poor position, inadequate protection
Smith Rock - pulled rock off - fall on rock, failure to test holds, exceeding abilities
Smith Rock - belay failure, fatal fall on rock

PHOTOS - SMITH ROCK
Smith Rock Spring Thing volunteer created improvements
Smith Rock Spring Thing volunteer's party
Smith Rock Spring Thing in the news
Smith Rock from above the Burma Road
Smith Rock rescue cache by AAC/ORS and TraditionalMountaineering
Smith Rock weekend
Smith Rock Monkey Face practice

TRADITIONAL KNOWLEDGE
Who were the notorious Vulgarians?
How was top rope climbing practiced in the 1970s?
What is a Willans sit harness?
What is a dulfersitz rappel?
How do I self-belay a rappel?