TRADITIONAL MOUNTAINEERING ™
www.TraditionalMountaineering.org ™ and also www.AlpineMountaineering.org ™

™
FREE BASIC TO ADVANCED ALPINE MOUNTAIN CLIMBING INSTRUCTION™
Home | Information | Photos | Calendar | News | Seminars | Experiences | Questions | Updates | Books | Conditions | Links | Search

Mountaineering - The Freedom of the Hills, 8th edition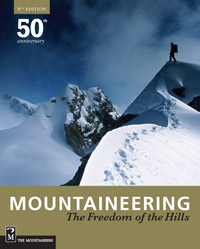 Our TraditionalMountaineering Review of Freedom 8
A friend gave me my first copy of Mountaineering - The Freedom of the Hills. He said that if I was going to climb with him and his buddies, I would have to know more! He said I could learn more from this book. At the time, I was a strong hiker and I did not know there were certain subjective and objective dangers in mountain climbing, much less how to (in part) avoid or mitigate them.
Freedom of the Hills set me free! I have always been an Analyst. (I know, check the spelling!) I like to break things down and study them. I learn things really well that way and I can have fun helping others.
Freedom 8 covers traditional mountaineering from basic to advanced. How to handle a blister, the trots, a high altitude headache are covered in Freedom 8. How to belay (correctly), rappel (self belayed), how to pull a friend out of a crevasse with climbing rope, pickets, biners and rescue pulleys (yes, I stepped into one on Rainier but they just yarded me out), how to ice axe self belay and self arrest (know the difference?), how to lead trad, all about protection, how to cook in summer and winter, how to get water well, what to wear and what to carry in your summit pack, day pack and back pack and a lot more good stuff, are covered in Freedom of the Hills.
The Classic Ten Essentials (introduced by The Mountaineers in 1961) has evolved into the Ten Essential Systems in Freedom 8. Four of the classic items have been combined into two systems, Navigation and Fire. (Can you guess what they are?) Nutrition, Hydration and Emergency Shelter are added Systems.
Leave No Trace environmental principles are covered and the practical applications now include the Poop Tube and Crevasse Burial in Remote Locations.
Aid climbing and waterfall ice climbing are included. (I love to study these complex systems and read about this waterfall stuff.)
I have added Freedom 8 to my bookshelf and passed along earlier versions to our public library. I wish I had kept Freedom One. It should be worth something as a classic first edition. (Actually, Freedom 8 is not on my book shelf right now. I have my copy stashed where I can peruse a few pages every morning ;-)
February 2015. I recently purchased a copy of Freedom of the Hills, First Edition, April, 1960. It is not for sale!

--Robert Speik, www.TraditionalMountaineering.org
Former Chair for three years, of the (Basic and Advanced) Mountaineering Training Committee, Sierra Club's Angeles Chapter
Reviews of Freedom of the Hills
Mark Twight,
"The 2nd edition of Freedom of the Hills (as well as pictures of Bonatti in an old REI catalog) jump-started my climbing education. The manual's content has kept pace with the evolution of the sport and should be considered mandatory reading for every mountain climber. This truly remarkable resource has no equal in any language."
Ed Viesturs,
"I purchased my first copy of The Freedom of the Hills in 1976 and consumed it several times, well before I ever set foot in the mountains. Through the years, my well-worn copy became my guide and reference for the art of mountaineering. I would highly recommend this book as a 'must have' for any aspiring mountaineer's library."
Conrad Anker,
"If there is only one 'how to' book to read for the aspirant and expert alike, it is Freedom of the Hills."
Dean Potter,
"When I was a springy sapling, the pages of Freedom of the Hills held some of my very first lessons."
Jim Whitaker,
"The lessons I learned in the Mountaineers climbing course in 1945 stood me on the summit of Mount Everest in 1963. To see that knowledge, accumulated by so many individuals in 1960, put into a book was wonderful. That it has evolved into the best book on climbing, continually updated by active climbers, is remarkable. I have told many people, including my sons, 'If you want to climb mountains, read Mountaineering: The Freedom of the Hills. Then read it again, so you know for sure, how to get down.'"
Dave Hahn,
"I've taught climbing on the world's great mountains for 25 years, and so it is humbling to realize how much I can still learn from simply sitting in a chair and reading Freedom of the Hills. But the game keeps changing, with new technologies and new techniques, and Freedom does a remarkable job of staying not just current, but on the cutting edge. Turning on new climbers to this resource is one of the best things I can do to prepare them for life in the big hills."
Rick Ridgeway,
"Growing up in Southern California in the '60s, I couldn't find anyone who shared my passion to learn how to climb. So I bought an ice axe, crampons, and Freedom of the Hills and still remember being on a snow slope with axe in one hand, book in the other, trying to teach myself how to self-arrest. It worked: I'm still around and still climbing."

Facts from The Mountaineers about Freedom 8
* 50th anniversary of this title and The Mountaineers Books
* With more than half-a-million copies sold, this is the all-time bestselling mountaineering and climbing title
* Printed on 100% recycled paper

With more than 600,000 copies sold, Mountaineering: The Freedom of the Hills is the acclaimed bible for climbers all over the world, and the new edition marks the 50th anniversary of this seminal title.

Since the publication of the first edition in 1960, Freedom, as the book is known, has endured as a classic mountaineering text. From choosing equipment to tying a climbing knot, and from basic rappelling techniques to planning an expedition, it's all here in this essential mountaineering reference. A team of more than forty experts -- all active climbers and climbing educators -- reviewed, revised, and updated this compendium to reflect the latest evolutions in mountaineering equipment and techniques. Major updates include a significant new chapter on conditioning, plus detailed and extensive revisions to rescue and first-response, aid climbing, and waterfall and ice climbing.
Do you have a first edition of Freedom of the Hills?
Chessler Books
Item #: OP428B, August, 2008
MOUNTAINEERING, FREEDOM OF HILLS Manning 1961 1st edition with Dust Jacket
By Manning, Harvey
Price: $145.00

Detailed Product Description:
Seattle, 1960, 1st edition, 1st printing. 430 pp, ills. This is by far the best selling and most influential mountaineering technique book in the second half of the 20th century. It has sold over 1/2 million copies since 1960. Its fun to collect all the editions, and I have even seen a collection of every printing of every edition.

This first edition is the scarcest because it was probably only sold in the northwest, so few copies ended up in climber's hands until the 2nd edition. Hardcover, the clear plastic DJ is taped on the spine and rear, and has small chips, but the areas where the title is printed on the DJ spine and front cover are whole and intact. Book itself is Fine with no writing or marks, overall Near Fine.
Note: I loaned my first edition copy to a friend about 30 years ago. Sadly, I do not remember his name, so I can ask for its return. Now, this is the only edition of "Mountaineering, Freedom of the Hills" that I lack. Send me your 1960 copy and I will pay the shipping!
Note: I now own a fine first edition copy or "Mountaineering, Freedom of the Hills". I found it on ebay at an affordable price in May 2014. How about that!
;-)) --Webmeister Speik



WARNING - *DISCLAIMER!*
Mountain climbing has inherent dangers that can in part, be mitigated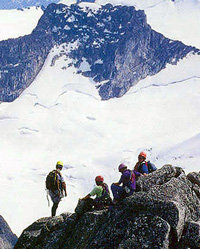 Freedom of the Hills
Read more . . .
A bibliography of traditional mountaineering books
Book Reviews

About Alpine Mountaineering:


The Sport of Alpine Mountaineering


Climbing Together


Following the Leader


The Mountaineers' Rope


Basic Responsibilities


The Ten Essential Systems


About our World Wide Website:


Information


Mission