TRADITIONAL MOUNTAINEERING ™
www.TraditionalMountaineering.org ™ and also www.AlpineMountaineering.org ™

™
FREE BASIC TO ADVANCED ALPINE MOUNTAIN CLIMBING INSTRUCTION™
Home | Information | Photos | Calendar | News | Seminars | Experiences | Questions | Updates | Books | Conditions | Links | Search

Read more:
International Mountain Bicycling Association builds trails with COTA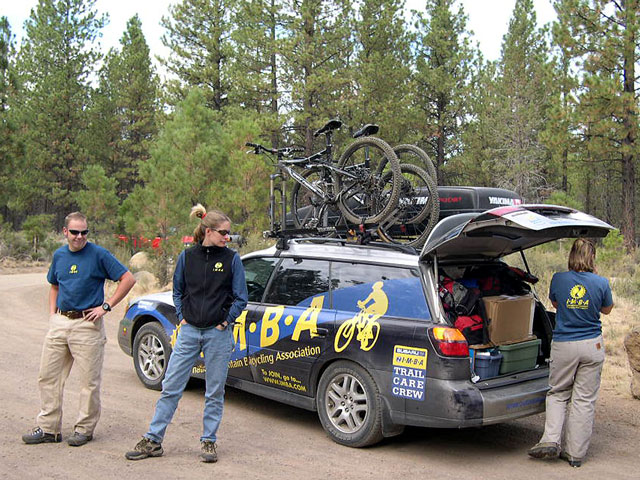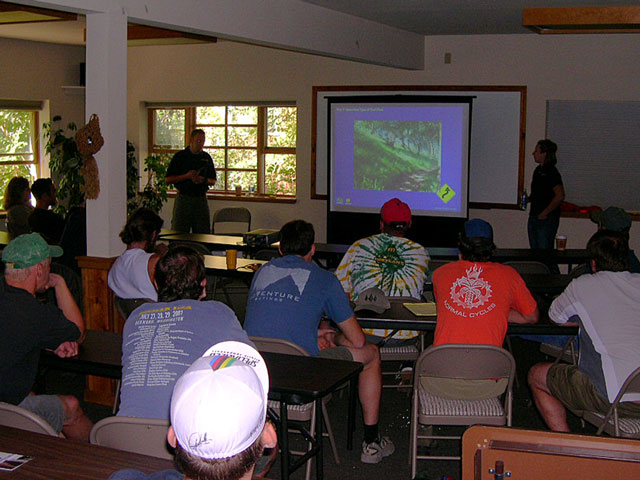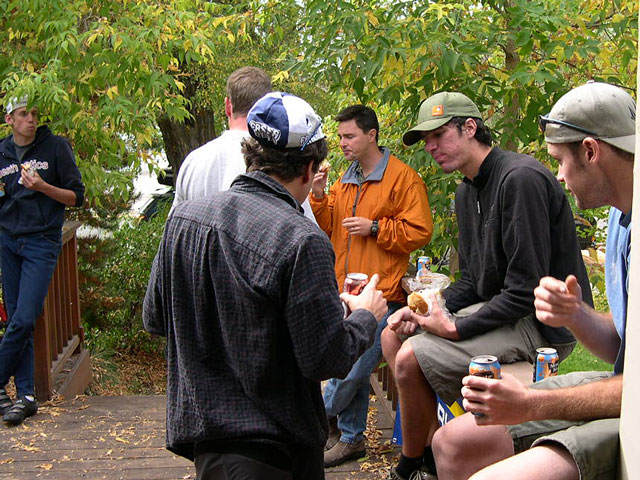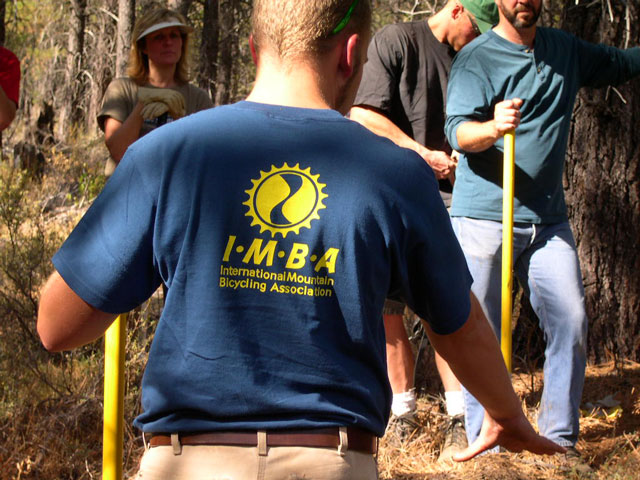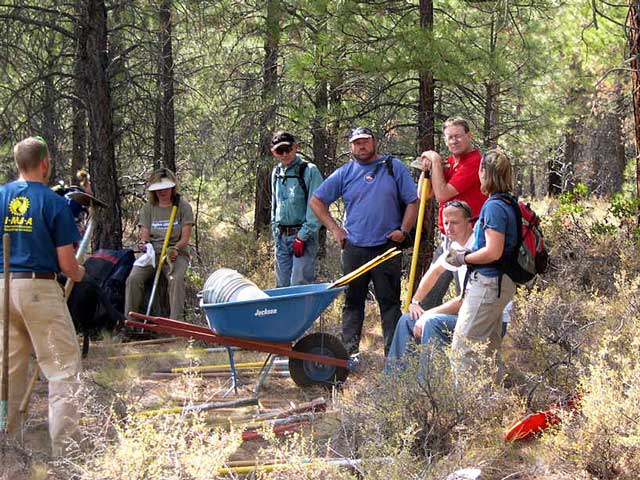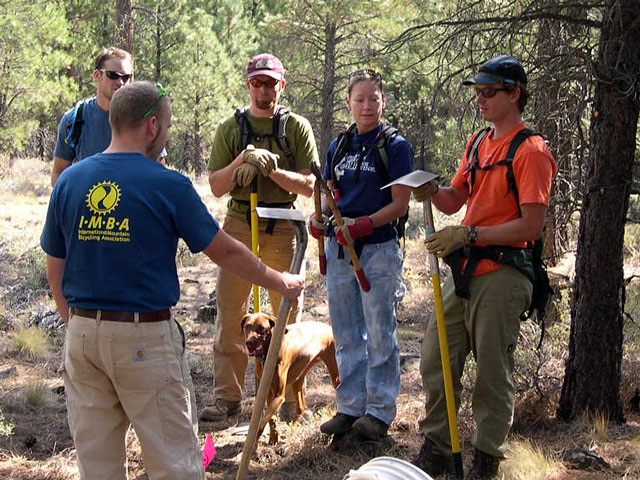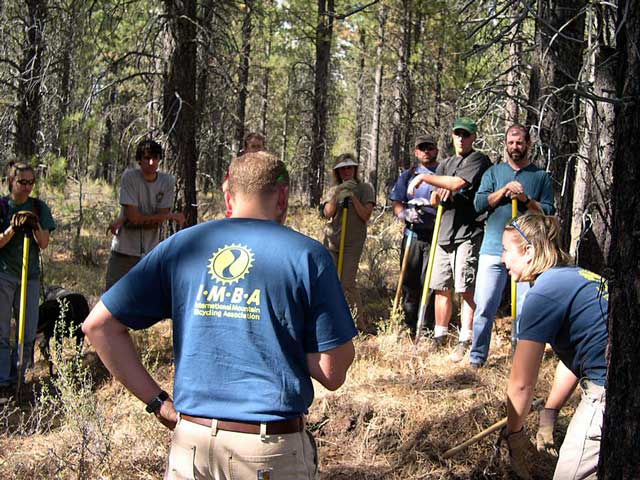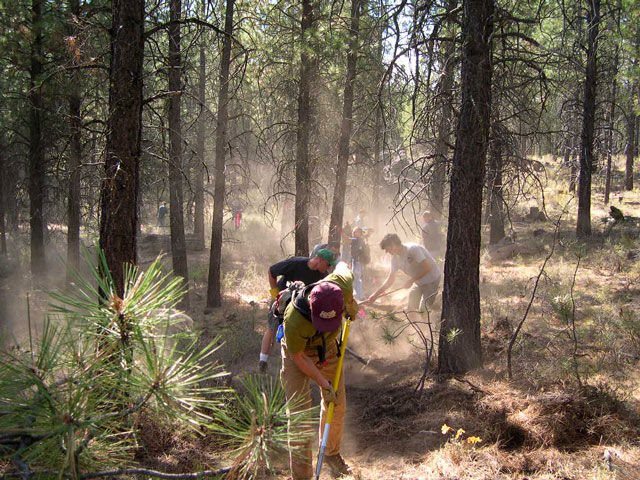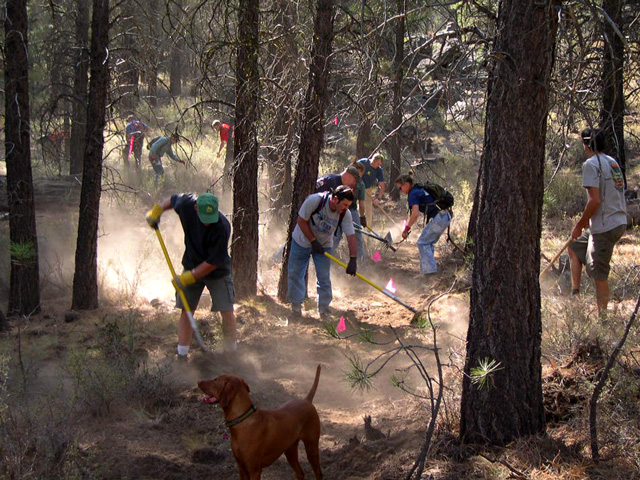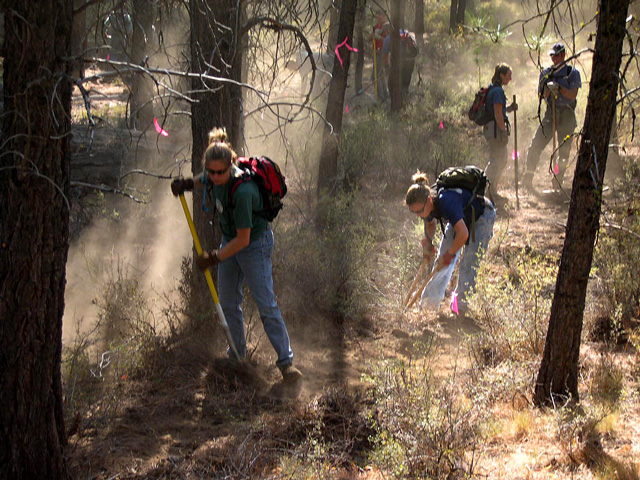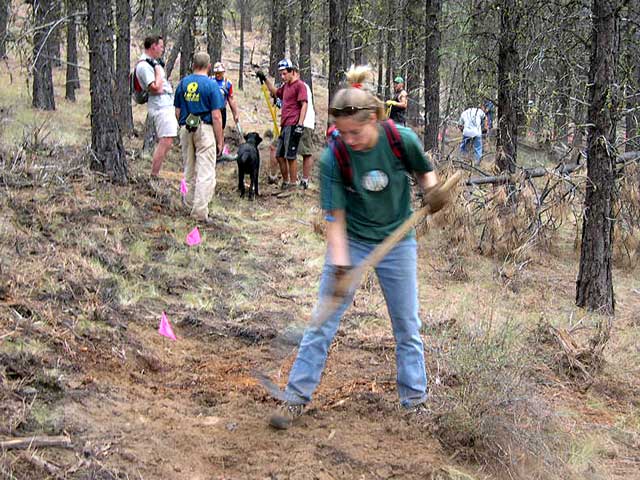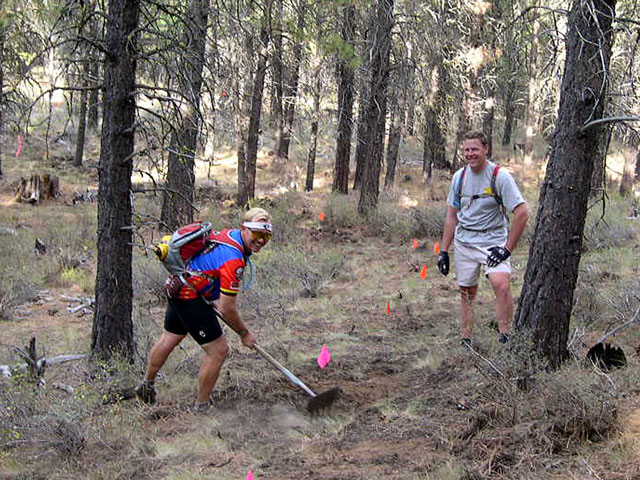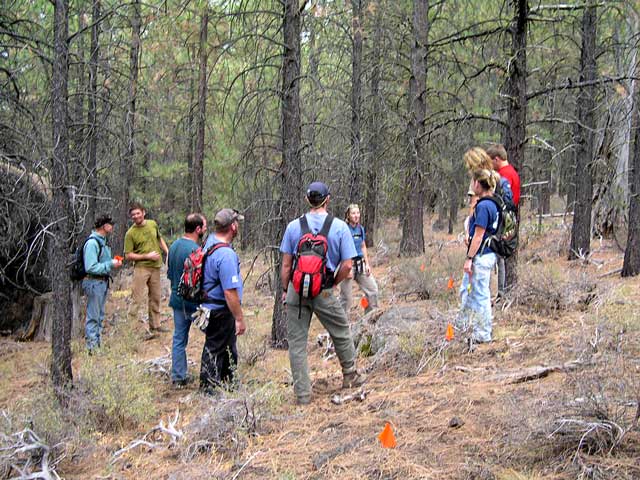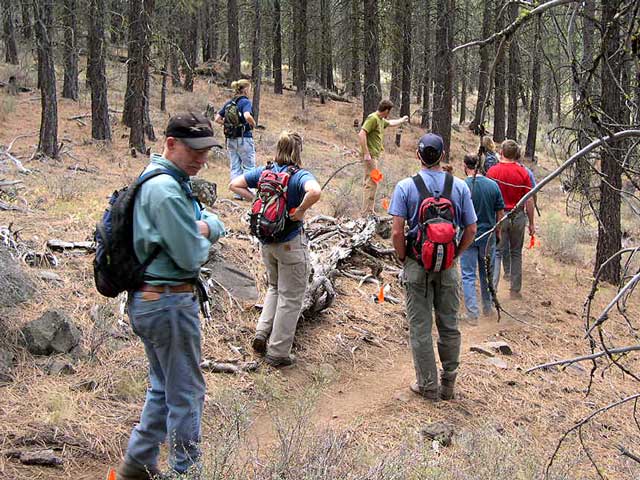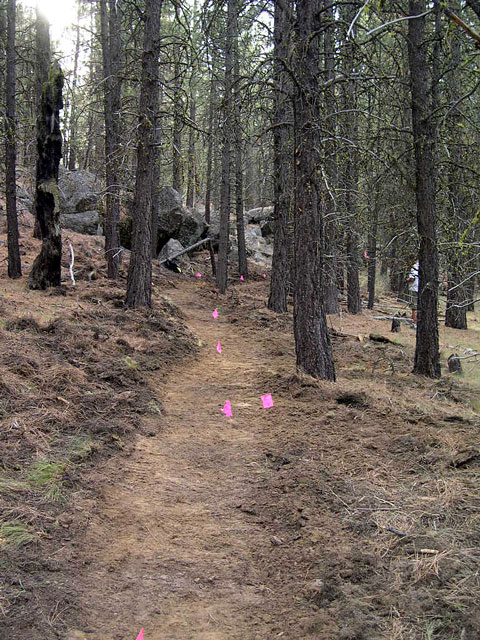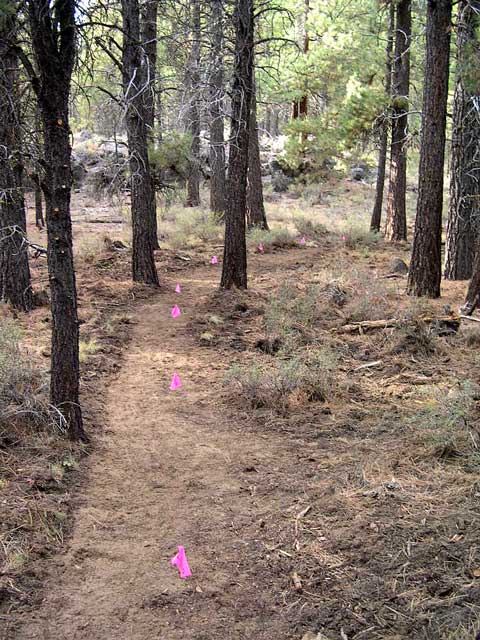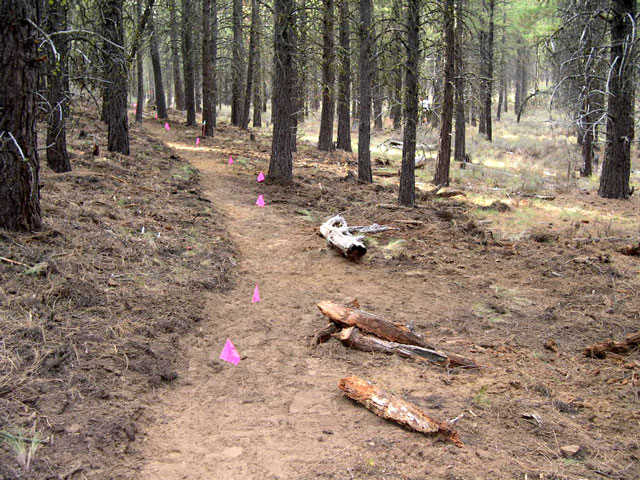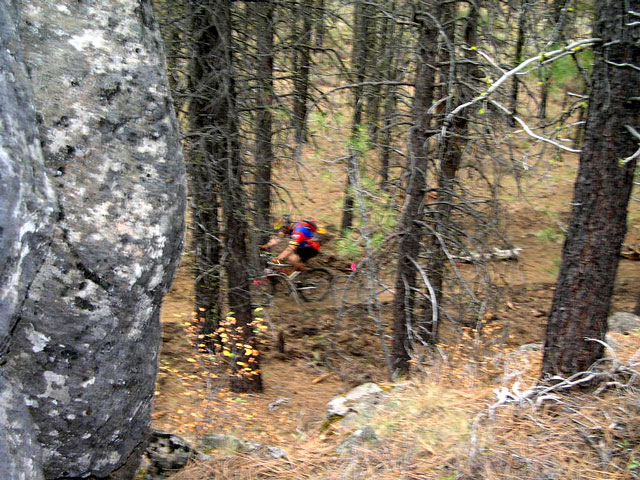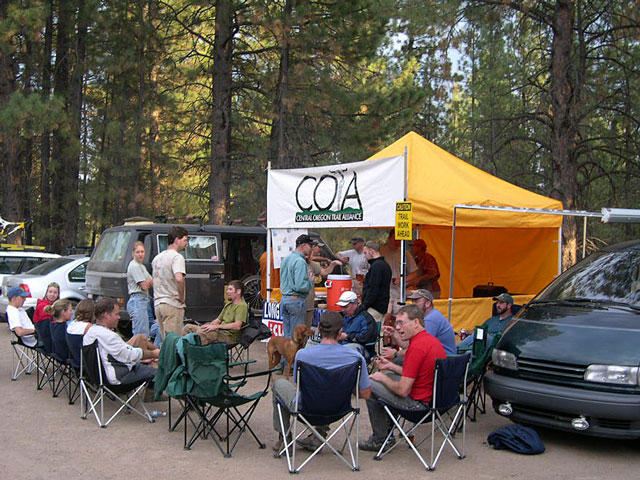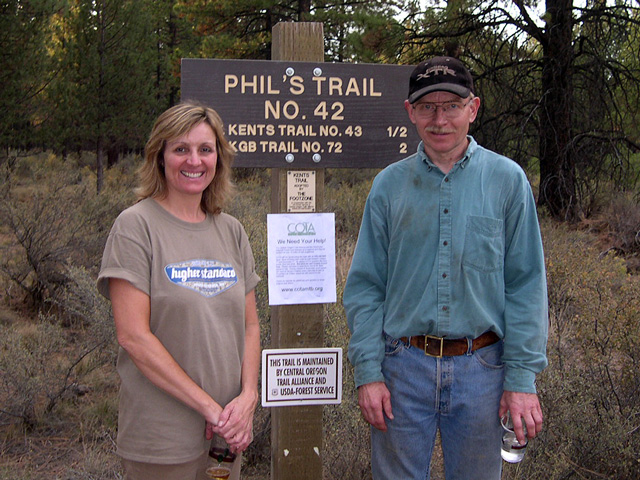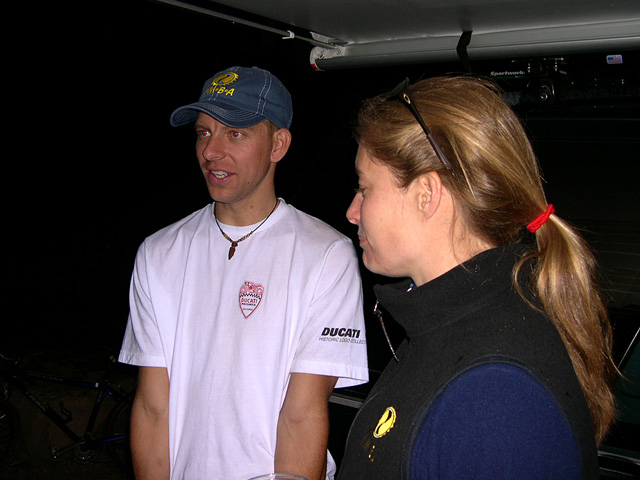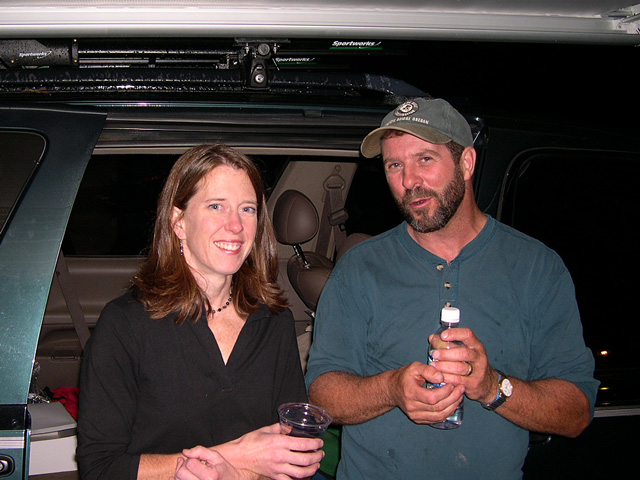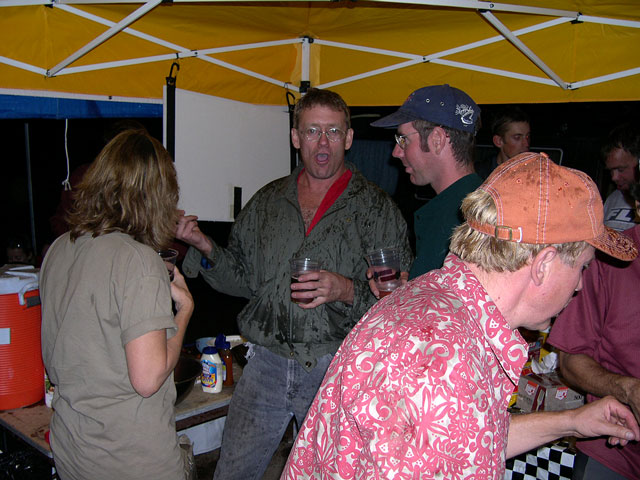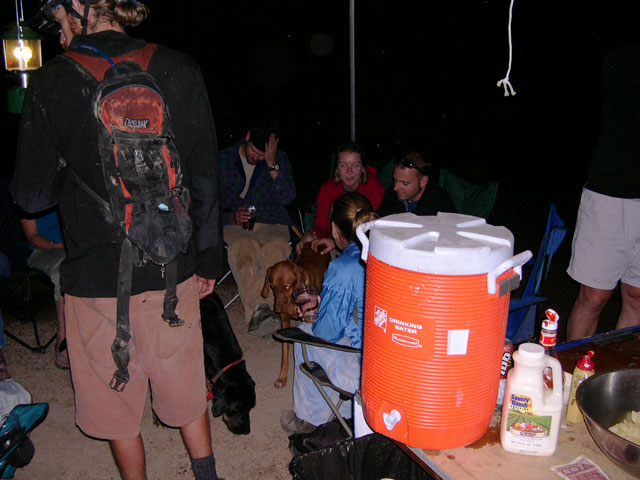 Copyright© 2003-2006 by Robert Speik. All Rights Reserved.
IMBA Trail Care Crew to visit COTA for Biketoberfest!
Mark DeJohn cyclist@bendcable.com

Its Biketoberfest again! This year we are lucky enough to have a visit from The International Mountain Bicycling Association's (IMBA) Subaru/IMBA Trail Care Crew.

The Trail Care Crew will be in Bend, October 2nd-5th to talk trails, teach people proper trailbuilding technique, and spend quality time digging in the dirt. Everyone is invited to attend the weekend's events.

The award-winning Subaru/IMBA Trail Care Crew program includes two full-time, professional teams of trail experts who travel North America year-round, leading IMBA Trailbuilding Schools, meeting with government officials and land managers, and working with IMBA-affiliated groups to improve mountain biking opportunities. IMBA's Crews have led more than 1,000 trail projects since the program debuted in 1997.

The Crews teach "sustainable" trailbuilding, which means building trails that last a long time and require minimal maintenance. This helps reduce trail damage, protects the environment, and enhances visitor enjoyment.

Most Trail Care Crew visits last four days, allowing time to assess local trails, host an evening slide show, conduct a two-day Trailbuilding School, and ride with the locals. Now in its seventh year, the Subaru/IMBA Trail Care Crew program is more popular than ever.

The Subaru/IMBA Trail Care Crew program has inspired great volunteer trailwork across the U.S. and abroad – a big help to government agencies and land managers who have limited funding for trail construction and upkeep.

Coming to Bend are Subaru/IMBA Trail Care Crew members Mark Schmidt and Lora Woolner of Ontario, Canada. Both are experienced mountain bike instructors who now travel year-round through the western U.S. and parts of Canada. Prior to life on the road, Lora was a mountain bike coordinator and Mark was an industrial designer.

All are welcome to join the Trail Care Crew leaders when they come to town. Below is a schedule of events that are open to the public:

Thursday October 2nd, Trail assessment day. This is open to anyone who wants to see what the projects will be and how to troubleshoot a tough section of trail design. We will be looking at South Fork, a new section from Shooting Star Shelter to Swede Shelter, and several new connectors from the Phils trailhead.

Friday October 3rd Around the World with IMBA Slideshow, location to be announced via email and website.
This should be finalized by this Friday. Snacks and beverages will be provided by COTA.

Saturday October 4th, 9am till Noon, at the Central Oregon Environmental Center, IMBA Trailbuilding School.
Trail building session 1PM until Biketoberfest ends. After class and a free lunch from Dilusso Baking we will head out to the trails and start construction on several new trails as well as maintaining some problem areas on existing trails. Biketoberfest will commence after the trailwork is complete and we have all had a chance to ride. The festivities will be held at the Phils trailhead parking area. Deschutes Brewery will be supplying a refreshing malty beverage to all of you over 21 who attend, and COTA will supply the food. Please try not to miss this great event!

Sunday October 5th, 10am till 1pm, Final trail work session for COTA trail crew and IMBA trail crew.
Volunteers are always welcome to attend. Lunch will be provided to all that attend.

Registration is mandatory: In order for COTA to put together a successful event we need you to advise us on what days and events you plan on attending so we can adjust the food amounts we will purchase. Thanks! For more information and to register for the IMBA Trailbuilding School, contact Mark DeJohn, Central Oregon Trail Alliance, 541-948-0993, cyclist@bendcable.com .
2006 Harvey Bell Memorial Award goes to the Subaru/IMBA Trail Care Crew
The Professional Trail Builders Association presented the 2006 Harvey Bell Award to the Subaru/IMBA Trail Care Crew. Celebrating its tenth year on the road, a partnership between Subaru of America and the International Mountain Bicycling Association continues to bring trail education to volunteers and land managers around the country. Willing and resilient couples have been packing all their earthly belongings into Subaru Outbacks to embark on a collective trailbuilding odyssey that has now:

Spanned over 1,000,000 miles on America's highways and byways;
Empowered over 35,000 volunteers;
Led almost 1,000 weekend-long trailbuilding seminars; and
Built over 200 miles of trails on America's public lands.
While the statistics are impressive, the true worth of the program lies in what these educated volunteer groups have gone on to accomplish in their local parks, forests, deserts, and prairies. Subaru and IMBA are very proud of this joint commitment to the outdoors and are celebrating by renewing the program to bring more capacity to the trails community in years to come.

On top of the work that Subaru/IMBA Trail Care Crews have done in the past and continue to do in the future, the program has also spawned IMBA's professional trail contracting program, Trail Solutions. Almost every Trail Solutions employee has spent two years traveling the country, teaching trails. This brings a comprehensive understanding of trail and soil conditions under differing trail use matrices that has allowed the Trail Solutions program to grow from two to 10 staff over the last four years.

The Subaru/IMBA Trail Care Crew and Trail Solutions are proud to be involved with the Professional Trail Builders Association and are honored to have been presented with the Harvey Bell Award. In the end, it is those trailbuilders who came before us that present us with the opportunities and knowledge we have today. From the Romans to the Civilian Conservation Corps, and the Forest Service to individuals like Harvey Bell, IMBA seeks to be a positive force in the trails community for decades to come.
http://www.trailbuilders.org/resources/harvey_bell_award.html

Read more . . .
OK, what is TraditionalMountaineering doing reporting on Mountain Bicycling? Well, the short answer is lots of traditional mountaineers get to the mountains on bicycles! German alpinists rode their bikes loaded with their gear, to Switzerland in the 1930s, to assault the North Face of the Eiger. More recently, Goran Kropp rode a bicycle from Sweden to Mount Everest, climbed Everest solo and rode his bicycle back to Sweden!
The long answer is I have been impressed at the way our own mountain bicycling club, COTA, (Central Oregon Trails Alliance) does things here in Bend. Their trails west of Bend are superb. Get a map of Mountain Bike trails and ride or walk some yourself. These single track trails are a joy, and the bikers are polite and "glad to see ya". Until I can write more here, check the links below and see for yourself.
The Bend Bicycle Festival 2004
COTA: Mountain bicyclists share the trials!
COTA reports on mountain bike trails
IMBA builds trails with COTA
Phil's trail has put Central Oregon on the mountain bike map
Geocaching along the mountain bike trail to Smith Rock
Map of Forest Service mountain bike trails for 2004 pdf
The Sport of Traditional Alpine Mountaineering
"Traditional Alpine Mountaineering is basically an aerobic sport. Climbing, jogging, running, hiking the hills, backpacking, mountain biking, back country skiing, snowshoeing, telemark skiing, adventure racing and similar sports all act together to improve aerobic capacity, strength, balance and athleticism. Some of my companions were born with these gifts; I had to work hard at improving my abilities and to climb well. What workouts are you enjoying?"