TRADITIONAL MOUNTAINEERING ™
www.TraditionalMountaineering.org ™ and also www.AlpineMountaineering.org ™

™
FREE BASIC TO ADVANCED ALPINE MOUNTAIN CLIMBING INSTRUCTION™
Home | Information | Photos | Calendar | News | Seminars | Experiences | Questions | Updates | Books | Conditions | Links | Search

Read more:
Phil's Trail System Offers Variety In 'Paradise'
Phil's Trail has put Central Oregon on the Mountain biking map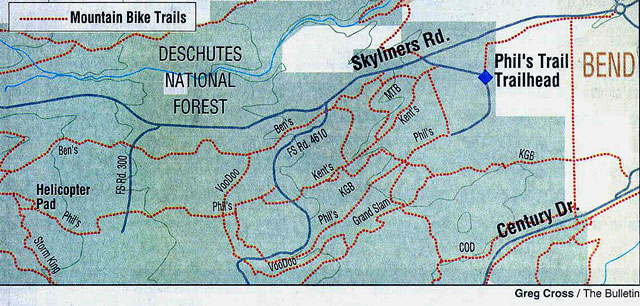 "If you've never ridden Phil's Trail (or any of the kabillion or so offshoots), you're missing the best mountain biking Central Oregon has to offer. It has bomber singletrack, technical rocky sections and snakey flats.

And the High Desert, ponderosa pine, manzanita and basalt scenery isn't bad either.

But don't tell anyone."
--Jim Witty
IF YOU GO

GETTING THERE: To reach the Phil's Trail trailhead, drive or ride about 2.5 miles west on Galveston (which turns into Skyliners) from the traffic circle at Galveston and 14th in Bend, until you reach a paved road on the left that's marked with a biker icon sign. A half-mile down, the road intersects with the old Brooks-Scanlon Logging Road. Park in the parking lot at the junction where the elaborate system of singletrack begins.
ROUND-TRIP DISTANCE: Anywhere from a 1-mile cruise to a 20-mile-plus epic.
DIFFICULTY: Easy to arduous.
ACCESS: Bikes.
PERMITS: A Northwest Forest Pass is required to park at the trailhead.


subscribe for many more stories like this

Read more . . .
OK, what is TraditionalMountaineering doing reporting on Mountain Bicycling? Well, the short answer is lots of traditional mountaineers get to the mountains on bicycles! German alpinists rode their bikes loaded with their gear, to Switzerland in the 1930s, to assault the North Face of the Eiger. More recently, Goran Kropp rode a bicycle from Sweden to Mount Everest, climbed Everest solo and rode his bicycle back to Sweden!
The long answer is I have been impressed at the way our own mountain bicycling club, COTA, (Central Oregon Trails Alliance) does things here in Bend. Their trails west of Bend are superb. Get a map of Mountain Bike trails and ride or walk some yourself. These single track trails are a joy, and the bikers are polite and "glad to see ya". Until I can write more here, check the links below and see for yourself.
Phil's Trail has put Central Oregon on the Mountain biking map
COTA: Mountain bicyclists share the trials!
COTA reports on mountain bike trails
International Mountain Bicycling Association (IMBA) helps COTA build trails west of Bend Oregon
Mountain bike trail maintenance by COTA in Bend Oregon
Geocaching along the mountain bike trail to Smith Rock
The Sport of Traditional Alpine Mountaineering
"Traditional Alpine Mountaineering is basically an aerobic sport. Climbing, jogging, running, hiking the hills, backpacking, mountain biking, back country skiing, snowshoeing, telemark skiing, adventure racing and similar sports all act together to improve aerobic capacity, strength, balance and athleticism. Some of my companions were born with these gifts; I had to work hard at improving my abilities and to climb well. What workouts are you enjoying?"